Maximize Your Efficiency With 8 Free Netbook Applications
Netbooks are built for efficiency. If you want efficiency, you need to make the most out of what little space your machine offers you. While leaving a few unused applications on your desktop or laptop might not kill you, a netbook needs to be pure muscle to be able to work right.
With this in mind, we'd like to suggest eight netbook applications that will maximize your machine's processing capability and speed, so you can spend your time and money on other things.
This free download gets you open-source alternatives to expensive (but crucial) Microsoft Office products. It contains Writer for word processing, a spreadsheet application called Calc, Impress for presentations, Base for databasing, Draw for editing diagrams, and even an editor for math formulas called Math. Each of these would do wonders for anyone, especially students on a budget needing to take notes in class on a mobile machine. Getting files from people using Microsoft Office might be problematic, so factor that into your choice.
While FireFox may be great for notebooks, Chrome is thought by many to be a faster option for web browsing. It could shave some flab off of your netbook, so give it a try.
PortableApps is a pre-selected group of netbook applications. It comes with an antivirus program (ClamWin), an IM device (Gaim), OpenOffice, and a Sudoku program. It also brings in some Mozilla applications including FireFox, Sunbird, and Thunderbird. The whole thing will only tax your machine 512 MB, and you can include whichever applications from the list that you want.
You didn't think we'd leave Linux out, did you? Xubuntu is like Ubuntu, just optimized for older computers or, as the situation would have it, netbooks. It's not an application itself, persay, but it comes with all kinds of netbook-ready applications: the Abiword word processor, Catfish desktop search, Evince PDF reader, Firefox, the GIMP graphics editor, a spreadsheet program, text editor, calendar, internet messenger, Thunderbird, IRC, and more.
Also in the Linux category is LXDE (Lightweight X11 Desktop Environment), an open-sourced desktop system meant to save resources on a massive scale. It's thought to do so better than KDE or GNOME, both of which are popular alternatives.
RocketDock is an application launcher with some easy-to-use, awesome looking features. It works faster than a lot of object docks in netbooks right now, so be sure to  see if it works for you. This video does a good job of summarizing its features.
This lightweight netbook application tracks how you use resources on your machine. If you're constantly eyeing Windows Task Manager for this, be sure to take TinyResMeter. It does a far more specific job of analyzing your resource use and helping you adjust accordingly.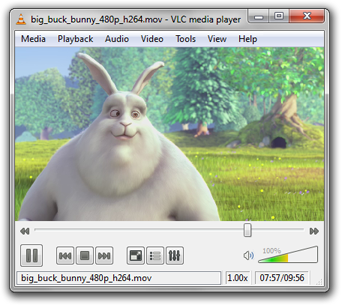 Running video and audio content is a rickety process on a lot of netbooks. On either a Linux or Windows machine, the VLC Media Player application can help you access just about any popular file format while throwing out some of the flashier aspects of WMP or iTunes.
Of course, these eight aren't the only great apps out there. You can also access all kinds of helpful applications with little resource expenditure by cloud computing. Some examples of online hosting are Ulteo, which gives you 1 GB of free online storage, or a variety of choices from Google Apps.
Another trick is to host a few of these apps on a cheap USB drive, so you don't need to expend your netbook's precious space to get in on that extra capability.
With a few simple alternative choices, you'll be able to keep your netbook running longer and for cheaper. If you've got any personal tricks for boosting the capability of your netbook, be sure to let us know them.
Via Gigaom.