That's the word being passed around at CES 2010. One electronics designer claimed in a report that Apple had pre-ordered "all" of the 10-inch LCD panels on the market, as well as similar sized OLED displays as well. This sounds a little bit ridiculous, though most of the rumors about the Apple tablet claim it will have a 10-inch screen so the dimensions make sense.
A shortage of 10-inch screens could be a big deal for netbook makers. Machines like the Dell Mini 10 netbook and a billion others come with 10-inch screens, and if supply issues arise consumers might notice sparse netbook variety in stores or perhaps a rise in price. Again, this seems unlikely – most netbook makers probably have loads of 10-inch LCD panels stocked for situations like this.
Another rumor has popped up as well, and it's summed up by the following sketchy but fascinating photo, courtesy of the Mac Observer:
This could be faked, but if nothing else it's a thought provoker. Apple's keeping us in the dark for now, but in the months to come, we should finally know the truth about the Apple tablet.
Feb 16 2009
The latest new netbook release rumored for the market is supposedly by Lenovo – an Atom N280-based IdeaPad S20 netbook with a 12-inch display. Lenovo, the makers of the IdeaPad S10, has seen massive successes in the netbook market in the past.
The news group making the announcement is DigiTimes, who accused Intel of trying to crowd out NVIDIA chipsets last year. Unfortunately DigiTimes doesn't actually cite itssources for the prognosis, which raises a few problems.
Firstly, they say the new Lenovo netbook will be a 12-inch machine running the Atom N280. Intel, however, has specific restrictions on products with displays larger than 10-inches, and breaking the restriction would cause Lenovo to "lose out on preferential pricinig for the N280 processor." With a $10 bump on typical quotes for the processor, Lenovo's costs for the new netbook could grow by millions. This hardly seems logical or feasible!
However, DigiTimes addresses this by imagining that Lenovo wants to avoid the 10-inch netbook segment's fierce competition.
The IdeaPad S20 would run a GN40 chipset and Windows XP, and cost around $586 (though its primary release country would probably not be the US).
We'll have to wait to judge the veracity of the rumor, because the clues seem a bit fishy. However, a 12-inch Lenovo netbook would definitely be a welcome sight.
Via DigiTimes.
Jan 19 2009
10-inch netbooks are the thing nowadays, with the first big enrant being the Dell Mini-10 from a little while ago. Acer is jumping in on the action with the most recent iteration of its massively successful Aspire One.
The new Acer Aspire One is a 10-inch model, as you've probably guessed, but has also gotten a redesign. It has some cool improvements to the specs such as Bluetooth and a multitouch trackpad.
The RAM and HDD have been made easier to access, a big plus.
We don't know when it will be on the market just yet, but it looks finished. Expect the new 10-inch Acer Aspire One soon.
Via PMPToday.

Dec 1 2008
Comments Off on Time For Another Industry First: A Netbook For Games
It's become clear that nowadays almost every netbook on the market comes with a 10-inch/Intel Atom/Windows XP formula configuration. Finding a netbook that breaks the mold is a great surprise, to say the least, and today is one of those occasions. Once again rising to the occasion, ASUS – whose recent developments we have been following in our articles here and here – has decided to deliver a netbook that will surely shock you.
The ASUS N10J is a 10-inch system that will, as a change of pace, not share the Eee PC brand name. Other ASUS netbooks have fallen under the Eee PC label but, perhaps to highlight the uniqueness of this new netbook, ASUS has decided not to continue the trend.
However, that is not all. It appears that this new netbook is going to be meant for games… what?!
At first glance, this seems anachronistic. Could low-power and small screen size, features that characterize standard netbooks, be even remotely compatiable with gaming?
The N10J will enter the market at $699, which is somewhat above the average. It has an Nvidia GeForce 9300 graphics card  to run the games it means to, which is the first time discrete graphics have been seen on a netbook. Interestingly, there is an option to switch between GeForce graphics and the integrate Intel graphics, so if you want to do a bit of tweaking to improve your battery life while gaming, you can.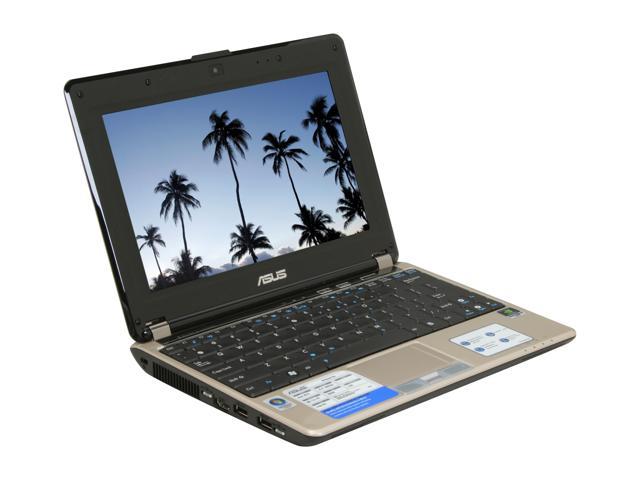 The new netbook should appeal to PC game lovers, and prove to be an excellent device to travel with. Of course, this will require buyers to adapt to playing with lower framerates and turning down the graphics. In order to compensate for the added task of running games the ASUS N10J has 2 GB of RAM and a 320 GB HDD.
This excellent new attempt to change the industry is exemplary of the calculated risk-taking ASUS has proven it can harness and succeed with. It remains to be seen if any competitors are up to ASUS' challenge.
Nov 28 2008
Comments Off on Netbook Update: Another New ASUS Eee PC
Asustek Computer is busting out new models. The 1002HA, which we covered in our November 24th article, is not the only new netbook release to grace the shelves of stores in the new future: ASUS has announced another frighteningly cheap netbook, sure to take a massive slice of the consumer pie in the near future.
The new Eee PC, which has been available in Taipei under the name 'Surf', should cost a slim $200. It will be available in the US in the first quarter of next year.
This low-cost version of the immensely popular Eee PC that started the netbook craze shows ASUS is going back to roots – not a bad idea, considering the buzz they got going early in the history of netbooks.
The 'Surf' netbook has a small 7-inch LCD screen, an Intel Celeron M processor, and ran an operating system from Linux. Other more expensive Eee PCs have perhaps overshadowed this little guy, but analysts expect US consumers to devour it with fervor.
Other Eee PCs with 9 or 10 inch screens running the Intel Atom are the norm these days, but cost far more – perhaps even doubling the cost of this cheap new netbook. While 7-inch netbooks are is a swiftly decreasing section of the market, hopes are high for the new Eee PC.
It is doubtful whether the International Consumer Electronics Show in LA will even feature the Eee PC, so for now all we've got is speculation. Come first quarter next year, however, all our questions will be answered.
Happy Black Friday and tune in here soon for daily netbook news.