HCL has released a new 3G netbook in India known as the HCL ME 06. It's Energy Star 5.0 tested and certified for you environmental nuts and runs an old-school Atom-N270-with-Windows-XP combo.
The new netbook comes with pretty standard features – 160 GB HDD, 1 GB RAM, a 10.1-inch 1024 x 600 pixel screen, 6-cell battery and Intel 945 chipset. It has solid port selection as well – LAN, a Kensington lock port, and 2 USB ports.
The 3G HCL ME 06 comes with a few applications for common security tasks – LOCK ME for preventing data theft, ENCRYPT ME for data encryption, SECURE ME to lock an application and SPLIT ME to share files. It's hard to imagine what those utilities look like in the XP user interface, but they sound useful.
You can get this thing online for Rs 21,640 – around $465 USD – with a 1-year warranty and free MTV netbook bag.
Via NetbookIndia.
Oct 29 2009
Sprint is launching a 3G netbook trial program in five US markets – San Francisco, Baltimore, Phoenix, Minneapolis and Indianapolis. Only one of the aforementioned markets – Baltimore – has WiMax 4G.
Sprint has offered incredibly competitive netbook deals in the past, but never on this kind of scale. One notable event was its 99 cent Compaq Mini 110c promotion back in July, which may have been lucrative enough for Sprint to consider kicking it up a notch.
Word has it the Sprint program will go into effect as soon as November 1st.
Via ZDNet.
Oct 7 2009
The Nokia Booklet 3G is slated for release on October 22 in Germany, available to consumers through O2.
On the German market it comes in at €249 ($365) with a monthly plan costing €20 ($29). O2 Germany is the only retailer announcing that it will sell the Nokia netbook thus far, but is expected to be the first of many.
Nokia's Booklet 3G will come with Windows 7 (which is to be released the same day), the 1.6 GHz Intel Atom Z530 CPU, HSPA, Wi-Fi, a 10-inch 1280 x 720 pixel display and a 120 GB SATA HDD.
Via UnWiredView.
Sep 5 2009
The very first Nokia netbook has been raising eyebrows as one of the first Windows 7 netbooks on the market. It's 10.4 by 7.3 by 0.8 inches, and the full specs have finally been released by Nokia.
For example: the 10.1-inch display will have an admirable 1280 x 720-pixel resolution, come with a 1.6 GHz Atom, and 1 GB of RAM. There aren't many surprises to be found in that list of features, but a few other aspects of the Booklet 3G might strike your fancy – namely the 12-hour battery life.
The Booklet 3G will naturally supply 3G wireless internet, with versions for North American consumers and consumers in the rest of the world. Bluetooth 2.1 + EDR and Wi-Fi come standard, as do a 1.3 megapixel camera, 3 USB 2.0 ports, a SIM card slot, SD card reader, and HDMI 1.2 port for HD video. Oh yeah, and a GPS reader and accelerometer. Sweet!
Another attractive bonus in the Nokia Booklet 3G is the suite of Nokia desktop software which includes "Ovi Suite 2.0, Nokia Music for PC, Ovi Maps, Social Hub, and Nokia software updater."
Naturally, these features come at a cost – $820 (€575), to be exact, making this one of the most expensive netbooks ever. Naysayers are going to keep saying nay until the Booklet comes home, but if Nokia has its way, we consumers just won't give a damn.
Expect the Nokia Booklet 3G by October, following the release of Windows 7.
Via Brighthand.
Jul 15 2009
Why do consumers buy netbooks? Well, one of the main reasons is so they can surf the web wherever they want, whenever they want. So, it shouldn't be surprising that market research firm iSuppli predicts that 3G netbooks (netbooks embedded with wireless broadband capabilities) will become very popular in the next couple of years.
In 2009 alone, iSupply expects 3G netbook shipments to reach 17.8 million units, a 70% increase over shipments in the previous year.
Google is planning on launching its Chrome operating system in the near future, and the expected increase in netbook sales may boost Google's sales of the new OS. There will no doubt be significant competition from Microsoft (as expected) though, but hey, Google has its followers too.
Via MaximumPC.
Image via StartupMeme.
Apr 27 2009
Posted by Michael in Netbook Rumors
Comments Off on Telecom Hurrys Up 3G Release Date, Netbook Service Anticipated
Telecom is announcing the early launch of its 3G mobile network on May 13 this year. Services are set to be available to customers at 6:30 PM that day, a much earlier date than Telecom's previously announced time in June.
Rumors have it that Telecom means to preempt Vodafone's May 31 mobile broadband release date.
Netbooks will likely be a part of the plans by Vodafone and Telecom, and are a sign that more and more cellular companies mean to compete with AT&T and Verizon in the netbook broadband market.
Via NBR.
Apr 20 2009
Today we'll be focusing on something that seems to be on everyone's mind – 3G netbooks. I've gotten several emails asking about the matter, so today's ASK NBB hopes to conquer the question once and for all.
QUESTION:
"I'm curious about 3G netbooks. Could you tell me about some netbook models that use 3G and what the future of 3G is for the industry? And what is the best mobile broadband plan for netbooks?

Thanks a lot!"

Steve M.
ANSWER:
I'm glad you asked, Steve. Since the release of the iPhone 3G the usefulness of the feature has been demonstrated in the hands of everyone lucky enough to get their hands on one. Adding 3G to netbooks makes them truly wireless tools, released from the bounds of the internet you're getting at home or at work.
With 3G capability, you can use your netbook as a GPS system in the car, for last-minute work during a morning train commute, or while relaxing in a park far from Wi-Fi access. Sounds pretty good. So what netbooks out there will get you 3G?
Recent weeks have brought a horde of new 3G netbook releases, with both the Neo 101 and 720p Dell Mini 10 being released in the past few days alone. Lenovo also updated its virulently successful IdeaPad line with a new 3G netbook just four days ago.
The swift gains in 3G netbooking are no surprise – China Mobile, a 3G wireless provider, recently partnered with six other netbook manufacturers in order to spread 3G far and wide. The Dell Mini 10 was a product of that union, and with manufacturers "Lenovo, Founder Technology, Tsinghua Tongfang, Haier Group, [and] Hewlett-Packard" on board as well it's looking like China Mobile's netbook 3G is going to get very big very quickly.
So what about mobile broadband plans for netbooks? The main contenders are Verizon, which plans to subsidize the HP Mini 1000 according to a recent leak, and AT&T, which intends to offer a wide variety of netbooks including the Dell Mini 9 for as little as $49.99 nationwide.
It's hard to say which plan is better – the cheap netbooks are a huge bonus, but both plans can get quite pricey as one unfortunate Oklahoma woman recently learned. I can't give you a definitive answer about which to choose, but be sure to take into account more than just the initial cost of the netbook or the monthly rate – many mobile broadband companies charge extra fees for going above storage allowances, which could end up punishing your wallet if you aren't careful.
In the end, 3G is an extremely useful feature which has become more and more widespread in the very recent past. It won't be long before nearly all netbooks come with 3G, and if I may say so myself, that sounds pretty damn good.
Good luck to you, and as always, happy netbooking!
_______________________________________________________________________
Interested in getting your own question answered on ASK NBB? Here's how! Be sure to check out our first ASK NBB for some guidance on buying a new netbook.
Apr 19 2009
A recent leak by Verizon is suggesting that the cellular provider is thinking of subsidizing HP Mini 1000 netbooks for its 3G mobile broadband plans in the near future.
The document in question is an employee training manual which features the Mini 1000 netbook in a variety of upcoming plans. The netbook, which has a massive keyboard, 10.1-inch display and 80 GB HDD, runs XP and has a traditional 1.6 GHz processor.
This is as much info on the leak as we have for the time being, but check back soon for updates.
Via CheapLaptops.
Apr 16 2009
Lenovo is announcing a new 9-inch netbook rumored to have a new feature sure to please fans of the IdeaPad line – integrated 3G. The S9 and S10 are fantastic netbooks but lack mobile broadband.
Word has it that the built-in card is designed specifically to be adapted to AT&T's netbook plan. AT&T's subsidized netbooks have been going for as little as $50 in initial locations in Atlanta.
Unfortunately the new Lenovo netbook won't be seeing the same exact plan. It's announcing that "one of their subsidized netbooks (with a data plan) would [cost] between $100 and $350, depending on the model, alongside the company's usual $60-per-month mobile broadband service." You'll also get a $50 rebate if you sign up for AT&T's DSL plan too.
Aside from the new Lenovo netbook, AT&T is planning to offer the Dell Mini 9, Mini 12 and Acer Aspire One.
Via FastCompany.
Mar 29 2009
Yesterday Verizon announced that it intends to begin a netbook program, selling 3G-capable netbooks by June this year. Verizon isn't new to netbooks, offering a huge rebate on Sony Vaio P netbooks back in February.
Rumors circulating say that the netbook of choice will be the HP Mini 1000 netbook, the approximately $330 machine famous for the flashy Vivienne Tam edition released a while back. The netbook will go for a mere $99 in Verizon stores with the purchase of a 2-year contract.
Be careful, though – some 3G netbook plans have had dire consequences for their subscribers, especially one woman from Oklahoma who got burned with a $5000 bill by AT&T.
Mar 27 2009
The Wistron Firstbook is a Linux-based netbook that looks a great deal like the Sony Vaio P or the Lenovo concept Yoga PC netbook. The Firstbook, interestingly enough, will get you integrated 3G for surfing the web.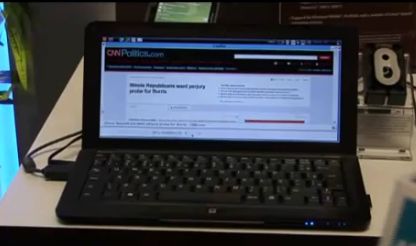 We don't know the full specs just yet, but the machine is supposedly going to have an 11.1-inch widescreen display as well as WiFi/Bluetooth capability.
What's more, the Wistron is rumored to run the Qualcomm Snapdragon, an upcoming netbook chip set to rival the Intel Atom. The video below can give you more info, so take a look!
Via SlashGear.
Jan 24 2009
LG has broken into the netbook market with a new snazzy netbook called the LG X110.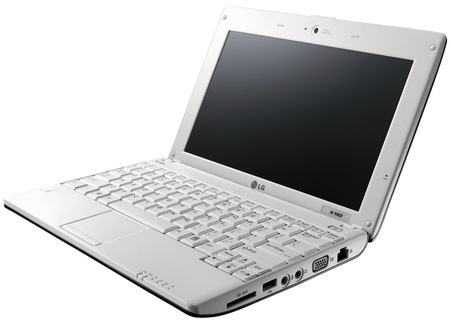 Don't worry, you aren't alone – pretty much everyone is noting how it looks exactly like an MSI Wind netbook. What LG has fortunately added is integrated 3G. Otherwise it's the same old, same old – Intel Atom N270 CPU , 1GB of RAM and a 160GB hard-drive. You can get it for free if you get one of a number of mobile broadband deals over in the UK.
The X110 has been praised for a solid keyboard and a better casing than the MSI Wind. Not everything is great though – the display is only decent, and the touchpad has been criticized for being smaller-than-necessary.
The LG X110 netbook will cost you around $406 without integrated 3G. If you get the 'free' netbook-with-contract deal, however, you'll have dropped a frightening $977 after the two year agreement. Of course, you get 3G mobile broadband with that as well. Buy wisely!
Via SlashGear.
Jan 4 2009
Acer is on the move and has confirmed that it is releasing a larger version of its Aspire One netbook in Q1 of 2009. Now we have some details for you.
The new Acer Aspire One is intended to be a "larger evolution" of the previous model, rather than a replacement. It will have the same 1024×600 resolution but optionally contain integrated 3G and Bluetooth 2.0+EDR.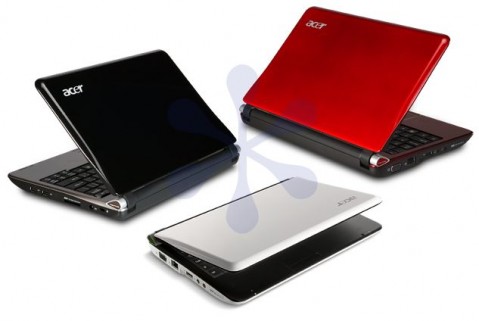 They got rid of the second SD slot, as internal memory probably wasn't a problem on the old machine, and there's only one DIMM slot for RAM with a max of 2 GB support. Both Linux and Windows XP will run on the new netbook but we don't know at what capacity.
The trackpad buttons moved down from the side to underneath, and there's a new sleek looking brushed metal paneling around the keyboard. Expect the new 10.1-inch Acer Aspire One netbook on store shelves this February.
Via SlashGear.
Dec 7 2008
Comments Off on Two Welcome Upgrades On The HP Mini 1000
This just in – HP has announced that its Mini 1000 netbook, its stylish new addition to the netbook market, can now be augmented with mobile broadband provided by AT&T or Verizon. We were pretty excited about the Mini 1000 in our December 2nd article, and this news is only making us happier.
3G has been rearing its head on new devices since it was included on Apple's recent iPhone update. The massive sales of the new iPhone showed that, for those on the go, Internet that doesn't require Wi-Fi is immensely useful. HP is surely hoping to cash in on that preference.
However, HP's deal is a bit pricey. The 3G option will cost an additional $199, which makes me wince, but that figure doesn't include some subsidies from the carriers. The other downside is that, for some reason, you can't get both SSD and 3G loaded in your netbook. The Mini 1000 with WWAN forces you to use the HDD.
The cost is the only obvious downside, but don't sigh and turn away just yet – another announcement from HP may put the bounce back in your step.
The HP is also due for a price cut! You can now get a new HP Mini 1000 for $40 less than the original price of $399. While it's still not the cheapest on the market, the $359 HP Mini is a great bet. It sports an 8.9″ screen, the 1.6 GHz Intel Atom, 1 GB RAM, 8 GB of space, a 3-cell battery and XP.