That's the word being passed around at CES 2010. One electronics designer claimed in a report that Apple had pre-ordered "all" of the 10-inch LCD panels on the market, as well as similar sized OLED displays as well. This sounds a little bit ridiculous, though most of the rumors about the Apple tablet claim it will have a 10-inch screen so the dimensions make sense.
A shortage of 10-inch screens could be a big deal for netbook makers. Machines like the Dell Mini 10 netbook and a billion others come with 10-inch screens, and if supply issues arise consumers might notice sparse netbook variety in stores or perhaps a rise in price. Again, this seems unlikely – most netbook makers probably have loads of 10-inch LCD panels stocked for situations like this.
Another rumor has popped up as well, and it's summed up by the following sketchy but fascinating photo, courtesy of the Mac Observer:
This could be faked, but if nothing else it's a thought provoker. Apple's keeping us in the dark for now, but in the months to come, we should finally know the truth about the Apple tablet.
Sep 1 2009
September 9th is almost here, and that means Apple's upcoming 9/9/09 music event is here. Onlookers are predicting the first appearance of Steve Jobs since his medical leave and even the expansion of the iPod Touch lineup with digital camera functionality and more. However, by now you know where our curiosities lie – the Apple tablet netbook.
A few voices out on the net are saying 9/9 is the day we'll finally see that cryptotechnological device, so keep your eyes and ears open when 9/9 finally arrives.
If you can't stand all the waiting, be sure to follow up with our coverage of Apple netbook rumors starting way back in November.
Aug 10 2009
Despite Apple's insistence that the device doesn't exist, analyst after analyst is throwing in a new opinion about what the Apple netbook/tablet/iPad/MacPad/iTablet is going to look like. One reporter from Barron's even said he'd gotten his hands on one, and that "it's better than the average movie experience, when you hold this thing in your hands."
Here's one projection of what we'll see if Apple steps up and does this netbook thing: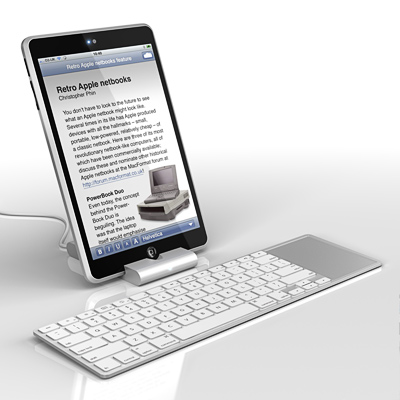 Pretty nice, I'll admit. But is this all heresay?
Before you make your final decision, be sure to take a look at what we've written since the mythical Apple netbook reared its head ages ago.
Via SlashGear.
Jul 22 2009
We've seen some pretty clever Hackintosh netbooks before, but now a Chinese PC maker is actually mass-producing 8.9-inch netbooks with an Apple logo on the lid.
However, the chances of Apple being connected to the machine are just about absolutely zero. It runs an ARM CPU and either Windows CE or Linux as an OS, and sells for around $200. It's got a Windows key on the keyboard, as well as a tiny right-Shift by the up arrow.
The netbook could get up to 7 hours of battery life through the 3-cell battery, as ARM machines run on low power.
The new netbook is yet another comical reminder of Apple's frustrating refusal to join the netbook market. Come on Steve, we know you're just holding out on us to keep the suspense going!
Via Shanzai.
May 3 2009
Apple may not be delivering the netbook we've begged it for for so long, but one recent rumor over at AppleInsider is hinting that perhaps Apple will cater to the netbook-purchasing consumer category in a different way.
"Consumers in the coming months can look forward to more affordable versions of both the 13-inch MacBook and iMac, according to people who've proven extremely reliable in predicting Apple's future business directions. The MacBook — which currently starts at US$999 when fitted with a previous-generation polycarbonate enclosure and $1299 in an aluminum unibody casing — is the bestselling Mac in terms of volume. The iMac is the most popular Mac desktop.

It's believed that the first batch of more affordable Macs could turn up as early as this spring."
This means that Jobs won't have to sacrifice the luxury image of Apple with a whole new device. By cutting costs on some tried-and-true setups like the iMac and Macbook it can start taking back budget buyers, yet feel free to keep coming out with top-of-the-line devices like the iPhone and iPod that define its current user base.
Via PCWorld.
Apr 20 2009
Foxconn, the manufacturer thought to be producing the upcoming Nokia netbook, is rumored to be helping Apple with its fabled netbook as well.
While accuracy is never a strong suit in reports of Apple netbook developments, the report from Asia notes that Foxconn already makes Apple's iPhone 3G.
If you're interested, take a gander at our archives on the unfolding of plans for the rumored Apple netbook here.
Via BrightHand.
Apr 13 2009
Apple has been waiting it out to see if the trend of netbooks would become popular.  Fortunately for the company, the popularity of netbooks has recently increased. As a result, Apple may be soon breaking into this market. The company has been rumored to be designing a product that is larger than the current iPod Touch and iPhone but smaller than their current laptops…perhaps something along the lines of a netbook!
While generally, Apple products tend to be pricier than those of its competitors, the company has a large fan base, as its products have a unique design and are easy to use. Following the trend of Apple's past pricing strategy, it is rumored that if Apple does produce and release netbooks, they may not be as cheap as the current netbook offerings by competitors such as Acer, Dell, and LG.
Via ChannelWeb.
Apr 11 2009
Steve Jobs' health has been a subject of concern in recent weeks, but a release by the Wall Street Journal is assuring the public that he's still where he belongs – at the head of Apple. Interestingly, the WSJ is hinting at the release of a new Apple device as well:
Apple co-founder Mr. Jobs, who is considered the company's creative leader, is also involved in the development of future projects, they say.  People privy to the company's strategy say Apple is working on new iPhone models and a portable device that is smaller than its current laptop computers but bigger than the iPhone or iPod Touch.
Is this the fabled Apple netbook we've heard so much about? A history of dissapointment says no, but WWDC is coming soon and we'd all do well to be on our toes.
Via Computer World.
Mar 30 2009
…and the rest of us sigh with disappointment. But before I break your heart, take a look at this beauty:
According to one Russian magazine, this device is the new 'MacBook Mini', a long-rumored device closely tied in to the Apple netbook rumors we've seen so often.
The rumored (and probably photoshopped) Apple netbook was reported by the magazine to have a "10.4 inch WXGA display, Intel Atom CPU, NVIDIA GPU, 64GB SSD, 2GB RAM and Wi-Fi." It is said to be hitting the market in 2009 for a hefty $899.
Should we give the rumored netbook much attention? Probably not. The Apple netbook concept is rife with rumors and hearsay, and notorious for false alarms and red herrings. However, on the off-chance that this thing is legit, a whole lot of netbookers and Mac fans are going to be extremely happy.
Via I4U.
Mar 22 2009
The rumored Apple netbooks are getting some more press. The latest announcement is that LG, creators of the LG-X110 and LG-X120 netbook, will be making OLED displays for the (hopefully) upcoming device. Could this news conflict with reports that Apple would be getting its screens from Taiwan?
OLEDs, or organic light-emitting diodes, exploit the natural glowing of some organic compounds with electrical current run through them. Without  a backlight, individual pixels provide the lighting for the device. The Apple netbooks will incorporate the OLED displays in order to get thinner and lighter screens, whose colors are more brilliant.
Not only will the LG OLED displays be put into the possible Apple netbook – the next gen versions of the iPhone and iPod touch will use them too.
This development is quite exciting, but remember: we can't say much about the veracity of this report just yet, as the Apple netbook itself is unconfirmed. Keep your fingers crossed, ladies and gentlemen.

Via BrightHand.
Mar 18 2009
While we regarded the Digitimes Apple netbook rumors of the recent past as a case of ruthless dead horse beating, it seems the rumor's credibility has experience a boost in the form of the Dow Jones Newswire.
One vaguely defined but likely independent source spoke to the DJN, citing "two people close to the situation" for its confidence in the veracity of the Digitimes rumors. The informant didn't add much new to the mix, but confirmed that Quanta will be using Apple's newly-bought 10-inch touchscreens for a unique netbook product during the second half of 2009.
Just about everyone but Apple and a few netbook-haters think the geniuses behind the Macbook and iPhone need to get into the market, but the whole thing is all too vague to me so far – just weeks ago, the last round of Apple netbook rumors abounded and it took a firm 'hell no' from an Apple official to cool them down.
I'm not one for pessimism, but if you don't cross your fingers in hope I won't feel shattered either.
Via Engadget.
Mar 12 2009
While the idea of an Apple netbook has been fervently denied by representatives of the company, a few out there just won't leave that poor dead horse alone.
According to a few reports, Apple is considering netbooks with a bit more seriousness this time around. Reuters noted that Apple bought a shipment of 10-inch touchscreens from Taiwan, to be delivered third quarter. In addition DigiTimes – whose controversial role in the netbook industry is well-documented – thinks the company delivering them is called Wintek. They believe Quanta Computers will have a role as well.
Is Apple turning a new leaf with the netbook industry? It's hard to say. Numerous reports say netbook sales will continue to skyrocket for the forseeable future, but Apple has distanced itself from price battles as much as possible. Its uppity stance has worked well in supplying such luxurious items as the iPhone and Macbook Air, so why bother?
As always, we'll need to wait and see. A few big Apple conferences are coming up and there's still room for them to surprise everyone, so stick with us and we'll report it as it comes.
Be sure to check out our section on Apple and the netbook industry to learn more.
Via Wired.
Jan 21 2009
Apple made some relevant comments this Wednesday durig a quarterly earnings call. According to Apple, netbooks still aren't in the works – their low-powered CPUs, cramped keyboards, and limited displays aren't in Apple style and won't be enough to please consumers.
Of course, that isn't a flat-out no to netbooks. While we may appear to be grasping at straws, listen first to some words by Tim Cook of Apple: "We've got some ideas, but right now we think the products there are inferior and will not provide the experience to customers that they're happy with."
Ideas are good! This isn't the first time Apple's hinted at its netbook ideas, so this second confirmation gives us more confidence in our hope.
To tell the truth, everyone's been waiting for an Apple netbook. We've found rumors of an Apple netbook all over the place, even some saying the Apple netbook would be a big iPhone. We know they'd suck up a lot of the netbook market. We recently heard that they were in talks about netbooks, but have heard little since. Even big-time analysts like Ezra Gottheil have thrown in their two-cents about an Apple netbook.
Yet somehow, inexplicably, Apple isn't biting. While netbooks are "principally based on hardware," Cook says Apple doesn't play they game. According to him, "software is the key ingredient." Revolutionary software has been a big attraction to Apple computing, with such tools as the App Store being a prime example.
Cook can criticize all day long, but there's no doubting that netbook sales are still on the rise.  Cramped keyboards and limited screens aren't as big of a deal when they often save you up to $1000 over a laptop with unneeded capabilities.
According to ABI Research, manufacturers will be shipping 200 million ultramobile devices, including netbooks, by 2013. This is about the same size as the worldwide laptop market.
During its quarterly earnings call Wednesday, Apple reinforced its skepticism in netbooks, saying their low-powered CPUs, cramped keyboards and small displays are not enough to satisfy customers.
I'm still interested in an Apple netbook, if they're offering. Until that time, we wait!
Via Wired.