Intel has announced on Tuesday that it is releasing a chip for smartphones and tablets that will hopefully open the door for Intel chips in the smartphone market. The chip, called Atom, has been primarily used in netbooks so far and has been a major hit.
The Atom chip differs from Intel's PC processors in one major area: the Atom chip is not nearly as power-hungry. Standby time in phones with an Atom chip is supposed to be ten days, according to Intel.
The Atom chip also delivers impressive performance and is supposed to render web pages faster than other chips do. The Atom chip is also supposed to support different operating systems, including Intel's Moblin, Nokia's MeeGo, and Google's Android. The first two operating systems mentioned are Linux-based.
If this new chip is as good as Intel's other chips, the company should do very well indeed.
Via CNET, image via Intel.
Mar 11 2010
So the JooJoo, still proof that tablet makers need to think of better names, hit the FCC today, and we finally learned what exactly it is packing.  And if I dare say so – as a guy who has had little faith in the whole CrunchPad endeavor – it isn't half bad, if a bit dated.  It carries an Intel Atom 270 with a first-generation Nvidia ION, explaining its 1080p and HD Flash playback.  3G support will be coming later this year, but details are still a little sketchy.
The news of an Nvidia ION means performance will likely not be an issue for an internet tablet, but battery life could easily be a problem.  This does after all have a massive 12.1" touchscreen with a fairly inefficient  processor.  Still, things have become interesting for a tablet that I had mostly written off as non-extraordinary and the $499 price-tag seems somewhat justified now.
Two more things: yes, that is indeed the JooJoo running Windows Vista in a test device, and the video format support list is very impressive compared to many other tablets.  It includes AVI, MPEG-4, MOV, WMV and WMA, FLV (Flash Video), VOB, OGG, OGM and OGV, MKV (Mastroska), DiVX and XViD.  We'll see how well it actually fares once it starts shipping in a few weeks.
Jan 11 2009
Comments Off on CES: Pegatron Netbook Is $199 With 8 Hours Of Juice
We haven't heard much from Pegatron lately. It split off from ASUS and has been doing ODM work by itself. Unexpectedly, the company moved into the spotlight for a moment at CES to announce its new Freescale-based netbooks. The Linux machines run 8.9-inch screens, have 8 hours of juice, and will cost a delightfully low $199.
It's running the brand new ARM i.MX515 CPU by Freescale, a 1 GHz chip which is supposedly three times as fast as the iPhone.
The kicker? The chip is insanely efficient and generates barely any heat. It was demonstrated running 720p video using only .5 watts, feeling quite cool to the touch. Its processing power is weaker than that of the Atom, but are well suited to running Linux. It seems like a promising combo, and it's cheap too. Pegatron and Freescale hope to see these picke dup by OEM around May or June.
Via Engadget.
Dec 17 2008
Qualcomm has big stakes in the netbook business. For four years it's been feverishly working on a $350 million chip to be used in netbooks, which shall be based on the Snapdragon processor.
The prototype will be released next year and is expected to be a departure from the style of Intel's Atom chip.
Manjit Gill of Qualcomm's Connected and Consumer Products Group thinks the market is in the mood for more connectivity, not just processing power. "Our vision is that [the device is] always connected. Even when you shut it down, it's still 'on'."
This 'always on' business means you can instantly get on a server and check your email as soon as you open up your netbook. This is the kind of thing Intel can't do right now – Gill believes the "limitations in the [Intel] architecture" separates the Qualcomm chip from the Atom. On an Atom chip, leaving it on all the time would suck up all the battery.
To contrast, the Atom is a more agile device despite its lack of integration.
But Intel's not Qualcomm's biggest competitor, for the moment. ARM, whose processors are featured in most mobile devices today, has the model Qualcomm's trying to imitate.
It got a license for ARM's architecture, threw $350 million at it, and now we see the result: the Qualcomm QSD8672 dual-core Snapdragon. It has two CPUs which can manage 1.5GHz performance, download speeds of up to 28 MB/s, 1080p HD video, Wi-Fi, and HSPA+. The chip even has mobile TV and GPS.
Qualcomm will also use technology from ATI to power the graphics core of the chip. Taiwan Semiconductor Manufacturing Company will build the processor at 45 nm. Devices by ASUS, Acer, and Toshiba are already being planned with the Snapdragon in mind. Watch out, Intel!
Dec 9 2008
Also known as "Medfield", Intel's 32nm chip will be released in 2010. This is considerably smaller than the current 45nm chips and "will use the smaller transistor size to increase the level of on-die component integration, bring into the system-on-a-chip the I/O functionality currently relegated to the chipset in today's netbooks."
Even before the Medfield comes in in 2010, Intel is planning on releasing the "Pineview" which "is expected to be a full 'System-on-a-chip'", where all the functions of the PC – the memory controller, I/O, graphics chip, etc, are all on one chip.
Source: Techdigest.tv
Nov 29 2008
Intel has a special role in the netbook world, acting as the supplier of the most widely used chip in the market – the versatile 1.6 GHz Atom.  However, analysts at Intel seem to have some doubts about the fate of the very netbooks their company powers.
According to Intel VP of sales Stu Pann, Intel believes it's miscalculated what markets would go for netbooks."We originally thought Netbooks would be for emerging markets and younger kids… It turns out the bulk of the Netbooks sold today are Western Europe, North America, and for people who just want to grab and go with a notebook… We view the Netbook as mostly incremental to our total available market."
Pann's biggest criticisms were of the small screens, which he believes are "not something you're going to use day in and day out." He cites eye strain and general discomfort for this reasoning.
It makes sense, of course, for Intel to say netbooks will only add incrementally to its income – after all, Intel is a massive company. However, we should remind ourselves that earlier this year netbooks' enormous sales surprised Intel, forcing the technology giant to crank out thousands of Atom chips it hadn't anticipated making.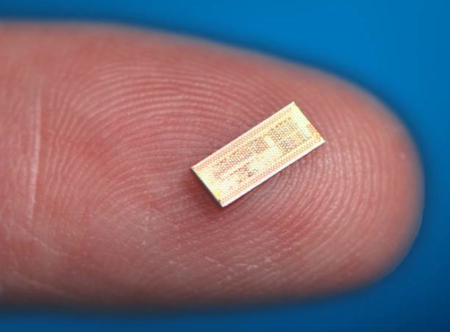 The Atom chip is, for the moment, in almost every netbook around. It is easy to forget that the Atom is a mere six months old. Pann's reluctance is sensible, in this light, but as for netbooks not being used by owners on a daily basis, I'm skeptical.  After all – are netbooks not the ultimate tools for commuters?
To expect an owner of a netbook to use it as a replacement for his main working machine is unrealistic – netbooks were never meant for that.  Mobile users will use netbooks for short amounts of time – in the train, while on break, waiting at a bus stop – which conforms well to Pann's "fine for an hour" statement.
While it's been supposed that netbooks' rise is due to the shortchanged economy and consumers' need to save money, this analysis ignores several factors. Netbooks have been gaining luxurious new features to please those with some money to burn – consider the touchscreen Raon netbook or Hello Kitty netbook, about which we recently wrote. The market has proven that netbooks are not just cheaper, crappier laptops, and Intel should take heed of this.
It would be short-sighted and senseless for Intel to stop the experimentation with the new netbook market, considering the recent explosion of new netbook releases. In my opinion, the rise of netbooks is more than a trendy bump in the timeline of technology – it is indicative of a change in the market itself.
The fact of the matter is that shoppers are showing that they want a cheap, slim laptop-like device, no matter how knockoffy netbooks seem. They are buying netbooks, and skepticism can't make much of an argument against that – at least for now.
Intel has the potential for far more profit in its hands, given the netbook community's clear preference of the Atom, and would do well to let the market prove its sustainability.
Nov 23 2008
Comments Off on Check Out The New… Hello Kitty Netbook?
In an unexpected turn of events, Onkyo from Japan has released what we here at Netbook Boards think is surely the cutest netbook to date.
All humor aside, the Sotec Hello Kitty C1 has basic features and, aside from its appearance, does not vary much from the standard netbook on the market. It has a 1.6GHz Intel Atom N270 processor, a 120GB hard drive, 1GB of RAM, and a 10.1-inch display. It also features two USB ports, a 1.3-megapixel Webcam, and 802.11b/g Wi-Fi. It runs XP as as well.
The most important feature, however, has not gone unnoticed – its laughably high price tag. At a pocket-emptying $890, you can expect to spend 3-500 dollars more for this thing than you would for a Dell Inspiron minus the decal.
Unfortunately for Sotec, only the most die-hard Hello Kitty fans or those uneducated about the market will waste money on this netbook.
______________________________________________________
In other news, check out ZDNet's commentary on Apple's refusal to enter the netbook market here.
Nov 22 2008
Comments Off on Netbook Giant MSI Releases Improved Wind U120
Yes, you heard right – the tremendously successful MSI Wind has gotten a facelift and some new features to boot.
With a new, snazzy black-and-white exterior and some improvements to its hardware, the new Wind should boost sales for the company and netbooks in general.
Once again turning to the the 1.6 GHz Intel Atom, MSI has made some welcome improvements to its netbook. The new display is a brilliant 10-inch 1024×600 LCD. It's gotten a bit heavier, weighing in at 3 pounds, but the upside – a new 6-cell battery – is well worth the minor increase.
Another addition is the new Intel WiMAX Technology or 3.5G Solution, which while uncommon is proving to be easily connectable and wide-ranging. The hard drive is a 160GB SATA. Using devices will be easier this time around, with three USB ports and a 4-in-1 card reader.
This is an exciting move from MSI, showing how far major companies are going with the netbook market. The Wind U120 is one of the only sequels we've seen so far but should be a big competitor in the weeks to come. We'll have to see if ASUS has anything upcoming to match this progress. Check out the full specs:
Intel® Atom™ Processor 1.6GHZ
945GSE + ICH7-M Chipset
Intel GMA950 Graphics
DDR2 6673 MHz 1G On Board Memory
10" (1024 x 600) LCD Display, LED Back-lit saving
160 GB (2.5" SATA) HDD
4 in 1 Card Reader (SD/MMC/MS/XD)
I/O: D-Sub x1, USB 2.0 x 3, Mic In, Headphone, RJ45
Battery: 6-Cell
8.02.11 b/g/n Wireless, Bluetooth V2.0EDR Intel® WiMAX Technology / 3.5G (HSDPA) Solution
Webcam: 1.3 M
10.23" x 7.08" x 0.38" ~ 1.29"
3 lbs (w / 6-Cell Battery)
Nov 19 2008
Comments Off on Epson of Japan Launches Endeavor Na01 Netbook
Described as "slightly frumpy" by Engadget and "not the sexiest looking mini-lappy" by UK tech blog Electricpig, the Endeavor has been turning heads – if not in the best way possible. Judge for yourself: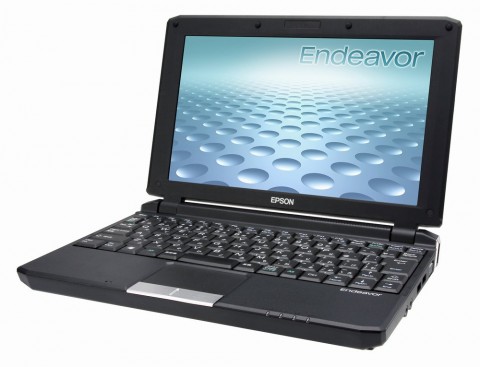 The Japanese company has started its foray into netbooks in a very uncontroversial way. Largely known for its printers and projectors, Epson's simple contribution will offer little in the way of novelty, but will take the role of being one more netbook up for purchase.
Running the common 1.6 GHz Intel Atom, the Endeavor is no record breaker. It has 1 GB of memory, a 160 GB hard drive, and Wi-Fi. It features USB 2.0 and a 10.2 inch 1024 x 600 LCD screen.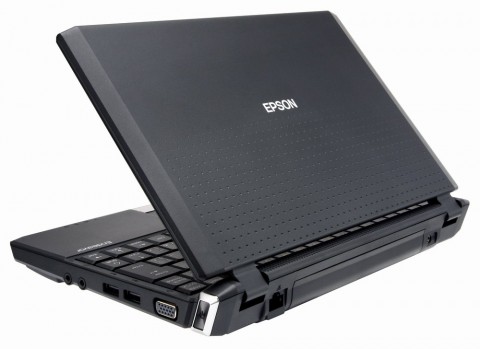 To be fair, it should be a competent competitor for the ASUS Eee and MSI Wind, if an undistinguished one. The Na01 is somewhat compact at 1.5 inches thick and weighs 2.82 lbs. The price at the moment is a solid $484 (46,800 JP), a certainly comparable price.
The uninteresting but capable Endeavor will run XP, and seems a valid option for new buyers in the market. For now, it's only available in Japan, so we'll have to wait to see how it performs in the States. Stay tuned.
Nov 19 2008
Comments Off on Toshiba NB100 Netbook
The new Toshiba NB100 netbook has hit the market, boasting a few enticing features to differentiate it from the competition.
The Toshiba features the same Atom processor used by the Eee PC, MSI Wind, and Mini-9. At a standard 1.6 GHz with Wi-Fi, bluetooth, Ethernet, USB ports and a memory card slot, the NB100 seems somewhat basic in most areas. There is one aspect to the netbook, however, that I think is something to be excited about.
The most fascinating thing is that the USB connectors on Toshiba's first netbook are designated 'sleep-and-charge'. What this means is your USB-connected devices (cell phones, MP3 players, etc.) can be charged through the netbook without you needing to even turn on the machine. This step seems to be part of a new wave of efforts (that we noted in yesterday's article) towards improving the efficiency of these devices. With business travelers and college kids not needing to carry around as many power adapters, this feature will definitely make the NB100 all the more attractive to the netbook market.


The flip side here is that the keyboard of the Toshiba NB100 is sadly somewhat imperfect. While it may not be an issue for the more enduring among us, typing for long periods may become uncomfortable and difficult. Instead of being appropriate for the 8.9-inch size of the thing, the keyboard seems as though it were built for a 7-inch netbook. While netbooks like the Dell Mini-12 (which we covered a few days ago) have shown a trend towards improved keyboard usability on smaller devices, the Toshiba NB100 is somewhat substandard in this respect.
Personally, the sleep-and-charge feature sounds interesting and intelligent, but not worth the small keyboard. However, with its first netbook certainly up to par in other areas, Toshiba looks to be willing to experiment with the netbook market. We should expect some promising things in the future.
Nov 17 2008
Comments Off on ARM Netbooks To Feature Ubuntu Linux OS
The UK-based mobile phone chip designer ARM recently announced that it will feature Ubuntu, the open-source Linux operating system, on its upcoming netbooks.
Noting that ARM is known for the long battery life of its mobile phones, analysts believe the joined forces will produce something ideal – efficient, light-weight, cheap netbooks. Increased battery life is enticing for buyers, for whom netbooks' compatiability with their busy schedules is a main concern.
ARM's Vice President of Marketing Ian Drew said the aspect of mobile devices that is most quickly growing is "the always-on experience." Increased battery life will be a necessity in the coming months as the emphasis on this feature continues to grow.
"The release of a full Ubuntu desktop distribution supporting latest ARM technology will enable rapid growth, with internet everywhere, connected ultra portable devices," Drew continued, emphasizing the positive prospects of the partnership.
The ARMv7 architecture, including ARM Cortex-A8 and Cortex-A9 processor-based systems, are expected to be the aspects utilized by the Ubuntu Desktop OS.
The COO of Canonical, Ubuntu's commercial sponsor, focused on the varied choices this partnership will give consumers, stating that "[ensuring] that a fully-functional, optimised Ubuntu distribution is available to the ARM ecosystem" will offer "wider choice for consumers looking for the best operating system for their digital lifestyles."
"This is a natural development for Ubuntu, driven by the demand from manufacturers for an ARM technology-based version."
It is likely that this partnership will create even more competition with Intel's Atom, especially given the recent announcement from AMD.
According to Rob Coombs, Director of Mobile Marketing at ARM, the first devices should be seen around the time of the June Computex show next year. We'll keep an eye out.
Nov 16 2008
Comments Off on Dell Releases New Mini 12 Netbook In US
It's turning out to be quite the week for new netbook releases! The Dell Inspiron Mini 12, which has been available in Japan for some time now, has become available in the USA.
The Mini 12 sports a massive 12 inch display, one of the largest screens seen in netbooks so far. It starts at a moderately pricey $549.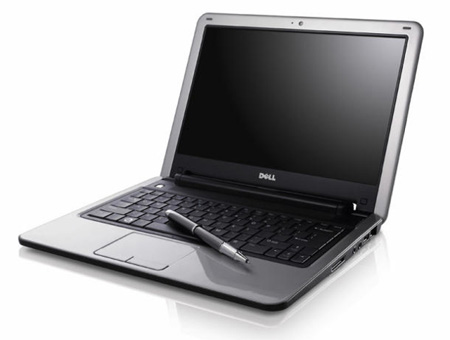 This new release is yet another example of Dell's willingness to gamble on the new netbook market and take hold early. This attitude is a stark contrast to those of companies such as Apple, whose conservatism may save them a lot of money or lose them just as much.
Dell had previously taken strides into the netbook market with its Mini 9 last September, which was a cheap $349 but had only  4 GB of disk storage and lacked bluetooth. The Mini 9 also only came with Linux's Ubuntu, charging an extra $50 for XP. Its 9 inch screen was a more standard size for netbooks.
The new Mini 12, to contrast, has bluetooth and will run Vista Home Edition. Its operating system has been criticized as a poor choice for netbooks, with detractors citing its resource demand and lack of features to compensate. There is unfortunately no option to get the Mini 12 loaded with XP, which puts the new netbook in some danger. Otherwise, it is exceptional for its laptop-like screen size and good looks and its netbook features.
It will come in both white and black.
Some specs:
Intel Atom 1.33 GHz, 533 MHz bus, 512k cache
Windows Vista Home Basic
12.1 inch screen @ 1280×800
1GB RAM @ 533MHz
40GB hard drive @ 4200 RPM
No optical drive
Wireless 802.11g
Integrated webcam
Bluetooth 2.0
3 USB 2.0 ports
VGA video connector
Audio in/out
3-in-1 media card reader
Megabit Ethernet
0.92″ thick
2.72 lbs
Nov 16 2008
PC Pro's recent test of the new dual-core Intel Atom chip showed it to be only a marginal improvement over the previous single-core model. While it gained much hype at its announcement last August, the new test may temper much of the enthusiasm about it.
Called the Intel Atom 330, it has a 533MHz FSB but runs at the same 1.6 GHz as previous iterations of the chip. While clearly faster than the now-standard Atom N270, it has not met expectations completely.
The results of the test showed the chip to be a mere 16% faster than the previous one.
It is important to note that the device tested was only a desktop version, not a netbook-ready version. As such it is as of yet impossible to determine how battery life wil be affected by the 330. Energy efficiency is obviously a crucial for netbooks, so if the 330 turns out to weigh down on the battery, manufacturers and consumers will be likely to pass it on.
Read more about the test here.
________________________________
In other news, check out Larry Digman of ZDNet's article concerning recent confusion over AMD's announcement about the netbook market (which we covered in our November 13 article):
Nov 13 2008
It was Financial Analyst Day at AMD. The rustling rumors had abounded for quite some time, with nothing to show to confirm or repudiate them. Speculation reigned where information was scant, but now the announcement has been made. Via webcast in Sunnyvale, California:
By 2009 Advanced Micro Devices will have entered the realm of netbook processors.
The processors introduced over the next few years will support DDR3 memory have two cores. The first to be released in 2009, a slim 45 nm chip which should support a cache of 1 MB, has been codenamed Conesus. A 2 MB chip, Geneva, is due to be released in 2010.
For those with a less technological bent, this means the new processors will be able power more than a basic "Web experience," according to the senior VP of AMD's Computing Solutions group Randy Allen. This is a bit vague for my tastes but we'll see what comes up in the near future.
The announcement has brushed aside rumors that AMD's efforts at a low-power processor had been abandoned. Last year AMD had announced a chip called the Bobcat, "designed for maximum energy efficiency and performance-per-watt for next-generation mobile devices, scaling as low as 1 watt." The Bobcat's development had been alternatively confirmed and denied by officials at different stages, leading many observers to attempt a connecting of the dots between AMD's consecutive quarterly losses and the Bobcat's possible abandonment.
Though AMD calls it the "mini-notebook" market (as seen in the top picture), there is no doubt about whom it wishes to compete with. The netbook market is for the moment dominated by Intel's versatile Atom processor, and AMD hopes its entrance into the market will provide some stiff competition. The Atom is currently available in the Asus Eee PC, among others, so it will certainly be a tight game from here on out.
We'll keep you updated.
Nov 6 2008
In what appears to be an effort to clear shelf space for the up and coming $200 Eee PC, local retailers such as Best Buy as chopped $50 off of MSI's 10-inch Wind U100,  which clocks in as a Q2 MSI Wind Netbook with Intel® Atom™ Processor N270. Let the phase out begin!