Intel turned heads in the hardware world with its release of the Core i7 980x. With a stock 3.33 GHz and a ridiculous hex-core (that's right, 6 cores) it easily is the number one consumer processor.  Even with the premium price of $999, AnandTech raved as the chip blew out benchmark after benchmark.
If for some peculiar reason you weren't astounded by the sheer power of that, Origin PC has the solution for you.  On its Genesis desktop, it is offering the Core i7-980x overclocked to an astonishing 4.3 GHz.  Let us restate for added emphasis: 6 cores at 4.3 GHz.
And since the 980X is an Extreme Edition, it has overclocking covered in the warranty.  Have fun trying to max it out, if you can pay the price.  Just the processor option for the OC 980X is $1044.  So if you have over a thousand dollars burning a hole in your pocket, be my guest. I shall envy you.
Via Engadget.
Mar 3 2010
March 2, 2010 – This day marks the dawn of the coming generation of hardware platforms.  Both AMD and NVIDIA unveiled their new platforms today, meaning some exciting GPU integration for future products.
First off is AMD's 890GX chipset.  This platform is for general motherboard usage across a variety of products.  However, it is poised towards the HTPC market, providing high-quality HD viewing with a not so expensive price.  The 890GX delivers this using the HD 4920 GPU for integrated graphic, which is DirectX 10.1 compliant and rendering 1080p video through MPEG2, VC-1, and H.264. Also look for USB 3.0 on certain motherboards.
On NVIDIA's side comes the long awaited Next-Generation ION with Optimus technology, formerly known as the ION 2.  The next-gen ION is boasting major gains over the original ION, and NVIDIA claims it will be 10x as powerful as the integrated GPUs supplied by Intel.  It will be able to provide 1080p and 3D gaming to your tiny 10.1" screen.
The ION architecture will vary between 10.1" netbooks and larger 12-inch models, with each respectively getting 8 and 16 CUDA cores.  There are already 30 products lined up for release with the next-gen ION, with the first being the Acer Aspire One 532G.  Look forward to summer where these products should enter the market.
Via DailyTech
Feb 9 2010
After a long wait, it seems that the marriage of AMD and ATI has finally conceived a child worthy of their merger.  The Llano platform is AMD's answer to Intel's integrated graphics, and it has successfully turned heads. AMD doesn't call the Llano a CPU or GPU, but rather some peculiar marketing term dubbed the "Applications Processing Unit" or APU.  It may not be the catchiest phrase, but we all know what it really is and it actually could give the Intel IGP a legitimate challenge.
On the CPU side, the Llano will have a quad core on a 32 nm die. Each core will have 1 MB of L2 cache, and AMD is most likely targeting under 3 GHz for clock speed.  Tag that along with with a fully DirectX 11 capable GPU (details not yet revealed) cast on the same die as the CPU with parallel vector hardware, and you get a potential Intel laptop killer.
Sampling will occur in the second half of the year and OEMs will get access in 2011.
Via Ars Technica
Jul 22 2009
Back during Computex Taipei 2009, Intel showed off its new Atom N450 netbook CPU to the world. It's based on the 45 nm CPU codenamed Pineview and a wide release has been expected for quite some time.
However, since the June electronics show ended, nothing has been heard from the major PC vendors as to plans for developing N450-based netbooks. Rumors put the onus on cautious OEMs waiting for the big players to make announcements, and those rumors have been confirmed by Digitimes.
Joanne Chien of Digitimes Research said that "vendors are still awaiting the situation to clear up, as Intel has decided to delay the launch of the new CPU to early next year," in an effort to not impact the netbook market in the second half of 2009.
In other news, Digitimes Research has put together an interesting graph of netbook growth for the visually inclined. Check it out: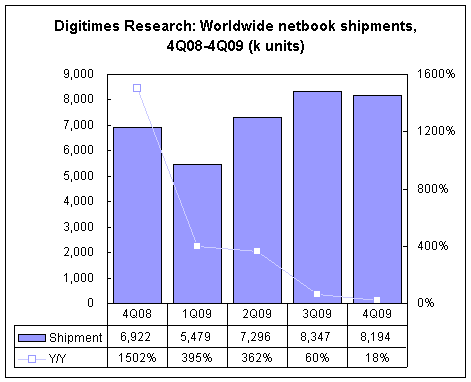 Note: Shipments do not include white-box netbooks from China.
Source: Digitimes Research, compiled by Digitimes, July 2009