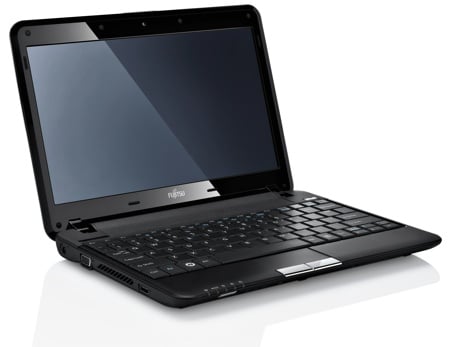 Fujitsu is rocking the netbook industry boat this fall with a new 11″ CULV laptop offering called the Fujitsu Lifebook P3110.
As far as we can tell, it's not a netbook – it runs a choice of either the single core Celeron 743 or Pentium SU4100, or the dual-core Core 2 Duo SU7300 CPU.
In nearly all other aspects, it's a netbook. The machine has 3 USB ports, an SDHC card slot, Ethernet, and VGA. We're still in the dark about other specs, but as the November 9th release date crawls closer we expect more details. What we do know is that a 3G HSDPA version is on the way, and that the Lifebook P3110 will come in red, black, and silver.
Battery life should be about 6 hours, and each CULV laptop will come with up to 4 GB of RAM and 500 GB of space on the HDD. Also included are Wi-Fi and Bluetooth.
The 3G models come out on November 23, and will most likely come bundled with Windows 7.
Via RegHardware.