Looks like CherryPal, a company that manufacturers ultra low-end computers, is releasing another laptop.  The new "Asia" netbook will cost $100, but buyer beware — you'll get what you pay for.
Even though they are similarly priced, the 7″ CherryPal Asia netbook will be slightly better than the CherryPal Africa.  Asia will feature a 533MHz ARM A9 processor, 256MB of RAM, and 2 GB of storage space.  Not the most impressive tech specs, but on the bright side, the netbook will also have a decent number of USB slots, 3 to be exact.  The Asia netbook will run on the Android operating system and put a large emphasis on cloud computing.
There will also be a slightly more expensive model of the CherryPal Asia.  It'll run for $148 and will have a [slightly larger] 10″ screen and webcam. No pictures are yet available for this netbook.
Via CrunchGear.
Jan 12 2010
Google's Android OS is becoming so successful that it is stealing the spotlight from Microsoft's Windows Mobile OS. There is strong evidence that the next major release of Microsoft's OS, Windows Mobile 7, has been delayed yet again. Windows Mobile 7 was supposed to be released this year, but now analysts are saying that there is evidence that it has been delayed until 2011 due to Android's increasingly popularity with manufacturers. Android is open-source and free to use – a stark contrast to Windows Mobile.
Steve Ballmer's keynote at the Consumer Electronics Show (CES) did not mention anything about Windows Mobile 7. Only the current version of the OS was mentioned. Microsoft may offer more details at the Mobile World Congress next month in Barcelona, but no one is certain if this will happen.
Windows Mobile 7 has already been delayed. It was originally supposed to come out in 2009, but then the release date was pushed to 2010 because Microsoft was allegedly working on some big changes. If Microsoft delays Windows Mobile 7 again, users and manufacturers could become frustrated, if they aren't already. Still, let's not get ahead of ourselves – at this point, Microsoft has not confirmed any delay.
Via PC World.
Nov 19 2009
Computer manufacturer Haleron is promoting a new Linux-based OS that will be able to run Linux, Windows, and Android applications. The new Linux OS is based on SUSE Linux, but it includes WINE, which will help in running Windows applications. There's also additional software that's included in the package that will let you run Google Android applications.
The netbook version of Haleron's new Linux OS is 420 MB. There's also a desktop version of Haleron's new Linux OS. Installation can be a bit tricky, but if you're interested, PenDriveLinux has simplified instructions on formatting a USB drive to prep for installation. The actual Haleron Ocean OS can be downloaded here. You'll need to register for a free account.
If you test out Haleron's new Linux OS, we'd love to hear what you think!
Nov 13 2009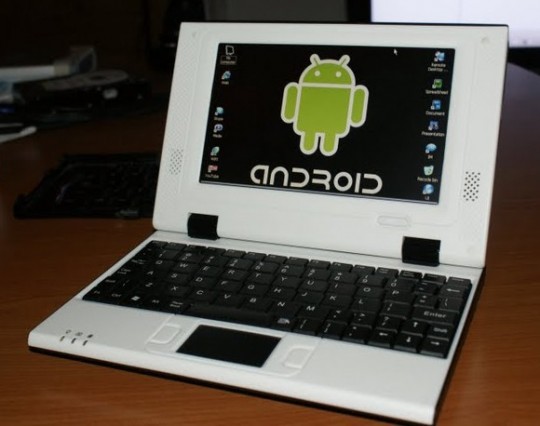 The $100 netbook used to be the Holy Grail of the PC industry, and while mainstream manufacturers haven't touched the price point (broadband netbook deals don't count) a select number of netbook makers have gone to $100 and below.
MenQ is the latest in the rush for the cheapest machine, and this time it costs a mere $80.
So what will 80 bucks get you? The EasyPC E790 has a 7-inch 800 x 480 display, Samsung ARM926EJ-S3C2450 CPU, and Windows CE. However, if you're not a fan of CE, Google Android will be getting a firmware update this month. Word has it an ARM Cortex 8 CPU could show up later for $10-$20 more, but the extra speed will definitely be worth it.
You can't buy directly from MenQ, and there's no word on when this little guy will be available. In the mean time, check out Charbax's video review of the MenQ EasyPCE790 below.
Via SlashGear.
Oct 30 2009
Comments Off on ASUS to Launch Inexpensive Smartbook in 2010
ASUS is planning on launching a smartbook in Q1 of 2010. This smartbook is described as a low-powered, 3G-enabled ultraportable laptop with an ARM-based processor. It's rumored to have a 1 GHz Qualcomm Snapdragon processor as well as GPS, 3G, and Wi-Fi capabilities.
It's currently uncertain what operating system ASUS' new smartbook would run on, but the claim is that it will run on the Google Android OS. Pricing for the smartbook is rumored to be set around $180 each.
Via TomsHardware.
Oct 20 2009
A number of industry sources have confirmed that Google may be prepping a new Android phone and netbook combination. Northeast Securities analyst Ashok Kumar, in particular, claimed in a research note that Google's phone will be available by the end of the year, with a netbook following suit by early 2010.
The smartphone will use an unnamed Qualcomm chipset, but the netbook will use Qualcomm's much-touted Snapdragon processor. Both machines will run Android 2.0.
Google has, naturally, neither confirmed nor denied the report. While a number of Android phones out there are branded as being 'with' Google, the new device will supposedly be co-designed with Google taking a more powerful role than it has historically.
A Google Android phone will ramp up competition with Apple, from whose board Google leader Eric Schmidt resigned in order to avoid a conflict of interest following the announcement of the Chrome OS.
Via Electronista.
Sep 26 2009
It seems that a lot of the buzz about Android has settled since the announcement of the Google Chrome OS. While a number of companies have promised and delivered Android netbooks, those announcements have been few and far between.
Nonetheless, we now have word of the Acer Aspire One D250 Android netbook which dual-boots Windows XP. Unfortunately, a review at eprice.com claims that the netbook ships without Android Market and thus no ability to add apps to the OS.
On the other hand, boot times are said to be superb. It may be a while, but hopefully once the Acer Aspire One D250 Android netbook is released those issues will be fixed.
Via Geek.
May 21 2009
Comments Off on 2010 Netbooks to Be Netbook/Smartphone Hybrids
The first netbooks in 2007 were small, light, and cheap. As consumers' tastes changed over the past couple of years, the average netbook size and price has increased slightly and netbooks have been equipped with faster processors.
Future netbooks are rumored to combine the best features of current netbooks and smartphones and will have new processors and operating systems as well. Here are some things to look out for:
1. Netbook processors: Netbook processors will be more powerful and have greater capabilities. Newer processors will use less power and thus allow netbooks to operate for longer periods of time. Some potential manufacturers for these newer processors include: Texas Instruments, Freescale, and Qualcomm. The Snapdragon processor by Qualcomm that only uses 500 milliwatts of power has acquired a good amount of attention and is something to watch out for in the future.
2. Netbook operating systems: Netbooks originally started out with Linux, but when Windows was available to be pre-installed, many more purchases of netbooks with the Windows operating software pre-installed were purchased. In the future, more netbooks will run on new(er) operating systems, such as Google's Android.
3. Apple: There are still many rumors about if Apple plans on breaking into the netbook market. And then if it does, will it issue a netbook or some other related device? There's always the chance that Apple could even come up with something to revolutionize the netbook market altogether. The company's currently keeping mum about this, but we'll keep you posted.
4. Other Developments: Netbooks will continue to evolve, and in general, will be cheaper and better performing in the future. Some things to look out for are the new Windows 7 operating system for netbooks and the development of Snapdragon-based netbooks.
5. Price: Pricing for netbooks is expected to drop in the future. There will also be more discount packages for these mobile devices. For example, in the future, ARM-based netbooks are predicted to be sold for roughly $200 and currently, cell phone companies such as AT&T sell subsidized netbooks for $50, with a two year monthly-data plan contract. (For now though, the latter is only in Philadelphia and Atlanta).
Despite all the signs of netbook evolution, some people are still skeptical about the future of these mobile computing devices. Any opinions?
Via PCWorld.
May 10 2009
A recent leak by a Dell affiliate has led many to believe that Google Android is in the cards for the PC giant. The new netbook would likely be cheaper, as Android is free, and would run ARM architecture rather than the Intel Atom.
BSquare, a software company, announced the plan in a press release. It mentioned a plan to use Adobe software with "Dell netbooks running Google's Android platform."
Apparently, Dell isn't too pleased with BSquare's announcement. Spokesman Andrew Bowins of Dell admonished that the release was published "in error," though he didn't precisely assert that BSquare's claims were false. His comment was suitably vague:
"Dell constantly assesses new technologies as part of managing our product development process and for consideration in future products."
For now that's all we've got. Partnering with Dell would be a big move for Android netbooks, and it will be exciting to see if anything of value comes from that kind of effort in the future.
Via WSJ.
Apr 26 2009
Android is a Linux-based platform that was originally created for cell phones, but is now being used on other mobile devices, such as netbooks. The first netbook to run the Android operating system is planned to be released within the following three months, for a price of $250. The production of Android-based netbooks are expected to increase in the latter half of 2009 and the price is expected to be driven down to $200 or less.
The netbook that is to be equipped with the new Android operating system will be called the Alpha 680. It is currently going through final testing at Guangzhou Skytone Transmission Technologies in China.
Some tech specs of this netbook include a 7″ LCD screen, a 533MHz ARM 11 CPU, and wi-fi. This netbook will have a 2-cell battery that is expected to last for two to four hours (when browsing the Internet).
Via CNet.
Apr 21 2009
Comments Off on Skytone Releases The Alpha 680 Android Netbook
Android has been announced for a few devices so far, but a new release by China-based Skytone is the very first flesh-and-blood Android device, ripe and ready to buy: the $100-$200 Alpha 680.
The device comes in pink, yellow, red, black and white, and you can find it on Skytone's site. It has a flip-around touchscreen, designating it a tablet netbook, and is said to have an integrate "gaming pad" as well.
Skytone included Wi-Fi, Ethernet, a few USB ports and an SD card slot for a low cost, but otherwise the device is what you'd expect from such a cheap machine. Take a look at the full specs, courtesy of ComputerWorld:
Some are saying the Alpha 680 netbook is just a "glorified cellphone", and we can't quite blame them. At the very least, however, given Skytone's precedent of selling Skype headsets, it is sure to run Skype successfully.
The ARM CPU is no powerhouse and there isn't much RAM to work with, but at least you can use the SD card to plug in a few more GB of storage.
If the Skytone Alpha 680 Android netbook isn't your cup of tea, don't worry – the OS is going to be all over the market very soon, with quite a few manufacturers (Pegatron, for one) confirming their intent to sell Android netbooks.
Via ComputerWorld.
Mar 6 2009
Comments Off on Google's Plan To Profit Off Android Netbook Combo
The time may soon arrive when the two poles of the OS world – Windows and Linux – are joined by a third: Android by Google.
The OS has been implemented in smartphones, but according to Unwired, Google has a team settling down in Taiwan to focus on Android.
Google's thinking something a lot of us have wondered about for a long while – why not throw it into netbooks? It's user-friendly and fast, and if users have adapted to Ubuntu, why not Android as well? The concept has been rife with controversy for a while, but it's looking like Google intends to put the issue to rest once and for all.
Even ASUS has hinted that an Android model will sneak into its Eee PC lineup by the end of this year. If ASUS is buying it, other manufacturers will be sure to follow.
NBR is breaking down Google's Android netbook plan into three steps: AT&T-/Radioshack-style data plans offered with cheap or free netbooks, involving Google Adwords in netbooking for ad revenues, and charging for the 'Premier' use of cloud applications like Google Apps.
Via NBR.
Feb 3 2009
Intel is getting ready for something netbookers have anticipated for a long time – Android netbooks. Intel's role will be to get chipsets supporting Android to manufacturers. The common belief is that, while the market will likely remain dominated by Windows and Linux, netbooks using Android would definitely benifit from the OS's efficient and mobile design.
We don't have as much info as we'd like to about what modifications to current netbook lines will accompany the change. Hopefully, Android will continue to run well on the Intel Atom and Intel won't have too worry too much about getting the new netbook category outfitted with Android.
Netbooks are increasingly pre-loaded with 3G, and Android will take advantage of this feature. Android is intended for always-on connectivity and mobility. The OS will also bring in the Android Market, an App Store-style software distribution that may entail downloadable upgrades and applications for your Android netbook.
We here at Netbook Boards are definitely excited for Android netbooks. The buildup to them and discussion of them have been raucously controversial and gossipy, but now that they're on the way, they should add a great deal to the market and help the netbook category grow into something far more usable and consumer-friendly.
Via AndroidCommunity.
Jan 13 2009
Comments Off on Qualcomm Snapdragon Chip To Challenge Intel Atom
Qualcomm intends to challenge the hold Intel has over the netbook world using the Snapdragon chipset to compete with the Intel Atom processor.
Paul Jacobs, CEO of Qualcomm, thinks Intel wants to get into smartphones and MIDs at the same time the Snapdragon processor is released. Qualcomm's prognosis is that 15 companies will launch MIDs and netbooks using the Qualcomm snapdragon in the first half of 2009. He's confident Qualcomm will have a solid edge over Intel, knowing the capabilities of the Snapdragon. It's hard to argue; the $350 million Snapdragon has some enticing specs, including quick-boot.
Qualcomm even demonstrated the Android platform by Google on its Snapdragon last week at CES in Vegas. An Android netbook has been a dubious idea for many, but the demonstration gives the concept a far more realistic edge.
The company says some manufacturers working with Qualcomm for Snapdragon devices include HTC, LG, and Samsung. Can you say smartphone?
Via FierceWireless.