We've still got to wait until early January for the Lenovo Thinkpad X100e netbook, but luckily some more info has surfaced about the upcoming machine in the mean time.
The new Lenovo netbook will come with AMD's Athlon Neo processor, lasts 5.1 hours on a single charge, and will sell for under $500.
This is relatively inexpensive, considering its other fantastic specs. The Thinkpad X100e netbook will rock an 11.6-inch HD display, GPS capability, a memory card reader, GbE port, and up to 320 GB of storage. It will come in red, black, or white. And don't worry – Lenovo has kept its famous red Trackpoint alongside a traditional trackpad.
We're betting on Windows 7 Starter Edition for the OS, as that seems to be the norm these days, but since Lenovo has specified that the netbook will have "business and home OS support" it seems reasonable to add the Business edition as well.
Via Ubergizmo.
Jul 1 2009
Posted by Michael in Dell, Netbook News
Comments Off on Dell Introduces Location-Based Features for Mini 10 Netbook
Dell's new business plan has taken some hints from the age-old mantra of real estate – location, location, location. The PC giant's new location-based netbook program may garner it far more buyers for its Inspiron Mini line.
The plan involves selling Dell Mini 10 netbooks with features like GPS tracking and a Google Maps-style business finder. Other Dell netbooks could receive the new features as well.
Hopefully, Dell will be able to differentiate its netbooks from the machines of competitors like HP, Acer, and ASUS. Second only to HP in computer sales, the new changes by Dell could have wide-reaching effects.
Location-based services got a major boost in eminence since the release of the eternally useful iPhone. Combined with 3G internet, Dell's Inspiron Mini 10 netbooks could become a new generation of take-anywhere devices.
Via CNN Money.
Jun 22 2009
Not a year ago, this might have been labeled an ultramobile PC, but nowadays we're calling devices like the Kohjinsha SK3 touchscreen netbooks. The new device is Kohjinsha's upgrade to the 7-inch SC3 UMPC. What's different? The new device got a better battery and upgraded cameras, among other things.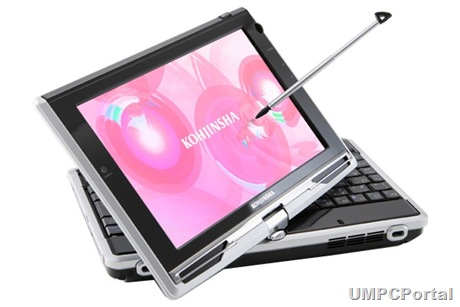 While comparisons to the ASUS Eee PC T91 are tempting, the SK3's convertible resistive touchscreen is 3 inches smaller than that on the T91. The 1.3 GHz Menlow CPU is supposedly fast enough to run Vista. Wi-Fi got draft-n support this time, and old connectivity choices like PCI Express, SD, VGA and Ethernet are still included. The netbook has GPS capability as well.
Unfortunately, we don't know quite what kind of life we'll be seeing for the new battery. Pricing is also unknown, but we'll be on it as soon as the numbers are out there.
Via UMPCPortal.
Mar 7 2009
GPS functionality has been added into a few newer netbooks like the Trimble Yuma or ASUS Eee T91, but rarely have manufacturers imagined the role of GPS to be more than a snazzy new feature… until now. Express Mounts, a division of GPS CITY, has announced the Tough Tray II, an "inter-vehicle mounting solution" designed for netbooks to be incorporated into your next confusing car ride.
We don't have any pictures just yet, but apparently the cradle is designed to fix netbooks to the dashboard, near the windows, or to the side. It's a bit difficult to imagine what this would look like but the versatility sounds appealing. It's easy to see how it could be implemented; I can already see taxi drivers or law enforcement equipping tablet netbooks for logistical or organizational purposes.
Brenton Wingard, VP of Operations, is hoping to spring off of the growth of the netbook market and show consumers how the device expands their potential:
"In tough economic times, Netbooks are just what people need — since they're so affordable, they'll become increasingly attractive to consumers. And because of their portability and range of applications, our mount will logically become a necessity."
Wingard thinks the new netbook-centric addition to Express Mounts' line of products shows the versatility of the company, and expects the mounts to be implemented for whatever new devices hit the market.
The specifics and pricing of the netbook mount will decide whether it's worth your money, but so far it looks like a great accessory to augment your netbook and maximize the uses you can get out of it.
Via PRWeb.
Feb 23 2009
The newest netbook on the market is furnished in true OLPC style. It's the hardiest machine we've encountered yet, with a contender being the relatively unknown CTL 2go PC netbook of last year. Take a look at the new Trimble Yuma tablet netbook, designed for the harshest of environments:
As we reported recently, manufacturers are taking note of midsize firms' need for rugged machines and are delivering accordingly. Netbooks are filling that gap nicely due to their low cost, and the 2.6 pound Trimble Yuma is the result.
The Yuma tablet netbook  can be submerged in 1 meter of water without sustaining damage. It earned Ingress Protection Ratings of six for dust damage and seven for water.
The netbook can do some hard work itself, too. It is powered by a 1.6 GHz Intel Atom, and comes with Wi-Fi, Bluetooth, GPS, "dual digital cameras", and slots for SDIO and an ExpressCard. You only get 32 GB of storage, but for an SSD that's quite a bit. Moving parts on hardy machines are looked down upon, thus the need for the solid state drive.
Additionally, you can read off the 7-inch screen in direct sunlight. No OS has been specified for the Trimble Yuma thus far, though the pictures suggest Vista. Will it be well-powered enough to run the OS?
Personally, I'd imagine a Linux OS or XP would be a better choice – most netbooks simply can't handle Vista. On the other hand, if the Yuma works it works, and if it makes it to the industries it's designed for that's what it's going to need to do.
There's no word on pricing or availability just yet, but we'll keep our eyes peeled.
Via DailyTech.
Jan 9 2009
Who remembers the debunked sub-$100 Coby netbook rumors we covered back in early December? Well, those rumors still aren't true, but CES has delivered the next best thing – Coby netbooks for less than $200.
According to Coby, these colorful netbooks are a "market research project" – not reality just yet. The colors are interesting, but the netbooks themselves are competitive in price and little else. They run the standard Atom combo we're used to and feel a bit low-end, but that's to be expected.
Engadget thinks the only differentiation netbooks have is cost, something with which we staunchly disagree – just check out the new facial recognition and GPS netbook technologies on the way. However, for low end models such as these, their statement is quite true. We'll let you know if these netbooks make it to the market.
Via Engadget.