Dell showcased the new version of its incredibly popular Dell Mini 10 netbook today at CES 2010, and it's been loaded up with what we've come to expect of top-of-the-line netbooks – an Atom N450 CPU, 1 GB of RAM, and 250 GB of space. However, Dell is upping the ante with new options for multimedia use.
It comes with a boatload of custom options, including 720p HD capability on its 1366 x 768 pixel screen, a hi-def TV tuner, GPS service, and a HD processor to manage more intensive video content. It will run Windows 7 and comes with a useful 9-hour battery life.
The new Dell Mini 10 will be available this month, $300 and counting once you add those sexy new features.
Via Wired.
Dec 19 2009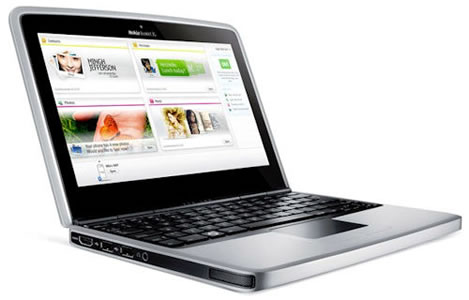 This January, Nokia is going to be selling the Nokia Booklet 3G netbook for £650, or around $1000 USD. This is a big boost over its £500 price quote back in August.
But if you can drop that kind of cash, you won't be disappointed with your new netbook. The Nokia Booklet 3G rocks a 10.1-inch 1280 x 720 HD display, HDMI, and a variety of connectivity coptions including integrated 3G, Wi-Fi, and GPS. The hardware is solid – an Intel Z530 CPU, 1 GB of RAM,  a 120 GB HDD, GMA500 and a godly 16-cell battery that will keep your machine churning for up to 12 hours. The new netbook runs Windows 7.
Not impressed? There's probably something wrong with you. Even so, Nokia is planning a new Booklet 3G netbook in 2010. It will run Intel hardware with Maemo technology and most likely a lower price tag.
Via WhiteHatFirm, image via TechSpot.

Oct 14 2009
Smartbook maker Mobinnova is working on an 8.9″ netbook lookalike called the Beam. It runs Windows CE, leading us to believe it's a bit of an underachiever, but unexpectedly supports HD video and runs the Nvidia Tegra chipset.
The netbook/smartbook/whatever will be launched by a carrier like Verizon, who will subsidize its cost. Mobinnova says it won't come with an app store but downloadable apps and games may be available upon it's release. I'm frankly not quite sure what the difference is.
The beam also supports GPS but won't come with a navigation application. Furthermore, the netbook is said to be capable of " HD playing for 5 to 10 hours, or up to 24 hours of continuous music playback." Whoa.

It's expected by January 2010, so keep your eyes peeled for updates by then.
Jul 10 2009
The line between the netbook and notebook is blurring yet some more. Netbooks are getting to have some pretty impressive specs, similar in caliber to those of standard notebooks.
The F88 netbook has some pretty impressive qualities itself, including a 1.6 GHz VIA Nano processor with a VX855 chipset, a VIA S3 Chrome 9 graphics chipset, 4 GB of RAM, and as much as a 500 GB hard drive.
Some other other tech specs of this machine are similar to those of pretty standard netbooks. The F88 has a 10.1″ screen with 1024×600 resolution. It can also handle 1080p HD and HDMI output. This netbook has Wi-Fi, optional Bluetooth and 3G modules, and a 1.3 megapixel camera.
The F88 is an OEM netbook though, so it'll probably be repackaged. The release date is currently unknown, but we'll make sure to get you updates on this intriguing machine as soon as they're available.
Jun 3 2009
People are starting to accept that netbooks aren't DVD players (with a few exceptions), but it would still be nice if netbooks didn't struggle with YouTube or Hulu. Nvidia has heard the market's complaints and come out with a new system-on-a-chip named Tegra, set to boost netbook video immensely.
Mike Rayfield of Nvidia's GPU described the new Tegra chip as "basically a full motherboard on a PCB (printed circuit board) the size of a pack of gum."
At Computex 2009, Nvidia said that Foxconn, Wistron, Pegatron and Mobinnova are all planning Tegra netbooks by the end of this year. The new chip will need to compete with Intel's Atom, the Qualcomm Snapdragon, and the VIA Nano if it hopes to get a chunk of the 21 million netbook sales expected this year.
Tegra is basically an 800 MHz ARM CPU, an HD video processor, an imaging processor, GeForce GPU and an audio processor. Nvidia says they can be used independently or in sync, while keeping battery life long. Power efficiency is going to be a strong focus with the Tegra, so much so that Rayfield says that "with Tegra you can get 120 times longer battery life while listening to music than with the Atom processor and about 10 times more than Snapdragon."
While comparisons may be tempting, the Tegra family is quite different from the Ion, according to Dean McCarron of Mercury Research.
"Ion is a chipset that pairs graphics capabilities with an Intel Atom CPU… Tegra takes the graphics core and combines it with a CPU that is not an x-86 class."
Regardless of all the hype surrounding the Tegra, it's possible that manufacturers won't bite. "In the netbook market, their chances with Tegra are not great," said McCarron. "So it is possible that we could see them emphasizing Tegra-based devices in geographies such as China that are more receptive to non x-86 architecture."
Via Wired.
May 8 2009
Dell is giving Linux users a bit of attention with a new announcement this week. The Dell Mini 10 netbook is gaining new options, including an SSD and Ubuntu Linux as an OS.
With these new options, the updated Dell Mini 10 will cost $399.  A 32 GB SSD is $75, and a 64 GB SSD will cost you $125.
Other updates include a 15$ 3-cell battery that gets you 25% more battery life than the old version. Curiously enough, the Ubuntu Dell Mini 10's display can be upgraded to a 1366 x 768 HD screen, which for some reason isn't offered for XP versions.
Regardless, Linux users are sure to be pleased by the new updates. Dell is notable for offering its netbooks in a lot of varieties, and this latest development is right in line with that philosophy.
Via I4U.
Mar 31 2009
Comments Off on Dell Mini 10 Netbook Officially Gets 720p Capability
So far Dell hasn't shipped any Mini 10 netbooks, keeping us in anticipation with pre-order offers and a promised ship date of April 15th. While rumors of the Mini 10's media capability have been heard from every direction, one of them is finally getting confirmed – 720p video capability.
As seen on Dell's site, you can throw down another $35 to the original $399 of the Mini 10 in order to bring resolution from the standard 1024 x 600 up to an impressive 1366 x 768 pixels, enough to rock 720p video.
The new development is a clear step away from the minimalism of early netbooks and Nick Negroponte's OLPC concept and towards the fancier, media-oriented flavor of newer machines like the DVD-capable ASUS 1004DN or Sony Vaio P.
Via CNet.
Mar 12 2009
HD video is a much-coveted asset that laptop users enjoy but many netbook users imagine they've sacrificed in their selection of a cheaper machine. The Intel Atom N270 doesn't support it, so until now that's been the end of the story.
However, in recent history, the Intel Atom N280 has been announced to support 720p HD video. In addition, NVIDIA's Ion platform bundles an Atom with its own GPU for an astonishing result: full 1080p video. The Dell Mini 10 netbook will even use 720p HD video with its TV tuner and possible DVD drive.
But Intel and NVIDIA won't get all of the fun for long. The latest and most promising announcement affecting HD on netbooks comes from VIA Technologies, which has developed a new Media System Processor named the VX855. The new processor will be able to decode 1080p video with multiple standards, including "H.264, MPEG-2/4, DivX and WMV9."
VIA says the VX855 MSP will be ideal for netbooks, for which its TDP of 2.3W will ensure efficient power usage. It will support all the leading operating systems – even Windows 7.
The VIA VX855 will also have the ability to work in fanless designs. It uses VIA Chrome9 with DirectX 9 to offer high performance graphics. The product also supports up to eight channels of HD audio and up to six USBs.
It will be exciting to see how the VX855 is integrated into new netbook releases, so we'll keep our eyes peeled.
Via DailyTech.
Dec 17 2008
NVIDIA has some plans for netbooks. They're intending to pump up the graphics we regularly see on the machines, which could push them to have far more capabilities than we're used to.
The new NVIDIA chipset is HD-capable. This 'Ion platform' is made up of the GeForce 9400M graphics chips and the Intel Atom instead of the standard Intel GMA 945 chipset. This should make the graphics quite literally ten times better.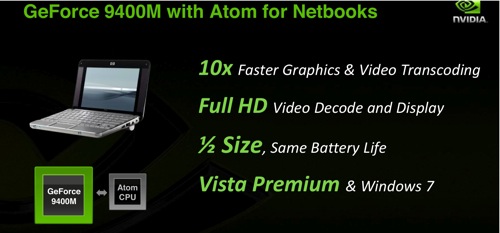 The Ion could also help netbooks run Windows Vista Premium or Windows 7, which are usually too sluggish on the small machines. Expect bigger things for models with HDMI outputs and HD content.
NVIDIA's demonstrating Ion on the Pixo-ITX Reference PC, to be shown at CES 2009. It should cost about $50 bucks, which sounds pretty good so far.
Via SlashGear.