The Dell Vostro V13 is a 13.3-inch designed for business owners who need the power of a regular laptop with a more convenient packaging.
Everything from its design, to its memory capabilities are aimed to please small business owners who need the size of a netbook paired with the power of a larger sized laptop computer. Dell hopes that the Vostro will minimize tradeoffs between a laptop that is compact enough for travel and one that has all the necessary components for business owners.
The V13 is yet another well designed addition to the Vostro collection, and will start off at a no nonsense $1,299.
Features Include:
Core 2 processor
16.5mm thick
Weighing in at 1.59kg (6-cell battery)
high-quality brushed aluminum surface for durability
Webcam, microphone, and Bluetooth
802.11g/n wireless LAN
4GB of DDR3 SDRAM memory
Via BtoB.
Dec 2 2009
Dell recently added a new laptop to their lineup: the Dell Precision M6500, which claims to be a business-friendly laptop with an Intel Core i7 processor included. Everything looks good and dandy, but what makes this laptop more intriguing than others is that Dell has made the choice to not make an announcement regarding the creation or distribution of the laptop.
The M6500 will debut with a 17-inch display and will grants you either an NVIDIA Quadro FX 3800M graphics processor, or  an ATI FirePro M7740; just pick your graphics card. You'll be happy to know that the M6500 will include 16GB DDR3 RAM which hopes to reach speeds of up to 1,333 MHz.
If you're a power/business user, you'll also have the ability to have three optional RAID configurations. While there's no purchase date in sight, we'll hope that Dell will let us know at some point in the future when they plan to make the new laptop available to the public. Or perhaps Dell's laptops speak for themselves.
Via  The Inquisitr.
Nov 8 2009
Keeping competition hot with Apple, Dell has released the details of its Adamo XPS laptop as an attractive alternative to the Macbook Air.  The Adamo XPS boasts a number of unique badges, such as being the thinnest laptop ever (accomplished by a special hinge allowing the keyboard to be folded into the screen), weighing a mere three pounds, and possessing a special touchstrip required to open the laptop.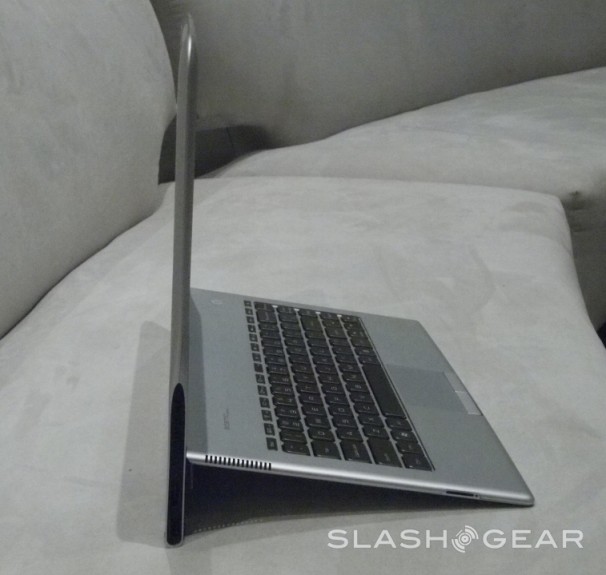 The specs for the Adamo XPS include a 13.4-inch 1266 x 768 display, a dual-core 1.4GHz Intel Core 2 Duo ULV processor, 4GB of RAM and a 128GB solid-state drive with Windows 7.  Unfortunately, the laptop only nets two hours of battery life.  It will start at $1,799, the same price as the Macbook Air.
Here's a video preview of the Dell Adamo:
Via SlashGear.
Nov 8 2009
While intriguing, it may be a while before the logistics of this one are worked out: a laptop whose entire frame is made of recycled paper.
The idea is to make a laptop disposable, just as some phones and cameras are disposable.  Between flexible OLED screens, foldable electronic paper, and printable circuit boards, the potential for creating a paper laptop is gradually increasing.
The pace of technological change sometimes seems to outstrip itself. Disposable electronics could provide a solution to making replacement technology cheaper and reducing environmentally unfriendly waste.  It's out for debate how well this kind of laptop could compete with increasingly low prices for netbooks and laptops unless the technology involved would allow for an absolute decrease in productive costs without loss of durability.
Via CoolestGadgets
Oct 6 2009
We all love netbooks; their simplicity, their ease of transport, their easy access to the internet, and definitely the price gap between netbooks and the average laptop. Ever since Asus and Acer started selling the netbook and discovered a whole new niche of consumers, laptop companies have been trying to find ways to chip away at that gap and woo some of their customers back.
There are generally two ways companies respond to new competition. As the old adage goes, "If you can't beat 'em, join 'em." Luckily for consumers, corporations don't like to waste time and so they decide to go down both paths at the same time. As you might have noticed, this leads to more companies offering their own netbook lines, as well as lower prices on their new laptops that boast the same or better capabilities, which are all great things for consumers.
Now, as some people want to do more things on their netbooks beyond day-to-day activities and PC makers are trying to fit lower prices, the distinction between a high-end netbook and a regular laptop is starting to shrink. Netbooks are already starting to loose a bit of their initial rush, accounting for six of the bestselling computers on Amazon, down from nine last year. This sounds bad, but even if netbooks disappear, the effects they've had on the complete change in marketing methods will cause laptop buyers to thank them for years.
Via TheStreet.com