Lenovo's line of IdeaPad S10 netbooks have been fairly successful so far — otherwise, they probably still wouldn't be around.  But Lenovo doesn't want to introduce another netbook that's similar to the ones that already exist, and that's why with their newest netbook, the IdeaPad S10-3t, Lenovo will be dressing it up, as well as equipping it with multi-touch capabilities and a swivel screen.
The IdeaPad S10-3t (the "t" is for touch) will be equipped with a 1.83GHz Intel Atom N470 processor — one of the first IdeaPads to incorporate Intel's newest Atom processor — as well as the Windows 7 Home Premium operating system.  The swivel screen on the tablet/netbook is capable of pivoting 180 degrees in either direction.
Via HotHardware.
Jan 19 2010
Lenovo has tried to update its S10 netbook before, and the results were less than impressive. Now the company is trying again with the Lenovo S10-3t tablet netbook.
The updated machine will cost $549 with a new processor option – the 1.66 GHz Intel Atom N450 can be exchanged for a beefier 1.86 GHz Atom N470 for an extra $100. The new netbook rocks Windows 7 Home Premium, rather than Windows 7 Starter, which is absolutely worth it.
Keep in mind: with the $100 upgrade comes the Atom N470's multi-touch capability. Other features include a 10.1″ screen, 2 GB of RAM, GMA 3150 graphics from Intel, Wi-Fi, and Bluetooth.
You can get the Lenovo S10-3t netbook from the manufacturer here, or at Amazon for only $499 before the upgrade.
Jun 19 2009
We've got two new deals for you today here on NBB.
The first is over at LogicBuy – a pink Lenovo Ideapad S10 for $368. The discount includes $40 off the sale price plus a 10% stackable coupon. And that's not all – shipping is free. Check it out here.
Don't care if the netbook's pink? You can get a way better deal over at Amazon – a white 10.2-inch Lenovo Ideapad S10 for $329.
Picture via LaptopPicker.
May 27 2009
As more organizations are using netbooks, it is becoming increasingly important to ensure that they have sufficient battery power to keep these machines running uninterrupted. In order to help with this, Datamation has recently released new models of multi-bay netbook battery chargers.
Two new models of these chargers have been released, one that recharges batteries for the Dell Latitude 2100 and another that recharges batteries for the Lenovo IdeaPad S9 and S10. These battery chargers are able to charge 16 spare batteries at the same time.
Via BusinessWire.
May 5 2009
China-based computer manufacturer Lenovo has been rumored to have plans to release an updated version of its current S10 netbook. This updated 10″ netbook is currently rumored to be named the IdeaPad S10-2.
Differences from the current version of the S10 netbook include: rounded corners on the body, a new display hinge, a 3G modem, a user-accessible SIM card slot located behind the battery of the netbook, an extra USB port, flattened and shrunken keys, and a larger trackpad.
Via Electronista.
Apr 6 2009
Australia has taken steps to become involved with the netbook world on a large scale, beginning with its notable $9 million Victorian netbook program of last February. Another Australian state is upping the ante this time with a new $150 million contract for netbook distribution.
The move is being taken by the New South Wales Department of Education and Training, whose program will supply a massive 267,000 netbooks and software to students and teachers. It awarded the contracts to Microsoft and Lenovo, who have promised around 220,000 IdeaPad S10 netbooks running Windows XP.
The premier of New South Wales, Nathan Rees, has put netbooks high on his agenda:
"Production of the laptops for 200,000 senior secondary school students and 25,000 secondary teachers will begin immediately… I want them in classrooms as soon as possible."
According to the agency the selection of Microsoft and Lenovo was an "extremely competitive tender process" that began back in December.
Via ComputerWorld.
Mar 17 2009
EDIT, 3/19/09: It turns out these photos are of a two-year-old concept piece that never made it to market. Oops! Take a look at our follow-up article here.
Lenovo is a big player in the netbook industry; its Ideapad S10 is one of the best machines on the market and has brought in some serious cash for the manufacturer. Apparently, that success hasn't made it complacent. The latest netbook from Lenovo is definitely unexpected, but it looks like it's going to change the game very soon.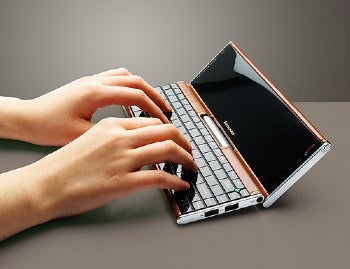 The Pocket Yoga PC is an ultra-compact device that can fit in your pocket yet manages a full QWERTY keyboard and a touch screen. It looks freaking classy, if I may say so myself: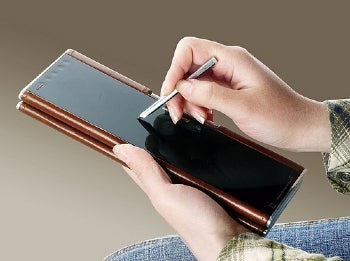 It seems a bit small for some of the applications you might hope to see in a netbook, and is a bit reminiscient of the Sony Vaio P. Nevertheless, the netbook looks remarkably versatile for its size. The display has a 360 degree hinge so you can bring it all the way around to the base, transforming it into a tablet machine.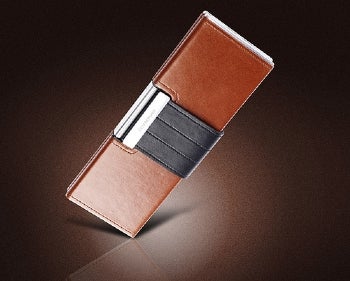 The pictures make it look like some sort of manly handpurse. The mouse is cleverly disguised as a belt wrapping around the device, and kicks into action when you unwrap it.
Naturally, specifications are scant at this point. However, some onlookers are suggesting that if Lenovo adds in some sort of cell phone capability, the Pocket Yoga PC netbook could be a contender for market space currently occupied by the Apple iPhone.
Via PCWorld.
Jan 11 2009
Comments Off on CES: Quick-Boot Comes To Lenovo, Sony, Others
All that time you spend watching a Windows load screen may soon be a thing of the past.
Quick-boot technology has been around, but rarely applied to real computing – luckily, with the rise of netbooks, it has found a place.
The idea of this quick-book netbook technology is that netbook users could surf the web, view, images, or check their email without even loading Windows. Lenovo and Sony demonstrated quick-booting machines at CES this week.
Lenovo updated the Lenovo Ideapad S10 to have quick-boot capabilities with a Quick Start software based on the Linux OS of DeviceVM. Sony is now offering the Cross Media Bar navigation system to access multimedia instantly, something we should be seeing in the Vaio P Series.
According to the VP of Global Consumer Marketing at Lenovo, Craig Merrigan, netbooks are exactly where quick-boot should be used. "The netbook usage scenario is kind of a grab it, use it, put it back sort of situation. We believe it optimizes for that quick boot-type of environment," he said.
Lenovo doesn't plan to put quick-boot into mainstream notebooks. Machines with the power for content creation achieve that better with a full-fledged operating system.
"For mainstream notebooks when you are doing a greater variety of things… the quick-boot environment doesn't support that all that well so we think that it's better left to netbooks at this time," said Merrigan.
The director of Phonex Technologies product management, Anand Nadathur, said the applications and drivers that slow down PC boot times aren't what computer users want all the time. "When users start their PC in the morning, they are not looking for the full-fledged OS to come up and do some amazing things. They just look for a simple browser so they can check e-mail." With this in mind, Phonex introduced a quick-boot environment called HyperSpace Dual at CES. HyperSpace Dual is meant for netbooks and laptops, and is downloadable at the Phoenix website for $39.95 for one year or $99.95 for three.
Freescale, who partnered with the post-ASUS Pegatron to deliver their own netbooks at CES 2009, talked about quick-boot plans with Qualcomm. They want netbooks starting as fast or faster than smartphones.
Qualcomm sees quick-boot as something they want to add to the
Snapdragon platform
, which already includes a CPU, 3G, and a 3D graphics core. Freescale wants quick-boot on their Linux netbooks, the ones using the ARM i.MX515 processor (another CES introduction). This processor is also used in the Freescale-Pegatron netbook.
Jan 5 2009
The new year is here and it's time for another netbook review. Inspired by Lenovo's announcement of a March upgrade, we decided to review the IdeaPad S10. Check it out.
Jan 5 2009
Comments Off on New Lenovo Laptops, Desktops, And Facial Recognition In The S10
Lenovo put out some big news today: its newest netbook, the Lenovo Ideapad S10, will be getting a snazzy upgrade. The changes start with a slight screen-size increase: 10.2 inches from the previous 10. It will come with LenovoSocial, a suite designed for "social networking enthusiasts."
The biggest news, however, is the inclusion of VeriFace facial recognition technlogoly and a multi-touch trackpad. It's expected this March at around $349, and will come in black, white, red, blue, or pink.

Lenovo is known for pushing the envelope in its efforts for thinner and more stylish technology. The new facial recognition and HD entertainment features added to recent updates give consumers something new to play with and another reason to choose Lenovo over the competition. The new IdeaPad laptops – the thin 16-inch IdeaPad Y650, the Ideapad Y550 and Y430, and the thinnest all-in-one desktop, the IdeaCentre A600.
By delving into social networking Lenovo continues to make moves enhancing the Ideapad S10 and the whole Ideapad line.
The senior VP of Lenovo, Liu Jun, has high goals. "With the launch of our global consumer Idea brand a year ago, we've shown the world that PC technology can be powerful and beautiful… This year, we will keep pushing the limits of good design, balancing form and function, as you'll see exhibited in our super-thin, 16-inch laptop and all-in-one desktop. This unique blend of design and engineering sets us apart from competitors and gives consumers a new kind of entertainment and computing experience."
The IdeaPad Y650, Y550, and Y450 laptops as well as the S10 netbook will be available in March. The suggested retail pricing (MSRP) for these began at "$1,199 for the IdeaPad Y650, $829 for the IdeaPad Y550 and Y450, and $349 for the IdeaPad S10 netbook."
The IdeaCentre A600 will be out this April with MSRP starting at $999.
Via Engadget.
Dec 20 2008
While early announcements pointed towards Lenovo only selling its Ideapad S9 in non-US countries, a few US retailers have been discovered with the netbook in stock. You can now find it at both Geeks.com and Buy.com.
You may have heard of the Ideapad line by Lenovo – we covered the S10 version last week. The S9, in comparison, is cheaper, has a smaller display, and less storage. However, it's still a capable machine – it runs Linux (instead of XP) with a 1.6GHz Atom chip and does it well.
For now, the Ideapad S10 is confusingly being sold for the same price as the S9, so if you move quickly you'll get a better deal by getting the S10 instead. When the current promotion ends, however, the S10 is likely to go back up in price.
Here are some more specs on the Lenovo Ideapad S9:
8.9 inch 1024 x 600 pixel display
4GB solid state disk
512MB RAM
Linpus Linux Lite
Linux Lite is the same OS found on the early-released Acer Aspire One.
For now, look forward to seeing the S9 sold by US retailers.
Via Liliputing.
Dec 13 2008
Posted by Netbook News in Lenovo
Comments Off on Lenovo Introduces Special Edition Ideapad S10 in Hong Kong
Following the release of a gold colored version of the Eee PC 900A a few months back, Lenovo offers a special edition gold colored version of its Ideapad S10 in Hong Kong. Whether or not they will release a similar edition in the United States remains unknown.
[via liliputing]
Dec 11 2008
Posted by Netbook News in HP, Lenovo
Comments Off on Follow The Leader – Lenovo Drops Netbook Price By $50
Following HP's $40 price cut on their Mini 1000 last week, Lenovo has recently reduced the price of its IdeaPad S10 netbook by $50. While Lenovo still trails HP's 5% share of the netbook market with a mere .7% share, they are working hard to increase that market share by being as competitive as possible in terms of price. Will that ultimately help them overcome HP? Only time will tell.
via jkOnTheRun