The Mac operating system comes with a built-in search tool called Spotlight (Microsoft users, don't even bother arguing with me: Spotlight is way better than what you've got on Windows). Spotlight is quick and easy to use.
But there comes a time when searching your Mac becomes difficult because of the sheer volume of files accumulated. If you want to search for an mp3 file with the word "love" in it, simply with Spotlight for the word "love" will probably not yield the results you want—the search will return every file on your computer containing the word "love."
Like a search engine, Spotlight allows for special parameters and excluding words to be set. To find an mp3 file with the word "love," you could type the following into Spotlight: love kind:mp3. That search will return the desired result: all mp3 files containing the word "love." Like on a search engine, you can exclude files by using a minus sign and, of course, combine parameters.
Via CNET, image via Apple.
May 24 2010
Yesterday was a sad day indeed for Apple geeks. Apple ended its amusing ad campaign of "Get a Mac" ads featuring two actors representing Mac and PC computers. Not only has Apple ended this specific ad campaign, it has removed all the ads from its website and replaced them with the rather ordinary and even boring "Why You'll Love a Mac" section.
Justin Long, the actor who played the Mac character in the ads, let it slip last month that Apple was going to end the "Get a Mac" ad campaign. Still, the end of the campaign seems a bit sad to us Apple fans and the removal of the ads from Apple's website really drives home the point that it's over.
I know some people did not like the "Get a Mac" ads (I saw them described as "snarky" somewhere) but I thought they were quite funny and clever. I will miss the "Get a Mac" ads.
Via CNET.
Mar 10 2010
FileMaker Pro 11 left beta testing and was released to the general public last Tuesday. It is the only software of its type that runs on both Windows and Mac. As noted by Ryan Rosenberg, vice president of marketing and services for FileMaker, Inc., FileMaker Pro is number one on Mac and number two on Windows after Microsoft Access.
The software is aimed at workers at mid- to large-sized businesses, though FileMaker, Inc. hopes to expand its consumer base to less advanced database users.
Some key new features in FileMaker 11 include an easier way to make charts and graphs; Quick Find, a search engine for database information; and a Quick Start Screen for making new databases and managing files.
There are actually four versions of FileMaker to choose from: FileMaker Pro, FileMaker Pro Advanced, FileMaker Server, and FileMaker Server Advanced.
Via Betanews, image via FileMaker.
Feb 25 2010
The supplies of MacBook Pro laptops are more limited than usual and, according to an analyst, this could mean that Apple is going to update the MacBook Pro line of computers. An updated MacBook Pro would probably include a new processor from Intel that would boost battery life and overall performance. The new MacBook Pro could ship by June, if not sooner.
The analyst says that Macs in general do not need to be refreshed because they are doing so well, but a refresh of the MacBook Pro would keep Apple products new and exciting.
Apple last updated the MacBook Pro in June 2009. Currently, the cheapest MacBook Pro has a lot in common with the MacBook, which was updated in October 2009. To preserve the MacBook Pro's higher pricing, Apple needs to differentiate between the two models by giving more advanced features to the MacBook Pro.
Via The Washington Post, image via Apple.
Dec 25 2009
Apple is set to have an increase in corporate laptop sales, according to a new survey by ChangeWave. Ten percent of companies plan to buy a Mac laptop in the first quarter of 2010, up from nine percent in August. Seven percent said that they plan to buy a Mac desktop in the first quarter of 2010. This statistic has remained unchanged throughout 2009.
Mac sales did not change at all in the corporate world, despite Apple's introduction of a new iMac and the Mac mini server.
The survey found a projected increase in corporate IT sales for the first quarter of 2010, with the vast majority of people planning to buy a laptop to start the new year. Almost one fifth of the upgraders are upgrading because of Microsoft's Windows 7.
Even so, Windows 7 has a high level of customer satisfaction – thirty seven percent said their company is very satisfied with it and fifty-six said their company is somewhat satisfied.
Dec 24 2009
As the year winds down, it's time to consider what has happened in 2009. Apple had a spectacular year, considering the poor economy and Steve Jobs' medical leave. Here's a list of ten things Apple did right this year.
1. Kept Mac prices high. Windows computers had prices lowered this year, but Apple kept their pricing up, which did not seem to decrease their sales at all.
2. Kept advertising strong. Apple's advertising has always been unique and they kept that up this year, emphasizing the iPhone and the App Store.
3. Priced Snow Leopard appropriately. Snow Leopard has more new features and improvements than most people think and it was only $29.
4. Deceived the public about Steve Jobs' illness. This may not be the nicest thing to do, but Jobs is very identified with the company's success, so Apple faced a difficult decision here.
5. Updated the $999 Macbook. This laptop is cheap compared to other Mac products, but offers a great number of features and decent specs for the price.
6. Used Phil Schiller's marketing skills. Schiller is Apple's marketing chief. Several times throughout the year, he addressed developer concerns about the App Store.
7. Lowered iPhone pricing. By lowering the price of the iPhone to $99, Apple made it more affordable for more people.
8. Supported HTML 5 in Safari 4. Apple does not want Flash on the iPhone because it will compete with the App Store, and HTML 5 offers the solution for Apple.
9. Brought a lawsuit against Psystar. This sets an important precedent regarding software piracy, especially considering that Apple does not use product activation like Microsoft does.
10. Opened Apple stores. Despite the bad economy that caused major chains to fail, Apple continued to open up more stores.
Let's hope the next year for Apple will be as good as this one.
Via Betanews, image via Maconlysource.
Dec 9 2009
Google has answered Mac and Linux user's prayers this Tuesday by announcing that it has made betas for Chrome that will be compatible with both OSes. These are not final perfected versions of Chrome, but due to the open-source nature of Chrome they should quickly grow to become bigger and better.  Mac OS X 10.5 or later is necessary for the Chrome's Mac beta, while the Linux beta runs on Gnome and KDE.
Chrome delivers ultra high-speed web browsing with loads of cool features. Now Mac and Linux users have a chance to judge for themselves if they will abandon their current reliable browsers for  this lightning speed (but possibly quirk-riddled) creation.
Via WebMonkey.
Dec 4 2008
Comments Off on Quick-Booting Netbook OS 'Cloud' Introduced By Good OS
New OS releases are rare – it's not every day that another Windows XP or Ubuntu Linux hits the market. As a consequence, Good OS' announcement of their new netbook-centric OS, 'Cloud', caused a lot of skepticism in the tech community. Good OS' hopes are high though, boasting that its system "combines beautiful design with sophisticated technologies to make the PC faster, safer, and easier."
Good OS is most well known for being the company running the gOS system on the Wal-Mart brand computer, the Evermax Green gPC. While perhaps a bit clunky, the Green gPC showcases Good OS' best features – affordability and reliability.
The interface of Cloud has a web browser but also an icon dock across the bottom of the screen, much like that of a Mac.
The new OS Cloud aims to be the fastest-booting OS on the market, going from cold to full power in a mere few seconds. However, Cloud is not necessarily meant to replace the existing operating system on the netbook. Why? The new OS intends to offer users lightning quick access to various services of the netbook without waiting for Windows or Linux to load.
Think of it: within seconds of opening the netbook the consumer can browse the internet, send emails, or chat on Skype. The intent is to minimize the hassle of loading screens and let the user instantly get whatever they want out of the machine. This trend seems to lead netbooks in the direction of Blackberries and Palm devices, the convenience of which has made them staples of the consumer electronics market.
Good OS hopes to work with manufacturers to pre-load Cloud on new netbooks. It will also sell the OS in CD form, with no requirement of additional hardware and full customizations available.
The first netbooks running Cloud should make an appearance at CES on January 8th.
Nov 16 2008
Comments Off on Dell Releases New Mini 12 Netbook In US
It's turning out to be quite the week for new netbook releases! The Dell Inspiron Mini 12, which has been available in Japan for some time now, has become available in the USA.
The Mini 12 sports a massive 12 inch display, one of the largest screens seen in netbooks so far. It starts at a moderately pricey $549.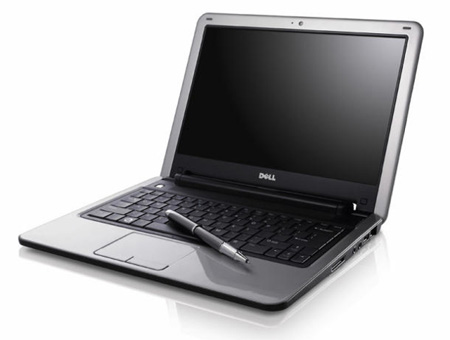 This new release is yet another example of Dell's willingness to gamble on the new netbook market and take hold early. This attitude is a stark contrast to those of companies such as Apple, whose conservatism may save them a lot of money or lose them just as much.
Dell had previously taken strides into the netbook market with its Mini 9 last September, which was a cheap $349 but had only  4 GB of disk storage and lacked bluetooth. The Mini 9 also only came with Linux's Ubuntu, charging an extra $50 for XP. Its 9 inch screen was a more standard size for netbooks.
The new Mini 12, to contrast, has bluetooth and will run Vista Home Edition. Its operating system has been criticized as a poor choice for netbooks, with detractors citing its resource demand and lack of features to compensate. There is unfortunately no option to get the Mini 12 loaded with XP, which puts the new netbook in some danger. Otherwise, it is exceptional for its laptop-like screen size and good looks and its netbook features.
It will come in both white and black.
Some specs:
Intel Atom 1.33 GHz, 533 MHz bus, 512k cache
Windows Vista Home Basic
12.1 inch screen @ 1280×800
1GB RAM @ 533MHz
40GB hard drive @ 4200 RPM
No optical drive
Wireless 802.11g
Integrated webcam
Bluetooth 2.0
3 USB 2.0 ports
VGA video connector
Audio in/out
3-in-1 media card reader
Megabit Ethernet
0.92″ thick
2.72 lbs