It was announced last month that Nokia and Intel were going on a joint venture to create an open-source Linux based mobile platform.  This effort, dubbed "MeeGo", would be a combination of Intel's Moblin OS, shipped on various netbooks, and Nokia's Maemo platform, at the heart of the N900 Phone.  It is to be used on all sorts of products with both ARM and x86 architectures. By the end of this month, the companies hope to be able to release the source code to the public.
MeeGo is arguably the first truly open developed mobile OS.  Intel and Nokia are asking the Linux Foundation to watch over the development process, in order to dispel worries of corporatism and encourage 3rd-party involvement.  The first step will be to reconcile the differences between Moblin and Maemo.  Fortunately, they both have the same technical core, but ideological differences on direction and methodology will need to be addressed before MeeGo has a shot of becoming a coherent platform.
Nokia plans on supporting N900 users to MeeGo, at least initially.  This will allow a bounty of Linux enthusiasts to jump into the development cycle at the early stage. MeeGo will also stay in line with the fundamental Linux kernel build cycle, meaning it will eventually stand in stark contrast to Google's Android platform.  Android uses a heavily modified Linux kernel, and is showing signs of diverging from the development tree entirely.
There are other major differences between Android and MeeGo.  Google, while making Android's source code public, had a tightly closed development cycle, dumping onto developers massive amount of code with every release.  Intel and Nokia seem to be taking the more traditional route of Linux development; like Canonical's methodology with Ubuntu, they will try to get 3rd party involvement from Linux and MeeGo users to help direct efforts.  Google now has real competition for the open source community's blessing.
Via Ars Technica
Jan 16 2010
MSI is planning to ship the MSI U135 netbook with Moblin, a version of Linux, according to a recent press release.
Moblin, like Android, was originally intended for mobile phones but netbooks have benefitted from its expansion into a netbook and tablet OS. Version 2.1 is the one we'll be seeing in the MSI U135, the version that Intel and Novell optimized for netbooks.
Intel Business Director of Open Source Software Ram Peddibhotla says that "The Moblin project has the potential to become an accessible and widely used computing platform," and we can't help but agree, considering the wide variety of excellent features found in the OS.
The MSI U130 has a 10.1-inch screen and the Intel Atom N450 Pine Trail CPU, 1 GB of DDR2 RAM and a 250 gig HDD.
Shipping in February 2010, the MSI U135 running Moblin should cost less than its Windows counterpart.
Via Nexus404.
Jan 12 2010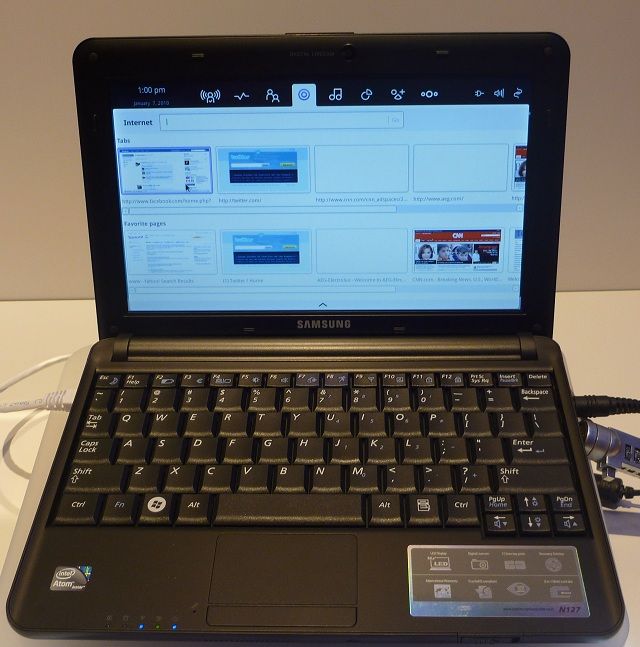 Samsung has announced at CES 2010 that the Samsung N127 netbook will come with SUSE/Moblin Linux as the OS. The system is going to be first released in India and Russia, and later in North American and Europe if all goes well.
The netbook's OS will rest on the Moblin 2.1's 2.6.31 Linux Kernel and feature software from SLED. However, the interface won't be based on KDE, instead using the Moblin interface we've heard so much about.
The N127 uses a 1.66 GHz Intel Atom N450 CPU and a 10-inch LED screen as well as a 1.3 megapixel webcam. It sounds like a decent setup and a solid option for Linux netbookers who want in on the new Pine Trail processors.
Via ComputerWorld, image via NetbookChoice.
Nov 5 2009
The Moblin Linux project has finally announced a release version of Moblin 2.1 for Intel Atom machines. The new edition promises to include the "broadest feature additions, customer requested improvements, and overall polish to date". I'm already a fan.
Specifics include improved 3G support, Bluetooth supprt, an app installer, localization improvements, a better browser, sexier UI, and naturally bug fixes and performance upgrades.
The release is a mere 745MB, so you might be able to sneak it onto a CD. Otherwise, just use a USB stick, you cheap bastard.

Moblin 2.1 is supported on both  Intel Atom and Intel Core 2 machines, but GMA-500, Nvidia and ATI graphics aren't supported yet. Let's cross our fingers for version 2.2.

Interested in Moblin 2.1 for your netbook? We've got everything you need to know right here, plus a download link for those ready to take the plunge.
Via Moblin.

Oct 13 2009
The Moblin project is an ambitious one, promising a host of fantastic features to netbook users. The coolest of these feature was always the fabled 2-second quick-boot;  however, the latest Moblin preview image (2.1) is available for those of you adventurous to give it a try. It is packing features far up the proverbial wazoo.
"The Moblin v2.1 release for netbooks and nettops includes many community and customer requested enhancements; for example, support for additional nettop screen resolutions, myzone improvements, IM improvements, better language support, updated kernel, Moblin Garage, Moblin Application Installer, 3G data support, and Bluetooth."
3G support would be a massive expansion for Linux netbook users, whose options for the moment are limited. The Moblin Garage is another biggie, offering users access to third-party apps and other toys.
The image is just a preview of the upcoming full release, which is expected in stable form by the end of the year. Furthermore, the tested platforms for the Moblin image are as follows:
Here's the download link. Have fun, kids!
Aug 7 2009
Rumor has it that the first Eee PC pre-installed with the Moblin open source operating system will be available for purchase beginning in October of this year. Furthermore, there's another floating rumor that the company may even make this an option for all its notebooks sometime in the future.
And, as if that weren't exciting news enough, another rumor is that ASUS is working closely with Google to prepare for the deployment of the Chrome operating system on its computing devices. The deployment may occur not too far from the present.
ASUS has experimented with Moblin in the past, so these rumors may have an inkling of truth to them. But we'll still take them with a grain of salt. Hopefully, we'll know more about what the company is cooking up soon, and when we do, you can be sure that we'll let you know.
Via Engadget.
Jun 16 2009
The Eee keyboard was recently on display at the Computex trade show. This "netbook keyboard" prototype runs on Moblin and is powered by an Intel Atom processor. The hardware within this keyboard includes 1 GB of RAM and either a 16 GB or 32 GB solid state hard drive.
Here's a demonstration of the Eee keyboard running Moblin for your viewing pleasure:
Let us know what you think!
Via LaptopNews.
Images via SineWalker and Gizmodo.