Panasonic has created two new powerful lithium-ion battery cells that can hold 20-30% more power than the batteries currently on the market.  The new batteries not only will greatly increase the battery life of laptop computers, but are also potent enough to be used in electronic automobiles.
It is rumored that the battery can last up to a week without needing to be recharged. This length is an enormous increase in comparison to current laptop and netbook batteries in the market, which can't make it through half a day before needing to be charged.
The lithium-ion battery might also play a big part in the green revolution, as they can potentially be used to power an entire house. There are endless possibilities for Panasonic's technological advancement. It has the chance not only to change our computing experience but more importantly the future of environmentally friendly technology.
Still in development, the battery will not be available to the public until sometime during 2011.
Via TFTS.
Nov 6 2009
What would you do with your 6-cell netbook if you could leave it on for 36 hours at a time? It sounds pretty insane, but JKOnTheRun has unearthed information about some very realistic ionic battery advances from one Arizona State research team.
Batteries haven't gotten a technology boost in ages, but in a time where mobility is key to much of the consumer electronics sector, upping the juice could have a tremendous effect. While netbooks have been taking massive strides into the developing world, for example, it's still not economical to take a laptop or netbook on trips where reliable power outlets are few and far between.
But I'm getting ahead of myself. The technology is currently directed at cranking battery life in electric vehicles, but it's only a matter of time before the technology shrinks down to PC level. In the words of JKOnTheRun's Kevin Tofel:
"Some quick math using the project's median target shows why I'm hoping this comes to pass. If a 1 kilogram / 35.5 ounce ionic battery can hold 1250 Whr of juice, that's about 125 Whr per 0.1 kilograms / 3.5 ounces. That works out to an energy density of 35.7 Whr per ounce of battery weight. The battery of my Toshiba NB205 battery weighs 11 ounces, so an ionic battery of similar weight could offer 392 Whr as opposed to the 63 Whr my current battery offers. I'm all for more efficient electric cars, but the ability to run my netbook for nearly a week of work time is pretty appealing too."
Be sure to check out TechnologyReview's focus on the technology itself here.
Aug 26 2009
The Samsung NC310 netbook is here, but we've discovered one woefully under-marketed aspect of the netbook that we think you'll find interesting – it can last as long as 11 hours with a battery upgrade. This beats out the majority of netbooks out there, and for a machine designed for portability that's definitely a good thing.
Remember that the battery only lasts that long if you opt for the battery upgrade, which can be expensive. Stick with the standard battery and you'll get a decent 5 hours of life on your Samsung NC310.
Other features on the Samsung NC310 include the Intel Atom CPU, a 10.1 inch screen, 160GB of space on the HDD, 1GB of RAM, Wi-Fi, HSDPA, and an onboard 1.3 megapixel webcam.
Via GeekWithLaptop.
Jul 29 2009
This is insane. Some guy over in the Czech Republic hacked a battery from the MSI Wind netbook, turning it into a USB charging port. Believe it or not, he can charge his iPhone twice in a row, and the battery still works in his netbook!
Luckily for you hardcore modders out there, this guy made a how-to video (underscored by European techno) showing you how to mod your netbook to have a USB charging port as well. Check it out.
Jun 17 2009
The 10.1-inch Toshiba NB205 netbook seems to be just another clone with a 1.66 GHz Atom N280 CPU, 1 GB of RAM, Windows XP and a 160 GB hard drive. While you might be forgiven if you dismiss it for that reason, you'd still be making a mistake. Why? The NB205 has 8 hours of battery life.
That number is fantastic, considering the fact that netbooks still come out with under 3 hours of juice. Another fantastic feature includes a USB port that can charge auxiliary devices like cell phones and iPods, even if the system is powered off.
Toshiba's new netbook comes in at $399.99, but you get what you pay for.
Via SoftSailor.
Apr 21 2009
When purchasing a netbook, its battery life should be a prime concern. There are a variety of netbook batteries (3-cell, 4-cell, 6-cell, 9-cell, etc.) and since netbooks can come with different batteries, this fact may make you reconsider the netbook you were originally going to purchase.
Obviously, higher-celled batteries pack more power and can allow a netbook to run for longer periods of time, and the same-celled battery used in different netbooks may last for different lengths of time (a Toshiba NB100 running on a 6-cell battery will no doubt last for a different period of time than an Acer Aspire One running on a 6-cell battery).
Here is a quick comparison of the battery life of some netbooks. They are ranked in decreasing magnitude of battery life.
| | | |
| --- | --- | --- |
| | Battery Capacity | Battery Life (hh:mm) |
| | 11.1V / 5100mAh | 06:56 |
| Asus EeePC 1000HD | 7.4V / 6600mAh | 04:12 |
| Asus EeePC 901 | 7.4V / 6600mAh | 03:59 |
| | 11.1V / 4400mAh | 03:40 |
| Asus EeePC 1000H | 7.4V / 6600mAh | 03:33 |
| Asus N10J | 11.1V / 4800mAh | 03:05 |
| | 11.1V / 2142mAh | 03:05 |
| | 7.4V / 4900mAh | 02:41 |
| Acer Aspire One AOA110 | 11.1V / 2200mAh | 02:19 |
| HP Mini 1001TU | 11.1V / 2522mAh | 02:05 |
| | 11.1V / 2522mAh | 01:55 |
| | 14.4V / 2200mAh | 01:47 |
The test conducted on these batteries includes playing a Windows Media Video (WMV) clip until the battery dies. The power management status was set to "always on," which is in the middle of the power management spectrum between "max battery" and "home/office desk." This is to allow for an average estimate between the minimum and maximum life of the netbook battery.
The conclusion of this test is that 6-celled netbook batteries last for well over three hours while 3-celled batteries last for little over two at max. The number of cells in a battery is roughly proportional to its battery life (i.e., a 6-celled battery lasts roughly twice as long as a 3-celled one).
Via NetBookReview.
Apr 14 2009
This latest netbook mod stretches what's possible for netbooks into the stuff of legend – a 25 hour MSI Wind U115 Hybrid, the netbook with a 9-cell battery and both an HDD and an SSD.
Johannes of Eee PC.de has created a monster with the ability to survive for more than a day. This is an improvement over previous efforts that made a 6-cell MSI Wind go for a good 13 hours, which is already a huge deal.
The machine was set to its lowest setting and its user abstained from web surfing and other tasks to accomplish this astounding feat. Check out the video below for more info.
Via Gizmodo.
Apr 12 2009
Today's edition of ASK NBB focuses on an asker with a specific set of preferences for an upcoming netbook purchase.
QUESTION:
"I want to buy a notebook. That is like the asus 1000he but with a graphics card.
Is there any netbook out currently that has those features?
– a graphics card
– superb battery life
or is there one that you might know of but has yet to come out?
would love to hear your suggestions"

-stanTLs
ANSWER:
So, you're looking to buy a netbook?
The first thing I thought of when I saw your email was the MSI Wind U110 Eco, a netbook whose graphical capabilities are expected to be good enough to manage any kind of HD video, and whose battery life may last as much as 9 hours. Be sure to read the article at the link for more info.
On the downside, the U110 Eco netbook may take a few months to be released. It all depends how long you want to wait to get your new netbook!
A second option is the Dell Mini 10. The battery life is decent enough, with the 6-cell option getting you 6-8 hours of life according to a release by Dell. Its graphics will get you up to 720p video, and the machine will come with a few other awesome media accessories as well (like a TV tuner). Check it out.
If you're looking to use your netbook for gaming, your options will be pretty severely limited. You could, however, take a look at the ASUS N10J, which rocks a GeForce 9300 graphics card. Unfortunately it costs $699 and its battery life is standard.
Be sure to note that whenever you're using higher brightness settings or engaging the graphics chip heavily your battery life will be quite diminished in any case.
I hope this helps. Good luck!
_____________________________________________________________________________________________________
Interested in getting your own question answered on ASK NBB? Here's how!
Feb 13 2009
Comments Off on New MSI Wind U120H Netbook In Charcoal, Price Dropped
Since we reviewed the MSI Wind U120H netbook a few months ago, it seemed to have sunk below the radar. We were happy with the machine, but definitely found that its massive pricetag – around $600 at many retailers – was a huge turnoff.
"The real problem here is money. Sure, they added 3.5G, but they also added to the price tag. The netbook will stay alive for a good 3 hours, which is decent for standard use, but you end up paying for a 6-cell battery that should really be giving you two or three more hours of work time."
Now the Wind U120H has gotten both a edgier repaint and a massive price drop, both of which definitely alleviate our displeasure. The battery still hurts the machine, but at least now the value is much better: $350 at Amazon!
The new Wind netbook is charcoal, a nice departure from the standard white that gave off the vibe that it was trying to be a cheap Mac. As always, the U120H netbook uses the 1.6 GHz Intel Atom, a 10.1-inch display, 1 GB of RAM and a 160 GB HDD.
3G connectivity is still on the ballot optionally, making the redesigned MSI Wind U120H quite a bit more appealing.
Via Wired.
Jan 27 2009
A new product recently appeared in the annals of the HP Parts Store, and the quick eyes of PortableMonkey caught it for what it was: a new 6-cell netbook battery for the HP Mini 1000.
The battery hasn't been officially announced yet, but it turns out its specs are 2.4Ah and 53 Wh. It's in stock and available for order at an immense $153.90, plus shipping and handling. Yikes.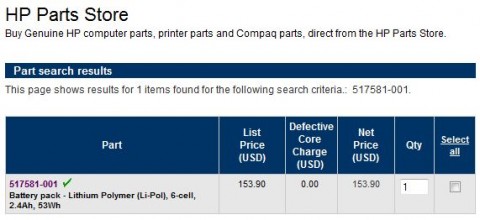 It may not be cheap, considering that the HP Mini 1000 netbook group starts at just over $300. Of course, double the battery life is an enticing prospect. If you've got the cash, it's worth it.
Of course we also aren't figuring in the bulk the battery might add – consider the hilariously massive 10-cell battery for the ASUS Eee PC.
You can't get the product directly from the products page, however. If you seriously want this for your netbook, go here, choose where you're from, and search for product code 517581-001.
Also, if you really like the HP Mini-1000 netbook, be sure to check out the mobile broadband netbook deal we covered a while back.
Nice find!
Via PortableMonkey.
Dec 16 2008
This is a 10 cell battery designed for the Eee PC 1000H, and will also fit into an Eee 901.
This heavyweight will run your netbook for 10-14 hours. That's an excellent number, but just make sure you've got enough self-esteem to rock that thing in public before you go run off and get one.
Via Wired.com
Nov 24 2008
Comments Off on A Glimpse Of The New ASUS Eee PC 1002HA
ASUS is back at it with a brand new netbook release on the way: the aesthetically pleasing ASUS Eee 1002HA.
Remember when, in our November 22nd article, we wondered if ASUS would be releasing anything to compete with MSI's new Wind U120? The answer has been delivered in full force, the way ASUS likes to do it.
Don't freak out yet  – this is just a pre-production model. However, ASUS has recently been giving tech blogs and magazines a taste of the new machine, just to whet our appetites. The 1002HA is a solid 10-inches, featuring what looks like the trackpad of the Eee PC S101 as well as the keyboard of the 100H.
Seen by many as a kind of hybrid of the two laptops, it looks to put the best of both worlds onto one new machine sure to please consumers once it's released.
It should run the 1.6 GHz Intel Atom with 1GB of RAM and a 160 GB hard drive. Interestingly, however, the battery is a mere two cell – though ASUS assures skeptics that it should offer a full five hours of life. This claim sounds a little suspicious, but we'll believe it for now; ASUS has impressed the tech world before when it, along with rival MSI, started the netbook boom earlier this year with the original Eee PC.
Unfortunately, the ASUS 1002HA won't be out in time for Black Friday, but it will hit stores on December 1st for $499. Get pumped – we sure are.