The quintessential netbook processor, Intel's Atom, is due for a real upgrade. For now, rather than clean the slate completely, Intel seems to be taking another slow step forward by announcing two DDR3 compatible CPUs with the same power rating.
The two new processors are going to be the N475, clocked at the reasonably fast (at least for a netbook) 1.83 GHz, and the N455 with the standard 1.6 GHz. Both chips plan on maintaining their thermal design power (TDP/fancy talk for heat) ratings and are scheduled for a Q3 launch.
The only thing these chips will bring is DDR3 to netbooks, so don't plan on that alone really changing performance.  Still, it is a sign at least that the netbook market is moving away from the older DDR2 RAM to DDR3, which all parties will undoubtedly welcome. Perhaps this also heralds the last iteration of the current generation of netbook processors, so it may be time to look forward to real innovation after this.
Via Engadget
Dec 4 2009
The date has been confirmed: you'll be able to get your hands on the all-new Atom N450 line of netbooks from ASUS, Acer, Lenovo and MSI on January 11th, 2009. The new Atom netbook CPU was going to be here in December, but manufacturers have been holding off at Intel's request.
However, in an effort to not overshoot consumer demand,  most vendors will only stock 'conservative' numbers of the new machines. These netbooks will be coming on a wider variety of operating systems than in the past – Moblin, Windows 7, and Windows XP have been mentioned, and everyone is still holding his breath for the Google Chrome OS. Word has it that if you buy a Moblin or XP netbook in January, you can upgrade to Chrome for free by the March release of the Intel Atom N470.
Via I4U.
Oct 28 2009
Word has it that the new Atom N450 Pine Trail M processor, complete with a new (but relaxed) set of restrictions for netbook manufacturers will be available by January 2010. the 1.83 GHz chip will feature an increase in the memory limit from 1 GB to 2 GB, with manufacturers being encouraged to use 20 or 30 GB SSDs in conjunction with the new chips.
Packing the all new Windows 7, double the RAM, and a faster Atom CPU, the netbooks of next year might not resemble the netbooks of days gone by. Change might not be a bad thing.
Via MobileComputerMag.
Oct 26 2009
Intel and Microsoft have put some weird restrictions on netbooks running the Intel Atom in the past, resulting in a massively annoying lack of ingenuity in spec combinations for most machines. Some of us dared hope that the Intel Atom N470 CPU would take it easy on OEMs this time around but, unfortunately, it looks like our hopes have been squandered.
On the other hand, the restrictions have eased up for the new netbook CPU. Machines running the Intel Atom N450 can only have 2 GB of RAM, but N470 netbooks can run up to 2 GB DDR2 memory. Other guidelines suggest "a 160GB hard-drive (or 20-32GB SSD) and Moblin as the OS." Moblin, eh? That could be interesting.
Naturally, manufacturers will also get a choice between Windows XP Home and Windows 7, provided they keep display sizes between 7- and 10.2-inches and keep MRSP between $299 and $349. That price range leaves very little room for manufacturers to make more interesting machines, so if you expected something new from Intel and Microsoft come the release of the Intel Atom N400 series, you're going to be disappointed.
Via Slashgear.
Oct 9 2009
Despite the Nvidia ION's relatively recent implementation in netbooks and CULV laptops , it looks like Nvidia thinks we're ready for a sequel: the Nvidia ION 2.
The ION 2 is designed for more platforms than the original ION processor, meaning notebooks and desktops – not just netbooks – are in the headlights this time around.
Nvidia execs confirmed that our good friend the Atom will be joined by other processors, including the Celeron, Core 2, and Pentium families in support by the Nvidia chipset. HD video improvement will be the first likely result of the release.
The ION 2 could also be much faster than the Nvidia ION, afford more shading effects, use less power, and smaller in general. Sounds pretty good so far – if the price tag is reasonable, Nvidia could be looking forward to an enjoyable holiday season.
Via I4U.
Sep 25 2009
Intel has announced that the new Pineview chips for netbooks and nettops will ship 4Q this year.
The announcement came at IDF in San Francisco from Jeff DeMuth of Intel platform marketing. He didn't say when Pineview netbooks would make their ways in to stores, but first quarter 2010 seems like a likely option.
The new Pineview chips will be faster, allowing for thinner netbook designs and better battery life.
Via PCWorld.
Jul 31 2009
The Intel Atom Z series has been all but replaced by burlier chips like the Intel Atom N270 and N280. It was efficient but sliggish, and as a result only a few netbooks still run it.
DigiTimes is saying that Intel will soon stop taking orders for the chip from netbook makers, so it's time to say our goodbyes.
Or is it? According to some rumors, the chip could live on in MIDs and smartphones, rather than netbooks.
Via DigiTimes, image via TechTickerBlog.
Jul 22 2009
Back during Computex Taipei 2009, Intel showed off its new Atom N450 netbook CPU to the world. It's based on the 45 nm CPU codenamed Pineview and a wide release has been expected for quite some time.
However, since the June electronics show ended, nothing has been heard from the major PC vendors as to plans for developing N450-based netbooks. Rumors put the onus on cautious OEMs waiting for the big players to make announcements, and those rumors have been confirmed by Digitimes.
Joanne Chien of Digitimes Research said that "vendors are still awaiting the situation to clear up, as Intel has decided to delay the launch of the new CPU to early next year," in an effort to not impact the netbook market in the second half of 2009.
In other news, Digitimes Research has put together an interesting graph of netbook growth for the visually inclined. Check it out: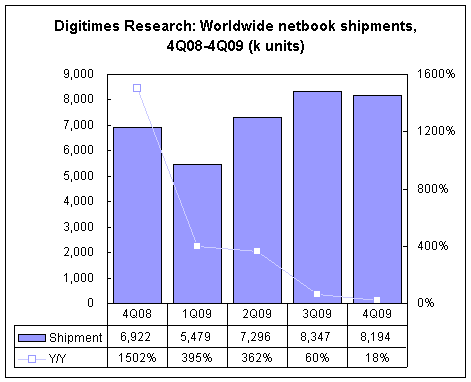 Note: Shipments do not include white-box netbooks from China.
Source: Digitimes Research, compiled by Digitimes, July 2009
Jul 8 2009
Though the Atom N270 and N280 CPUs are king in the netbook industry, the Atom N450 might not swoop into the market quite so readily. Why?
It turns out that some manufacturers are feeling reluctant to mass produce until they know what big players like ASUS and Acer are planning in terms of new netbook offerings. Unfortunately, bulk availability of the N450 might take until the first half of 2010 even though engineering samples of the Intel N450 are readily available.
Demand for netbooks was lower than expected in the first half of 2009, due in part to segment saturation and the bumps of a rickety economy. Vendors are taking the hit in stride, but tend to prefer a cautious attitude and watch the heavyweights before throwing money at R&D.
Q4 2009 should bring Acer and ASUS' announcements concerning the Atom N450, as well as increased commitment by manufacturers of the new Intel CPU.
Via SlashGear.
Jun 29 2009
Posted by Michael in Netbook News
Comments Off on Vivante Teams Up With Chinese ICT To Improve Netbooks
Vivante Corporation announced that it will be partnering with the Institute of Computing Technology of the Chinese Academy of Sciences with plans to integrate their GPU and CPU designs into a "cost-efficient, low-power SoC and advance the state-of-the-art in netbook technology for the next generation." China has been a valuable space for netbooks thus far, and this relationship could be a harbinger of better things to come.
The ICT's specialty is research in computer science and technology. The group was responsible for "China's first general-purchase digital computer" and generally focuses on boosting the performance of low-power computers. That sounds like it would be helpful in the netbook industry.
Dr. Weiwu Hu, the chief architect of the ICT's CPU division, elaborated on the goal of the partnership:
"As we look toward making netbooks both more capable and more accessible, we find Vivante GPUs to be the perfect solution for small size and low power while providing robust, fully featured graphics and fast performance."
Wei-jin Dai, Vivante's President and CEO, added to Hu's explanation:
"Our ability to deliver the highest performing GPU per square millimeter and per milliwatt across the spectrum of mobile computing, handheld, and home entertainment device requirements is once again validated by ICT selecting a Vivante GPU design. The Vivante ScalarMorphic(TM) GPU architecture flexes and scales to address a wide range of price/performance requirements and silicon budgets. We look forward to ongoing collaboration with ICT, as we apply leading edge Vivante technology to power next generation wired and wireless embedded applications in new and interesting ways."
This is an exciting time for netbooks, and it is with great interest that we anticipate the products of this relationship. China Mobile's partnership with major netbook manufacturers has already yielded much for netbook 3G, and hopefully Vivante and the ICT can do the same with netbook GPUs.
Via PRNewsWire.
Jun 23 2009
Nokia is reportedly announcing a deal with Intel to bring Atom CPUs to a new Nokia device. A recent Bloomberg report is boosting speculation that it could be a 3G netbook, or else an Atom-based smartphone or smartbook.
As the world's largest mobile device maker, a decision by Nokia to enter the netbook space could introduce fiercer competition and hopefully competitive innovation.
Via PCWorld.
May 17 2009
Comments Off on Dell Powers Server With A VIA Nano Netbook Chip
The latest server setup by Dell doesn't make use of a gargantuan Xeon powerhouse or anything even close to the category – it uses a netbook processor.
The new XS11-VX8 (codenamed Fortuna) is about 3.5 inches long and houses a VIA Nano U2250 netbook CPU.
The netbook chip is backed to 3 GB of RAM, and can be partnered to a 2.5-inch SSD or HDD. There's an SD card slot as will and two Ethernet ports.
So how does this tiny CPU handle the huge amounts of data it's meant to? Well, it doesn't do it alone. Dell bundles 12 of these mini-servers in a 2U chassis, creating a fully customizeable server for Web hosting and similar tasks.
The Nano U2250 is only a 1.8 GHz chip with a 1 MB cache, but it can run a 64-bit OS and even the Intel VTX virtualization platform.
Drew Schulke, marketing manager for Dell's Data Centre Solutions group, explained that power costs are growing daily, and its biggest customers are companies that buy thousands of servers at a time.
"We can come in to a relatively power-constrained rack [environment] and consolidate seven racks of their current [servers] down into one of these…. We could lose a deal [based] on a single watt."
Dell's resourcefulness in manipulating a tiny netbook chip into a high-grade server is sure to inspire plenty of similar adaptations in the near future. Intel would do well to get in on that market, but it's hard to know if the Atom is up for the job.
Via APC.