Special chips from Nvidia and Broadcom will soon become available for netbook lovers and will enable them to get faster HD video on their new machines. This is a relief, considering that the Pineview line of Intel Atom processors is not yet beefy enough to run the best HD.
Intel Netbook Merketing director Anil Nanduri explained that Intel chips will work in conjunction with the new Broadcom MCM70015 Crystal HD chip, a component offering support for Windows Media Player 12 and Adobe Flash Player 10.1.
Furthermore, more netbooks packing the Nvidia ION should become available in the near future, according to Nvidia product line manager David Ragones:
"With Ion you'll be able watch Hulu HD or YouTube HD at either 720 or 1080. With standard Intel components without Ion you won't be able to do that… Another category is Blu-ray video. If you want to watch the latest Blu-ray movie that just came out, you can absolutely do that on an Ion Netbook."
Gaming is another category that will become available on Nvidia ION netbooks.
Via CNet, image via Broadcom.
Oct 5 2009
Nvidia and Adobe had announced a committment to bring rich web experiences to netbooks through their all-new Open Screen Project. The project is designed to boost the capabilities of Flash Player 10.1 using Nvidia GPUs. Development of Flash through Nvidia could have  a beneficial impact on netbooks, especially considering the extent to which Nvidia chipsets have already appeared in netbooks.
HP, Lenovo, Samsung, and Acer are all customers of Nvidia that would benefit through the implementation of better GPU and graphics acceleration on their netbooks and other gadgets.
Dan Vivoli, senior VP of Nvidia, explained that "Consumers want the best Internet experience – whether it's a mobile device in their pocket or a netbook at the coffee shop," and "[Nvidia's] engineers have worked closely with Adobe to make this a reality." This will most likely mean smoother viewing experiences of flash platforms using SD and HD video via Nvidia GeForce, Ion, and Tegra GPUs.

Via I4U.

Aug 5 2009
Even though Windows 7 is on its way, NVIDIA is focusing on the vast number netbook users still on XP by bringing the Ion graphics platform to that operating system.
The ION LE is identical to the existing NVIDIA 9400M mobile graphics Ion technology, but supports only up to DirectX 9 graphics rather than Vista's DirectX 10 or Windows 7's DirectX 11. Hopefully, this will augment the platform for better performance with XP.
Microsoft will only allow OEMs to install XP on lower-end netbooks for a year after the October release of Windows 7.
However, a vast majority of games and HD content still run on DirectX 9, at least according to NVIDIA senior product manager of GPUs Mat Wuebbling:
"For a $400 netbook, does [having] DirectX 11 really matter?"
Ion LE should provide the same performance and 1080p HD video as the Ion.
Via ComputerWorld, image via SlashGear.
Jul 22 2009
Comments Off on Point Of View Mobii Ion 230 Netbook Packs NVIDIA Graphics
The Point of View Mobii ION 230 might be an eyesore, but it's not all for show. The new netbook pushes the competition just a bit by running the NVIDIA Ion platform with an Atom N230 CPU, which is usually reserved for nettops.
It comes with an upgradeable 1 GB of RAM and a 160 GB hard drive. One major flaw is a smaller battery, but Point of View claims the netbook can handle 1080p video, DirectX 10, and support for Shader Model 4.0. Unfortunately, its 10.2-inch 1024 x 600 pixel screen is unlikely to exploit that capability to its fullest.
The machine will likely still lag in graphics-intensive games, but this is surely a step up. Point of View reminds us that an affordable gaming netbook isn't impossible after all – we just need to put a little energy in it.
The Mobii ION 230 will soon be available in Europe in three colors – red, green, and black – for €349 ($495). US release dates, if they exist at all, are thus far unknown.
Via Engadget.
Jul 2 2009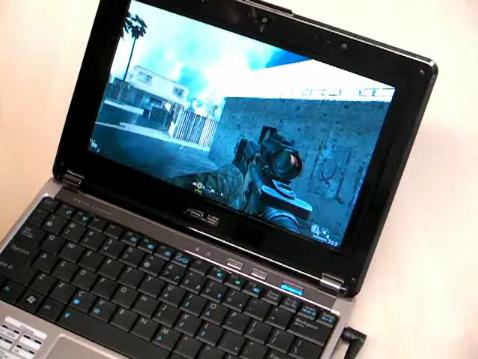 Though gaming on netbooks has often been seen as something as an impossibility, netbook users have been experimenting with how far a simple Win XP 1.6 GHz Atom netbook can go. There are videos out there of netbooks managing to emulate Nintendo systems. Web-based browser games have never been a problem for netbook hardware either.
While netbooks can't very well crank out the graphics of a game like Crysis, older titles – the NYTimes noted Asheron's Call and Civilization III – can be made to function smoothly. Intel recently threw together a list of games that have been tested on the Mobile Intel 945GM Express chipsets, commonly used to power netbook graphics in a variety of models.
Screen size is always an issue for gaming, and default RAM setups can hinder gaming as well. However, updating graphics drivers or installing more memory makes gaming on your little machine a very real possibility.
Don't have an optical drive? Try downloading games from a client like Steam.
Picture via SlashGear.
Apr 12 2009
Today's edition of ASK NBB focuses on an asker with a specific set of preferences for an upcoming netbook purchase.
QUESTION:
"I want to buy a notebook. That is like the asus 1000he but with a graphics card.
Is there any netbook out currently that has those features?
– a graphics card
– superb battery life
or is there one that you might know of but has yet to come out?
would love to hear your suggestions"

-stanTLs
ANSWER:
So, you're looking to buy a netbook?
The first thing I thought of when I saw your email was the MSI Wind U110 Eco, a netbook whose graphical capabilities are expected to be good enough to manage any kind of HD video, and whose battery life may last as much as 9 hours. Be sure to read the article at the link for more info.
On the downside, the U110 Eco netbook may take a few months to be released. It all depends how long you want to wait to get your new netbook!
A second option is the Dell Mini 10. The battery life is decent enough, with the 6-cell option getting you 6-8 hours of life according to a release by Dell. Its graphics will get you up to 720p video, and the machine will come with a few other awesome media accessories as well (like a TV tuner). Check it out.
If you're looking to use your netbook for gaming, your options will be pretty severely limited. You could, however, take a look at the ASUS N10J, which rocks a GeForce 9300 graphics card. Unfortunately it costs $699 and its battery life is standard.
Be sure to note that whenever you're using higher brightness settings or engaging the graphics chip heavily your battery life will be quite diminished in any case.
I hope this helps. Good luck!
_____________________________________________________________________________________________________
Interested in getting your own question answered on ASK NBB? Here's how!
Feb 26 2009
A blogger over at I4U has mentioned a serious concern for the upcoming NVIDIA Ion platform for netbooks. While it has confidently promised to dominate the market, it may also weigh so heavily on netbook price that it won't be worth it anymore.
ASUS made come comments back during CES, hinting that it would shy away from the platform. Why? The NVIDIA Ion sounds great on paper, but unfortunately it's expected to add $150 to the price of the machines. It is pretty evident that other manufacturers are thinking similarly, simply because we haven't seen any concept netbooks using it yet.
To many consumers, 1080p video and better GPU won't be worth the $150. It's likely that the quality will be far more noticeable on larger screens, but on 10-inch mobile PCs the benefit will be limited.
Netbook manufacturers have made forays into luxury PC arena with the Vaio P and Viliv 7, but for the most part the massive successes of the industry are credited to netbooks' great value. We'll be following developments on the graphics chip closely, but for now it seems like its successes will be limited.
Via I4U.