Acer is currently the world's second biggest PC manufacturer, but it's looking to crank up its presence in Chinese markets within two years.
While Acer has seen strong results in Brazil, Russia, and India, the netbook maker has had more trouble in China where Lenovo is king. Acer tends to bounce between fifth and sixth place in China.
CEO Gianfranco Lanci explained to Reuters just why that's not good enough:
"We don't like being anything less than No.3 … You need scale, although of course it's always a balance between market share and profit margins. Five years from now, China is going to be larger than the U.S."
Acer plans to take extra market share by cutting selling prices by about 5%-10%. No word yet on whether those effects will be felt elsewhere, but at that outset that seems unlikely – manufacturers commonly practice price discrimination between different regions.
Via Reuters.
Nov 4 2009
Posted by Michael in Netbook News
Comments Off on ABI Projects 35 Million Netbook Sales For 2009
Netbooks have been selling fast, if you believe most  recent projections, and today ABI supported those projections with some numbers of its own.
The netbook industry should top 35 million units by the end of the year. While ABI isn't saying much about market share it did note that Acer, ASUS, and Samsung made 74% of netbooks last year. Of course, an upset is always possible.
Netbook sales have been flying high, despite losses in the PC sector. Some blame cannibalization for drops in profit margins, though others are simply grateful that people are still buying electronics.
Via Electronista.
Oct 16 2009
Gartner is says that, while netbook sales were responsible for the vast majority of PC shipment gains third quarter, Apple's defiance of convention didn't seem to have hurt its numbers.
Apple has repeatedly neglected the netbook market, breaking fanboys' hearts again and again for over a year now. Despite claims that it would lose in the long run due to this attitude, Apple doesn't seem to have taken the pain just yet.
One likely explanation for this phenomenon is support by a rabid base of customers, eager to pay premium for new Apple products. In the words of Gartner research analyst Mikako Kitagawa:
That is what they are built for, that is something no other PC vendor can do."
Apple shipments grew year over year by 6.8%, topping off at 1.57 million third quarter. This put it in fourth place behind Dell, HP, and Acer. The overall market grew by 3.5% to total 17.82 million sales.
Acer has been the most star-struck  by netbook sales, with shipments growing by an unprecedented 61.4% third quarter.
Via PCWorld.
Oct 14 2009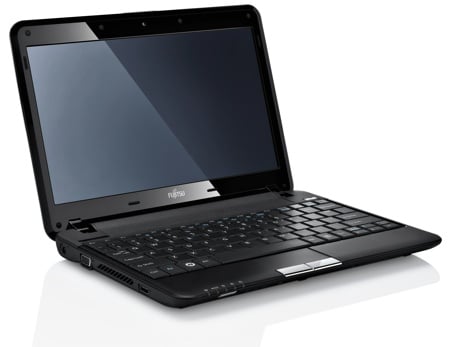 Fujitsu is rocking the netbook industry boat this fall with a new 11″ CULV laptop offering called the Fujitsu Lifebook P3110.
As far as we can tell, it's not a netbook – it runs a choice of either the single core Celeron 743 or Pentium SU4100, or the dual-core Core 2 Duo SU7300 CPU.
In nearly all other aspects, it's a netbook. The machine has 3 USB ports, an SDHC card slot, Ethernet, and VGA. We're still in the dark about other specs, but as the November 9th release date crawls closer we expect more details. What we do know is that a 3G HSDPA version is on the way, and that the Lifebook P3110 will come in red, black, and silver.
Battery life should be about 6 hours, and each CULV laptop will come with up to 4 GB of RAM and 500 GB of space on the HDD. Also included are Wi-Fi and Bluetooth.
The 3G models come out on November 23, and will most likely come bundled with Windows 7.
Via RegHardware.
Oct 12 2009
Dublin research firm Research and Markets has recently announced an addition to their recent report, "China's Netbook Market: Not as Big as It Looks", which claimed, well, that the Chinese netbook market may be smaller than initially assumed.
The additional feature focuses on the disjoint many PC and CE vendors find between high profit margins and intense competition in the sector, making Chinese netbook markets tantalizing but impenetrable.
Furthermore, In-Stat interviewed a number of industry specialists – "operators, netbook vendors, chipset vendors, OEM vendors, and national agencies" – and organized a status report of the Chinese netbook market based on their findings. Furthermore, they discuss the influence of 3G services on the bustling market, breaking down the netbook value chain to see who's a key player and who's not.
Their conclusions remained skeptical, as noted by a quote by In-Stat analyst Ashley Liu:
"Future market trends for netbooks in China remain unclear… The result may be that the netbook ends up being a transitional product."
If you're interested in the report, more info can be found at ResearchandMarkets.com.
Oct 2 2009

A study from the Semiconductor Industry Association has found that semconductor sales rose 5% in August over the previous month – the sixth month in a row of sequential gains.
Month-to month sales also boomed in every region in August – it was 5.4% greater in the Americas and 5.3% in Asia. So why the sudden increase?
You guessed it – SIA President George Scalise credited the gains to recoveries in consumer spending and netbooks. Netbooks' low cost has been a big factor in increasing consumers' purchasing power in a tough economy:-
"Notwithstanding the slow recovery of demand from the enterprise sector, we are encouraged that industry momentum has turned positive following the steepest downturn in more than a decade."
The upcoming holiday season should be a further boon to the industry, when holiday shopping augments consumer spending.
Via WSJ.
Sep 29 2009
More evidence of the continued rise of netbooks can be found in recent data reported by Digitimes, claiming that netbook LCD panel shipments will increase this quarter.
Though the back-to-school netbook market was weaker than forecasted, netbook demand is still healthy. Growth may slow, however, in October due to "weaker demand from end-market players."
Numbers for specific vendors are promising, with Dell expecting 1.2-1.4 million shipments third quarter and Acer looking at 3-3.5 million Acer Aspire One shipments.
Via PCDAndF.
Sep 23 2009
Intel first released the Atom chipset back in March of 2008 in an attempt to break into an industry that the famous chip manufacturer had little presence in. As a consequence, Intel has also implicitly spurred the rise of a new category of portable laptops, or netbooks, that are relatively low-cost and energy efficient and have been widely used for basic everyday tasks.
Since then, netbook sales have grown significantly and market research companies have forecasted greater growth within the overall industry. Market research firm IDC has forecasted the sale of roughly 26.4 million units globally for the year 2009 and says that telecoms that subsidizes these devices have contributed to a large portion of overall sales.
Via EnterpriseDB.
Aug 21 2009
As the school year gets into gear, many first year college students will be buying their first machine. The economy's been rough, which has been a boon for netbooks, but Apple has been persistent in its advertising and has put out a variety of wonderful products to tease those of us without the disposable income to try them out. But how do the numbers really stand when it comes to computer purchases for college-bound kids?
A study by Retrevo says that full-sized Windows notebooks come in first – an unsurprising finding. However, 34 percent of kids will buy netbooks this year, leaving Apple in third place with a mere 17 percent of sales. Apple's goal isn't to have the most sales volume, but the numbers must be something of a bummer.
Retrevo CEO Vipin Jain explained the results of the study as follows:
"While Apple has done well historically in the education market, 2009 marks the dawn of the netbook… Students told us they wanted longer battery life, smaller size, and a lighter laptop. 58% of them plan on spending less than $750.00. Only 18% have a budget over $1,000.00. Netbooks are affordable; some costing only $170.00. In contrast, Apple laptops start at $949.00. At a time when many people are experiencing economic hardship, having a new Apple laptop isn't a necessity."
Be sure to read the study here if you're curious for more.
May 22 2009
2Q earning for Acer are set to be better than expected, due to – you guessed it – netbook sales.
Additionally, Acer's recently released Aspire Timeline CULV notebook is set to boost sales as well. The new notebook runs for 8 hours on a single charge, and Acer hopes the Timeline will push them above HP for mobile PC shipments.
Acer is the largest netbook manufacturer in the world, but even computers megagiants have had to curb expectations in the current market. Regarless, Acer Chairman J.T. Wang has retained high hopes:
"At the end of April we said, revenue-wise and profit-wise, it's going to be a little better than Q1, and our Q1 was reasonably acceptable… Today I think we should be able to do even better… Netbooks are selling very well, and as for Timeline, market response is so strong."
What numbers are specifically expected? Somewhere around 12-15 million netbooks.
Following this year's launch of the Timeline in consumer markets, Acer intends to make headway for corporate clients in 2010:
"We consider 2009 as a bad year for the commercial market. No matter what you do, corporate customers don't buy computers… we consider next year will be a good year for commercial. So we have to be ready to catch a growing opportunity."
The Aspire One has been quite a boon for Acer, and if the company continues to put out machines like the 11.6-inch edition of that netbook its sales should continue to beat expectations.
Via Reuters.
May 1 2009
The principle analyst at iSuppli, Matthew Wilkins, is taking a good look at the netbook industry and predicting falling netbook shipments by 2013.
His numbers say "Netbook shipments are projected to rise 68.5 percent in 2009, with this figure falling to 39.6 percent in 2010 and 13.1 percent in 2013," which may seem pretty dire; however, he describes his trend as impressive growth regardless.
Wilkins gave a word of advice to netbook manufacturers, telling them "not to fight their falling shipment numbers by overburdening their devices." His fear is that pushing netbooks to be low-grade notebooks will kill their appeal and exacerbate the problem.
On the other hand, ABI Research is projecting an ungodly number of netbook sales by 2013, so who knows where this thing is going. Wilkins' words merit consideration at the very least, and if OEMs intend to keep milking netbooks they'd better tread carefully.
Via Twice.
Apr 30 2009
Taipei-based Compal Electronics is the second largest contract notebook maker in the world, but despite its eminence in the PC industry,  right now it isn't looking so hot. It has reported a dismal 13 percent decline in profit due to the recession, and is looking to netbooks to fill up that gap.
Rumors say Compal is planning its own Android netbook, among other projects. It is a supplier for both Acer and HP, but curiously enough blames "higher sales of low-priced notebooks" for its losses. Bargain-friendly consumers are buying cheaper these days, and Compal is the one getting hit.
Is this a sign of the PC industry cannibalization some analysts fear so much? It seems unlikely. Compal is embracing the change in its target demographic's preferences, with President Ray Chen claiming that netbook shipments are set to bump up Compal's shipments 15 percent this quarter. Once again, it's looking like netbooks are expanding when all other markets seem to want to fail.
Via Bloomberg and UnwiredView.
Apr 15 2009
Comments Off on Intel Enters Chinese Netbook Markets With Atom CPU
Intel is making moves to expand its presence in Chinese PC markets, offering customized netbook designs for Chinese consumers.
Analysts are saying that Intel is milking the Atom CPU for all it's worth, tapping into new markets where it thinks the processor will succeed. That doesn't just mean the netbook – UMPCs and ultraportables will use the chip too.
The new program is called Hurdle, and is specifically dedicated towards offering "designs that meet specific price targets and the hardware and software requirements of Intel's Chinese partners," according to an Intel spokesman.
And it seems like Windows XP won't be part of the picture – Intel is specifically intending the program for 8.9- to 10.2-inch Linux machines. Considering ARM's recent partnership with Linux for the latest update to Ubuntu, it's looking like Linux is set to gain eminence at home and abroad.
The custom netbooks will be as cheap as 1750 yuan (US $256), a better deal than many American consumers are getting from Intel. So why such attention to the Chinese market? Anand Chandrasekher, senior VP of Intel's Ultra Mobility Group, says netbooks are a "significant opportunity" in China. Many PC manufacturers look at Chinese markets as promising but unassailable, but Intel's special efforts in pandering to Chinese netbook consumers may improve their presence in the nation.
Feb 20 2009
Through the short time netbooks have been around, they have been attacked by many claiming they'll cannibalize an already suffering market; with buyers opting out of higher-end notebook sales in favor of the diminuitive machines.
Mark Hurd of HP was recently interviewed on the subject. He says HP can't say for sure yet if its sales are being cannibalized, due to the short time they've spent in the market, but he has his doubts:
"It's not the move to netbooks that's cannibalizing. What you have is someone buying a more thickly configured notebook, who's now buying a more thinly configured notebook, and that's what's adjusting the ASP [average selling price]."
This explains the primary evidence most use for cannibalization: shipments are up, but revenue is down. It has also been suggested that the drop in sales would have been even more drastic but for the existence of the netbook sector, which offered cost-wary consumers an outlet to compute.
However, other analysts bring in the idea that Acer, whose massive successes in 2008 were in large part due to netbook sales, is using the netbook to take a chunk of the market previously owned by Dell and HP. The Acer Aspire One has been extremely popular, and has brought Acer to the top from its previous obscurity.
IDC analyst Richard Shim captured the rapid evolution of the netbook market quite succinctly:
"In just over a year, they've (netbooks) evolved from these Linux-based, solid-state devices into fully [Microsoft] Windows OS-based, 120GB hard drive systems, which are very similar to traditional notebooks. So we've had a dual effect here, with many netbooks becoming more robust and expensive, while notebooks have come into the same price range."
Intel's wariness in boosting the power of the Atom N270 led to the intentional capping of that chip's power for the N280 update. This was done, of course in an effort to reduce the 'damage' the successful netbook chip was having on Intel revenues. Intel profits were crushed in 2008, so it's possible that their anxiety was well placed. In the instance of the Atom N280, fears of cannibalization have directly affected the products offered on the market.
For now, the issue of whether netbooks are cannibalizing the industry is still unresolved. It's important, however, to take a hard look at the numbers when making one's analyses. There are plenty of alternative explanations for the seemingly paradoxical situation of an industry with greater sales and less profit, and they need to be investigated as well.
Via DailyTech.
Feb 19 2009
Comments Off on Mid-Size Businesses Look To Netbook Industry To Lower Costs
While the netbook has latched on to the PC industry with all of its considerable might, its influence hasn't delved deeply into corporate America. However according to a report by CRN, some midsize companies' CIOs are liking the possibilities netbooks offer.
In Waco, Texas, the IT director of Equipment Depot – Eric Vlam – acknowledged that even a heavy equipment industry needs computers.
"You can't adjust anything anymore without having a notebook hooked up to it. It's all electronic. We're creating a more mobile workforce and [notebooks and possibly netbooks] help put us in contact with our business systems and streamline our workflow around our service."
However crucial computing may be, some of the extra "foo-foo" is an unnecessary cost for what they need. As a result, businesspeople like Vlam are "actively looking at [netbooks]."
The trend isn't happening everywhere, though. Tom Amrhein of Forrester Construction is giving netbooks a close look in the event that they turn out to be a good choice, but for now is sticking his company's recent move towards more powerful PCs and Vista.
"Everybody has a new machine. Netbooks might have been interesting for some of our lower usage personnel, but we have no big plans for any machines for another year or two."
However, he certainly saw what the netbook industry had to offer. He admitted that his company "probably [had] too much CPU for the guys in the field," and could probably benefit from treating three or four hundred dollar netbooks as a "disposable asset."
Via CRN.