The quintessential netbook processor, Intel's Atom, is due for a real upgrade. For now, rather than clean the slate completely, Intel seems to be taking another slow step forward by announcing two DDR3 compatible CPUs with the same power rating.
The two new processors are going to be the N475, clocked at the reasonably fast (at least for a netbook) 1.83 GHz, and the N455 with the standard 1.6 GHz. Both chips plan on maintaining their thermal design power (TDP/fancy talk for heat) ratings and are scheduled for a Q3 launch.
The only thing these chips will bring is DDR3 to netbooks, so don't plan on that alone really changing performance.  Still, it is a sign at least that the netbook market is moving away from the older DDR2 RAM to DDR3, which all parties will undoubtedly welcome. Perhaps this also heralds the last iteration of the current generation of netbook processors, so it may be time to look forward to real innovation after this.
Via Engadget
Aug 7 2009
Lenovo has released the IdeaPad S10-2, an adjustment to the Lenovo IdeaPad S10 made in the style of the Dell Mini10v.
It's a tad lighter than the Lenovo S10, but it doesn't add much otherwise to the tried-and-true IdeaPad formula. Lenovo dropped the ExpressCard slot on the new netbook, which has ticked off a few people. Furthermore, the one major downside, a small keyboard, hasn't been fixed.
Combined with the iffy pricetag of $350, the curious 'improvements' to the new Lenovo IdeaPad S10-2 make this netbook not much to get excited about.
Via PCMag.
Jul 21 2009
Upgrading netbooks (or any computer for that matter) can appear to be an unapproachable art to the uninitiated. It takes some fiddling with delicate, expensive products, and a wrong move can cost you a new machine. Furthermore, messing with your machine can void its warranty, which isn't something many of us want to do.
In other words, if you're going to upgrade your netbook, know what you're doing – or at least listen to someone who does.
Tan Kit Hoong over at The Star has undertaken the task of upgrading his Eee PC 901 with the intention of installing Windows 7. The 901 has only 8 GB on the SSD, so Tan is boosting the space and has put together a useful guide if you'd like to do so yourself.
Check it out – it's definitely worth a look. Good luck!
May 8 2009
Dell is giving Linux users a bit of attention with a new announcement this week. The Dell Mini 10 netbook is gaining new options, including an SSD and Ubuntu Linux as an OS.
With these new options, the updated Dell Mini 10 will cost $399.  A 32 GB SSD is $75, and a 64 GB SSD will cost you $125.
Other updates include a 15$ 3-cell battery that gets you 25% more battery life than the old version. Curiously enough, the Ubuntu Dell Mini 10's display can be upgraded to a 1366 x 768 HD screen, which for some reason isn't offered for XP versions.
Regardless, Linux users are sure to be pleased by the new updates. Dell is notable for offering its netbooks in a lot of varieties, and this latest development is right in line with that philosophy.
Via I4U.
Mar 3 2009
Kingston is known for its mobile memory chips and flash drives, and has recently turned its manufacturing prowess towards the sector we know and love so dearly: netbooks.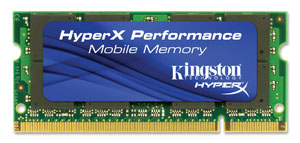 The new netbook upgrade is designed to boost RAM through the easy installation of this 2 GB SO-DIMM.
Netbook computers supporting 533 MHz memory will gain the most benefit from the new chip. This includes MSI Wind, ASUS Eee PC, and Gigabyte netbooks, among others.
The new RAM has faster timings as well, clocking in at CL3-3-3-8, and is available right now for a mere $35.
Via SlipperyBrick.