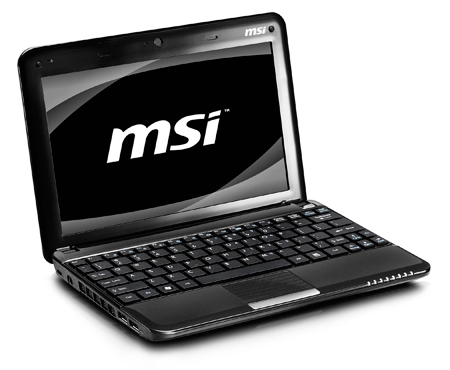 All kinds of netbooks running the new Intel Atom N450 Pineview chipset have been surfacing today, starting with the new edition of the Dell Inspiron Mini 10 and then the Fujitsu Lifebook  MH380. MSI is following their announcements with releases of its own – the MSI Wind U130 and U135 netbooks running the N450 processor.
Supposedly, they will be the first netbooks to achieve international WiMax certification. This is a notable step for the netbook world, which has been pushing ever-harder for increased connectivity.Bat
The hardware changes on the new machine should be conservative but much appreciated – a 15% improvement in battery life, 10-inch LCD screens, a webcam, memory card reader, Wi-Fi, Bluetooth, and optional 3.5G mobile broadband. Storage options include 160 GB and 250 GB hard disk drives.
Furthermore, the pricing for these new machines isn't bad at all – £229 ($367) for the U130 and £279 ($447) for the U135.
Via SlashGear.
Nov 25 2009
Pineview netbooks are starting to pop up left and right. Here's one that's recently been spotted on the FCC's website – the Fujitsu Lifebook MH380. The rumored tech specs so far include a 10.1″ screen display with 1366×768 resolution, a 1.66GHz Intel Atom N450 CPU, Atheros 802.11 b/g/n Wi-Fi, and Realtek 8103EL-GR 10/100 Ethernet.
RAM is rumored to be 2 GB DDR2 and storage is rumored to be 160 GB or more. No other news is yet available on this netbook, but since it's a pre-production sample, specs could be very likely to change. We'll keep you posted on any developments.
Via WirelessGoodness.
Nov 9 2009
Currently, most Intel processors installed in netbooks are the Atom N270 and Atom N280, but Intel is looking to quickly transition to the Pine Trail platform. Maybe you'll want to hold off buying a netbook for now, as Intel's new platform is expected to launch on December 21st of this year.
Intel wants to generate excitement for the new Pine Trail platform for netbooks by planning a press release in late December to disclose the details of the platform. Pine Trail will probably also be the talk of the town at the Consumer Electronics Show in January of 2010.
Here's some details about the Pine Trail platform. The key component is the "Pineview," which is a new CPU that integrates the Intel Atom N280 core with a DDR2 memory controller and graphics core. By integrating these last two parts with the CPU, the overall power consumption is reduced. The Pine Trail chipset, nicknamed "Tiger Point" handles the system I/O.
The three main chipsets that will debut at CES will include the 1.66GHz single-core N450 processor, the 1.66GHz single core D410 processor, and the 1.66GHz dual-core D510 processor, the former of which is for a netbook and the latter of which are for desktops.
Via RegHardware.
Image via BlogCDN.
Sep 25 2009
Intel has announced that the new Pineview chips for netbooks and nettops will ship 4Q this year.
The announcement came at IDF in San Francisco from Jeff DeMuth of Intel platform marketing. He didn't say when Pineview netbooks would make their ways in to stores, but first quarter 2010 seems like a likely option.
The new Pineview chips will be faster, allowing for thinner netbook designs and better battery life.
Via PCWorld.
Aug 4 2009
Intel is denying any rumors that it will no longer be producing any more Atom Z-series processors. The company currently plans to supply these processors at least until 2010. Furthermore, the company stressed that it will continue to sell the Atom Z-series chips to netbook manufacturers.
An Intel spokesperson stated that "Rumors of 'industry sources' stating that Intel is no longer taking Atom Z processor orders for netbooks, or any other products, or ending production by end of year are 100% inaccurate."
Intel Atom Z-series microprocessors are more impressive than the typical Intel Atom chips. All these chips have similar clock speeds (800MHz-1.86GHz), but the Z-series chips have 0.65-2.4W thermal design power.
The Intel Atom Z-series processors are able to support advanced power management features, such as CO/C1(e)/C2(e)/C4(e) power states, Intel Deep Power Down technology (C6), L2 dynamic cache sizing, and Split Vtt, to name a few.
Early next year, Intel is planned to start shipping its Pineview netbook processors. These processors will feature integrated graphics as well as some other advantages over the current processors.
Via XBitLabs.
Images via YersysTechnologyBlog and ZDNet.
Jul 22 2009
Back during Computex Taipei 2009, Intel showed off its new Atom N450 netbook CPU to the world. It's based on the 45 nm CPU codenamed Pineview and a wide release has been expected for quite some time.
However, since the June electronics show ended, nothing has been heard from the major PC vendors as to plans for developing N450-based netbooks. Rumors put the onus on cautious OEMs waiting for the big players to make announcements, and those rumors have been confirmed by Digitimes.
Joanne Chien of Digitimes Research said that "vendors are still awaiting the situation to clear up, as Intel has decided to delay the launch of the new CPU to early next year," in an effort to not impact the netbook market in the second half of 2009.
In other news, Digitimes Research has put together an interesting graph of netbook growth for the visually inclined. Check it out: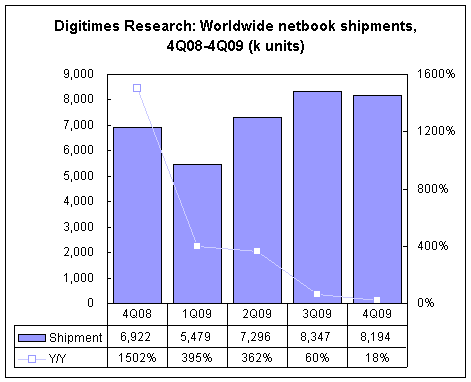 Note: Shipments do not include white-box netbooks from China.
Source: Digitimes Research, compiled by Digitimes, July 2009
May 13 2009
Comments Off on Intel's Plans for Netbook and Laptop Processor Changes in 2009
For netbooks, Intel currently plans on selling the existing Intel Atom processors throughout the summer of 2009, but come September, they will likely be releasing upgraded processors with faster integrated graphics capabilities. Codenamed "Pineview," these processors will most likely be more costly than the current existing configurations.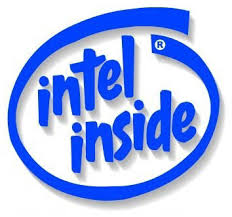 In addition to the introduction of these upgraded netbook processors, Intel also plans on upgrading other processors. For midrange computing devices (ones that have a price tag of between $700 and $1000), Intel plans on using CULV-based processors, which are dual-core, low voltage processors.
The priciest computing devices (with a price range of roughly $1200+) will come equipped with dual-core "Capella" platforms.
Via CNet.
Image via TheWashingtonNote.
Dec 9 2008
Also known as "Medfield", Intel's 32nm chip will be released in 2010. This is considerably smaller than the current 45nm chips and "will use the smaller transistor size to increase the level of on-die component integration, bring into the system-on-a-chip the I/O functionality currently relegated to the chipset in today's netbooks."
Even before the Medfield comes in in 2010, Intel is planning on releasing the "Pineview" which "is expected to be a full 'System-on-a-chip'", where all the functions of the PC – the memory controller, I/O, graphics chip, etc, are all on one chip.
Source: Techdigest.tv