Netbook buyers and enthusiasts should be happy to know that this coming Monday Intel will be releasing the Atom N470 Processor, which will be Intel's most powerful chip yet for netbooks. The processor will enhance both the performance speed of the machine and longevity of the battery.
The chip will run at a speed of 1.83GHz and integrate a graphics processor and memory controller. These features will give netbooks superior graphics and processing performance compared to their predecessors. The fact that the new chips are also more efficient could result in an increase for some netbooks' battery life performance. The chip's integration also results in a decrease of size, which could allow smaller and lighter netbooks to be made.
Though this new chip is a great step, there are still strides to be made in the effort to increase efficiency and utility. For example, Nvidia graphics processors and Atom CPU will be coupled together to bring better high-definition video to some netbooks in early March, and it's this kind of innovation that will drive the industry forward.
Via PCWorld.

Jan 12 2010
Apple is expected to update its MacBook laptop line in the near future to include Intel's new Core i5 processors. These processors, called "Arrandale," are i3 and i5 CPUs that include new graphics silicon. Before this, Intel graphics were located in a separate chipset. The benefits of amending the setup are many; putting graphics with the CPU gives better battery life and performance, and the new processors are faster than the old Core 2 ones.
The new i5 processors will have a feature called Turbo Boost that allow them to run faster if an application requires faster processing. Intel has not revealed when Apple will be using the new processors, or how Apple will use them. One possibility is that Apple will get them made to order, as they have in the past.
Intel also has managed to offer a standard processor in special packaging that allows it to be used in a one-inch laptop. These are the same processors that are used in thicker laptops, so performance is not compromised.
Finally, with the new Core i processors, Apple could possibly put a quad-core processor (the Core i7) into a 17-inch MacBook Pro.
Via CNET, image via Apple.
Jan 9 2010
Advanced Micro Devices (AMD) has announced that it will offer triple-core processors in laptops. Though laptops now can have either dual-core or quad-core processors, triple-core processors have been unavailable until now.
Though it may appear that triple-core processors would be not be an advance, considering the existence of quad-core processors, they will fill the gap in a useful way. They offer better performance than dual-core processors and better power efficiency than quad-core processors. AMD currently offers only dual-core chips in their laptops, while Intel offers both dual-core and quad-core.
Dual-core processors do offer great performance for laptops, but triple-core will boost application performance, according to an AMD employee. The third-core will be able to take on processor-intensive tasks while leaving the other two cores free.
The chips will be offered as a part of Danube, AMD's next-generation laptop code. Danube is supposed to increase laptop battery life by more than an hour. It is also supposed to offer better speed and graphics compared to the current platform.
The chips should ship in the first half of this year.
Via PC World, image via PC world.
Jul 23 2009
It's looking likely that the Intel Atom N270 processor will continue to dominate the netbook processor market for the rest (or at least most) of 2009. The launch of the succeeding processor, the Atom N450, is currently rumored to be postponed until the first quarter of 2010.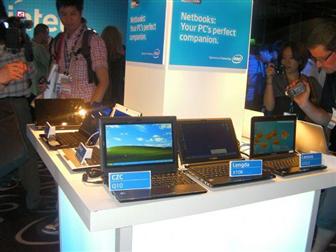 Furthermore, it is also rumored that Intel is planning on issuing the last order notice for their Atom N270 processor in January of 2010 and will phase out this processor by March of the same year.
Via Digitimes.
Jun 12 2009
In late 2009, Hewlett Packard is rumored to be launching netbooks that are powered by Qualcomm's Snapdragon processor. Currently, Intel is the leading manufacturer of netbook processors, with their Intel Atom chipset.
Click on the following images to learn more about these netbook processors.
Via Barron's.
Images via UCBerkeley and QCTConnect.

May 21 2009
Comments Off on 2010 Netbooks to Be Netbook/Smartphone Hybrids
The first netbooks in 2007 were small, light, and cheap. As consumers' tastes changed over the past couple of years, the average netbook size and price has increased slightly and netbooks have been equipped with faster processors.
Future netbooks are rumored to combine the best features of current netbooks and smartphones and will have new processors and operating systems as well. Here are some things to look out for:
1. Netbook processors: Netbook processors will be more powerful and have greater capabilities. Newer processors will use less power and thus allow netbooks to operate for longer periods of time. Some potential manufacturers for these newer processors include: Texas Instruments, Freescale, and Qualcomm. The Snapdragon processor by Qualcomm that only uses 500 milliwatts of power has acquired a good amount of attention and is something to watch out for in the future.
2. Netbook operating systems: Netbooks originally started out with Linux, but when Windows was available to be pre-installed, many more purchases of netbooks with the Windows operating software pre-installed were purchased. In the future, more netbooks will run on new(er) operating systems, such as Google's Android.
3. Apple: There are still many rumors about if Apple plans on breaking into the netbook market. And then if it does, will it issue a netbook or some other related device? There's always the chance that Apple could even come up with something to revolutionize the netbook market altogether. The company's currently keeping mum about this, but we'll keep you posted.
4. Other Developments: Netbooks will continue to evolve, and in general, will be cheaper and better performing in the future. Some things to look out for are the new Windows 7 operating system for netbooks and the development of Snapdragon-based netbooks.
5. Price: Pricing for netbooks is expected to drop in the future. There will also be more discount packages for these mobile devices. For example, in the future, ARM-based netbooks are predicted to be sold for roughly $200 and currently, cell phone companies such as AT&T sell subsidized netbooks for $50, with a two year monthly-data plan contract. (For now though, the latter is only in Philadelphia and Atlanta).
Despite all the signs of netbook evolution, some people are still skeptical about the future of these mobile computing devices. Any opinions?
Via PCWorld.