Clear is offering a deal you certainly don't see every day: an older netbook with a hefty subsidy and WiMAX access for connectivity. If you get WiMAX in your area, this should be a tantalizing deal, considering the fact that WiMAX is cheaper than 3G. Clear will give you its netbook with a two year netbook deal at $45/month with the first 6 months subsidized to $30 apiece.
The machine itself is a Samsung NC10 running a 1.6 GHz Intel Atom N270, priced at $199. Other features are more or less standard issue, if your standard is netbooks from a year ago: 1 GB of RAM, a 160 GB HDD and 6 hours of battery life.
Via jkOnTheRun, image via Clear.
Jul 4 2009
The Samsung NC10 netbook has recently become available (for as little as £30) through contracts with three mobile broadband companies: 3, Vodafone, and O2. This means that buyers now thankfully have a larger selection of pricing and usage plans to choose from.
3 is offering the NC10 with a mobile broadband package priced at £30 per month while O2's monthly usage plan is the slightest bit cheaper at £29.38. Vodafone is offering two service usage plans, one priced at £25 per month for 1 GB and the other priced at £30 per month for 3 GB.
Samsung netbooks in general are pretty popular and the NC10 is pretty awesome itself, so if you're interested, be sure to get yours soon before they run out.
Via Top10Broadband.
Mar 29 2009
Comments Off on New Samsung N310 Netbook Footage and Analysis
New netbook releases are a cause for attention, but initial reactions to the Samsung N310 netbook have been less than exhilarating. The machine's design has been criticized as clunky but without toughness, as well as not being innovative enough to pander to those looking for an alternative to the Atom N270 we've seen so much of in netbooks.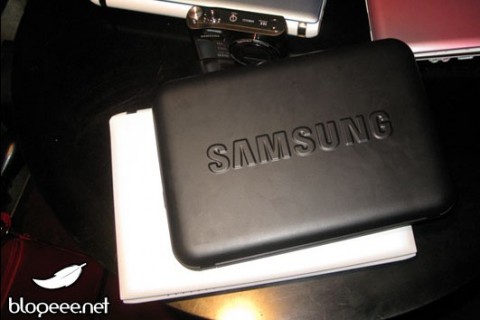 However, the initial photos may have given the N310 netbook a bad wrap. In the video below, Blogeee found that the Samsung netbook is a bit sleeker than previously thought, being no larger than the exquisite Samsung NC10. It looks to have a user-accessible RAM slot, a feature as-of-yet unseen in most other machines, and it looks like the coating on the display does a good job of nullifying pesky reflections.
Will the N310 succeed on its good looks and a tried-and-true formula, or fade into the woodwork as an expensive alternative to better netbooks? Check out the video below, and see what you think.
Samsung N310 from Blogeee.net on Vimeo.
Via SlashGear.
Mar 29 2009
Comments Off on Samsung Releases N110 Netbook With 9.5 Hour Battery
One member of the newest pair of Samsung netbooks has been getting a lot of attention lately, ever since the company's recent posting of a product page for the 10.1-inch Samsung N110 netbook.
It has a 93%-of-full-size keyboard and an amazing 9.5-hour battery life, far more than most competitors' 3-or 6-hour batteries. It's got the standard formula of an Intel Atom N270, 1 GB of RAM and a 160 GB HDD as well.
The whole setup comes in at between $440 and $460, depending upon where you look. We'll have more on the new Samsung netbook as the story develops.
Via Engadget.
Mar 24 2009
The Samsung NC10 and its NC20 contemporary were great netbooks, but if that was enough to impress consumers it seems the manufacturer couldn't help but raise the bar in a curiously obsessive way.
It turns out that the new Samsung NC310 netbook has been decked out with a new antimicrobial technology for the keys. The netbook makes use of some kind of "special finish" making it "almost impossible for bacteria to live and breed." Keyboard germs was number one on my list of things to worry about, but it's comforting that someone out there is making some science happen to eradicate this most foul of terrors.
All joking aside, the NC310 netbook looks like it will be an interesting departure from Samsung netbooks of years past. It has a 10-inch frameless LED  display, a 5-hour 4-cell battery, and a three-in-one card reader. Replicated features include a smallish 1.3 megapixel camera, a 160 GB hard drive, 1 GB of RAM, and Windows XP Home.
Not only is the keyboard a scourge of filth, but it also seems to be particularly well made from a computing sense. The netbook keyboard is 93 percent of full-size, with pebble style keys. Previous Samsung netbooks have capitalized on great keyboards, so in all truth it's hard to expect anything less than this latest, pristine development.
Pricing for the netbook is as of yet unannounced, but we'll keep you posted.
Via CNet.
Mar 2 2009
Comments Off on VIA Nano Gets Inside The New Samsung NC20 Netbook
The Samsung NC20, an upgraded version of the highly esteemed Samsung NC10 netbook, is on the docket for new netbook releases. Samsung has announced that the netbook will be adopting the Nano processor by VIA Technologies.
The older NC10 has an Intel Atom inside, to contrast.
The VIA Nano chip will be the first 64-bit processor for the x86 platform, to be combines with VIA's VX800 processor. This combo will support full Microsoft DirectX 9.0 graphics, HD video, and up to 4 GB of DDR2 system memory for your use.
In addition, as previously announced, the Samsung NC20 will have a comparatively massive 12.1-inch display with 1280 x 800 resolution. It weighs a full 3.4 pounds but comes with features like Wi-Fi, a 6.5 hour 6-cell battery, an 1.3-megapixel webcam, a card reader, and three USB ports. In addition, you'll be offered the choice of either a SATA hard disk drive or an SSD for storage.
With an average price of $650, this new netbook is stepping it up towards a more luxurious price range. It should offer a lot, though, so we're definitely excited for it.
Via CNet.
Feb 10 2009
Epson of Japan is delivering a white version of its previous netbook, the Na01 Endeavor.
The new Na01 Endeavor Mini White is exactly the same in terms of specs – it offers an "Atom N270  processor (1.6Ghz), 1GB RAM, a 160GB HDD, Ethernet, Wifi, Bluetooth, three USB ports, a multicard reader, a One-Seg digital TV tuner, Windows XP and a 10.2-inch LCD screen with 1,024×600 resolution." From a purely design standpoint, the new white version resembles a clunkier MSI Wind U100H or less-classy Samsung NC10.
We don't know if the Epson netbook will ever see US shores, but frankly I don't think anyone's holding his breath. The Na01 Endeavor may be the blandest, most excruciatingly base netbook ever, even if it does its job well. If computers had feelings, I'd kinda feel bad for the little guy!
The white Na01 has also gotten a slim price cut, dropping it 6.4% for a mildly cheaper $480.
Via CrunchGear.
Feb 10 2009
Comments Off on Amazon Eliminates Flaws of Samsung NC10 Netbook For $40
The latest Amazon netbook deal on the market may also be the most useful. The Samsung NC10, which we found to be incredible upon reviewing, has gotten a new, cheap Special Edition offer that might just make the NC10 the greatest netbook ever.
The new deal offers you a 5900mAh 6-cell battery that supposedly will get you a glorious 9.4 hours of juice. The trackpad has also be increased, which is amazing news – in our recent review, we discovered that the trackpad was uncomfortably small:
"The touchpad, to contrast with the keyboard, is something of a dissapointment. It's quite narrow vertically, which means that scrolling long pages is going to require a lot of movement that wouldn't otherwise be necessary."
Amazon has a special relationship with netbooks. Amazon's recent holiday season was ultra-successful, in part due to sales of the Acer Aspire One. You can also find a mini-site on Amazon designed specifically for netbooks.
Aside from the boosted battery and trackpad, you get the standard NC10 package: a 10.2-inch LCD, Intel Atom N270 CPU, a 160 GB HDD, and 1 GB of RAM.
Via Arstechnica.
Feb 6 2009
Since yesterday's post about the fantastically modded Samsung NC10, something about the netbook intrigued us here at NetbookBoards. We tried to shake the feeling, but something still wasn't right, so we did the only thing we could – review it!
Samsung's flagship netbook is a cut above of its competitors in terms of price – Amazon sells it for $450 – but that extra $50-$100 gets you a heck of a lot, including a magnificent 6-cell battery. It may just be our favorite netbook yet, so if you're on the market, you owe it to yourself to check it out.
Feb 5 2009
Comments Off on Samsung NC10 Netbook Modded Into A Touchscreen
We've seen some entirely excellent netbook mods over the past few months, most notably the Hackintosh netbooks, Super Mario Eee PC, and the TechCrunch CrunchPad. The latest in the line of modded netbooks involves some serious surgery on a Samsung NC10 to make its 10-inch screen touch-sensitive.
The culprits this time are over at Netbook Mag and threw together a guide for doing it yourself. It kind of looks like some kind of 90's infomercial, but if it does the trick it's good enough for me. Check it out  below.
Be sure to check out our other articles on touchscreen technology in netbooks.
Via Engadget.
Jan 24 2009
Comments Off on New Samsung Netbook Plus Smartphone Hints
Samsung's back in the netbook market once more with plans to follow up the Samsung NC10 in the next few months. It also intends to expand its range of smartphones in the near future.
Chi Youngcho, head of a new digital media and communications unit at Samsung, said "In the first half of this year, for touch-screen phones we will expand our line-up and upgrade some of the functions including the user interface and for smart phones expand our line-up and provide various OSes to satisfy the diverse needs of our customers."
He also added that Samsung intends to "expand our PC business by launching a new netbook."
Could they mean the Samsung NC20? We already reported on a prototype back in December. Samsung also let out the new netbook's User Manual in an interesting advertising move as well. The Samsung NC20 is based on the Via Nano processor.
The smartphone bid is a bit more vague. Samsung has phones based in Windows Mobile, Symbian, and Linux. The most anticipated announcement is the possible Android smartphone, the details of which are thus far scant. We're all waiting for an Android netbook, some of which should be popping up in 2010, but a smartphone running the Google OS would be big news too.
Check back soon for the latest on netbooks and tech news.
Via PCWorld.
Jan 14 2009
The new Samsung NC20 netbook is set for release next month. Interestingly Samsung published the user manual for the netbook, but nobody can really figure out why. Is it a marketing move? A strange kind of advertising?
The NC20 has a 12-inch screen with a massive 1280 x 800 pixel display, a 1.3 GHz VIA Nano processor, and an option for either a hard disk drive or solid state drives. They've moved some ports around since the NC10 was around for improved access to components using a panel near the bottom of the netbook.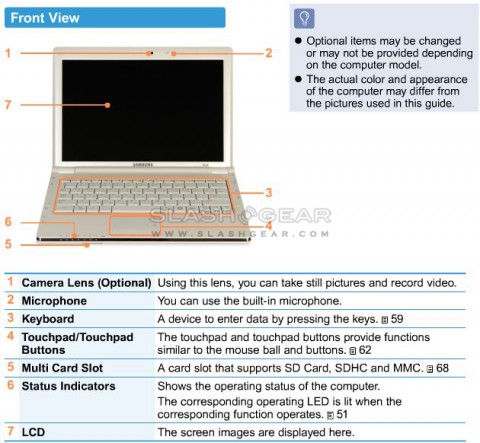 The changes include shifts in the placement of the USB, VGA output, and audio in/out. The SD slot was moved to the front of the netbook as well. According to the specs sheet, it optionally includes Wi-Fi or Bluetooth. However, it's likely that the final model will include both.
We have neither pricing info nor battery life reports for the Samsung NC10. However, the VIA Nano is supposed to beat the Intel Atom for efficiency, and most 6-cells do a good job.
It's rumored to have a price of $500 in the US based on estimates from the UK and Europe. Be sure to check out the gallery of the manual over at SlashGear.
Dec 23 2008
Samsung has been dropping hints about a new 12-inch, 3.3 pound netbook called the NC20.
According to its specs, this bigger sequel to the NC10 (a 10-inch netbook) seems like it will be set to compete with Dell's Mini 12. It wil run some kind of VIA U225 processor, have a big 160 GB hard drive, 1 GB RAM, a 1.3MP webcam, and a price tag of $650. It sounds great except for that last part, but only the market will decide how successful the NC20 is.
It will be available in some parts of Europe around February, but the date of the US release is as of yet unknown.
Via Gizmodo.
Dec 17 2008
Although there is nothing especially amazing about the features of the Samsung NC10, when it comes to battery life, the Samsung NC10 has one of the most long lasting 6-cell batteries.
[via CNET]
Dec 12 2008
Recently, the Samsung NC10 was featured on the UK version of the QVC channel, a market where it was sure to sell extremely well. If you're interested, check out the video below… but beware: you just might end up buying a netbook.
via liliputing