Samsung is following the swarm of new Pine Trail-powered netbook releases with a new netbook of its own, according to recent leaks from online retailers and the FCC. The netbook is going to be called the Samsung N150, but as far as I can tell, it's not making many changes from the old NC-series formula.
The Samsung N150 will run the Intel Atom N450 CPU on 1 GB of RAM, a 160 GB HDD, Windows 7, and a 10-inch screen. However, it also includes the Qualcomm Gobi2000 chipset, a GPS receiver, and 3G connectivity, making it a possible candidate for contracts with cellular providers.
Availability is unknown thus far, but some online retailers are taking pe-orders at $374.
Via Nexus404.
Nov 24 2009
Newspapers have been making a comeback by relying more and more on e-paper circulations. The New York Times is no exception, and has added a further incentive to get Times Reader 2.0 by offering a $100 discount on the Samsung Go netbook with a one-year subscription to the Times Reader 2.0.
The subscription will cost you just under $180 a year, or $3.45 a week. It allows subscribers to get articles on their computers anywhere in a format similar to that in print.
The Samsung Go comes with the Times Reader pre-installed. You can get the discount at J&R Music and Computer World stores until March. Unfortunately, if you're already subscribed, you can't take advantage of the deal.
Via PaidContent.
Oct 26 2009
The Samsung N140 netbook is a new machine with a bunch of specs we've been looking for in a new netbook, including the all new Microsoft Windows 7 OS.
The new netbook has been released in India as the Samsung N140 Ultra-Portable Netbook. It runs for up to 11 hours with its 6-cell battery, thanks to some touch-ups like an energy efficient LED display.
It weighs 1.27 kg and features a 10.1-inch display and spillproof keyboards. Furthermore, its hard drive is a massive 250 GB.
Other features include 3 USB 2.0 ports, including one that charges portable devices even when the netbook is off, and a 3-in-1 card reader. It has Ethernet LAN, Wi-Fi, Bluetooth 2.1, VGA, and an integrated 1.3 megapixel webcam.
The new Samsung N140 goes for Rs 24,990, or around $535, on Indian markets.
Via UB-News.
Sep 28 2009
Posted by Joyce in Netbook News
Comments Off on Play Audition, Win a Netbook (and More)
Everyone loves giveaways right? Well, here's another one…except you have to do a bit of work for this one. If you're into video/computer games though, it's a great chance to have fun and win a nice prize as well.
Here's what you need to do: Go to Redbana.com and make an account with "Dtoid" at the beginning of the name (no spaces between "Dtoid" and your name).  Create a character in the free-to-play game Audition and advance it to level three. That's the minimum to enter the contest. If you're interested in the game, just keep playing.
Easy peasy, right?
The contest ends on October 28th and three winners will be chosen. Prizes include a Samsung netbook (click here for specs), an 8 GB iPod Nano, and a 4 GB iPod Shuffle. Players can enter regardless of their country of residency. Have fun and good luck!
Via Destructoid.
Aug 26 2009
The Samsung NC310 netbook is here, but we've discovered one woefully under-marketed aspect of the netbook that we think you'll find interesting – it can last as long as 11 hours with a battery upgrade. This beats out the majority of netbooks out there, and for a machine designed for portability that's definitely a good thing.
Remember that the battery only lasts that long if you opt for the battery upgrade, which can be expensive. Stick with the standard battery and you'll get a decent 5 hours of life on your Samsung NC310.
Other features on the Samsung NC310 include the Intel Atom CPU, a 10.1 inch screen, 160GB of space on the HDD, 1GB of RAM, Wi-Fi, HSDPA, and an onboard 1.3 megapixel webcam.
Via GeekWithLaptop.
Aug 24 2009
The 12.1-inch Samsung NP-NC20 netbook is one of the largest we've seen yet. That may be a down side, but it seems to add a few features to the mix that, while not quite world-turning, are nice to see in a cohesive package.
$549 will get you a machine with a 1280 x 800 pixel screen, good enough for HD video playback on the netbook. The display is glossy but usable, depending on your environment.
The new Samsung netbook won't be winning any awards for its tinny speakers and weighs a full 4.1 pounds. However, it has a much more robust keyboard to fill up the extra space, and a single touchpad button that functions as both right- and left-click in the style of a MacBook.
The 6-cell battery is also fantastic, running for 5 hours and 50 minutes on a single charge. You get three USB ports, VGA, audio, and ethernet built in, as well as a Kensington lock slot and SD card slot. All in all the Samsung NP-NC20 seems to be a strangely configured but usable quasi-netbook with a nice set of features for those who just cant make up their minds.
Via PCWorld.
Jul 16 2009
The new 10.1-inch Samsung N310 GO netbook has arrived in US markets. It uses the 1.6 GHz Intel Atom N270 with a gig of RAM and a 160 GB HDD.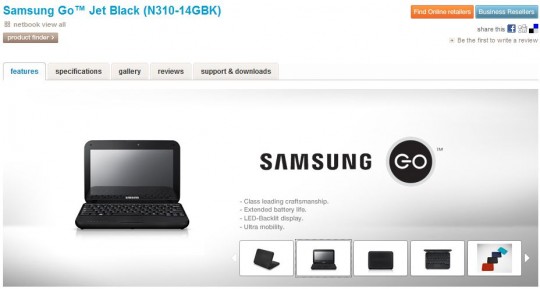 Despite the its standard specs, it might just be that what's on the outside is what counts for the N310 GO. It has Samsung's "haptic styling" setup – rounded corners with a rubber shell. It has a pleasant chiclet keyboard and a 1.3 megapixel webcam.
You can get the Samsung N310 GO netbook from Newegg in navy, black, Sunset Red and Mint Blue for $449.99.
Via SlashGear.
Jun 29 2009
Samsung will be joining the small club of netbook manufacturers with 11.6-inch models out on the market in the near future.
The rumored model is called the Samsung N510, which we saw hints of a few weeks ago. It's expected to have a 1366 x 768 resolution with HD capability. What's that mean? The NVIDIA Ion could play a role as well, in order to power the thing.
Specifications include an Intel Atom N280, the NVIDIA 9400M Ion chipset, a Gig of RAM, a 160 GB HDD, and "Wi-Fi/Bluetooth/Ethernet, webcam, card reader, six-cell battery, and Windows XP."
It sounds good – all except the price tag. At around 570 Euros ($800 USD), it could cost around $600 when it comes to the US. Check back soon for more news on the Samsung N510 netbook.
Via CrunchGear and BlogEeeNet.
May 3 2009
The new Samsung N120 netbook is but a week old and has already seen astounding success with astronomical sales numbers. It's made the 25 bestselling netbooks list on Amazon, whose affinity for netbooks is well documented.
Whatever the reason for the netbook's success, it's definitely going to get bigger from here on out.
Via I4U
Apr 3 2009
The Samsung NC20 has a few nice features that should pique your interest. The first thing to note is its size, coming in at a larger 12-inches compared to the 10-inch standard of most machines. Secondly, it rocks a VIA Nano CPU, and is one of the only on the market to eschew the Intel Atom for its less well known counterpart.
Though the VIA Nano doesn't have the big name of Intel's chip, it's turned out to be a decent competitor in basically all categories.
The NC20 netbook may assuage most laptop-to-netbook transitioners' concerns about small screens, but it sacrifices some of the portability the category is known for.
Via CNet.
Mar 29 2009
Comments Off on New Samsung N310 Netbook Footage and Analysis
New netbook releases are a cause for attention, but initial reactions to the Samsung N310 netbook have been less than exhilarating. The machine's design has been criticized as clunky but without toughness, as well as not being innovative enough to pander to those looking for an alternative to the Atom N270 we've seen so much of in netbooks.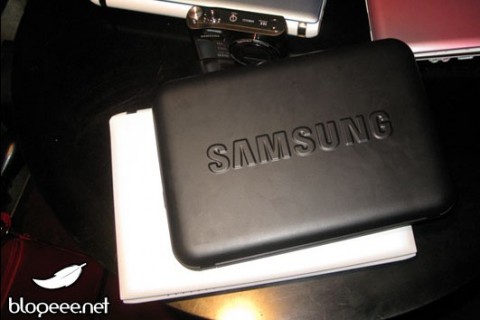 However, the initial photos may have given the N310 netbook a bad wrap. In the video below, Blogeee found that the Samsung netbook is a bit sleeker than previously thought, being no larger than the exquisite Samsung NC10. It looks to have a user-accessible RAM slot, a feature as-of-yet unseen in most other machines, and it looks like the coating on the display does a good job of nullifying pesky reflections.
Will the N310 succeed on its good looks and a tried-and-true formula, or fade into the woodwork as an expensive alternative to better netbooks? Check out the video below, and see what you think.
Samsung N310 from Blogeee.net on Vimeo.
Via SlashGear.
Mar 29 2009
Comments Off on Samsung Releases N110 Netbook With 9.5 Hour Battery
One member of the newest pair of Samsung netbooks has been getting a lot of attention lately, ever since the company's recent posting of a product page for the 10.1-inch Samsung N110 netbook.
It has a 93%-of-full-size keyboard and an amazing 9.5-hour battery life, far more than most competitors' 3-or 6-hour batteries. It's got the standard formula of an Intel Atom N270, 1 GB of RAM and a 160 GB HDD as well.
The whole setup comes in at between $440 and $460, depending upon where you look. We'll have more on the new Samsung netbook as the story develops.
Via Engadget.