Seagate is releasing a new hard drive for laptops this week called the Momentus XT. It is unique because it will contain a standard hard drive with a 4 GB solid state hard drive.
The spinning hard drive is available in 250, 320, or 500 GB sizes, all of which have 7,200 rpm. It boots in twice as much time as a 5,400 rpm hard drive and increases performance by keeping regularly accessed data in the SSD using Adaptive Memory technology.
The Momentus XT boots like any other hard drive the first time it is used, but by the third time, it starts to learn the user's habits and can boot twice as fast. The data in the SSD part is mirrored in the regular spinning part just in case the SSD part has problems.
The target market for the Momentus XT is power users, especially gamers. The most expensive model is $156.
Via ChannelWeb, image via TG Daily.
Dec 11 2009
7 millimeters. That's the height of Seagate's newest ultra-thin netbook hard drives that they'll be revealing next month at CES 2010. At this height, Seagate's hard drives would take up 25% less volume than other netbook drives that are currently in production, which may allow netbook manufacturers to make even smaller netbooks in the future.
The capacity of Seagate's new ultra-thin netbook hard drives is currently unknown, but the drives are rumored to be part of the Momentus Thin Series of hard drives. Price points are also currently unknown, as while the price of the drives is rumored to be relatively lower than that of standard hard drives, because they're ultra-thin, netbook makers could also jack up the final retail price of their netbooks.
Via GadgetVenue.
Dec 8 2009
Seagate announced that it will reveal a hard disk drive substantially thinner than any of its current models. Most hard disks today are around 9.5 mm or 12.5 mm thick, but Seagate's new drive will be a mere 7mm.The hard drive will be an appropriate addition to the Momentus Thin series and is currently being tested.
The main factor making thinner drives a possibility is the invention of magnetic data storage. Magnetic data storage allows the drive to require just one storage platter instead of the standard two.
This announcement is great news for laptop manufacturers constantly battling to engineer thinner laptops. The new drive will allow them to create much thinner models, to the applause of consumers.
The capacity Seagate's new drive is still unknown, but Seagate did reveal that it will have a lower cost per gigabyte than its current solid state and 1.8 inch drives.
Via ZDnet.
Nov 16 2009
At first glance, Lenovo's latest Ideapad ultraportable netbook, thus far named the FL5-B3,  is pretty typical, but at least it has an interesting CPU. The 10.1″ FL5-B3 netbook has 1024×600 resolution and is equipped with a 1.66GHz Intel Pineview processor (most likely the N450), 2 GB of DDR2 RAM (a Samsung chip), and a 250 GB 5400 rpm Seagate hard drive.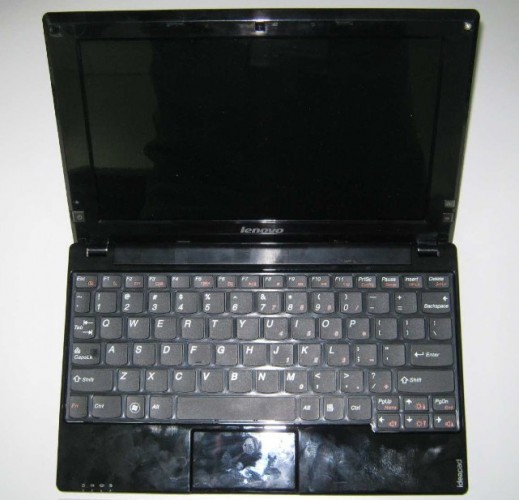 Designwise, Lenovo's new Ideapad netbook will be similar to previous IdeaPads, but as you can see in the photo above, this little sucker will be a fingerprint magnet. Also, there is no trackpad button in this model, which implies that there will be some form of integrated clicking.
Unfortunately, since Intel is not releasing Pineview until at least January 2010, this Lenovo netbook is not likely to show up until early next year either. At least the wait's only a little bit longer.
Via Slashgear.