Seagate is releasing a new hard drive for laptops this week called the Momentus XT. It is unique because it will contain a standard hard drive with a 4 GB solid state hard drive.
The spinning hard drive is available in 250, 320, or 500 GB sizes, all of which have 7,200 rpm. It boots in twice as much time as a 5,400 rpm hard drive and increases performance by keeping regularly accessed data in the SSD using Adaptive Memory technology.
The Momentus XT boots like any other hard drive the first time it is used, but by the third time, it starts to learn the user's habits and can boot twice as fast. The data in the SSD part is mirrored in the regular spinning part just in case the SSD part has problems.
The target market for the Momentus XT is power users, especially gamers. The most expensive model is $156.
Via ChannelWeb, image via TG Daily.
Jul 28 2009
Quite a few netbooks are currently offered with solid state drives, but exactly how reliable are these SSDs? Some models tend to slow down netbook/notebook performance while others may be noticeably slower than regular hard drives.
Some companies (RunCore, for example) offer solid state drives that don't sacrifice performance for stability. Recently, RunCore has announced their new line of solid state drives that are ideal for use in netbooks and notebooks.
RunCore's SSDs range from 32GB to 256GB each. Netbook users would most likely be interested in the 128GB or less models since netbooks aren't document/file-heavy machines anyway. According to Liliputing, "RunCore's new Pro IV SSDs are available as 1.8? disks, 2.5? disks, and PCI-E disks, with SATA and PATA versions."
These disks are rumored to be available by this upcoming August. The 32 GB model starts at around $179.99 while the 256 GB models will cost about $899.99. Other details about these disks can be found in RunCore's press release.
Via Liliputing.
May 7 2009
In mid-May, Dell will be releasing its newest netbook – the Dell Inspiron MIni 10v. Coming with this netbook will be a different processor than the one on with previous Dell Mini netbooks, as well as a new price tag. The Dell Mini 10v will have an Intel Atom N270 1.6GHz processor and be priced starting at $299 ($100 less than the Dell Inspiron Mini 10).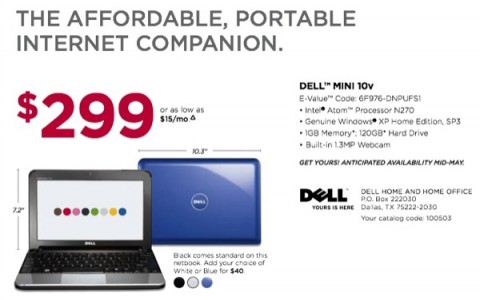 The 10v will also come with two new solid state drive options. These netbooks can be upgraded with 32 GB or 64 GB solid state drives, for an additional $75 and $125, respectively. (The standard drive that will come with the Mini 10v is a 160 GB 5,400 rpm SATA drive.)
Via SlashGear.
Mar 30 2009
Comments Off on Western Digital Buys SiliconSystems, Enters Netbook SSD Sector
Western Digital, a market leader in 2.5-inch drives, has entered the SSD market through the $65 million purchase of solid-state manufacturer SiliconSystems. This buy-out will allow Western Digital access to the netbook market, where until now it has lacked a presence.
SiliconSystems produces SSDs in various interfaces including "SATA, EIDE, PC Card, USB, and CF, in 2.5-inch, 1.8-inch, and CF." While Western Digital currently puts its 2.5-inch drives into notebooks,  the netbook sector has seen none of its products thus far.
According to President and CEO John Coyne, all of that is about to change:
"SiliconSystems' intellectual property and technical expertise will significantly accelerate WD's solid-state drive development programs for the Netbook, client and enterprise markets."
The acquisition will make SiliconSystems into the new WD Solid-State business unit, ripe and ready for action in the netbook category.
Via CNet.
Jan 28 2009
Comments Off on $169 SuperTalent SSDs Offer 64 GB Netbook Flash Storage
For that big of a netbook upgrade, the cost isn't horrible. It's intended for use with the ASUS Eee PC S101 but any machine with mini-PCle add-ons can handle it.
They aren't the fastest out there, managing about 90 MB/s read and 55 MB/s write. The S101 netbook only has a 16 GB drive to start with, so make the new SuperTalent netbook SSD a serious consideration.
The netbook SSD will come in your choice of MLC or SLC.
Via JKOnTheRun.
Jan 7 2009
The U115 has been announced for quite some time, but MSI has decided to display it in the flesh for the first time. It will be available with 8 GB or 16 GB solid disk drives, to be respectively combined with 120 GB or 160 GB hard disk drives. Check out this picture from TG Daily:
It is reported to come with a 6-cell battery and run for a good 12 hours on one battery charge… but if you look closely at that picture, it says the U115 Hybrid will have a 9-cell battery. Nine cells is insane, but will probably also be insanely expensive.
The MSI WInd U115 will have a 10-inch widescreen LCD and a 1.3 or 2.0 megapixel webcam and weigh just over 2 pounds.
Another big release is the U120 netbook, which will come with WiMax or 3.5 G connectivity.
Return soon for more on the netbooks of CES 2009.
Via TG Daily.