Dell showcased the new version of its incredibly popular Dell Mini 10 netbook today at CES 2010, and it's been loaded up with what we've come to expect of top-of-the-line netbooks – an Atom N450 CPU, 1 GB of RAM, and 250 GB of space. However, Dell is upping the ante with new options for multimedia use.
It comes with a boatload of custom options, including 720p HD capability on its 1366 x 768 pixel screen, a hi-def TV tuner, GPS service, and a HD processor to manage more intensive video content. It will run Windows 7 and comes with a useful 9-hour battery life.
The new Dell Mini 10 will be available this month, $300 and counting once you add those sexy new features.
Via Wired.
Jul 29 2009
Posted by Joyce in Netbook Accessories
Comments Off on MaxLinear and Hauppauge Team Up, Make First Ever Netbook TV Tuner
Wow. There have been lots of records lately. Just recently, we announced that Super Talent had come out with the world's smallest 32 GB USB drive, and now, we learn that MaxLinear and Hauppauge Digital have teamed up to make the first ever netbook TV tuner.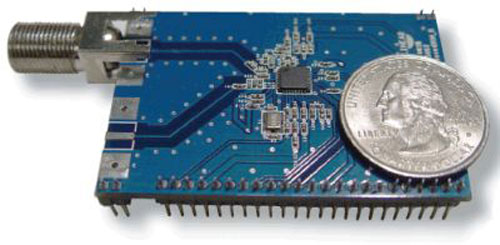 Components for this netbook TV tuner will be based on MaxLinear's MxL5007T CMOS silicon tuner. This tuner will be able to receive high-definition video ATSC signals. It will also be able to pick up European standard formats, including DVB-H, DMB-T, DVB-T, and QAM.
There are other TV tuners available, but not solely for netbooks. This new netbook TV tuner is unique since it's rumored to use half the energy that other current TV tuners use.
The release date for this MaxLinear/Hauppauge tuner is currently unknown, but when we know, we'll let you know.
Via SlashGear.
May 26 2009
In addition to the new color scheme, the Dell Mini 10 netbook now comes with an internal TV tuner as well. This week only, the Mini 10 has a $749 special that includes a built-in digital TV tuner card. This feature is rumored to be optional after the weekly special expires.
While the current color offerings do not cost extra, customized designs and patterns will. $145 extra, in fact. Two designs that the Dell Mini 10 can come in are shown below. They were designed by 'urban artist' Tristan Eaton. The first one is cal
led The Muse.
Are the new features really worth their price tags?
Via APC.
Apr 15 2009
The 10.1-inch Kohjinsha MT6WX16AR netbook offers all the standard features that current netbooks have to offer – an Atom processor, 1 to 2 GB of RAM memory, and up to 160 GB of harddrive space (among other specifications. What differentiates it from the competition though, is that this ultraportable device has a One-Seg TV tuner.
In addition, the MT6WX16AR offers features such as wi-fi, ethernet, Bluetooth 2.0, a webcam, and a 3-in-1 card reader. The operating system for this netbook will be Windows XP Home SP3. This netbook is not yet being sold on the market, but when it is released, will start selling at a price of $499.
Via Softpedia.
Apr 9 2009
Netbooks are rising from their 2008 status as a niche product to a category of their own, and that means a new burst of netbook accessories has arrived for us to ogle. Most of these have been a long time in the making and are intended to eliminate some of the shortfalls of the netbook category, so hopefully netbook consumers can all find a balance between the cost of the accessories and the pain they save.
If you're too late for the ASUS 1004DN netbook with an optical-drive, that doesn't mean you're doomed to DVDless netbooking for life. NUI Digital has released a $229 drive that can burn DVDs and play Blu-ray: the Slim BD Combo Drive EBC100. It connects with a USB, as is standard, and is compatiable with a separately sold power adapter.
Also available in the entertainment category is the PCTV HD Pro Stick by Pinnacle Systems – a USB stick that gets your netbook TV in both standard and hi-def varieties.
The stick comes with a remote control and will even let you use it as a DVR, provided you can sacrifice 20 GB of space to do so. Naturally, if you're low on space to power your netbook TV, the logical conclusion is an external hard drive, so allow us to suggest the Aegis Mini by Apricorn.
The Aegis Mini external hard drive will complement most netbooks' meager HD space by supplying a whole 240 GB of storage in a form factor the size of a deck of cards. According to Apricorn the drive preserves battery life with a short cable. The problem is that, however heavenly the Aegis Mini hard drive may sound, it will costly nearly as much as your netbook: $269. It's also supposedly incompatiable with anything other than Windows (or Mac OS for laptops).
The Apricorn drive connects to your machine by USB port, which are always in short supply in netbooks. This leads us to our next netbook accessory: the Belkin 4-Port Ultra Mini USB Hub.
The Belkin USB hub gets you 4 USB ports for a mere $15 – definitely worth it if you like your netbook accessories. It's available at Belkin's site, so be sure to take a look.
We could go on for ages – Kensington has a new set of netbook accessories including a $49.99 Power Adapter for Netbooks, a netbook-specific Security Lock for $24.99 and a reversible neoprene 7- to 9-inch netbook sleeve for only $14.99.
If none of these options appeal to you, there are a few more exotic ones in our netbook accessories section. They're just begging to be implemented in your machine, so give your netbook some attention and take a look around.
Via ComputerWorld.
Apr 2 2009
MSI has been out of the spotlight for a while, leaving most onlookers to contemplate what it could possibly be working on for all this time. The answer has arrived and it's sure to please: the new MSI Wind U123 as well as the MSI X-Slim X320, and X340, three new netbooks featuring 3G, WiMAX support, and TV tuners.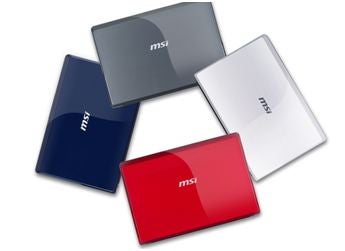 The answer is coming out of this week's CTIA show in Vegas. MSI's new netbooks will be taking off in the next few months, and each will have a nice set of features to add to the mix.
Aside from the 3G/WiMAX and TV tuner, the 10.2-inch MSI Wind U123 netbook is expected to be along the same lines we're used to – an Intel Atom, Windows XP, 1 GB of RAM, Wi-Fi, Bluetooth, and a 6-cell battery.
The X320 and X340 netbooks, however, are pushing the envelope in terms of screen size and coming in at the seemingly exorbitant prices of $700 and $1000 respectively. What do you get for all that cash? The MSI X320 has an Intel Atom Z530 chip, 2 GB of RAM, and a massive 250 GB HDD. Wi-Fi, Bluetooth, 3G and WiMAX will all come standard as well.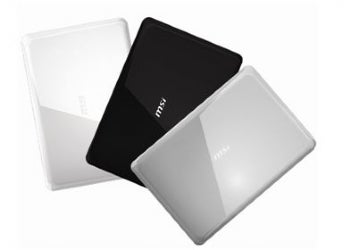 The cranked up MSI X340 netbook, to contrast, will run a 1.3 GHz Intel Core 2 Solo CULV SU3500 CPU. It is somewhat difficult to call it a netbook, as will will deliver up to 4 GB of RAM and, somehow, 320 GB of hard drive space. Both X-series netbooks will run Vista Home on 13.4-inch screens using 4-cell batteries.
MSI's new netbook releases should start making appearances around May of this year.
Via PCWorld.