Viliv, a Korean PC manufacturer, has been creating efficient and creative portables for a while now. Although relatively unknown in the United States, Viliv's visibility here does not accurately reflect on the quality of products released. Originally, Viliv's merchandise was only available through online retailers, but that will change tomorrow: Best Buy plans on releasing a total of 5 new Viliv models, including the anticipated S7 convertible netbook. The S7 features a touch screen, Windows XP, 1GB of RAM, Bluetooth, and a 60GB hard drive.
Weighing a miniscule 1.76 pounds, and having dimensions of 8.3 by 4.6 by 1 inches, the S7 is highly portable. In the end, the S7 comes in at a reasonable cost of $579. As an added bonus, if the buyer registers a Sprint Mi-Fi or Overdrive hotspot, a $50 rebate will be included. Although $50 seems like a respectable offer, the mildly more expensive $649 S7 model has a 3G modem capable of utilizing any SIM card for internet connectivity. Which one's the better investment? That decision will be left for you to decide.
Via CrunchGear and Liliputing
Feb 26 2010
Viliv has finally confirmed pricing and availability for the long-awaited S10 Blade netbook. The convertible tablet netbook is now available for pre-order in North America for $699, coming with Windows XP. This particular model won't include three-point multitouch output as promised, but other models are on the way.
Later iterations of the S10 Blade netbook will share the same basic features – a 10.1-inch 1366 x 768 resolution resistive, multitouch touchscreen, 1 GB RAM, Bluetooth 2.0 and a webcam. It packs either a 1.6 GHz or 2.0 GHz Intel Atom CPU and a variety of storage options: a 60 GB HDD or SSDs in 32 and 64 GB versions.
A number of the models will get HSPA 3G modules. Expect battery life to run as long as 10 hours.
We're still in the dark about shipping dates, so keep your eyes peeled.
Via Electronista.
Dec 26 2009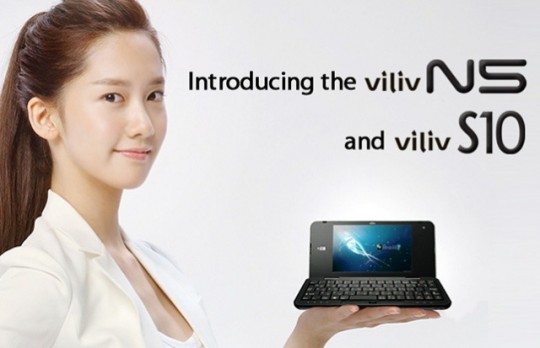 Viliv will be unveiling yet another mobile internet device during January's Consumer Electronics Show. Earlier this year, Viliv launched the M5 MID, which is the same size as the newly released N5 but with a sliding keyboard. Just this week the company announced the release of its larger MID, the S10 Blade netbook boasting a larger 10-inch touchscreen display.
Now it's the N5's turn to shine. The N5 is much more compact that the S10 blade and has a clamshell design that features touchscreen capabilities. The MID also has a 4.8-inch screen, making it all the more portable.
Other features of the N5 include:
QWERTY keyboard
3G Wifi capability
GPS
There has been no word on the price range of the Viliv N5 netbook. We will have to wait about two weeks to find out.
Via Engadget, image via SlashGear.

Nov 20 2009
Posted by Joyce in Netbook News
Comments Off on Give Your Loved One a Netbook This Holiday Season
LightInTheBox.com has recently put up a webpage with a selection of 38 recommended netbooks that woud lmake great gifts this holiday season. Some netbooks on the site cater more to students while other cater more to professionals, but all of them are no doubt adequate for doing the most common of tasks, which include but are not limited to e-mailing, surfing the Internet, and editing documents.
The netbooks on this site range from $129.99 to $1,270.00 and many of them even have free (international) shipping. There are the big name brands like ASUS, HP, and Samsung and a few of the lesser known brands such as Kohjinsha and Viliv, among others. Check them out!
Via SearchSysCon.
Sep 25 2009
Before we delve into an answer, it should be mentioned that while netbooks today don't quite provide the same caliber of performance as notebooks, in some cases, they're just as good as notebooks from just a few years ago. Needless to say, technology is really catching up with us.
Some new Viliv devices provide a new perspective on netbooks – while they're for sure not smartphones, they're not quite netbooks either. While these new tablets aren't quite as functional as typical netbooks, they do provide a more unique design – although at a higher cost.
The Viliv S7 and X70EX both have 7″ touchscreen displays, are powered by Intel Atom Z520 processors, and have 1 GB of RAM. The S7 comes with a swivel screen while the X70EX is a tablet computer.
As the line between a smartphone, a netbook, and a laptop blur even further, do you think the overall trend will be for netbooks to decrease in size (back to the original 7″-screened machines), increase in size, or stay roughly the same?
Via CNet.
Sep 23 2009
Viliv is the maker of a number of ultramobile PCs such as the Viliv S5 and S7. At IDF2009, the Korean company recently announced the upcoming S10 Blade tablet netbook.
The device has admirable specs, such as a 1366 x 768 resolution on the 10-inch screen. It will run Windows 7 and stay alive for an amazing 10 hours, despite its relative slimness.
The Viliv S10 is due late Q4 with  32 GB/64 GB SanDisk SSDs, optional 3G, Intel Atom 1.33 GHz/2.0 GHz processors (a rumored upcoming chip) and 1 GB of RAM. We're expecting the Viliv S10 to start at around $500, to be boosted with additional features
Take a look at  LaptopMag's hands-on demo of the netbook over at their site.
May 18 2009
The Viliv S5 is technically a UMPC (ultra mobile PC), but has many similarities as a netbook. This mobile computing device has a 4.8″ touchscreen with 1024×600 resolution and runs on the Windows XP operating system. It is powered by an Intel Atom processor and has 1 GB of RAM and a 60 GB hard drive. The S5 also has Wi-Fi, Bluetooth, and a GPS.
The battery of this little device is quite impressive; it's able to last for roughly six hours (200 hours on standby).
The S5 UMPC has a solid build and is relatively easy to hold in one hand. The touchscreen features and GPS are also easy to navigate and use. Because of its small size though, the S5 only has one USB port and unlike regular netbooks, lacks a card reader, webcam, and microphone. Also, because of the small screen and high resolution, the icons and images on the screen are relatively small – but still very clear!
While the price tag for the S5 is a bit high ($599), its added portability makes it a worthwhile investment. Initially, this price tag included some extra accessories (an extra battery, a leather case, a car charger, and a car mount), but this deal has expired. Within the US, the Viliv S5 can only be purchased from an import specialist, such as Dynamism.com.
Via Switched.