Dell's backbone to its netbook line, the Inspiron Mini 10, looks to be bringing the next generation of mobile internet to everyday users.  There were hints that one day it would have WiMAX thanks to records at the FCC.  Now, plans to attach that modem to an actual network have come out.  The news came via CTIA and from wireless internet provider Clearwire, which will be providing a 4G-capable version of the Mini 10s for $249 starting on April 1st.
What is unusual is that Clearwire will only be offering it "through select Clear retail locations, telesales and Clear.com."  This makes the program sound a bit experimental, and it's hard to see what the company has up its sleeve.
This news shows we are essentially beginning the 4G era.  With all the tablets and the iPad offering only 3G modems and SIMs, it is interesting to wonder how long they will run without upgrading or risk becoming obsolete.  Sprint has been advertising 4G for sometime, and is already putting out phones capable of utilizing it.  A netbook on a 4G network might be able to survive the latest tablet storm, thanks to peoples' insatiable desire for speed.
Via Engadget, image via Dell
Jan 20 2010
Clear is offering a deal you certainly don't see every day: an older netbook with a hefty subsidy and WiMAX access for connectivity. If you get WiMAX in your area, this should be a tantalizing deal, considering the fact that WiMAX is cheaper than 3G. Clear will give you its netbook with a two year netbook deal at $45/month with the first 6 months subsidized to $30 apiece.
The machine itself is a Samsung NC10 running a 1.6 GHz Intel Atom N270, priced at $199. Other features are more or less standard issue, if your standard is netbooks from a year ago: 1 GB of RAM, a 160 GB HDD and 6 hours of battery life.
Via jkOnTheRun, image via Clear.
Jan 16 2010
FIC has a new netbook ready for the masses. Designed for "socializing and education," the new SVE00 runs a 1.66 GHz Atom CPU and a 10.1-inch 1024 x 600 pixel LED screen.
Weighing in at 1.2 kg, the SVE00 supports up to 2 GB of RAM and storage options from a 32 GB SSD to a 320 GB hard drive. Other features include a 1.3 megapixel webcam, two USB ports, VGA-out, a card reader, Wi-Fi, Ethernet, and the option of Bluetooth. The SVE00 also supports WiMax, HSDPA, and SIM card technology as well as an "ultra size" multitouch trackpad and spill-proof keyboard.
Pricing and availability aren't known just yet for this new netbook, but what we do know is that consumers will get the option of running XP, Windows 7, or Linux on the SVE00.
Via TechSpot.
Oct 26 2009
WiMax is the newest generation of high-speed wireless communications technology and MSI has spent an extraordinary amount of R&D resources on developing this fourth generation wireless technology for their netbooks and notebooks especially.
MSI has announced that they are the first company in the world to release a netbook that's able to support WiMax – the MSI Wind U120.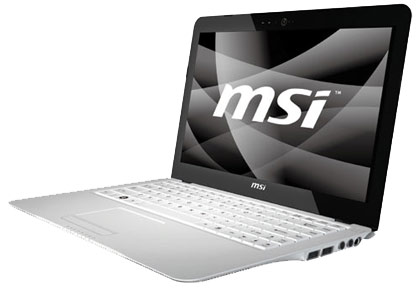 In addition to the U120 netbook, MSI's X-Slim X340 and X600 laptops featuring CULV platforms are the first Taiwan-based brand to receive the WiMax Forum Certification.
Via LegitReviews.
Jan 7 2009
The U115 has been announced for quite some time, but MSI has decided to display it in the flesh for the first time. It will be available with 8 GB or 16 GB solid disk drives, to be respectively combined with 120 GB or 160 GB hard disk drives. Check out this picture from TG Daily:
It is reported to come with a 6-cell battery and run for a good 12 hours on one battery charge… but if you look closely at that picture, it says the U115 Hybrid will have a 9-cell battery. Nine cells is insane, but will probably also be insanely expensive.
The MSI WInd U115 will have a 10-inch widescreen LCD and a 1.3 or 2.0 megapixel webcam and weigh just over 2 pounds.
Another big release is the U120 netbook, which will come with WiMax or 3.5 G connectivity.
Return soon for more on the netbooks of CES 2009.
Via TG Daily.
Dec 11 2008
Comments Off on More Announcements From MSI: U115, U120, and U300
MSI is one of the biggest netbook suppliers in the business and its Wind netbook is one of the most popular around. Laptop Magazine interviewed Andy Tung of MSI to see the company's plans for CES 2009.
A new model is going to hit the market alongside the U100 Wind: the U120. This new machine is aimed at "more mature markets" – i.e., flashier design and higher cost. It sounds comparable to the recent Mini-9 updates or the Asus Eee 1002HA.
Expect WiMAX, and 3G for immensely easy connection on the new netbook. It should use a new Intel processor, a big deal considering the homogeneity of processors currently on the market: the Z530 instead of the Intel Atom.
Other announcements include the U300 which should feature a particularly thin and portable design as well as the U115 which will have a magnificent 10 hours of battery life.
Nov 22 2008
Comments Off on Netbook Giant MSI Releases Improved Wind U120
Yes, you heard right – the tremendously successful MSI Wind has gotten a facelift and some new features to boot.
With a new, snazzy black-and-white exterior and some improvements to its hardware, the new Wind should boost sales for the company and netbooks in general.
Once again turning to the the 1.6 GHz Intel Atom, MSI has made some welcome improvements to its netbook. The new display is a brilliant 10-inch 1024×600 LCD. It's gotten a bit heavier, weighing in at 3 pounds, but the upside – a new 6-cell battery – is well worth the minor increase.
Another addition is the new Intel WiMAX Technology or 3.5G Solution, which while uncommon is proving to be easily connectable and wide-ranging. The hard drive is a 160GB SATA. Using devices will be easier this time around, with three USB ports and a 4-in-1 card reader.
This is an exciting move from MSI, showing how far major companies are going with the netbook market. The Wind U120 is one of the only sequels we've seen so far but should be a big competitor in the weeks to come. We'll have to see if ASUS has anything upcoming to match this progress. Check out the full specs:
Intel® Atom™ Processor 1.6GHZ
945GSE + ICH7-M Chipset
Intel GMA950 Graphics
DDR2 6673 MHz 1G On Board Memory
10" (1024 x 600) LCD Display, LED Back-lit saving
160 GB (2.5" SATA) HDD
4 in 1 Card Reader (SD/MMC/MS/XD)
I/O: D-Sub x1, USB 2.0 x 3, Mic In, Headphone, RJ45
Battery: 6-Cell
8.02.11 b/g/n Wireless, Bluetooth V2.0EDR Intel® WiMAX Technology / 3.5G (HSDPA) Solution
Webcam: 1.3 M
10.23" x 7.08" x 0.38" ~ 1.29"
3 lbs (w / 6-Cell Battery)