Samsung's Phil Newton has confirmed the company is currently developing a netbook  that will run on Google's Chrome OS. The netbook will be similar to the N210 netbook, and will be released as soon as later this year, or early in 2011. Specifications for the new device are largely unknown, but so far we know that the netbook will have a 12 hour battery life, 3G and wireless connectivity, a 10.1″ screen with LED backlighting, 2 GB RAM, and at least 64 GB of storage.  It is likely that the device will run a 1.5GHz Qualcomm Snapdragon processor.
Via Engadget
Feb 13 2010
HP's Compaq Airlife 100, the company's first smartbook that was announced on Friday, combines the portability and design of a netbook with the hardware and software often seen in smartphones. The Airlife has a battery life of up to 12 hours, longer than what most netbooks can offer. While the Airlife and iPad are very different in terms of design, they share many similar features such as simplified software interfaces, touch-screens, and ARM processors (most netbooks use Intel processors). The two devices also both make it easy to quickly access the Internet and browse online content.
Here is a quick comparison of the differences between the smartbook and tablet:
Airlife:
10.1 in touch screen
Wi-fi b/g (optional 3G wireless broadband connectivity)
2.2 lbs
Qualcomm Snapdragon processor (1 GHz)
16 GB internal storage
512 MB flash storage
Android OS
Supports Flash
Folded design
iPad:
9.7 in touch screen
802.11n Wi-fi (optional 3G/Bluetooth)
1.5 lbs
Apple A4 chip (1 GHz)
16, 32, or 64 GB of storage
No Flash support
720p HD video support
On-screen keyboard only
HP is not distributing the Airlife in the US just yet, while the iPad is roughly 50 days away from becoming available worldwide. The company also has not yet released pricing information for the new device.
Feb 12 2010
Maybe I'm a little behind on the news, but I did not know that the internet is now available in space. TJ Creamer, or @Astro TJ, was the first to make a live-tweet from space on Jan. 22nd saying, "Hello Twitterverse! We r now LIVE tweeting from the International Space Station — the 1st live tweet from space!
More soon, send your ?s."
Creamer and four other astronauts living in the space station can not only post live Twitter updates, but they can surf the internet just as well as the rest of us. They use the station's high-speed Ku-band antenna, which allows them to control a desktop computer here on Earth via a laptop in the station itself. The desktop is what is actually connected to the interwebs, not the laptop.
The best part is that this makes it possible for the astronauts to call and set up video conferences with their family and friends. The astronauts must get pretty lonely up in space, so I'd imagine a tweet or Skype call now and then would make the isolation much easier to handle.
Feb 12 2010
Lenovo has been taken to court by Smartbook AG, a German netbook vendor, over using the term "smartbook" to describe its devices, particularly the recently released Skylight. The Cologne-based company said after the court order, "Without approval by Smartbook AG, Lenovo must refrain from using the character sequence 'Smartbook' in all writing systems in association with mobile computers — such as laptops (notebooks) — as part of commercial correspondence in the Federal Republic of Germany."
Lenovo can be fined up to €250,000, or $341,400, every time the term is used. Smartbook AG, which has been selling netbooks since 2006, has also sued Qualcomm for using the same term, and even sent Netbooknews.de cease-and-desist letters ordering the blog to delete the term from its site, including the English version that is hosted in the US outside of German jurisdiction. Good job, Smartbook AG. Sending angry letters to poor innocent netbook news sites is really going to help your image. No, really.
Back in 2008, Psion  sued Dell and Intel for using the term "netbook," and also sent cease-and-desist letters to netbook blogs. These cases were eventually settled, and Psion has since withdrawn its trademark. Perhaps Smartbook AG will follow a similar fate.
Via PCWorld.
Feb 12 2010
The security update from Microsoft released on Tuesday caused many Windows users to get the blue screen of death on their computers. Many users complained on a Windows 7 forum that they could not even boot up into safe mode without seeing the blue screen, and that the Microsoft help line was basically useless. Some solutions were posted on the forum that required the Windows installation CD, but that was of no help to those who had bought laptops with Windows pre-installed, and netbook owners who do not even have a CD-ROM drive on their devices.
Microsoft's Jerry Bryant had this to say later on in a blog:
I am writing to let you know that we are aware that after installing the February security updates a limited number of users are experiencing issues restarting their computers. Our initial analysis suggests that the issue occurs after installing MS10-015 (KB977165). However, we have not confirmed that the issue is specific to MS10-015 or if it is an interoperability problem with another component or third-party software. Our teams are working to resolve this as quickly as possible. We also stopped offering this update through Windows Update as soon as we discovered the restart issues. However, those using enterprise deployment systems such as SMS or WSUS will still see and be able to deploy these packages(…)

While we work to address this issue, customers who choose not to install the update can implement the workaround outlined in the bulletin. CVE-2010-0232 was publicly disclosed and we previously issued Security Advisory 979682 in response. Customers can disable the NTVDM subsystem as a workaround and we have provided an automated method of doing that with a Microsoft Fix It that you can find here: //support.microsoft.com/kb/979682.

Customers who are experiencing issues after installing any of our security updates can get help resolving the issues by either going to https://consumersecuritysupport.microsoft.com or by calling 1-866-PCSafety (1-866-727-2338). International customers can find local support contact numbers here: //support.microsoft.com/common/international.aspx.
Users have reported they have been told by Microsoft that it will not release a fix for netbooks.
Via CNET.
Feb 7 2010
Lee Williams, CEO of Symbian Foundation, stated in an interview that he believes it is "very likely" that netbooks and tablets will start running Symbian in the next couple of years. Back in April, we blogged about the possibility that the smartphone OS would enter the netbook market. Now that Symbian Foundation has announced that the platform has gone open source, a process that involved the company negotiating with 200 third-party owners, the likelihood of the OS being ported to netbooks and tablet devices has increased even more.
Symbian supports both ARM and Intel x86 processors, and companies are beginning to experiment with the platform any which way they can to run it on a multitude of devices.
The source code is broken down into 108 packages, all of which can be downloaded here.
To read the full interview with Williams, click here.
Via ZDNet, image via GlobalThoughtz.

Feb 4 2010
A new version of Leeenux, a Linux distribution for netbooks, has come out. Version 2.0, upgraded from 1.3, includes the Firefox 3.7 beta, Thunderbird for email/calendar management, and multiple emulators for SNES and Sega Genesis. Installation takes up only 1.2 GB, and best of all, you can download it for free. If you are wondering about other reasons why you should install Leeenux for your netbook, take a look at this list taken from the Leeenux website:
Why Leeenux?
Because it's fast.
Stable.
Works Out of the Box.
Free.
Installation takes only 1.2GB.
It is the best linux distribution for Asus eee with 7″ screens.
Uses Ubuntu Netbook Remix menu, adjusted for netbooks with small screens.
Battery life is much longer with eee-control.
Honestly, I'm just excited about the SNES emulator!
Get your free version of Leeenux here.
Via Liliputing
Feb 4 2010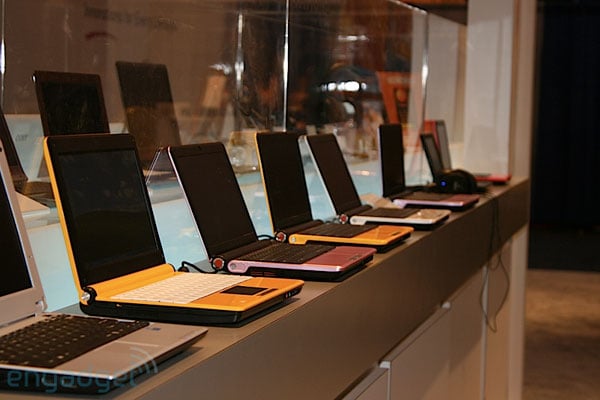 Netbooks are more popular than ever before. Approximately 30.2 million units were sold last year, and the numbers are only getting higher. Research firm Strategy Analytics said North America is largely responsible for this growth, as many U.S. companies such as AT&T, Verizon, and Sprint have offered cheap prices for netbooks with a purchase of a two-year contract.  Hardware developers such as Intel and Nvidia are motivated to improve and reduce costs of processors in order to get their products into netbooks, and software developers, including those at Google and Microsoft, are working hard to make sure their operating system will be dominant in the netbook scene.
Apple has less obviously invested in the netbook market with its newly released iPad. Companies are becoming more motivated to boost their netbook sales, and new developments in netbook hardware and software are only going to make the devices more powerful and reduce costs. Rest assured, the netbook fad is only just getting started.
The top netbook sellers in 2009 were, according to Strategy Analytics, Acer, Asus, HP, and Dell.
If you're curious – and we know you are – read more about the netbook market here.
Via Fiercewireless, image via GottabeMobile
Feb 4 2010
The S10-3t will function as a standard netbook, but users will also be able to pivot and fold the screen down, allowing them to use the device as a tablet as well. As demand for multi-touch support seems to be increasing these days, especially for tablet devices, the S10-3t also uses capacitive technology to offer multi-touch support. Lenovo is not the first company to release a convertible netbook, but it may be the first to release one that supports multi-touch technology.
The device itself comes with a full keyboard, 10.1″ screen with 1024 x 600 resolution, 3.5 hour battery life (optional six-cell battery provides approximately seven hours), 1GB of DDR2 memory and a 170GB, 5400rpm hard disk drive. Lenovo has not confirmed whether or not USB ports or a webcam will be present on the device, but rumors say they probably will.
Lenovo has cited the use of Windows 7 Starter Edition, which presumably does not offer touchscreen support. To compensate for this pitfall, the company has created its own multi-touch interface on the netbook, as well as included DirectShare, an app that allows users to sync their netbooks to PCs. An upgrade for the S10-3t is also underway, which you can read about here.
Features of the S10-3t, including ones mentioned above, are:
•    Processor — 1.66GHz Intel Atom N470
•    Chipset — NM10 I/O controller
•    Memory — 1GB of DDR2 RAM, expandable to 2GB
•    Display — 10.1-inch capacitive touchscreen with 1024 x 600 resolution
•    Camera — n/s
•    Storage — 160GB, 5400rpm hard disk drive
•    Expansion:
•    2 x Mini PCI Express (1 likely filled by WLAN card)
•    SD/SDHC/MMC/MS/MSPro
•    Networking:
•    LAN — 10/100 Ethernet
•    WLAN — 802.11b/g/n
•    Other I/O — USB (presumed)
•    Battery — Three-cell or six-cell, with 3.5 or 7 hours of operation, respectively
•    Dimensions:
•    10.55 x 6.61 x 1.22 inches (268 x 168 x 31mm) with three-cell battery
•    10.55 x 6.61 x 1.45 inches (268 x 168 x 37mm) with six-cell battery
•    Weight:
•    2.42 pounds (1.1kg) with three-cell battery
•    2.64 pounds (1.25kg) with six-cell battery
(From Windowsfordevices.com)
The starting price for Lenovo's new device is the same as the iPad: $500.
Feb 3 2010
Google recently published designs for a Chrome OS tablet that would compete directly with Apple's newly released iPad. The tablet is still under development, but  pictures on Chromium.org give us an idea of what the hardware might look like, and how users might interact with it. Possible features include a 5 to 10 inch screen, on-screen keyboard, and multi-touch capability.
A video demonstrating how users would interact with the tablet is also available for download here.
The tablet is not the first of Google products that aim to rival Apple devices. The Nexus One was launched after the iPhone, and the Chrome OS itself competes with other operating systems –  not just Apple's, but Microsoft's as well.
Gartner analyst Robin Simpson says that, while it is debatable whether Google or Apple hardware is superior in quality, Apple definitely has the upper hand in terms of giving users better and easier access to content developed by independent third parties. Google seems to be making small steps in achieving a similar "ecosystem" by considering putting Chrome OS onto other devices, not just netbooks.
Via SMH, image via Wired.