In a far away land, also known as Cannes, France, some new Acer netbooks were recently unveiled for the public. Acer already is packing heat with the release of Apsire One 532g, powered by the Ion 2, but is bringing another two HD netbooks into the fray. The two new devices are the Acer Aspire One 521 and Gateway LT22. Both of them share some nifty upgrades, such as 1.2GHz AMD V105 processors and ATI Mobility Radeon HD 4225 graphics. The graphics capabilities of these netbooks is going to be critical for their success on the market, as they can handle some light to medium gaming without noticeable difficulty. The battery life of both is still not entirely known however.
One particularly distinguishing feature of these netbooks is that they HDMI ports. This clever little feature will give these netbooks a home in any multi-media home entertainment system.


Via engadget, image via engadget.
May 25 2010
Google has brought us a variety of wonders and many of their innovations synergize perfectly together to create an altogether smooth experience. One thing people are anticipating greatly is the release of Google's Chrome OS. The Chrome OS will be intended only for netbooks, as it is a simple browser-based operating system that doesn't demand much processing power.  Companies such as Acer are working with Google to release netbooks with the OS as soon as possible, and it is rumored that they could be releasing one as soon as June. This rumor however was denied by Acer.
Google has a lot on their plate, as Android's success is gaining momentum. Google will need to keep its focused balanced in order for both Chrome and Android to do their best. The key for Chrome will be the apps that it will have available for the users, thus Google is focusing on having an app store up and running.
It also must be noted that Computex is just around the bend and unfortunately one thing spectators should not expect to see is the Chrome OS.  It is likely then that consumers will just have to wait until the fall to see the Chrome OS.

Via Wired
May 25 2010
Netbooks have been steadily doing better with sales since their introduction, yet data gathered by Retrevo.com reveals a dark cloud looming over the horizon. Retrevo conducted a Pulse Study that asked notebook, netbook, and iPad owners what products they thought of buying this past year and what they finally chose. The study also asked what which products consumers are looking at and leaning towards.
It appears that netbooks are feeling the heat from both laptops and the Apple iPad. According to the study, 30% of potential netbook buyers ended up going with the iPad instead. Of course some percent of this market was expected to be acquired, but nonetheless a third is a substantial share. This is part of the manifestation of Apple's almost cult status. The scarier part is that as far as it goes for consumers deciding between an iPad and netbook for the future, almost 80% are leaning towards an iPad!
Notebooks are also appearing to regain some of their share of the market that they began to lose to netbooks. Retrevo's data shows that for both past and future buys, netbooks are less appealing to consumers than notebooks.
Despite this competition, netbooks should still always have a place in the market. In second and third world countries, they serve as cheap primary computers. Back here in the US, they still come at an unbeatable price as alternatives.


Via Retrovo, image via Retrovo
May 24 2010
MSI, well known for their graphics card and mainboards, are ready to unveil a new product, albeit a slightly recycled idea. Prepare yourselves for the Graphics Upgrade Solution, otherwise known as GUS. The external graphics card interface enables notebook users with weak graphics power to supercharge their capabilities by over 19 times.
The idea isn't all that new however, as companies such as AMD and Asus XG Station already tried and failed at a similar attempt. Express Card interface is something that presents a problem in this kind of endeavour, but apparently MSI was able to use over 70 percent of the theoretical bandwidth by innovating the design with a shielded copper cable. MSI also plans to move it to the USB 3.0 interface in due time. GUS will most notably be used with mainstream graphics cards like the HD 5670, seeing as it would be unnecessary to use it on higher performance laptops. One particularly interesting feature of GUS is that it has multi-monitor support, enabling up to four simultaneous display outputs, including the notebook.
While this won't be an incredibly significant boost for notebooks, it will be enable some gaming for certain notebook users. It remains to be seen if such a feature will find its way to netbooks soon.


Via Fudzilla, image via Fudzilla.
May 24 2010
For a long time the difference between a netbook and notebook was fairly clear. With a netbook you have limited processing and graphical power, but you had reduced cost, wonderfully enhanced portability, and a notably higher battery life. As predicted however, advancements in the tech industry have created even smaller, cheaper, and more efficient chips that can fit into both netbooks and notebooks. The major push has been by Intel, who has finalized their 2010 Intel Core Ultra-Low Voltage processors for thin laptops.
This kind of advancement is critical: as the tablet industry is expanding, the need to bring high performance to portable devices is a must in order to stay competitive.  Mooly Eden, the vice president and general manager of the PC Client Group at Intel, said in a press release that "Intel's leadership in 32nm high-k metal gate process technology, combined with breakthrough architecture and design has enabled thinner, lighter and faster notebooks than previous models, with terrific battery life. Not only are laptops becoming ultraportable, but with the new processors inside, users will see faster response times and less waiting."
Via PCWorld
May 24 2010
The introduction of books to PCs was a bit of a shaky one, but it's finally starting to find its place in the market. Several companies have had tried to get a stake in this market, most notably Apple with the release of its iPad. Now we're seeing a greater expansion in the e-book market.
Amazon Kindle is a  software and hardware platform developed by Amazon.com, as a way to sell electronic books and have a device to work in tandem with their sale. After its release, Amazon released the Kindle for PC and Mac free of charge, allowing users to read Kindle books on their PC or Mac. However, Kindle still didn't find its way everywhere. Fortunately however, Amazon has announced that Amazon Kindle for PC application will come preinstalled on some Asus netbooks and notebooks. This PC applications acts to fill in for the Kindle and will allow users to sync pages and continue reading from any of their other hardware. This will be a great move for Amazon, and give Kindle-lovers more variety when it comes to what device they should choose to read from. Amazon isn't stopping there however, for it plans to have Kindle running on devices which run Google's Android OS.
While this is great news for amazon, a dark cloud looms on the horizon. Kindle is currently Amazon's most popular item, and it is sure to be threatened by the Apple iPad and Google's advance into the e-book market.
Via eWeek, image via ScrapeTV
Mar 28 2010

For those of us who were kids during the late 90's, the computer was a pretty fascinating device, but it didn't really play too much of a role in our lives. It was there when the first videos were around and when most of us had to wait roughly ten minutes for our dreaded dial-up internet to finish loading something. However, computer usage is playing an ever growing role in young people's lives, both at home and at school. Hell, there are plenty of eight year olds out there who are more computer savvy than some adults.  However, some kid-friendly computer programs are still a good tool for helping to get children acclimated to computer usage while maintaining some parental control.
Fortunately for parents, PeeWee PC is there to help them. PeeWee PC makes notebooks and desktops geared towards children. They now offer the PeeWee kit, which is children's software on a 4GB USB stick. The USB stick essentially helps bring kid friendly programming to netbooks.
The PeeWee kit includes games and software for education. There is also a tool that allows parents to monitor how long their kids are on the computer and what they're doing on it. The Kit is available on the flash drive $30 and on CD for $20.
Via Liliputing.
Mar 19 2010
Just as there are a variety of accessories that men and women can adorn themselves with to make themselves look better, there are ones for netbooks to make the experience better. Scosche, a tech company specializing in mobile electronics and accessories, has recently announced their new netbook accessory lineup for 2010. The new accessories offered will enhance several netbook aspects such as audio, communication, and safety.
So what kind of products are being offered specifically? Well, here's a few…

Audio:
We have the skyCASTER wireless RF Computer Headphones with USB transmitter. This cushy headset comes with an adjustable microphone, making it an ideal tool for programs such as Skype. The headphones provide a range of up to 100 ft and deliver excellent sound quality.
Communication:
Then there's blueLIFE, a low profile Bluetooth® USB adapter, for Bluetooth savvy users.
Safety:
Scosche will be offering the netBOOK Protect line which includes the netSUIT PRO carrying case for both netbooks and iPads!
With such great products available, the netbook's easy handling is only getting easier.
Via Liliputing, image via MaxBorgesAgency.
Mar 14 2010
Products such as the iPhone, which combine the basic functions of a phone with a computer's utility and web access, are exemplary of our desire to fuse technology into newer and better forms. Companies worldwide are trying to keep with this optimization momentum and build towards even smaller, multi-function devices. The next step appears to be incorporation of the tablet form factor.
According to GoRumors.com, Qualcomm has submitted a patent for a device that will combine aspects of a netbook, phone, and tablet. The device is intended to provide different functions based on its folding. In its most expanded state it would function as a tablet, and in its most compact state a phone. There is expected be some kind of netbook-like capability in between. If people become enthralled with the iPad, then a product such as this will most likely be able to dominate the market. As of now, there is no guarantee that such a product will be produced, but the news that such an idea is in the works is still exciting.

Via Liliputing.
Mar 12 2010

The iPhone is a wonderful little ditty that is a pillar in Apple products. The device is unbelievably useful, and part of that can be attributed to the almost limitless capabilities of applications one can find through the App store. In fact, what apps can achieve is only limited by the imagination of the third party developer.
Apps themselves have created a new market which Google is now taking charge in. Businesses from every corner have began to use Google apps, which leads to the use of more Google services. Many of the apps created by third party developers already exist in one form or another, but by selling them through Google, they can easily be synced to other Google tools like Gmail and Google Calendar. For those who run and manage their life with Google (read: netbook users) it's only going to get easier.
The fact that all of these different services can now work together under the Google umbrella is fantastic, but what does that say about the market? It's as clear now as it ever was that as new niches (such as apps) enter the market, giants like Google will immediately try to soak them up, Microsoft-style. It's hard to say if that's a good thing or not.
Via PCWorld, image via ThePilver.
Mar 3 2010
Netbooks offer great utility, but with their small, portable builds that utility comes at the cost of capability. However, Nvidia has a plan to supercharge netbooks to a new level. Their new Nvidia Ion graphics processor is said to give 10 times the graphics performance of average netbooks, while still allowing a 10 hour battery life to be maintained.
Nvidia claims that the processor will allow for streaming of HD videos, and even smooth playing of graphically intense games such as World of Warcraft. Drew Henry, Nvidia's general manager of GeForce and Ion GPUs, boldly proclaimed that "If you want a netbook with the horsepower to play HD video and PC games, your only choice is Ion."
The processor will make its first debut in the Acer Aspire One 532G netbook, and then will begin to appear in desktops, motherboards, and add-in cards.
This could be a revolutionary change for netbooks. Their low-cost and portability are part of their allure, but if coupled with such a powerful processor they could easily meet or exceed the performance of other notebooks or desktops, giving the product even more of a competitive edge.
Via EWeek.
Mar 1 2010
Now, just days after the advent of Intel's new Atom N450 processor, the first netbooks with this fine new chip are being released. The new netbook is the Gigabyte T1000 tablet, and along with the new processor it features a 10.1-inch LCD display. The display offers the ability to interchange between a netbook setup and tablet setup. Some of the other specs of the device include:
1GB DDR2 RAM
250GB 2.5-inch SATA HDD
Integrated microphone
Two 1.5W speakers
1.3 Megapixel web cam
2 USB 2.0 ports
eSATA/USB combo
Support for wireless, ethernet and Bluetooth connections
Two versions of the netbook are being released, differing in battery life and weight. The T1000x has a lighter weight, but weaker battery as compared to the T1000p. The prices for the tablets are not yet available.
This kind of netbook is one of many that shows the remarkable utility of the netbook-tablet fusion. With products like this, who needs a silly iPad?
Via Coated.

Feb 26 2010
Netbook buyers and enthusiasts should be happy to know that this coming Monday Intel will be releasing the Atom N470 Processor, which will be Intel's most powerful chip yet for netbooks. The processor will enhance both the performance speed of the machine and longevity of the battery.
The chip will run at a speed of 1.83GHz and integrate a graphics processor and memory controller. These features will give netbooks superior graphics and processing performance compared to their predecessors. The fact that the new chips are also more efficient could result in an increase for some netbooks' battery life performance. The chip's integration also results in a decrease of size, which could allow smaller and lighter netbooks to be made.
Though this new chip is a great step, there are still strides to be made in the effort to increase efficiency and utility. For example, Nvidia graphics processors and Atom CPU will be coupled together to bring better high-definition video to some netbooks in early March, and it's this kind of innovation that will drive the industry forward.
Via PCWorld.

Feb 25 2010

The competition for buyers in the consumer electronics market is like a game of chess, and Apple is strategically waiting to make its move.  Over the past several years online video has become more of a computer-oriented  experience, rather than seeming like a displaced television.  On the other hand, companies such as Netflix were able to begin with the PC and make an excellent transition back to television. So why hasn't the multimedia juggernaut Apple made the same profitable leap?
Even Wal-Mart, with its fierce small-business crushing fists, attempted to dominate the video-download market –  an endeavour that met with failure. But even Wal-Mart wasn't kept back for long – Wal-Mart will be acquiring the video-download service Vudu to give video downloads another try.
With the onset of the new iPad, Apple could at last make its big move. Even though there are already portable DVD-players and netbooks with graphics accelerators for watching HD video, the iPad's features are sure to catch at least some people's interest. With an  9.7-inch LCD touch-screen interface with excellent image quality, it will be a useful tool for watching videos wherever one wishes.  Online video and movies are a logical next step.
There is also rumor that Apple may be launching a streaming video service, which could really get competitors shaking in their boots.
Via CNET , image via HowStuffWorks.
Feb 24 2010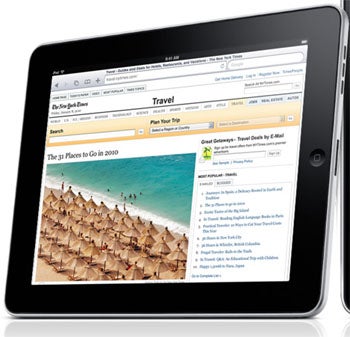 Recently, Apple Chief Operating Officer Tim Cook told a group of investors that the iPad's "magical properties" will be what lures potential netbook buyers towards this new product. However, he seems to have overlooked a simple fact that consumers likely won't: a netbook is capable of accomplishing essentially any task the iPad can perform, and at a lower cost.
The allure that the iPad brings with it is the user "experience," though it is debatable how much of a better experience that will end up being. One of the iPad's primary and most obvious features is its touch-screen interface. For something like the iPhone, there are attractive benefits to using a touch pad, as the interface is easy and flexible. However, that same kind of interface may not be as convenient for buyers in the netbook/notebook market. Many individuals who would seek to use such a product at work might find typing on the screen itself less appealing, as often it is easier to make a typing mistake on touch-screen interface keyboards.
Though the iPad is likely to appeal to those who were wooed by the iTouch and iPhone, it is unlikely that it will be seen as superior to a netbook in terms of capability and function.
Via PCWorld, image via PCWorld.