HP Mini 2140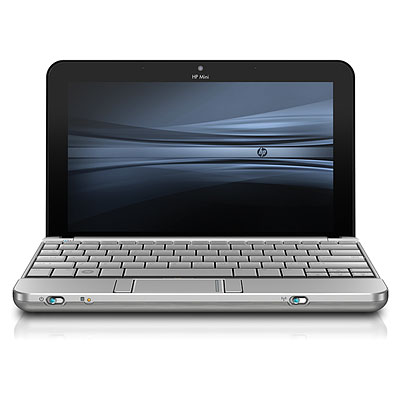 The HP Mini 2140 is a departure from HP's standard of designing netbooks primarily for consumers. It's a business-oriented take on the classic netbook themes of affordability and mobility, and excels with a fantastic keyboard and long-lasting battery to boot.
But has Hewlett-Packard succeeded in crafting a truly professional netbook? Read on and find out.
Specifications
1.6-GHz Intel Atom N270 CPU
1GB RAM (Included)
2GB RAM (Upgradable)
160GB, 5400 RPM SATA Hard Drive
10.1″, 1024 x 576 Display
Intel GMA 950 Graphics Card
64 MB Video Memory
Wi-Fi    802.11a/b/g/n Wi-Fi
Bluetooth 2.0
Windows XP Home OS
Ethernet, Headphone, Microphone, VGA ports
2 USB 2.0 ports
ExpressCard, SD memory reader slots
One-year limited warranty
24/7 toll-free phone support
10.3 x 6.5 x 1.1 inches
Design
The HP Mini 2140 is classier than your traditional whitewashed MSI Wind. It has an all-aluminum brushed silver lid with a magnesium alloy chassis, something it has in common with the HP Mini-Note 2133. The metal alloy hinges with hardened steel pin axles can endure the opening of the lid 25,000 times – or 10x/day for six years.
At 2.6-3.0 lbs (depending on the battery size) and 10.3 x 6.5 x 1.1 inches, the HP Mini 2140 is more compact but heavier than the competition. The Samsung NC10, for example, is just 2.8 lbs with a six-cell battery, and MSI Wind netbooks come in at around 2.6. However, the difference is negligible – it passes the fabled Backpack Jostling Test and fits into the majority of netbook sleeves, which are designed for 10-inch netbooks.
Keyboard and Touchpad
HP's Mini 2140 got some favorable traits from its Mini-Note 2133 ancestors, including a fantastic keyboard. The keyboard is 92% of full size and is treated with a water-resistant coating which, according to HP makes the keys 50 times more resistant to wear-and-tear. The panel on the keyboard doesn't flex, which is a good sign of durability. The right Shift key, always a source of headache for many netbook typists, is full-sized and placed under the Enter key (where it damn well should be!).
However, as always seems to be the case with parents, the Mini 2140 inherited some negative traits from the Mini-Note 2133 as well. The touchpad on the netbook is narrow at 2.3 x 1.1 inches, which means you'll be moving your fingers a bit, and the vertical mouse buttons to the sides of the touchpad are as awkward as ever. We get the feeling you could get used to the buttons, but horizontal buttons would have been preferable.
The touchpad also has a dedicated power button, for those of us using USB mice, and a dedicated scrolling bar for increased ease of Web page navigation.
Display
The display on the HP Mini 2140 is bigger than we saw on the Mini-Note 2133, a feat accomplished by moving the speakers. The new, glossy, LED-backlit 16:9 display comes in at 10.1 inches. However, the resolution has dipped from 1280 x 768 to a mere 1024 x 576. Fortunately, a 1366 x 786 resolution option was recently made available.
Its 16:9 aspect ratio makes the Mini 2140 ideal for watching DVDs on an external optical drive. However, the benefit of the change in dimensions is limited as most netbookers rarely use their machines to watch movies. More vertical space could have allowed improved visibility on Web pages, and that's one category where HP may have missed the point – it's supposed to be a netbook, not a portable video player. It's a minor concern, but one that many discerning consumers will pick up on. On the other hand, the wider aspect ratio makes it easy enough to view multiple windows side-by-side.
The glass on the screen has a special scratch-resistant coating, which is a plus. HP's Quick Launch software makes it easy to optimize screen real estate by resizing fonts and desktop icons.
Horizontal viewing angles are standard – you get enough room horizontally to share the screen with a friend. Vertical viewing angles, however, were exceptionally good – a quality of limited usefulness but appreciated nonetheless.
Prospective purchasers of the HP Mini 2140 should keep in mind that glossy screens are a devil for glare. If the stereotype of offices only using fluorescent lights holds true, reflections could be a bummer for those using the HP Mini 2140 to try to get work done. On the other hand, increased brightness from the backlit LCD could help to improve visibility.
Features
HP provided the Mini 2140 netbook with ample ports for external devices. It has two USB ports, mic and headphone jacks, VGA, Ethernet, and an SD Card reader. If you're a fan of ExpressCard, you'll appreciate that they used potential space for a third USB on that slot.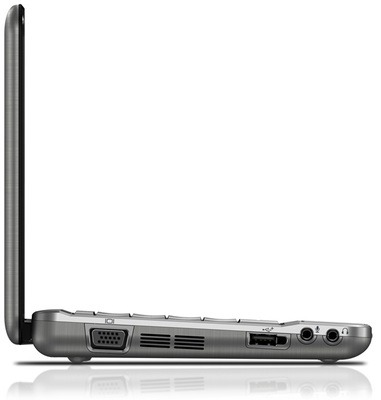 The built-in stereo speakers are hidden below the screen but offer surprising volume and clarity. The Mini 2140 comes with a tiny 0.3-megapixel camera and dual stereo microphones embedded above the display.
Wi-Fi is provided by a 802.11 a/b/g/n card, and will be good enough for most tasks. Streaming music and video is easy, day-to-day Web access is simple, and under normal conditions the connection is strong.
The netbook also comes with Windows XP, Microsoft Office 2007, and a 60-day trial of McAfee Security Center.
Performance
The 1.6 GHz Atom N270 and 1 GB of RAM are a standard package for netbooks and offered standard performance. Fortunately, the standard is high for Intel's power-efficient CPU, and you'll be able to conduct video calls, surf the web with multiple tabs, and manage documents in Word simultaneously with hardly a blip in performance.
The 160 GB 5,400 RPM Hitachi SATA drive boots Windows XP in about a minute, and is protected by the HP 3D DriveGuard accelerometer. The Mini 2140 is also available with a sturdy 80 GB solid state drive for a fee.
Battery
One of the finest aspects of this professional netbook is its endurance. The three-cell battery manages 3 and a half hours of juice while many other netbooks get only 2-3 hours, and the 6-cell will last a fantastic 7 hours and 20 minutes. The six-cell is worth an extra 30 bucks, even if it does add some weight.
HP's Fast Charge technology means the netbook can be charged up to 90% in 90 minutes if you turn it off to charge. This is useful when you need to be on the move and only have a lunch break to charge your netbook, for example, and should appeal to consumers as an added aspect of its mobility.
The HP Mini 2140 netbook stays relatively cool with extended use, though the bottom can get warm. It's not nearly as bad as netbooks like the Dell Mini 9, so you shouldn't have to worry about heating. Of course, if you live in a warmer climate or intend to use your netbook for hours on end, you might consider investing in a CoolPad netbookfan.
The Good
Brushed metal exterior, durable design
Spacious keyboard
Lucid 10.2-inch scratch-resistant screen with acceptable viewing angles
1366 x 786 resolution option
16:9 aspect ratio great for watching movies
Great selection of ports
Responsive, energy efficient performance
SSD option
Long-lasting battery
Doesn't overheat
The Bad
Low 1024 x 576 resolution is standard
Small touchpad with vertical mouse buttons
16:9 aspect ratio not the best for Web pages
Glare on glossy screen
Pricier than average
Final Notes
The HP Mini 2140 is a classy, durable, adaptable machine with much to offer professionals who want to save some cash without compromising performance. The keyboard is great for producing documents, and the long-lasting/quick-charging battery means this netbook is ready to go whenever you are.
Only one possible deal breaker exists, and that's the touchpad. However, it's nothing you can't learn to get over, and if it bugs you enough a USB mouse will quickly solve that problem. The netbook can be gotten for as low as $425 or as high as $699 depending on the options you choose. However, many may prefer the Samsung NC10 in the same price range.
Overall, the HP Mini 2140 netbook is a mature and distinguished take on the netbook concept and I highly recommend it. Go buy one!
Images via NotebookCheck and HPMiniGuide.
__________________________________________________________________________
Like the HP Mini 2140? Buy one now at Amazon!