With the lastest power saving features many netbooks now have a battery life over 10 hours and are still very reasonably priced under $375.
Now that the ASUS Eee PC Seashell 1005PE-PU17-BU has been out for awhile many customers have reported very good battery life during normal use. One could expect 10 – 12 hours of battery life while consistently using the netbook.
The ASUS Eee PC Seashell 1005PE-PU17-BU comes with Windows 7 starter, 1 GB of RAM, an Intel Atom N450 CPU, and a 250 GB HD.
The Toshiba Mini 300 Series NB305-N310 netbook also boasts a long battery life. It's advertised battery life is 11 hours. Customers have reported an actual battery life of 9-10 hours while surfing the internet and checking e-mail.
The Toshiba Mini 300 Series NB305-N310 netbook comes with Windows XP, 1 GB of RAM, an Intel Atom N450 CPU, and a 160 GB HD.
The HP Mini 210-1084NR netbook falls just short of 10 hours of advertised battery life. With a price tag under $300 it still offers fierce competition to other netbooks with long battery life.
The HP Mini 210-1084NR comes with Windows XP, 1 GB of RAM, an Intel Atom N450 CPU, and a 160 GB HD.
Comparing all three the ASUS Eee PC Seashell 1005PE-PU17-BU delivers the best battery life and is the most popular among consumers. For those on a penny pinching budget that don't need more than 9 hours of battery life the HP Mini 210-1084NR offers similar specs for $65 less.
Jan 1 2010
As CES 2010 draws closer, netbook makers have been dropping hints about their upcoming netbooks in order to whet consumers' appetites for new technology. Acer is the latest in the line of manufacturers to do so, today announcing the Acer Aspire One AO532h featuring an Intel Atom N450 CPU, 10.1″ screen, and up to 10 hours of battery life. The boost to the battery is due in part to the efficiency of the Intel Pinetrail chipset and the LED screen, but also to Acer's new high density 6-cell battery.
The Aspire One AO532h has a multitouch-capable trackpad and 93% keyboard – a tad larger than average. You can get this thing for only $299 with the standard 6-cell, or with the high-density 6-cell for an additional fee.
Via Notebooks.
Apr 21 2009
When purchasing a netbook, its battery life should be a prime concern. There are a variety of netbook batteries (3-cell, 4-cell, 6-cell, 9-cell, etc.) and since netbooks can come with different batteries, this fact may make you reconsider the netbook you were originally going to purchase.
Obviously, higher-celled batteries pack more power and can allow a netbook to run for longer periods of time, and the same-celled battery used in different netbooks may last for different lengths of time (a Toshiba NB100 running on a 6-cell battery will no doubt last for a different period of time than an Acer Aspire One running on a 6-cell battery).
Here is a quick comparison of the battery life of some netbooks. They are ranked in decreasing magnitude of battery life.
| | | |
| --- | --- | --- |
| | Battery Capacity | Battery Life (hh:mm) |
| | 11.1V / 5100mAh | 06:56 |
| Asus EeePC 1000HD | 7.4V / 6600mAh | 04:12 |
| Asus EeePC 901 | 7.4V / 6600mAh | 03:59 |
| | 11.1V / 4400mAh | 03:40 |
| Asus EeePC 1000H | 7.4V / 6600mAh | 03:33 |
| Asus N10J | 11.1V / 4800mAh | 03:05 |
| | 11.1V / 2142mAh | 03:05 |
| | 7.4V / 4900mAh | 02:41 |
| Acer Aspire One AOA110 | 11.1V / 2200mAh | 02:19 |
| HP Mini 1001TU | 11.1V / 2522mAh | 02:05 |
| | 11.1V / 2522mAh | 01:55 |
| | 14.4V / 2200mAh | 01:47 |
The test conducted on these batteries includes playing a Windows Media Video (WMV) clip until the battery dies. The power management status was set to "always on," which is in the middle of the power management spectrum between "max battery" and "home/office desk." This is to allow for an average estimate between the minimum and maximum life of the netbook battery.
The conclusion of this test is that 6-celled netbook batteries last for well over three hours while 3-celled batteries last for little over two at max. The number of cells in a battery is roughly proportional to its battery life (i.e., a 6-celled battery lasts roughly twice as long as a 3-celled one).
Via NetBookReview.
Jan 27 2009
A new product recently appeared in the annals of the HP Parts Store, and the quick eyes of PortableMonkey caught it for what it was: a new 6-cell netbook battery for the HP Mini 1000.
The battery hasn't been officially announced yet, but it turns out its specs are 2.4Ah and 53 Wh. It's in stock and available for order at an immense $153.90, plus shipping and handling. Yikes.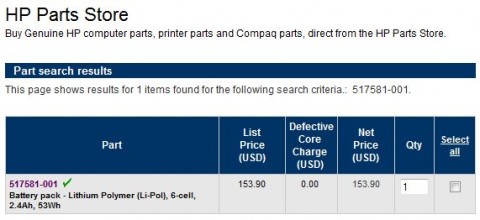 It may not be cheap, considering that the HP Mini 1000 netbook group starts at just over $300. Of course, double the battery life is an enticing prospect. If you've got the cash, it's worth it.
Of course we also aren't figuring in the bulk the battery might add – consider the hilariously massive 10-cell battery for the ASUS Eee PC.
You can't get the product directly from the products page, however. If you seriously want this for your netbook, go here, choose where you're from, and search for product code 517581-001.
Also, if you really like the HP Mini-1000 netbook, be sure to check out the mobile broadband netbook deal we covered a while back.
Nice find!
Via PortableMonkey.
Jan 14 2009
Archos' has reported a new entry into the netbook category,. Unfortunately, the idea isn't quite as revolutionary as the Internet Media Tablets of the company.
It's yet another netbook though, successfully blending in with a 10-inch 1024×600 display, 1.6 GHz Atom, and 160 GB HDD. The netbook is of the OEM/Hasee MJ125 design and is called the Archos 10 netbook.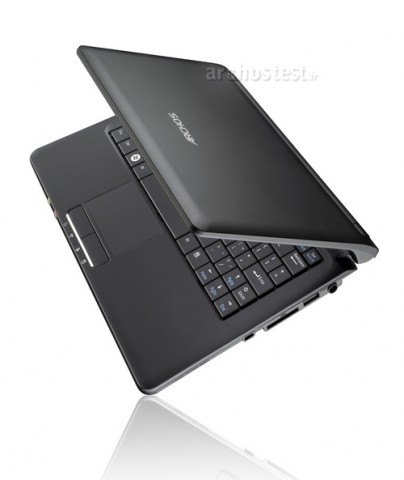 The netbook will support both 3-cell and 6-cell batteries and Windows XP Home. It has USB 2.9, ethernet, VGA output, an audio port and a 4-in-1 memory card reader.
We haven't heard much about pricing or availability. Right now it sports an AZERTY keyboard for the French market, but that would be simple to rearrange were it ported to the US. The €400 price is about $532 once converted, but that's unofficial. Check back for more on the Archos 10 netbook.
Dec 17 2008
Although there is nothing especially amazing about the features of the Samsung NC10, when it comes to battery life, the Samsung NC10 has one of the most long lasting 6-cell batteries.
[via CNET]