This HP 18.5 inch all-in-one PC packs quite a punch for a compact computer. The PC offers more than the standard all-in-ones currently in the market.
For starters, it is one of the few all-in-one PC's that have opted to use a 1.5GHz AMD Athlon 64 X2 CPU rather than the Intel Atom processor. Another improvement is the computer's super-sized memory and storage capacity. The MS214 comes equipped with 2 gigabytes of DDR2, twice the average amount. The PC's storage capacity is just as high, with 300 GB of storage.
The HP MS214 also includes integrated wireless-n and gigabit LAN connectivity. Both of these greatly facilitate the transferring of files. Lastly, the PC is complete with the addition of a DVD burner.
The only pitfalls of this all-in-one PC are that it doesn't offer any kind of touch screen capabilities and has a meager six USB ports, two of which will likely be hogged by a keyboard and mouse. Overall, HP's all-in-one PC offers a lot of bang for $600 bucks.
Via WashingtonPost
Image Via AutoDigital
Aug 26 2009
Nearly everything but the kitchen sink has been trying to steal the market back from netbooks, and Acer's no deviant. Nettops and all-in-one PCs seem to be gaining ground on netbooks recently, and Acer is to debut its Veriton all-in-one PC (model number A280G-EA271CP).
This all-in-one will have an 18.5″ LCD display with 1366×768 resolution (1000:1 contrast ratio and 16:9 aspect ratio) and be powered by an Intel Atom ULV processor (that doesn't need a fan). The OS on this machine will be Windows XP.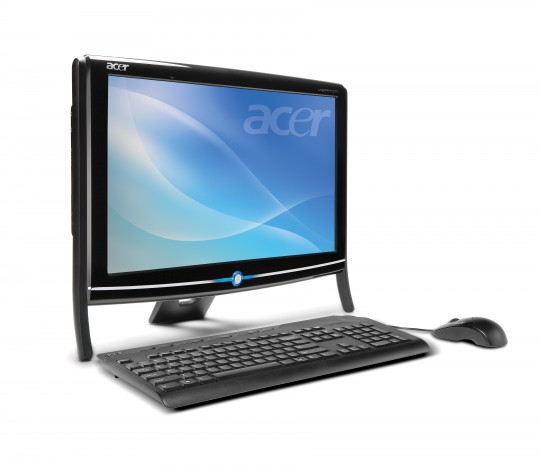 The dimensions of the Acer Veriton all-in-one PC are 19″ x 15″ x 2.14, making this device a space saver. Pricing starts at $499 for the base model.
Via SlashGear.