If you think the gloriously thoughtless spending is done now that Black Friday has passed, you obviously haven't heard the news – tomorrow is Cyber Monday, where you can reap the benefits of gutted price tags online even if you didn't make it to the Black Friday doorbusters a few days back.
Huliq has already discovered some of these deals, which are as follows:
Dell
Inspiron Mini 9 netbook for $299, a 50 dollar cut. Shipping is free for all Dell orders over $129.
Dell Insprion Mini 10v for only $250.
Inspiron 1525 laptop for $519. Specs are a 15.4-inch widescreen display, Intel Pentium Dual Core CPU T3200, 3 GB of RAM, a 250 GB SATA Hard Drive and DVD+/-RW Drive, and Windows Vista Home Basic SP1.
Best Buy
Acer AL2216Wbd flat-panel Widescreen 22-inch LCD HD monitor for only $169.99 with free shipping, a $50 price cut compared to most retailers
Free shipping on laptops $699.99 and up and desktops $499.99 and up.
Walmart
Compaq CQ50-139QM notebook for $498, which comes with an 8 GB flash drive, carrying case, and HP printer. If you just want a printer instead, hit Staples.com for a $149 Xerox Phaser 6125 Color Laser Printer, a price drop made available by their $200 instant coupon.
Drop promo code CYBERMONDAYVAIOCS at Sony.com for a $200 subsidy of their CS Vaio notebook.
Apple
Apple offers free shipping on orders over 50 bucks. You can also get free gift advice at 1-800-MY-APPLE if you're completely weird.
HP
Free shipping on overs over 60 dollars at HP.com.
I hope your appetite has been whetted, ladies and gentlemen. Check back for more info as Cyber Monday draws closer.
Nov 27 2009

If you're like most mobile internet users, you're probably in the market for a brand new lightweight and versitile netbook. Well, you're in luck: today is arguably the best day to make some legendary Black Friday deals, and bring home with you a brand new spanking netbook. We've done the searching for you and have compiled an excellent list of netbook deals that are priced below the 200$ pricetag.
If you take a trip to Best Buy, you'll notice they're offering a $197 Hewlett-Packard laptop running Windows 7 Home Premium (64-bit) with a 15.6-inch screen and an Intel Celeron processor. Other specs include 2GB of RAM (expandable to 4GB), 160GB hard drive, and Wi-Fi connectivity. Because this is an in-store only special item, you'll have to line up early.
Everyone's friendly Wal-Mart Supercenter is offering an eMachine running Windows 7 Home Premium for $198. This computer also features a 15.6-inch screen, 2GB of RAM, and a 160GB hard drive.
Office Depot's are showing an ad @tgiBlackFriday.com offering an Acer Netbook with a 10.1 inch screen as well as an Intel Atom N270 processor priced at a very wallet-friendly 199.99.
If Dell netbooks are your thing, you can find a $199 Inspiron Mini 9. The mini sports a 8.9-inch screen, 1 GB RAM, an Intel Atom N270 processor, and a 4GB solid-state drive. While it only offers a 0.3 megapixel webcam, they'll allow you to upgrade to a 1.3 megapixel for a mere $10!
Via PCWorld.

Nov 26 2009
You'll be able to get an all new Gateway LT netbook from Verizon on Black Friday for only $30 bucks, with a 2-year 3G contract and $100 mail-in rebate.
The netbook weighs less than three pounds and offers Wi-Fi access, among other features. It runs on an Intel Atom CPU with a 10.1-inch screen, 160 GB HDD, and 1 GB of RAM.
Not interested? Verizon has a heck of a lot of other deals this Black Friday, courtesy of HotHardware:
HTC Ozone: Wi-Fi capable global smartphone for only $9.99 (buy one get one free)
LG Versa: the touchscreen phone for gamers, for only $29.99 (buy one get one free)
MiFi 2200 Intelligent Mobile Hotspot: Wi-Fi wherever you go for up to five people for only $49.99 after $50 mail in rebate. (Black Friday only.)
Nokia 7705 Twist: offered this weekend for only $29.99
Blackberry Pearl Flip: one of the most popular Blackberry phones for only $9.99 (buy any Blackberry device, get one free)
Now get up early, kids, and grab yourself one of these machines with great Verizon deals.
Nov 23 2009
Black Friday is less than a week away and we're here to bring you yet another spectacular netbook deal.
The ASUS Eee PC 1005HA (one of the top-selling netbooks on Amazon) is going to be available for a mere $199.97 at Hhgregg – discounted $100 from the regular price of $299.99!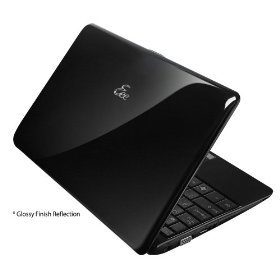 The 10.1″ ASUS Eee PC 1005HA netbook will be equipped with an Intel Atom N270 processor, an Intel 945GSE graphics chipset, and 1 GB of RAM. Other tech specs include multi-touch, 802.11 b/g/n Wi-Fi, 3 USB ports, and a 0.3 megapixel webcam. Note that since it's a netbook, no CD/DVD drive is included, but tackling basic computing tasks should be easy as pie.
There's a limit of 10 netbooks per store on Black Friday and they'll be available on Friday and Saturday – at least while supplies last.
Via Notebooks.
Nov 21 2009
Target is announcing a new Sunday-to-Wednesday run of pre-Black Friday deals that we thought you'd like to hear about. The price cuts aren't godly, but definitely worth a look if you're on the market and don't want to deal with Black Friday crowds.
Most of the good ones are on TVs. You can get a 32-inch LCD TV for $398, 50-inch plasma for $698 or a 42-inch 1080p LCD TV for $597.
Other deals include a $20 gift card with the purchase of a Wii, dual-screen portable DVD player for $119, and a 10.1-inch Acer Aspire One netbook for a mere $199.
You should be seeing these deals in your Sunday paper, or alternatively at Target.com in the near future.
Via CrunchGear.
Nov 14 2009
As Black Friday approaches more ads are starting to leak out over the internet. Here are some examples of Best Buy's Black Friday deals on netbooks, laptops, and desktops:
Netbooks:
Compaq: Intel Atom processor, 1 GB of RAM, 160 GB hard drive – $179.99
Compaq: Intel Atom Processor, 1 GB of RAM, 250 GB hard drive – $229.99
Dell: 10.1″ screen display, Intel Atom processor, 1 GB of RAM, 160 GB hard drive – $379.99
Laptops:
Desktops:
eMachines: AMD Athlon processor, 3 GB of RAM, 320 GB hard drive, Windows 7 plus 18.5″ LCD monitor and HP Deskjet printer – $299.97
If you're interested in these deals and more, Best Buy will be opening at 5:00 a.m. on Black Friday and will start passing out tickets for their doorbuster specials starting at 3:00 a.m. that same morning. The store has had some early Black Friday specials, including an Acer laptop for $249 that sold out within minutes of its debut.
Best Buy also has a Black Friday VIP contest that will award 25 lucky winners a $1,000 Best Buy gift card, so be sure to keep your eye out for that as well.
Via Huliq.
Image via InsideSoCal.
Nov 13 2009
Computing technology is generally on people's holiday shopping list in some form or other, and even though the economy may not be so great this year, the situation is no different. That's why we're giving you a sneak peak of some of the the offers that Office Depot are promoting for Black Friday. Office Depot will open at 6:00 a.m. on Friday, November 27th, and deals on netbooks, laptops and desktops start as low as $229. Take a look.
Netbooks:
Notebooks:
HP: G60-508US with Intel Celeron 900 processor – $299.99
Acer: Aspire, 15.6″ widescreen display with AMD Athlon X2 Dual-Core L310processor, 4GB RAM, 320GB hard drive – $379.99
HP:  G71-343US with Intel Core 2 Duo processor T6600 – $449.99
Toshiba: 15.6″ widescreen display with AMD Turion II Dual-Core processor M500, 3GB RAM, 320GB hard drive – $469.99
Toshiba: 17″ screen display with AMD Turion II M500, 3GB RAM, 250GB Hard Drive – $499.99
Desktops:
Compaq: CQ4010F with AMD Sempron LE-1300 Processor, 2GB RAM, 250GB hard drive- $229.99
Compaq: Presario AMD LE-1300 with 18.5″ Monitor – $329.99
HP: Pavillion Slimline s5220f with Intel Pentium processor E5300, 4GB RAM, 640GB hard drive – $369.99
There's also a rumor that there will be a two page bonus ad in the Office Depot's Black Friday ad, so be sure to be on the lookout for that!
Via Huliq.
Image via Blogspot.

Nov 4 2009
Black Friday is expected to bring a slew of supremely cheap netbook deals to the forefront of many retail windows. The latest example of that trend is Delstar's DS 700 netbook, selling for $120 on KMart after Thanksgiving this year.
The machine is made by Chinese developer Delstar and comes with a 7-inch screen, Windows CE, and an ARM CPU. Windows CE is an unpopular choice for netbooks but in this case it's keeping prices unbelievably low.
The Delstar DS 700 netbook is a bit underpowered but comes with Internet Explorer, a PDF viewer, and support for Microsoft Office files. This could mean the Microsoft Office Mobile package or something similar, considering that Delstar has mentioned a "document creator," "spreadsheet creator," "presentation creator," and "media player".
Here are the specs from WindowsforDevices:
Processor — 400MHz Samsung SoC
Memory — 128MB of RAM and 2GB of flash storage
Display — Seven-inch screen with 800 x 480 pixel resolution
Expansion — SD slot
LAN — 10/100 Ethernet
WLAN — 802.11b/g
3 x USB 2.0
Microphone jack
Headphone jack
Battery — Three-cell, lasts for three hours
Dimensions — 9.75 x 6.5 x 2 inches
Weight, including battery — under 2 pounds
Nov 1 2009
It's November, ladies and gentlemen, and you know what that means: it's time to count down to Black Friday!
Huliq recently included netbooks on its list of what it expects to be the most popular items this Black Friday, and has uncovered some interesting hints about what we could expect this shopping season.
Word has it that a 9″ Linux netbook will be available for an insane $129 this year. This sounds like it could come in the form of a refurbished Dell Mini 9 or Eee PC 900 series netbook, depending on who's doing the selling.
Another popular offering could be the 15.4″ Compaq CQ-139WM, which isn't a netbook but runs a 160 GB HDD and 2 GB of RAM for only $298.
Oct 31 2009
Office Max's Black Friday ad was posted but has mysteriously disappeared. It's rumored that within this ad, the Acer Aspire One netbook was priced at less than $150 a pop. This is quite a deal, considering this netbook normally retails for nearly $150 more.
If you're interested, keep on the lookout for any developments – and of course we'll keep you posted. In the meanwhile, feel free to read one of our previous articles to learn more about the Acer Aspire One netbook. And if you hear any other awesome netbook deals, feel free to let us know.
Via NetbookReports.
Dec 9 2008
Dell has decided to stick with the price drop it tested on Black Friday. The Mini-9 netbook retailed for $299, and is still available for that price.
The Mini 9 is available in Obsidian Black or Alpine White, or a few other colors for an additional cost. The Mini 9 runs Ubuntu Linux and has 512 MB RAM, a 4 GB SSD, and an 8.9″ LED. For an extra $35 you can upgrade the solid state drive to 8 GB – a choice we recommend.
Though the Mini-12 is already on the market, the Mini-9 is still making news. We've covered it before but the netbook just keeps on popping up – something to be expected from such a successful machine. Reviewers have loaded praise on the netbook, particularly noting its excellent battery life which distinguishes it from such competitors as the Acer Aspire One or MSI Wind.
Nov 28 2008
Asustek Computer is busting out new models. The 1002HA, which we covered in our November 24th article, is not the only new netbook release to grace the shelves of stores in the new future: ASUS has announced another frighteningly cheap netbook, sure to take a massive slice of the consumer pie in the near future.
The new Eee PC, which has been available in Taipei under the name 'Surf', should cost a slim $200. It will be available in the US in the first quarter of next year.
This low-cost version of the immensely popular Eee PC that started the netbook craze shows ASUS is going back to roots – not a bad idea, considering the buzz they got going early in the history of netbooks.
The 'Surf' netbook has a small 7-inch LCD screen, an Intel Celeron M processor, and ran an operating system from Linux. Other more expensive Eee PCs have perhaps overshadowed this little guy, but analysts expect US consumers to devour it with fervor.
Other Eee PCs with 9 or 10 inch screens running the Intel Atom are the norm these days, but cost far more – perhaps even doubling the cost of this cheap new netbook. While 7-inch netbooks are is a swiftly decreasing section of the market, hopes are high for the new Eee PC.
It is doubtful whether the International Consumer Electronics Show in LA will even feature the Eee PC, so for now all we've got is speculation. Come first quarter next year, however, all our questions will be answered.
Happy Black Friday and tune in here soon for daily netbook news.
Nov 27 2008
Thanksgiving is here, though given the amount of crazy deals to be offered tomorrow, it might more properly be named 'Black Friday's Eve.'
Netbooks are going to be flying off the shelves this year, with some amazingly cheap offers on classic netbooks, as well as some new ones. With the slew of recent new netbook releases on everyone's mind, tonight and tomorrow will be big for the industry. With no further ado, check out these amazing Black Friday netbook deals, coming to a retailer near you.
The Asus Eee PC 900a will be offered at Best Buy for $299, the cheapest it's been since its original release. In case you've forgotten, the 8.9″ XP-running netbook hit stores at $550 back in the day. Though unconfirmed, some analysts (such as one on ComputerWorld Blogs) suspect the Asus Eee PC 1000 may also be going for about $399.
The Dell Inspiron Mini 9 will also be offered for a fantastically cheap $299, to feature 512 MB of RAM, an Ubuntu 8.04 memory card, and 4 GB SSD.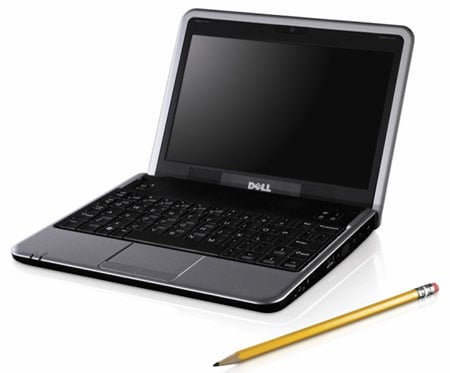 The classic Acer Aspire One will also be offered for dirt cheap, with the XP Home version going as low as $349 and the Linpus Linux one for $300. It has an 8.9″ display and is known for its excellent keyboard. Expect a comparable 512 MB RAM but a massive 8 GB SSD.
Finally, the MSI Wind 100 – with 10″, 1 GB RAM, 120 GB HDD – will be measuring in at an easy $299. This netbook runs a SLED, or SUSE Linux Enterprise Desktop.
These deals are so good that we can definitely expect netbooks to be, as of tomorrow, creeping into the homes of consumers. We'll be all over those developments as they come. For now, happy Thanksgiving and get up early because tomorrow is a big day. If there is a better day to get yourself a new netbook, we don't know of it. Good luck!
Nov 25 2008
As part of a new recent trend towards accessibility and efficiency, Dell has announced that its Inspiron Mini-9 will be available with 3G broadband.
CEO Michael Dell confirmed the company's intentions to sign up more wireless providers for its new netbooks, though he did not specify when.
For a mere $125, Mini-9 netbooks in the United States will be set up to feature WWAN (Wireless Wide Area Network). However, that's not the best part: AT&T is offering a $120 rebate on it if you sign a two-year contract!
While exciting, the new offer is only going to be available on the newer, XP-running versions of the Mini-9.
______________________________________
The new announcements aren't only coming from Dell; Taiwanese computer company Acer has some things to say as well. Acer, producer of the well known Acer Aspire One A110, had a big role in getting the netbook ball rolling in the tech industry.
Acer's Scott Lin announced that the netbooks of the company are expected to get bigger and cheaper in 2009. The new Aspire One will take on a 10″ form around February or March of the coming year, a departure from the earlier Aspire One which only measured in at 8.9 inches. Analysts have suggested this is a move to try to take up more space in the market which, though in a sense started by Acer, is now owned by the Dell Mini netbooks, the Eee PC, and MSI's Wind.
As Black Friday draws closer, new netbook announcements seem to be coming out at light speed. We're definitely pumped to see what else is coming soon.
Nov 24 2008
ASUS is back at it with a brand new netbook release on the way: the aesthetically pleasing ASUS Eee 1002HA.
Remember when, in our November 22nd article, we wondered if ASUS would be releasing anything to compete with MSI's new Wind U120? The answer has been delivered in full force, the way ASUS likes to do it.
Don't freak out yet  – this is just a pre-production model. However, ASUS has recently been giving tech blogs and magazines a taste of the new machine, just to whet our appetites. The 1002HA is a solid 10-inches, featuring what looks like the trackpad of the Eee PC S101 as well as the keyboard of the 100H.
Seen by many as a kind of hybrid of the two laptops, it looks to put the best of both worlds onto one new machine sure to please consumers once it's released.
It should run the 1.6 GHz Intel Atom with 1GB of RAM and a 160 GB hard drive. Interestingly, however, the battery is a mere two cell – though ASUS assures skeptics that it should offer a full five hours of life. This claim sounds a little suspicious, but we'll believe it for now; ASUS has impressed the tech world before when it, along with rival MSI, started the netbook boom earlier this year with the original Eee PC.
Unfortunately, the ASUS 1002HA won't be out in time for Black Friday, but it will hit stores on December 1st for $499. Get pumped – we sure are.