MSI has demonstrated a few prototype computers at CES 2010 so far, including two new dual-screen netbooks – a strange category we've seen a few times before that hasn't really been explored in the netbook arena.
The new MSI dual-screen netbooks have touchscreen LCDs, but won't be used in the manner of the Kohjinsha DZ. Instead, the screens are hinged notebook-style – you can use one as a touchscreen keyboard while operating the other as a laptop display, or you can turn the whole thing on its side and use it like an e-reader
The prototype dual-screen machines come in 10-inch and 7-inch varieties. The netbooks run Intel Menlow CPUs and Windows 7, allowing for 32 GB or 64 GB of solid-state storage.
If they're ever officially launched, MSI has stated that they will be more expensive than traditional netbooks, though that's what we expected. MSI also showed off a traditional 10-inch ebook reader at CEs 2010, running Google Android and the Nvidia Tegra.
Via NetworkWorld.
Jan 11 2010
As promised, Mobinnova revealed its new Android netbook at CES 2010 – an 8.9-inch machine powered by the Nvidia Tegra and supporting AT&T 3G. It has a 1024 x 600 pixel screen, 512 MB of RAM, and 512 MB of NAND to store the operating system.
This may be a pretty meager space allowance, but luckily the new netbook allows drive expansion of up to 64 GB with an SD card.
The netbook has Wi-Fi, Bluetooth, Etherned, HDMI out and USB ports for accessories. It runs a 1 GHz ARM Cortex A9 CPU. Pricing and availability is unknown for now, but we'll be on it as soon as the info's available.
Via I4U.
Jan 11 2010
On Friday, LG introduced its GW990 smartphone at the Consumer Electronics Show. It has been described as "huge" by people who have seen it in person, and it certainly sounds that way, with a 4.8-inch screen. It is powered by Intel's Moorestown platform with Intel's Moblin Linux operating system.
It has a 5-megapixel camera, which is pretty typical. However, its operating system is anything but typical – it runs Intel's Moblin, a Linux OS that is similar in some ways to Android. Right now, there really isn't a developer community for Moblin. LG has said that it is trying to get third-party apps written for Moblin.
The phone can multitask beautifully, thanks to its Intel Atom CPU. It has been demonstrated to be able to can play a movie, keep the calendar open, and send a text message all at the same time with ease.
The GW990 sounds like a great phone, though its size could bar its success. People like their phones to be pocketable. Until Intel's chips can be used with smaller, thinner phones, Intel-powered phones probably will not command a huge share of the market.
Via PC Mag, image via PC Mag.
Jan 9 2010
Advanced Micro Devices (AMD) has announced that it will offer triple-core processors in laptops. Though laptops now can have either dual-core or quad-core processors, triple-core processors have been unavailable until now.
Though it may appear that triple-core processors would be not be an advance, considering the existence of quad-core processors, they will fill the gap in a useful way. They offer better performance than dual-core processors and better power efficiency than quad-core processors. AMD currently offers only dual-core chips in their laptops, while Intel offers both dual-core and quad-core.
Dual-core processors do offer great performance for laptops, but triple-core will boost application performance, according to an AMD employee. The third-core will be able to take on processor-intensive tasks while leaving the other two cores free.
The chips will be offered as a part of Danube, AMD's next-generation laptop code. Danube is supposed to increase laptop battery life by more than an hour. It is also supposed to offer better speed and graphics compared to the current platform.
The chips should ship in the first half of this year.
Via PC World, image via PC world.
Jan 8 2010
This is truly glorious. Today at CES 2010, the all-new Alienware M11x netbook was released – a 4 lb no-compromises machine for gamers who can't sit still.
The Alienware M11x packs Nvidia discrete graphics and 4 hours of battery life for those plane rides when you really need to kick back and get your game on. It has a sexy backlit keyboard, classic Alienware styling, and price tag under $1000, coming this February.
Check out Revision3's video review below:
Jan 8 2010
Greenpeace has released its Guide To Greener Electronics at CES 2010, and this time Apple is ranked in its list of environmentally friendly companies.
This is quite a contrast to last year, when Apple refused to participate in Greenpeace's ratings, much to Greenpeace's displeasure (and most likely the displeasure of customers concerned about the company's impact on the environment). This year, Nokia and Sony Ericsson topped Greenpeace's list of green companies. The companies are rated on categories such as use of hazardous substances, recycling for old products, and other efforts to reduce climate impact.
The rankings saw some changes and some recurring trends. Samsung fell from second to seventh place because of its failure to eliminate toxic chemicals from their products. The top five companies this year are Nokia, Sony Ericsson, Toshiba, Philips and Apple. Nintendo is the last in the rankings, as it has been in the past. Microsoft is second to last.
The entire report is available online at the Greenpeace website.
Via APCMag, image via Greenpeace.
Jan 7 2010
Lenovo's new hybrid PC, displayed at the Las Vegas Consumer Electronics Show this week, is reminiscient of the Always Innovating Magnetic netbook which featured a detachable screen for use as a tablet. Designated the Lenovo IdeaPad U1, the device is usable as both laptop and multi-touch slate tablet.
It's a heavyweight, coming in at 3.8 pounds, and it rocks an 11.6-inch LED screen and the Windows Relevant Products/Services 7 OS. It has a videocamera, two stereo speakers, and an integrated microphone for voice chat and other activities.
According to Lenovo Senior VP Liu Jun:
"By fusing the functionality of a notebook with the slate tablet's rich multi-touch entertainment and mobile Internet experience, U1 provides consumers the freedom to choose the device they prefer for any activity."
When used as a laptop, the Lenovo U1 actually accesses a second processor within the keyboard for synchronized use. When you remove the 1.6 lb multi-touch tablet you can continue computing in portrait or landscape mode with the ARM CPY running Lenovo's Skylight OS.
The Ideapad U1 Hybrid can deliver more than 5 hours of 3G web access and should be available this June for $999.
Via NewsFactor, image via Engadget.
Jan 7 2010
Dell showcased the new version of its incredibly popular Dell Mini 10 netbook today at CES 2010, and it's been loaded up with what we've come to expect of top-of-the-line netbooks – an Atom N450 CPU, 1 GB of RAM, and 250 GB of space. However, Dell is upping the ante with new options for multimedia use.
It comes with a boatload of custom options, including 720p HD capability on its 1366 x 768 pixel screen, a hi-def TV tuner, GPS service, and a HD processor to manage more intensive video content. It will run Windows 7 and comes with a useful 9-hour battery life.
The new Dell Mini 10 will be available this month, $300 and counting once you add those sexy new features.
Via Wired.
Jan 5 2010
Lenovo recently announced its all-new Skylight smartbook, a cousin of the netbook with a clever custom interface for Internet access.
We'll be able to see more on the Skylight smartbook at the Consumer Electronics show this Thursday, but for now, we've got a bit of info on its specs. It will run the long-awaited Qualcomm Snapdragon chipset and come with a 1 GHz ARM CPU, a graphics processor, integrated GPS capability and HD video recording and playback. Connectivity is ample, coming by means of Wi-Fi, Bluetooth, and 3G functionality.
The new smartbook by Lenovo will feature a 10-inch screen, clamshell design, and full-sized keyboard – making it look quite a bit like a netbook. It will have a fantstic 10 hours of battery life, thanks to the Snapdragon platform which boosts efficiency by 30%.
The Skylight smartbook will sell for around $499 this April.
Via InformationWeek.
Jan 3 2010
A few new exciting netbook models have been announced in anticipation of CES 2010, this time from Compaq and HP.
The first is the Compaq Mini CQ10 netbook. This new machine will run the 1.66 GHz Intel Atom N450 processor, 1 GB of DDR2 RAM, a HDD up to 250 GB, Wi-Fi, GMA 3150 graphics and a 6-cell battery. You should be able to get this thing for around $260 within weeks.
Next is the HD Edition of the HP Mini 210 netbook. We've already seen a preliminary leak of the new HP netbook's specs, and our latest info corroborates those findings. You can expect a 1.66 GHz Atom N450, GMA 3150 graphics, and the new Broadcom Crystal HD chip for media acceleration. The HP Mini 210 HD will cost around $330.
Both netbooks will ship on or around January 7th, according to the latest available information.
Via Engadget.
Jan 3 2010
Toshiba and Gateway are both expected to announce new Pine Trail netbook selections at CES 2010 in a few days. Canadian reseller Future Shop shows the netbooks to have similar spec lists – 1.66 GHz Atom CPUs, a 160 GB HDD for the Gateway and 250 GB for the Toshiba netbook, 10.1-inch screens, a Gig of RAM and Intel GMA 3150 Express graphics.
Both machines will come with Windows 7, but they differ on one critical metric: the Gateway netbook is priced at around $285, while the Toshiba machine will sell for around $438 USD. There may be significant differences in the build quality or extra specs in the machines, so we'll hopefully be able to explain this price difference by the time the Consumer Electronics Show rolls around.
Via CNet, image via Future Shop.
Dec 29 2009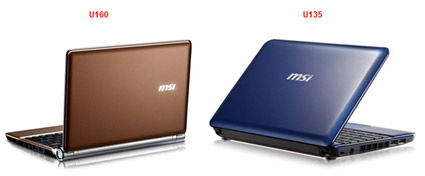 We've got about a week left before the January 7 Vegas Consumer Electronics Show 2010, where the latest  netbooks and more will be shown off by all the top retailers. MSI has already released a few tidbits about its upcoming U-series netbooks – the iF Product Design Award winning Wind U160 and the U135, another Wind netbook.
The most information has been released about the MSI Wind U135, which comes with a 1024 x 600 pixel 10-inch LED screen and in four different colors: Trendy Blue, Refined Silver, Cherry Red, and Wind Dancer Black. It will feature a redesigned chiclet keyboard with Color Film Print coating on the exterior, offering "the U135 scratch-resistant and anti-wear properties that keep it looking new after a long period of use… [giving] the entire exterior a sparkling and high quality feel."
It sounds like a pretty machine, and we've only a few more days to wait before we can see what MSI really means to bring to the table in 2010. Get excited.
Via LegitReviews.
Dec 11 2009
7 millimeters. That's the height of Seagate's newest ultra-thin netbook hard drives that they'll be revealing next month at CES 2010. At this height, Seagate's hard drives would take up 25% less volume than other netbook drives that are currently in production, which may allow netbook manufacturers to make even smaller netbooks in the future.

The capacity of Seagate's new ultra-thin netbook hard drives is currently unknown, but the drives are rumored to be part of the Momentus Thin Series of hard drives. Price points are also currently unknown, as while the price of the drives is rumored to be relatively lower than that of standard hard drives, because they're ultra-thin, netbook makers could also jack up the final retail price of their netbooks.
Via GadgetVenue.
Dec 8 2009
Some interesting news has just been revealed from the Netbook World Summit in Paris. Samsung Notebook Product Manager, Jaewoo Seo has revealed that Samsung will be revealing their new lineup of Intel Pine Trail platform-based netbooks in January 2010. Surprise, surprise.
Many of the larger netbook manufacturers are already planning to show off their new Pine Trail-based netbooks in January at CES 2010. Samsung claims that their new netbooks will have a superthin design and have longer lasting batteries. Considering that Samsung already makes netbooks that excel in these categories, we can't wait to see what the manufacturer has in store.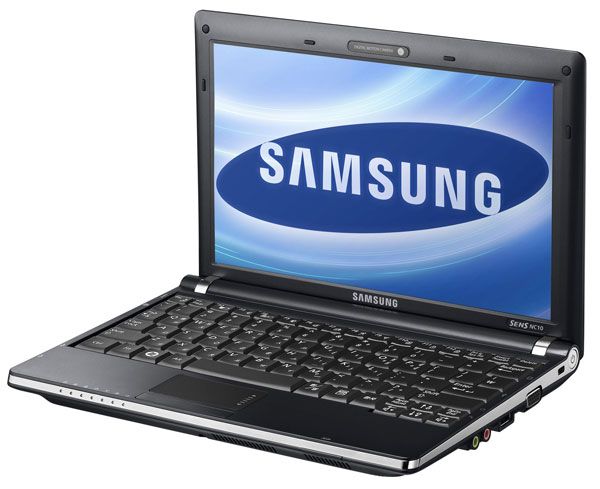 In addition, Samsung is rumored to show at least one netbook with a touchscreen display. Samsung's new Pine Trail-based netbooks will feature an instant on OS, which will allow quick and easy access to the Internet and to selected software.
Via NetbookChoice.