Fusion Garage appears to have made a mistake when it earlier announced its plan for the JooJoo Tablet to be shipped by the end of February.  With only 2 days left in the month, they have pushed back shipments a whole month back to March 25. Here's the full release:
"Earlier this month, Fusion Garage's JooJoo Internet tablet went into full production with an anticipated on-time delivery to consumers at the end of February. Last week, the company became aware of a manufacturing issue involving JooJoo's industry-first 12.1 inch capacitive touch screen which Fusion Garage was quickly able to diagnose and rectify. The company now forecasts the JooJoo will be sent to consumers on March 25.

The manufacturing issue centers on fine tuning the touch sensitivity of the capacitive screen. Fusion Garage will be providing all pre-order customers with a free JooJoo accessory to compensate for the delay in the delivery of their JooJoo."
It must be highly awkward when your main (and possibly only selling point) is holding you back from delivering your product.  Given all the other problems surrounding the CrunchPad-turned-JooJoo, you can't help but wonder if Michael Arrington is sitting at home smirking.
Via Gizmodo
Dec 11 2009
The legal battle has officially begun over the Joo Joo, formerly known as the CrunchPad. TechCrunch owner Michael Arrington announced on Thursday that he had filed a lawsuit against former business partner Chandra Rathakrishnan, CEO of Fusion Garage. The suit alleges many wrongdoings on Fusion Garage's part, including a number of charges that include the theft of money and property owned by TechCrunch. Rathakrishnan is not backing down, claiming that Arrignton's allegations are false, and that her company owes absolutely nothing to TechCrunch.
The Joo Joo tablet notebook is priced at $500 and will be available for purchase at midnight tonight on the company's website. If you want in, I'd suggest acting quickly, in case the lawyers get ahold of this thing before you can.
Via Cnet
Image Via TheMobiler
Dec 8 2009
So while the CrunchPad table netbook is history, the JooJoo web tablet project is full steam ahead, according to FusionGarage CEO Chandra Rathakrishnan. FusionGarage is moving forward with the project, as it is the sole owner of the IP and claims that it did all the work in the creation of such a tablet.
The actual device will be available this Friday, December 11, at //www.thejoojoo.com, but unlike the original price of the CrunchPad, this 12.1″ computer will boast a $499 price tag instead.
The JooJoo's OS is Unix-based and the web tablet will come with a 4 GB solid state drive and Wi-Fi capabilities. There is also supposedly "enough graphic power" for full high-def. video playback and the online time for wireless browsing is expected to be roughly five hours.
"JooJoo" is an African term for "magical," but for $500, a web-based tablet with only Wi-Fi capabilities doesn't sound so magical to me.
Via JKOnTheRun.
Nov 30 2009
Various rumors have been flying around about the CrunchPad tablet netbook, but here's some shocking news.
TechCrunch founder, Michael Arrington, had been working together with a small group on creating a tablet netbook device nicknamed the CrunchPad. It was a device that was designed mainly to surf the web and have little local storage space. It was even starting to look more and more like a netbook the further it got into production.
Unfortunately, the company that Arrington partnered with to produce the CrunchPad tablet netbook got into a quarrel with Arrington. The latest word on the street is that Arrington said the company planned on kicking him off the CrunchPad project and selling the device under a different name. And so that put an end to the partnership.
No details are set in stone yet, but we'll keep you posted on any developments we hear about.
Via TechCrunch.
Nov 30 2009
Yep, that's right. The sleek prototype of a tablet/netbook device is experiencing higher-than-expected production costs and repeated delays, which are rumored to lead to its demise. Earlier, this year, Michael Arrington had said the CrunchPad tablet netbook would be ready for sure by the end of this year, but sadly, the device's release deadlines have already been passed multiple times. Last we heard, it was supposed to be available in late July or early August.
The proposed price of the CrunchPad tablet netbook had originally been rumored to range from $200 to $400, but seems like the feasibility of the product is coming to an end. Perhaps there'll be more luck with Apple's rumored tablet netbook device. Either way, it doesn't keep the CrunchPad from being named to Popular Mechanics' 10 most brilliant products of 2009 list.
Via Wired.
Aug 1 2009
We recently mentioned that the CrunchPad tablet would be released soon, but didn't mention exactly when. Details have emerged in the past couple of days that this tablet would be on the market by this upcoming November. The new estimate for its price tag is $399, roughly $100 more than the previously estimated price.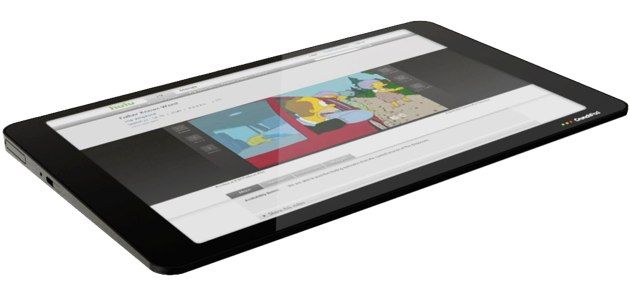 This device will feature a 1.6 GHz Intel Atom processor and have 1 GB of RAM. It will also have integrated Wi-Fi and 3G. Earlier reports about this new tablet did not include the details about the availability of 3G functionality with this tablet.
The CrunchPad tablet also has a USB port and a "port for mobile broadband." It's uncertain whether this latter port is actually the same as the first port though, but hopefully, we'll find out by November.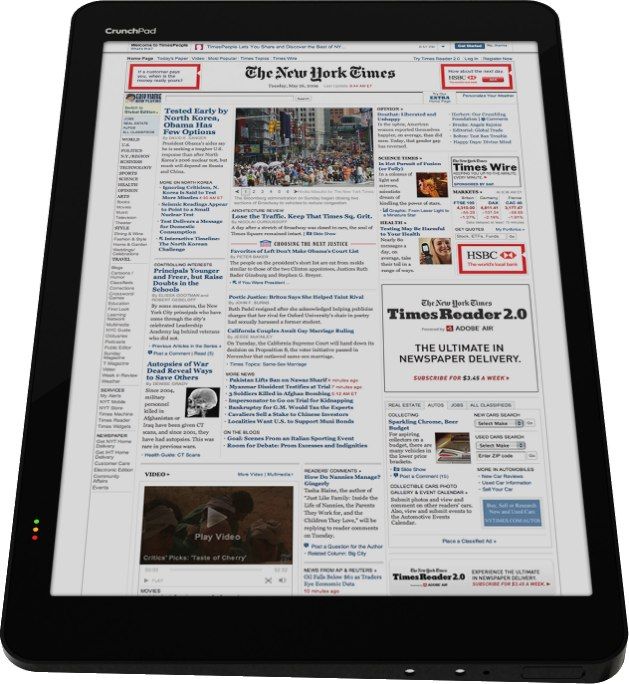 Via SlashGear.
Jul 31 2009
The CrunchPad prototype has been a running project over at TechCrunch since April, but since that time we've seen fairly sparse news about the thing. It's small, sexy, and apparently usable, and the whole thing's made all the more interesting because it's designed by a blog, not some computers giant.
It hardly needs to be said that once the Straits Times proclaimed the CrunchPad to be the "world's first tablet PC" with an exclusive demo by alleged developer Fusion Garage, industry eyes were drawn. Here's an exerpt from their article:
"The fully working model, called a Crunchpad, has a 12-inch screen and weighs 1.2kg. It allows users to watch YouTube videos, listen to music and edit documents, among other things. Its operating system, or OS, was also developed in-house. The device will not have storage space – which some analysts have pegged as a big drawback – and will instead run programs hosted on servers: so-called cloud computing."
Naturally, TechCrunch founder Michael Arrington has confirmed nothing in the article thus far. He was also apparently pretty F-ing pissed about the whole thing as well:
"re crunchpad, obviously i'm completely ripshit mad about all this unauthorized bs press: //bit.ly/2dVjBQ wtf."
The machine should pack an Intel Atom CPU, 1 GB of RAM, Wi-Fi and some sort of mobile broadband – it's a netbook sans keyboard and hard drive.
Rumors price the device at $400, though Michael Arrington hoped to make it cheaper. Stay tuned as this story develops.
Via CNet.
Jul 5 2009
For lovers of touchscreen devices, your wait for the newest touchscreen toy won't be for much longer. The recently mentioned CrunchPad smartphone-netbook-in-between will rumoredly go on sale for less than $300 soon.
Unlike a netbook, this device won't have a keyboard or hard drive and will boot directly into a web browser. The operating system for this in-between will be Linux-based and the browser will be WebKit-based.
This tablet will have a decent screen size of roughly 12 inches and be powered by the Intel Atom processor. The device will be roughly 16 millimeters thick and include an aluminum case which can come in various colors.
Via Aurum3NewTech.
Jul 3 2009
It is rumored that TechCrunch editor Michael Arrington has formed a startup company named CrunchPad. This startup has roughly 14 employees and is based in Singapore.
With the growing demand for mobile technology, Crunchpad has plans to enter the market with a device that allows for cheap and convenient Internet surfing, yet does not sacrifice screen size.
The product that CrunchPad is ultimately developing will fall between a smartphone and a netbook. Michael Arrington is rumored to make an announcement by the end of July. We'll have more updates as they're released, so make sure to stay tuned.
Via TechWhack.