If you want to be able to boot up your netbook at a super fast pace, you should try Ubuntu Light.  This version of Ubuntu will allow you to boot up your computers in 7 seconds flat.  Even though the naming convention of the platform may be misleading, this Linux distribution is by no means light on performance.  It still offers all the relevant tools that come with any standard desktop operating system, including access to a web browser and office suite, security features, and compatibility with lots of third party applications.
The tried and tested hardware that allowed Ubuntu Light to boot up in 7 seconds was a Dell Inspiron Mini 10v netbook with a 1.6GHz Intel Atom N270 processor.  Given that the processor is a bit dated, I'm sure the newer netbooks would have equal if not better performance in terms of boot up times.
Via UberGizmo.
Nov 30 2009
If you weren't able to get in on all the Black Friday netbook action, here are some Cyber Monday Windows 7 netbook deals to check out.
Dell Insprion Mini 10v – Touting the standard 10.1″ screen display, 1.6GHz Intel Atom N270 processor, and 1 GB of RAM, the Dell Inspiron Mini 10V netbook is available on Dell.com for $299, a $98 discount from the original price of $398.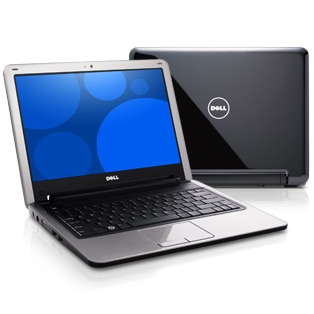 Dell Inspiron Mini 10 – Also equipped with a 10.1″ screen display, 1.6GHz Intel Atom N270 processor, and 1 GB of RAM, in addition to a 1.3 megapixel webcam and HD TV tuner, the Dell Inspiron Mini 10 netbook will be available at Walmart.com for $398 with free shipping. In comparison, it sells for $499 on Dell's website.
Toshiba Mini NB205 – This 10.1″ netbook boasts 1 GB of RAM, a 1.66GHz Intel Atom N280 processor, and a battery that can last up to 9 hours. You can grab your very own Toshiba Mini at Amazon.com for $329, which includes a $50 discount from the original price of $379.
Acer Aspire One AOD250 – Available at Walmart.com for $328 (with free shipping), this netbook's tech specs are no deviation from the standard. It has a 10.1″ screen display, a 1.6GHz Intel Atom N270 processor, and 1 GB of RAM. At least it has a 6 hour battery.
HP Mini 110 – Equipped with a 10.1″ screen display, a 1.6GHz Intel Atom N270 processor, and 1 GB of RAM, this Mini is available at Kmart.com for $309.99. That's only $20 off the original price, but a discount nonetheless.
This year, netbooks are on fire and Windows 7 is hot hot hot, so if you're interested you'd better get to these sizzling deals before they're gone. Otherwise, if none of these netbooks tickle your fancy, check out some of our previous Cyber Monday articles for more great deals. Happy (online) shopping!
Via RedmondPie.
Nov 27 2009
Black Friday is almost coming to an end and we're getting ready for some great Cyber Monday netbook sales. Here's a sneak peak of some of the action that's in store.
CyberMonday.com, a website powered by Mall Networks and initially created by retailers as a one-stop shop for awesome Cyber Monday deals, will be offering a Dell Inspiron Mini 10v netbook for $249, after a $139 discount. The Mini 10v netbook will come with the Windows XP operating system.
On CyberMonday.com, they'll also have a Deal of the Hour every 60 minutes. These items and offers will be announced on Sunday, November 29th, but are not limited to just netbooks – there'll be free shipping specials, price discounts, percentage discounts, and free gifts with purchase. If you're interested in getting some new stuff, make sure to check it out.
Via Duniyalive.
Nov 27 2009
The Chrome OS doesn't yet provide anything that the Chrome web browser doesn't, but we thought we'd share the procedure for downloading it onto your Dell Inspiron Mini 10v netbook anyway. First, grab yourself a USB drive that's 8 GB or greater. (The actual download is roughly 7.5 GB.)
Essentially, the installation involves copying the Google Chrome OS image file onto your netbook. You'll also need access to a computer that's running Linux in order to turn the downloaded IMG file to a bootable file.
Technically, a Dell employee (nicknamed Doug A) came up with this entire process as he was testing out compiling a copy of the Google Chrome OS for himself after seeing it run on various netbooks last week. Doug A explains:
"To copy onto an USB key (8GB minimum), find another Linux machine and utilize the "dd" command to put the image onto the USB key. Example: dd if=ChromiumOS_Mini10v_Nov25.img of=/dev/sdb. In this example, /dev/sdb is my entire USB key… use "fdisk -l" to see how your USB key is named for your particular environment. Be careful to select your USB device (again, use fdisk -l to double verify and confirm the correct device filename) and not another device…"
The Google Chrome OS image file for the Dell Inspiron Mini 10v netbook is named ChromiumOS_Mini10v_Nov25.img and can be found here.
Via MobileComputerMag.
Aug 12 2009
Dell has recently teamed up with Nickelodeon to bring to us the new Inspiron Mini Nickelodeon Edition netbook.
This Mini 10v netbook claims to take "personalization to new heights," since it adds a slime-green paint job as well as preloaded games, widgets, and parental controls (in the form of a custom interface by Stardock).
The planned release date for this netbook will be sometime in this coming October, and there will also be a Spongebob edition.
Via Wired.
Aug 8 2009
Have you recently heard rumors that Dell is doing away with its Inspiron Mini 12 netbook? Well, sadly (or maybe not?), those rumors are the truth. Dell has decided that it's time to retire the Mini 12.
According to Dell.com, the company has decided to retire this netbook partly because "for a lot of customers, 10-inch displays are the sweet spot for netbooks." Dell currently offers two versions of its 10″ Inspiron netbook – the Mini 10 and the Mini 10v.
As a side note, the Dell Inspiron Mini 9 is available again on Dell's website, but it's currently uncertain how long it will be available. If you want one, make sure to order it here before they're gone.
Via Dell.com.
May 7 2009
In mid-May, Dell will be releasing its newest netbook – the Dell Inspiron MIni 10v. Coming with this netbook will be a different processor than the one on with previous Dell Mini netbooks, as well as a new price tag. The Dell Mini 10v will have an Intel Atom N270 1.6GHz processor and be priced starting at $299 ($100 less than the Dell Inspiron Mini 10).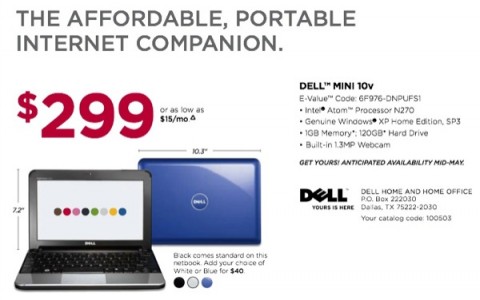 The 10v will also come with two new solid state drive options. These netbooks can be upgraded with 32 GB or 64 GB solid state drives, for an additional $75 and $125, respectively. (The standard drive that will come with the Mini 10v is a 160 GB 5,400 rpm SATA drive.)
Via SlashGear.