Acer, already the second largest computer maker in the world, has ambitious plans for the future. According to Bloomberg, Acer is tossing its hat into the already over-saturated yet underdeveloped market of eReaders, facing off with the likes of Amazon, Barnes & Noble, Sony, and others. No specifics have been announced other than it will have a 6-inch, monochrome (assume E-Ink) screen and ship in Europe.
More surprisingly, Acer is announcing an online apps store. Jim Wong, president of the Acer IT product division, has stated it would contain hundreds of applications, "otherwise you can't call it an app store." It will likely be a cross-platform marketplace for Android, Windows Mobile, and ChromeOS.
However, Acer's most stunning announcement is the fact it has announced plans to rush forward with a ChromeOS netbook to provide a "a change to the Microsoft-Intel environment," according to Wong. The mention of Intel hints that this new product line might be ARM powered as an alternative to the standard Atom on-board most mainstream netbooks. Acer plans to release the netbook sometime around Q3 2010, on schedule with Google's release date for ChromeOS.
Via Bloomberg, image via Wikipedia.
Nov 10 2009
The beta application for Amazon's Kindle for PC is ready to be tested out. It currently supports Windows XP, Windows Vista, and Windows 7, and the Mac version is reported to be coming soon.
The selling point of this Amazon creation is that you can read Amazon Kindle books without buying the actual Kindle e-reader. Amazon's trying to target roughly 85% of the computer-using population with this new application. Although reading on your netbook may not be as great as reading on an e-reader, at least they are around the same (convenient) size as a book.
To access and navigate Kindle for PC, you need to first download and install it. You can then sign into your Amazon account, where you will see your previous book purchases. Books can be sorted by title or author. Double-clicking on the book downloads it. You can navigate the pages of the book by using the mouse, arrow keys, or page up/down keys. There are 10 font sizes to choose from and Whispersync allows you to pick up from where you last left off when switching devices (from a Kindle to a netbook or vice versa).
Via JKOnTheRun.
Oct 5 2009
Microsoft has recently been cooking up some designs for a potential e-reader device. The production date for this new device, nicknamed Courier, is still uncertain but we can be sure that when these devices start materializing, Apple will be scrambling to push its tablet/netbook device…if it isn't already out yet.
Microsoft's new booklet could potentially be a hinged device with two touch-sensitive color screens. Stylus capabilities are also a possibility. The image shown below is only a graphic representation of what the Microsoft Booklet would actually look like, rather than a physical device.
The device is still in the works and Microsoft might not even develop it at all. We'll keep you posted on the developments.
Via TheWallStreetJournal.
Sep 10 2009
With more news about e-reader devices than ever, you'd think it has become the new netbook.
Yet another netbook and notebook manufacturer – Toshiba – has decided to enter the e-reader market. The company currently has plans to produce and sell its own e-reader device in mid 2010.
Two models are currently being evaluated, a 7-inch model that has already been approved for production and a 9-inch model that is still being considered. Toshiba considers touchscreen capabilities to be unnecessary so the new e-readers would not be touchscreens. No other details have been released about these e-readers.
With the Amazon Kindle, Sony Reader, and ASUS Eee Reader, to name a few, the competition for the e-reader market segment is getting tougher and tougher. We'll keep you posted on any developments.
Via JKOnTheRun.
Image via OECanada.

Aug 28 2009
Netbooks aren't the only devices becoming ever more popular nowadays. E-readers are growing in popularity as well. Amazon and Sony, among others, are significant players in this arena, with (respectively) the Amazon Kindle and Sony Reader.
ASUS is planning on joining in on the action with an e-reader device of its own that'll be marketed under the Eee brand, a brand that's famous for introducing netbooks into the world.
Jerry Shen, the president of Asustek Computer, says that the earliest launch date for such an e-reader (the Eee-book Reader) will be sometime near the end of 2009.
Other companies, such as MSI, are also looking into producing e-reader devices, so if you're interested in getting such a device in the future, you may soon have a plethora to pick from.
Via CNet.
Aug 10 2009
E-readers aren't our favorite devices here at NetbookBoards, but ever since someone suggested that the Kindle could be a netbook killer for literary types, we just can't get them off our mind.
So when some sneaky folks over at the HiPDA forums decided to leak the service manuals of Sony's upcoming e-readers, we had to get as much info as possible. Take a look: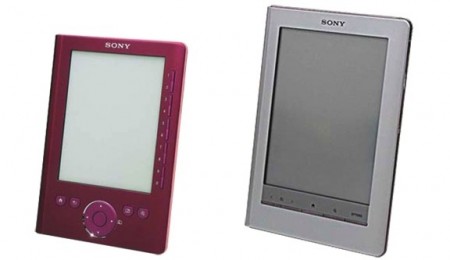 Those are the upcoming Sony PRS-300 and the larger PRS-600 ebook devices. The red one has a 5-inch 800 x 600 Vizplex e-ink display, much like the kind of display offered by Pixel Qi, and can show eight levels of grayscale. Weighing in at 7.76 oz and measuring 6.2 x 4.2 x 0.2 inches, it's a slender newcomer to the e-reader stage.
The lithium ion battery is good for 7500 page turns (recall that e-readers only use power when you turn the page). It will support "Unsecured Text: EPUB File (Non DRM/ Adobe DRM protected), BBeB Book (Non DRM/ PRS DRM protected), PDF file (Non DRM/ Adobe DRM protected) and Text, RTF  and Word files (unsecured)," and go on sale for around $199.
The grey one is the Sony PRS600-SC, with a 6-inch display of the same resolution. It adds non-DRM AAC, MP3 audio, as well as JPEG, GIF, PNG and BMP images. All other specs are expected to be the same, except it has a touchscreen layer. This means fingertip page turns, annotations, highlighting, and more will be possible. It has an on-screen keyboard, 512 MB of memory (like the 300) and should sell around $299.
These new releases are exciting, of course, but if you have any sense you'll get a netbook instead. Just throwing that out there.
Via SlashGear.
Jul 9 2009
Amazon has just dropped the price of their Kindle 2 by $60 to $299. But this price still isn't quite so tempting, especially since you can get a decent netbook for around the same amount of money. You know what would be tempting though? A "Kindlebook," a combination of both a Kindle and a netbook.
Yes, the Kindle is lighter in terms of weight and more compact in terms of size and the battery can last for days (way longer than that of a netbook), but a netbook has colored screen displays and far more functionality.
You can actually turn your netbook into a makeshift Kindle though. Here's how.
Amazon has a massive library of 275,000+ electronic books that are available for purchase at the touch of a button and can be downloaded in under 60 seconds, but there are also other sellers of electronic books. Some examples include eBooks.com, eReader, Fictionwise, and Mobipocket. eBooks.com offers roughly 168,000 titles.
Project Gutenberg has tens of thousands of books, many of which are free to download. Google Books also offers a large number of electronic books (1.5+ million), although some of them may not be complete versions.
Different electronic booksellers require different software to view their texts. For those who like to view their e-books vertically instead of horizontally, you can download EeeRotate for free here. It's especially designed for Eee PCs, but should work with all computing devices.
And if you want an even more portable device and don't mind a (much) smaller screen, you can just read e-books on your iPhone.
Want to go all out? Replace your screen with a Pixel Qi display once they're available commercially.
Via BNet.
Jun 1 2009
We mentioned that the Pixel Qi netbook e-reader screen was coming to market soon, but we didn't know the magnitude of the boosts in energy efficiency that the new screens could give.
Time got a look at some Acer Aspire One netbooks modded with the Pixel Qi 3Qi Hybrid display this week, and the results were astounding. The netbook has a toggle switch for changing between emissive and reflective display, which means you can use the netbook with LCD viewing for full color and video capability.
So how great will netbook battery be with the Pixel Qi display? Supposedly, e-paper mode only consumes energy during page changes, so battery on an Acer Aspire One could reach as much as 40 hours.
I don't have a clue who's going to be reading on a netbook for 40 hours straight, but the numbers are promising.  The screens should come in at under $200. That doesn't sound great, as that's 50% of the cost of a netbook without the screen, but as the technology gets cheaper the Pixel Qi e-reader screens should start to become mviable for new netbooks.
Via Gizmodo.
May 29 2009
If Pixel Qi has its way, the Kindle won't have much of a leg up on netbooks for readability. The startup plans to implement its e-reader screens on netbooks everywhere.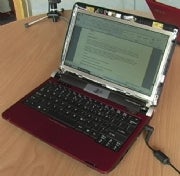 Mary Lou Jepsen is a former OLPC CTO and is showing off the new Pixel Qi product at Computex Taipei 2009, which falls next week. The netbook screen is called the 2qi, a 10.1-inch device designed for use in "a black-and-white e-ink mode for reading text documents and e-books, and two color modes, designed for use indoors or in bright sunlight, that are more suitable for Web surfing and video playback."
The E-ink mode turns off the back light to preserve the netbook's battery life. Many consider e-reader screens essential for avoiding the eye strain of reading documents and online books on a conventional display.
Jepsen says the screens will be on netbooks by the end of this year – perhaps a snazzy holiday gift? Amazon can't be happy with the development, as its Kindle e-reader will seem quite a bit less differentiated if the only difference between it and netbooks is its costliness, lack of a web browser, and form factor.
Pixel Qi COO John Ryan is proud of the energy efficiency delivered by the 3qi screen:
"What you're looking at is a screen that's entirely reflective… It's just running like e-paper so that it's running on the ambient light. It's not fighting the office light , it's not fighting the sunlight. That makes it better for reading but it also cuts the power consumption. The backlight in the screen is typically the largest power drain in any notebook computer."
You can say that again. Netbook battery life is a sticking point for many loathe to make the shift from desktop to netbook, and 6-cell batteries are expensive. Will Pixel Qi revolutionize netbooks with its e-reader screens? I hope so!
Via PCWorld.