Dell boasts that the M11x gaming netbook is the "world's most powerful 11-inch gaming laptop" and they're now competing against themselves to create an even better netbook.
The new M11x gaming netbooks will have the same graphics cards (Nvidia GeForce GT 335M) as before, as well as feature new Intel Core i5-520UM and Intel Core i7- processors.  Of course, the options now are also more expensive — $949 for the i5 model and $1,099 for the i7 model (versus $799 and $899 for their predecessors).
Both netbooks will feature TurboBoost technology, as well as an integrated Intel HD Graphics Media Accelerator.  The M11x netbook definitely is a heavyweight performer in its 4.4 pound weight class and doesn't totally break the bank.  If you're interested in gaming and on the market for a netbook, get out there and check it out!
Via ZDNet.
Jan 8 2010
This is truly glorious. Today at CES 2010, the all-new Alienware M11x netbook was released – a 4 lb no-compromises machine for gamers who can't sit still.
The Alienware M11x packs Nvidia discrete graphics and 4 hours of battery life for those plane rides when you really need to kick back and get your game on. It has a sexy backlit keyboard, classic Alienware styling, and price tag under $1000, coming this February.
Check out Revision3's video review below:
Aug 28 2009
Word over at Shanzai has it that Chinese PC manufacturer CASZH has created a netbook prototype featuring the Nvidia ION graphics chip. It should feature otherwise innocuous staples like the 1.6 GHz Intel Atom CPU, a 10.1-inch display, 1024 x 600 pixels, 1 GB of RAM, and a 160 GB hard drive.
The netbook can handle Blu-Ray decoding and HD video, but the low-res screen definitely won't do them justice. However, with a convenient HDMI port you can hook the computer up to an HDTV and take in all of that glorious video quality.
Other features include 2 USB ports, a microphone, flash card reader, Ethernet, Wi-Fi, and a 3-cell battery.
Chinese consumers could get the netbook for as low as $300, but that kind of pricing seems unlikely for US markets.
Aug 5 2009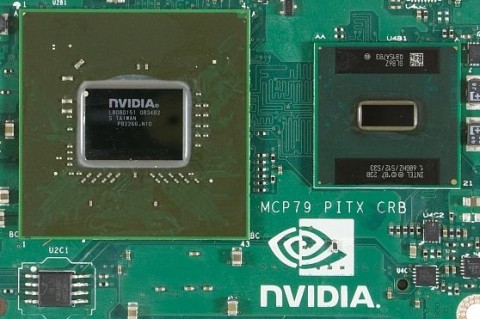 Even though Windows 7 is on its way, NVIDIA is focusing on the vast number netbook users still on XP by bringing the Ion graphics platform to that operating system.
The ION LE is identical to the existing NVIDIA 9400M mobile graphics Ion technology, but supports only up to DirectX 9 graphics rather than Vista's DirectX 10 or Windows 7's DirectX 11. Hopefully, this will augment the platform for better performance with XP.
Microsoft will only allow OEMs to install XP on lower-end netbooks for a year after the October release of Windows 7.
However, a vast majority of games and HD content still run on DirectX 9, at least according to NVIDIA senior product manager of GPUs Mat Wuebbling:
"For a $400 netbook, does [having] DirectX 11 really matter?"
Ion LE should provide the same performance and 1080p HD video as the Ion.
Via ComputerWorld, image via SlashGear.
Jul 22 2009
The Point of View Mobii ION 230 might be an eyesore, but it's not all for show. The new netbook pushes the competition just a bit by running the NVIDIA Ion platform with an Atom N230 CPU, which is usually reserved for nettops.
It comes with an upgradeable 1 GB of RAM and a 160 GB hard drive. One major flaw is a smaller battery, but Point of View claims the netbook can handle 1080p video, DirectX 10, and support for Shader Model 4.0. Unfortunately, its 10.2-inch 1024 x 600 pixel screen is unlikely to exploit that capability to its fullest.
The machine will likely still lag in graphics-intensive games, but this is surely a step up. Point of View reminds us that an affordable gaming netbook isn't impossible after all – we just need to put a little energy in it.
The Mobii ION 230 will soon be available in Europe in three colors – red, green, and black – for €349 ($495). US release dates, if they exist at all, are thus far unknown.
Via Engadget.
Jul 2 2009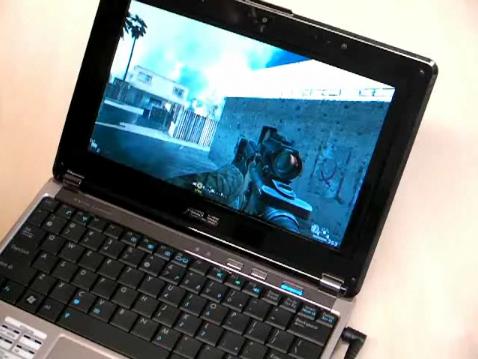 Though gaming on netbooks has often been seen as something as an impossibility, netbook users have been experimenting with how far a simple Win XP 1.6 GHz Atom netbook can go. There are videos out there of netbooks managing to emulate Nintendo systems. Web-based browser games have never been a problem for netbook hardware either.
While netbooks can't very well crank out the graphics of a game like Crysis, older titles – the NYTimes noted Asheron's Call and Civilization III – can be made to function smoothly. Intel recently threw together a list of games that have been tested on the Mobile Intel 945GM Express chipsets, commonly used to power netbook graphics in a variety of models.
Screen size is always an issue for gaming, and default RAM setups can hinder gaming as well. However, updating graphics drivers or installing more memory makes gaming on your little machine a very real possibility.
Don't have an optical drive? Try downloading games from a client like Steam.
Picture via SlashGear.
Jan 7 2009
ASUS demonstrated the new Eee PC T91 today, an 8.9-inch touch-sensitive netbook that works like a Tablet PC with its swiveling monitor.
According to ASUS CEO Jonney Shih, "It's the superset of the original Tablet PC." It will be able to act as a digital photo frame, GPS navigation system, and possibly a game console. CES 2009 has already been promising amazing things for future netbooks, and so these shouldn't be out of the question.
ASUS also expanded the Eee Top line, which Shih calls an "Internet appliance" for the home. It has gesture navigation, soft-stylus handwriting recognition, and an Opera browser optimized for touch controls. It was shown using Windows XP.
Via the Seattle Times.
Dec 13 2008
Netbooks have barely been around for a full year, but they're suddenly all over the place. Why? How?
A few years back everyone thought ultramobile PCs were the thing, but they turned out to be too tiny, too expensive, and overall too unpopular to make it. Netbooks seem to have slipped into the gap where they're just the right size and price to please consumers.
It's interesting how this idea fits into the situation of netbooks. Over and over again, the tech industry tests the ideas thrown in its path: big cheap computers, small expensive ones, mobile ones, powerful ones. Some ideas fail but some just hit the spot. For many there's no way to predict those victories – they seem arbitrary and random, inexplicable successes. But for the engineers and tech experts working on them, they're difficultly won.
The big idea of netbooks is that they were inspired by the One Laptop Per Child organization, which distributed XO computers to children in third-world countries. Who knew the day would come when businessmen would run the same computers as the poorest countries in the world! Another influence was Transmeta, which made a move to conquer the budding market with its processor specifically designed for portable computers. Intel freaked out and threw together the Intel Atom we're all too familiar with.
Mark Anderson is the brain behind Strategic News Service, the successful hi-tech newsletter. In '97 he thought up 'Project Hoover'; a concept derived from a meeting of the biggest minds in the PC industry. Project Hoover delivered a new generation of devices for emerging nations. The big companies eventually drifted off but Anderson drilled the idea a little further and came up with the 'Carry Along PC'.
He got it right; a tough, portable, cheap, well-sized device for mobile computing… if you haven't figured it out yet, that's a netbook. He spoke with a confident hope: "[Netbooks] will be the best selling [computers] ever made because [they are] a great computer for the human body.
Anderson's mentioned that he doesn't love the name 'netbook', because for him netbooks will do more than just surf the net. His dream is coming true – just check out
our article
on the gaming netbook from ASUS.
So, why are netbooks so successful? They've gotten everything just right. For now we can only watch and hope consumers continue to agree.