Toshiba and Gateway are both expected to announce new Pine Trail netbook selections at CES 2010 in a few days. Canadian reseller Future Shop shows the netbooks to have similar spec lists – 1.66 GHz Atom CPUs, a 160 GB HDD for the Gateway and 250 GB for the Toshiba netbook, 10.1-inch screens, a Gig of RAM and Intel GMA 3150 Express graphics.
Both machines will come with Windows 7, but they differ on one critical metric: the Gateway netbook is priced at around $285, while the Toshiba machine will sell for around $438 USD. There may be significant differences in the build quality or extra specs in the machines, so we'll hopefully be able to explain this price difference by the time the Consumer Electronics Show rolls around.
Via CNet, image via Future Shop.
Nov 17 2009
SquareTrade, an independent warranty provider, has done research on the failure rates for 30,000+ netbooks and laptops covered by warranty plans. They've found out that roughly a third of laptops will fail within three years and that the failure rate for netbooks is 20% higher than that for laptops.
Further breakdown of the results indicate that 20.4% of laptop failures were due to hardware malfunctions and 10.4% were due to accidential damage. Here's a graph showing some empirical evidence:
5.8% of netbooks malfunction within the first 12 months of ownership, which is 20% higher than the malfunction rate for entry-level laptops and 40% higher than the malfunction rate for premium laptops. The projected malfunction rate for netbooks over a three year period is 25.1%. Compare this to 20.6% for regular laptops and 18.1% for premium laptops.
ASUS Eee PC and Toshiba netbooks and laptops tend to be more reliable. Fewer than 16% of Eee PC and Toshiba owners reported a hardware malfunction over a period of three years. Acer, Gateway, and HP machines had relatively higher malfunction rates.
Here's another graph to show the 3-year laptop malfunction rates for different laptop manufacturers:
Via Gizmodo.
Oct 5 2009
Portable TV, now wouldn't that be great? Well, soon it may not be too far-fetched from reality. Some photos have been spotted of convertible laptops – the Gateway EC18T, in particular.
These Gateway laptops are rumored to have 11.6″ screen displays and be powered by Intel Core 2 Duo processors and GS45 Express chipsets. Up to 4 GB of DDR3 RAM can be installed on these notebooks, which would run on either the Windows 7 Home Premium or Basic OS.
Other details for this notebook, including pricing and availability, are currently unknown. Now only if these TVs came in netbook form. No doubt consumers would be snapping them off the shelves faster than retailers can restock, all at the right price of course. If anything remotely similar ever comes out, you can be sure we'll be the ones to let you know.
Via APCMag.
Oct 5 2009
While Verizon's netbook "deal" may not actually be a "steal," the Gateway LT2016u netbook actually does have a pretty decent battery.
Equipped with a 6-cell battery, the machine lasted six hours and six minutes on a standard Wi-Fi battery test. Four hours and forty one minutes was the reading for operating on the 3G network. Considering that 3G drains a netbook battery pretty quickly, the latter record is not bad at all.
The Gateway LT2016u also offers a meter so you can keep track of your data consumption. To learn more about Verizon's Gateway netbook offering, check out one of our previous articles.
Via Laptop.
Jul 20 2009
Gateway's "sleek and compact" 10.1-inch LT2000 comes in at just $299 and joins a line of increasingly competitive Gateway netbooks. Earlier entrants by Gateway were hardly interesting, but lately the company has picked up the pace.
It supports multi-touch, like the Acer Aspire One, and is available in NightSky Black and Cherry Red.
The LT2000 should be available to order today. Check otu the specs below, lifted from CNet:
Gateway LT2001u

Intel Atom Processor N270 (1.60GHz, 533MHz FSB, 512KB L2 Cache)
Genuine Microsoft Windows XP Home (Service Pack 3)
10.1-inch WSVGA 16:9 ratio TFT LCD (1,024×600 resolution)
Mobile Intel 945GSE Express Chipset
1024MB DDR2 533 MHz SDRAM
160GB SATA 5,400RPM Hard Drive
Integrated Intel Graphics Media Accelerator 950
Multi-in-1 Digital Media Card Reader
802.11b/g Wi-Fi
Web Camera
Two Built-in Stereo Speakers
Dolby Headphone Technology
Three USB 2.0 Ports
3-cell Li-ion Battery
One-Year Standard Warranty
2.62 lbs.
10.17 (w) x 7.24 (D) x 1.03 inches (H)
Manufacturer's Suggested Retail Price: $299
Via CNet.
Jun 23 2009
AMD has strongly expressed doubts about the netbook world before. When its Athlon Neo processor was used in the HP Pavilion DV2, AMD decided that there was little to be found in the budget laptop category and that it had no intentions of developing a netbook CPU.
Apparently that's now all going to change. Gateway announced the LT3103u netbook at $400 using – you guessed it – an AMD Athlon 64 processor.
PC Mag explained how crucial this is:
The Athlon 64 L110 is rated at 1.2 GHz, with 512 MB of L2 cache and support for an 800-MHz front-side bus. The Intel Atom N280, meanwhile, is rated at 1.6 GHz, with a 512 MB L2 cache and support for a 667-MHz FSB. The upshot? These two netbook processors will be going head to head.
And that's not all. The LT3103u ships with 2 GB of memory, making it a powerful contender against the 1 GB standard in the industry. Even the graphics module, an ATI Radeon X1270, is better at tasks like HD video decoding than Intel's chipset.
The new Gateway netbook comes in glossy red or black with metallic accents. It's a tad heavy at 3.1 lbs, which can be credited to the 11.6-inch, 1366 x 768 pixel screen. The display can support up to 720p HD video.
The LT3103u has a full sized keyboard and 3 USB ports. Other features include a hefty 250 GB HDD, 3 USB ports, an integrated webcam and multi-card reader.
Gateway has never before delivered a machine capable of competing with the major netbook models, but the LT3103u may just be it. When benchmarks and battery tests are released we'll know how seriously to take Gateway's netbook, so check back soon for more info.
Jan 14 2009
Gateway, a technology company owned by Acer, has released its second netbook to the market. The first was the Gateway LT100J, released overseas back in December.
The Gateway LT1004U uses the Atom N270 processor, has 1 GB of RAM, a 160 GB hard disk drive, and an 8.9-inch display. Sounds a lot like an Aspire One, right?
Well, it turns out the LT1004U is just a rebadged version of the Aspire One. You'll pay Office Max about $30 more for the Gateway labeling and the new silver or black design, but otherwise it's the same machine.
Via SlipperyBrick.
Dec 12 2008
Gateway, a subsidiary of Acer, has been working on its very own netbook, the LT1001j. It is due to be released in Japan this month, but because of the similarities to Acer's Aspire, it will not be released in the United States.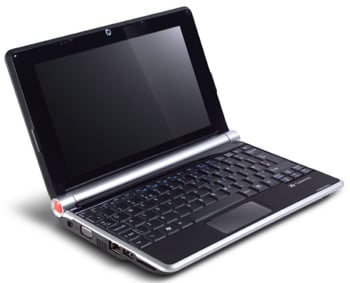 Features:
1GB RAM
8.9-inch display with WSVGA (1,024×600) resolution
0.3M webcam
USB 2.0 and SD card slots.

1.06kg
Powered by an Intel Atom N270 processor and Windows XP OS.
[via GearLive]