Google has brought us a variety of wonders and many of their innovations synergize perfectly together to create an altogether smooth experience. One thing people are anticipating greatly is the release of Google's Chrome OS. The Chrome OS will be intended only for netbooks, as it is a simple browser-based operating system that doesn't demand much processing power.  Companies such as Acer are working with Google to release netbooks with the OS as soon as possible, and it is rumored that they could be releasing one as soon as June. This rumor however was denied by Acer.
Google has a lot on their plate, as Android's success is gaining momentum. Google will need to keep its focused balanced in order for both Chrome and Android to do their best. The key for Chrome will be the apps that it will have available for the users, thus Google is focusing on having an app store up and running.
It also must be noted that Computex is just around the bend and unfortunately one thing spectators should not expect to see is the Chrome OS.  It is likely then that consumers will just have to wait until the fall to see the Chrome OS.

Via Wired
May 17 2010
At the most recent Ubuntu Developer Summit (UDS), part of the discussion revolved around the changes that would be coming to the default applications released with the Ubuntu Netbook Edition 10.10 software package.
One item on the list of changes is in regards to the default browser that comes with the Ubuntu software.  Instead of using Mozilla Firefox as the default web browser, Google Chrome might serve as its replacement.  Whether or not this change will happen will depend on if there is enough storage space available.
The proposition is that Chromium will be used until the software's Alpha 3 stage, at which point further decisions regarding which will be the default browser as part of Ubuntu Netbook Edition (UNE) will be announced.
Via UbuntuHQ.
Jan 26 2010
Word on the net says that MSI's much-anticipated dual-monitor netbook, first seen at CES 2010, will be making an appearance on store shelves within a few months.
The netbook packs two 10″ monitors, one of which can be used as a keyboard with haptic feedback. While initial expectations were that MSI's dual-screen netbook would run Windows 7, an interview with LaptopMag reveals that it could actually end up running the Google Chrome OS.
MSI says it will launch the netbook with 4.5 hours of battery life and e-reader capabilities. They may also add in a 7″ version of the tablet netbook by the time the original is released in Q3 or Q4.
As can be expected, info on pricing is not yet available, but I'm sure MSI will be doing its best to get the word out once a few more months go by.
Via I4U, image via Engadget.
Dec 2 2009
Acer says it will be the first PC maker to get a Chrome netbook on the market.
The news was announced in Chairman J.T. Wang's recent interview with Digitimes, in which the Chairman stated that he was "confident" Acer would be the first.
The announcement shouldn't be tremendously surprising – Acer is one of the only manufacturers with an Android netbook on the market, so it makes sense that it would use this partnership with Google to jump into the Chrome space ASAP. We should expect Acer's Chrome netbook by mid-2012.
The world's second-largest PC maker has designs on being the first to offer a Chrome OS Netbook. However, this new machine's hardware shouldn't just be more of the same – Google says new Chrome netbooks will have bigger keyboards and screens, SSDs, 802.11(n) Wi-Fi and x86 or ARM processors.
Via CNet.
Dec 1 2009
The netbook world has been eagerly anticipating the Google Chromium OS since its initial announcement just a few months back, and Dell has already released a beta for those of us too impatient for the real thing. However, the work isn't over; we could be getting a number of unanticipated but welcome features come the official release.
A recent demo displays the Chromium UI with a user accessing music playback application Lala. Google already uses Lala pop-up windows to play music through Lala in its search engine, and hopes to implement this as an attraction to prospective Chromium netbook buyers.
Lala sells streamable songs for 10 cents each and hosts users' old music collections in the cloud. This will allow owners to get their music from anywhere with internet access without lugging around gigs of data, something netbook lovers in particular tend to appreciate.
And even if you don't have internet access, Lala says its upcoming iPhone application will keep the last few hundred songs you've listened to on tab so you can play them without the internet. This could be a welcome addition to Chrome as well.
Anyway, here's the demo:
Via Wired.
Nov 29 2009
The Chromium OS has been open-sourced for hardly a week and some industrious tinkerers over at Dell have already delivered a beta version especially designed for the Dell Mini 10v netbook.
Here's how to get it:
I have released an USB key image file to: //linux.dell.com/files/cto. The file name is: "ChromiumOS_Mini10v_Nov25.img."  It contains a functioning image of my USB key loaded with ChromiumOS.  In addition, I have made a best effort attempt to get the Broadcom Wi-Fi adapter working in this image.  It's definitely not perfect (read: highly experimental, untested, unstable, yada yada…) but it does appear to function.
This version's boot time is around 12 seconds, a bit longer than earlier reported. The makers mentioned a few other minor issues you might be interested in knowing about:
It will take more than 5-10 *minutes* for the ChromiumOS network connection manager to "see" the access points and allow you to select and connect – be patient.
Wired connections appear to work fine and appear quick to connect.
There are currently issues with both the connection manager as well as the underlying components (wpa_supplicant) that can easily break or get hung. When in doubt, reboot and give it another try.
Use this image at your own risk – it comes to you totally unsupported and very minimally tested.
Still, for the amount of time that the Chromium OS has been available for netbook users to mess with, it looks like a solid effort. For more info on how to get Google's new operating system on your netbook, read the article over at Dell.
Nov 27 2009
The Chrome OS doesn't yet provide anything that the Chrome web browser doesn't, but we thought we'd share the procedure for downloading it onto your Dell Inspiron Mini 10v netbook anyway. First, grab yourself a USB drive that's 8 GB or greater. (The actual download is roughly 7.5 GB.)
Essentially, the installation involves copying the Google Chrome OS image file onto your netbook. You'll also need access to a computer that's running Linux in order to turn the downloaded IMG file to a bootable file.
Technically, a Dell employee (nicknamed Doug A) came up with this entire process as he was testing out compiling a copy of the Google Chrome OS for himself after seeing it run on various netbooks last week. Doug A explains:
"To copy onto an USB key (8GB minimum), find another Linux machine and utilize the "dd" command to put the image onto the USB key. Example: dd if=ChromiumOS_Mini10v_Nov25.img of=/dev/sdb. In this example, /dev/sdb is my entire USB key… use "fdisk -l" to see how your USB key is named for your particular environment. Be careful to select your USB device (again, use fdisk -l to double verify and confirm the correct device filename) and not another device…"
The Google Chrome OS image file for the Dell Inspiron Mini 10v netbook is named ChromiumOS_Mini10v_Nov25.img and can be found here.
Via MobileComputerMag.
Nov 25 2009
Google wants everyone to use their browser and what better way to do that than to provide low-cost bare-bones smartbook or netbook technology pre-installed with the Chrome OS? The company may look into advertising to cover the losses they may have to take for providing these rumored smartbooks and netbooks, but they also just acquired Teracent, a company that specializes in personalized display advertising.
The Chrome OS is free and most data is stored in the cloud anyway, so this situation would be quite feasible for Google. $20 per unit may seem a bit low, but you never know what'll happen. Think Google will give out free smartbooks and netbooks? It could happen.
Via I4U.
Nov 21 2009
Google says Chrome's coming in 2010, and while some analysts correctly predicted that the project would be open sourced within days last week, the IDC is now saying that Google Chrome won't see serious enterprise adoption for 10 years.
Analyst Al Hilwa of the IDC backed up this position by saying that, while updating on the cloud might be fantastic for Chrome OS netbook users, enterprises won't easily get on board with the concept:
"[Cloud-based updates] are not going to eliminate problems. You'll still have occasionally an update that comes in and it will screw up something. Enterprises don't want to see that kind of thing. I think they're making some bets on this and it will be interesting to see how it plays out."
Furthermore, the fact that Chrome OS and the Chrome browser only run Web apps without access to downloadable local apps could be a turn-off even for netbook users:
"You wonder if netbook users are going to be okay with that, and if they will want to store everything in the cloud. Before it's all over, there's going to be some offline applications and then there will be some offline usage of data. They're going to have Flash memory and people will store data locally. There's almost no way around that."
Based on that reason, Hilwa's perspective is that Chrome OS will be a consumer phenomenon for five years, but it'll be 10 years before Chrome OS can get 5% of the enterprise computing market in on the fun.
Via eWeek.
Sep 30 2009
Shanzai.com, citing "trusted industry insider sources," claims that we're going to see the Google Chrome OS some time this October. This claim comes despite the fact that Google is projecting release mid-2010.
Netbooks will be the initial targeting category for the new OS, says Shanzai, but UMPCs and tablets will get their hands on Google Chrome if a test in netbooks goes well.
The idea of an October release is certainly appealing, especially considering that that's when Windows 7 will be released as well. I'll admit, an OS war would be a lot of fun, but I can't quite get myself to drink the Kool-Aid on this one.
We'll see who's right by Halloween, anyhow. Expect updates as the rumor mill churns on.
Aug 7 2009
Rumor has it that the first Eee PC pre-installed with the Moblin open source operating system will be available for purchase beginning in October of this year. Furthermore, there's another floating rumor that the company may even make this an option for all its notebooks sometime in the future.
And, as if that weren't exciting news enough, another rumor is that ASUS is working closely with Google to prepare for the deployment of the Chrome operating system on its computing devices. The deployment may occur not too far from the present.
ASUS has experimented with Moblin in the past, so these rumors may have an inkling of truth to them. But we'll still take them with a grain of salt. Hopefully, we'll know more about what the company is cooking up soon, and when we do, you can be sure that we'll let you know.
Via Engadget.
Feb 17 2009
Netbooks are built for efficiency. If you want efficiency, you need to make the most out of what little space your machine offers you. While leaving a few unused applications on your desktop or laptop might not kill you, a netbook needs to be pure muscle to be able to work right.
With this in mind, we'd like to suggest eight netbook applications that will maximize your machine's processing capability and speed, so you can spend your time and money on other things.
This free download gets you open-source alternatives to expensive (but crucial) Microsoft Office products. It contains Writer for word processing, a spreadsheet application called Calc, Impress for presentations, Base for databasing, Draw for editing diagrams, and even an editor for math formulas called Math. Each of these would do wonders for anyone, especially students on a budget needing to take notes in class on a mobile machine. Getting files from people using Microsoft Office might be problematic, so factor that into your choice.
While FireFox may be great for notebooks, Chrome is thought by many to be a faster option for web browsing. It could shave some flab off of your netbook, so give it a try.
PortableApps is a pre-selected group of netbook applications. It comes with an antivirus program (ClamWin), an IM device (Gaim), OpenOffice, and a Sudoku program. It also brings in some Mozilla applications including FireFox, Sunbird, and Thunderbird. The whole thing will only tax your machine 512 MB, and you can include whichever applications from the list that you want.
You didn't think we'd leave Linux out, did you? Xubuntu is like Ubuntu, just optimized for older computers or, as the situation would have it, netbooks. It's not an application itself, persay, but it comes with all kinds of netbook-ready applications: the Abiword word processor, Catfish desktop search, Evince PDF reader, Firefox, the GIMP graphics editor, a spreadsheet program, text editor, calendar, internet messenger, Thunderbird, IRC, and more.
Also in the Linux category is LXDE (Lightweight X11 Desktop Environment), an open-sourced desktop system meant to save resources on a massive scale. It's thought to do so better than KDE or GNOME, both of which are popular alternatives.
RocketDock is an application launcher with some easy-to-use, awesome looking features. It works faster than a lot of object docks in netbooks right now, so be sure to  see if it works for you. This video does a good job of summarizing its features.
This lightweight netbook application tracks how you use resources on your machine. If you're constantly eyeing Windows Task Manager for this, be sure to take TinyResMeter. It does a far more specific job of analyzing your resource use and helping you adjust accordingly.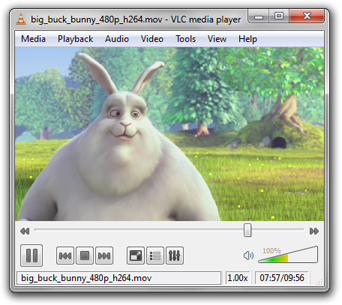 Running video and audio content is a rickety process on a lot of netbooks. On either a Linux or Windows machine, the VLC Media Player application can help you access just about any popular file format while throwing out some of the flashier aspects of WMP or iTunes.
Of course, these eight aren't the only great apps out there. You can also access all kinds of helpful applications with little resource expenditure by cloud computing. Some examples of online hosting are Ulteo, which gives you 1 GB of free online storage, or a variety of choices from Google Apps.
Another trick is to host a few of these apps on a cheap USB drive, so you don't need to expend your netbook's precious space to get in on that extra capability.
With a few simple alternative choices, you'll be able to keep your netbook running longer and for cheaper. If you've got any personal tricks for boosting the capability of your netbook, be sure to let us know them.
Via Gigaom.