We just got wind of some new information about Acer's first Intel Atom N450 netbook, the Aspire One 532h. This 10.1″ computing machine has 1280×720 resolution, is powered by an Intel Atom N450 processor and Intel GMA3150 chipset (an upgraded version of the current Intel GMA950), and comes with 1 GB of RAM and either a 160 GB or 250 GB hard drive.
Other specs include Wi-Fi, a memory card reader, optional Bluetooh, three USB 2.0 ports, a D-sub connector, a webcam, and Windows 7 Starter Edition. There's an option for either a 3-cell or 6-cell battery as well.
The base price for the Aspire One 532h netbook is €299 (or ~$441 USD), slightly more expensive than its predecessor, the Aspire One 531h, but as there's nothing exceptional about Acer's newest Intel Atom N450 netbook, if you have a netbook already, you need not worry too much about upgrading.
Via SemiAccurate.
Nov 16 2009
At first glance, Lenovo's latest Ideapad ultraportable netbook, thus far named the FL5-B3,  is pretty typical, but at least it has an interesting CPU. The 10.1″ FL5-B3 netbook has 1024×600 resolution and is equipped with a 1.66GHz Intel Pineview processor (most likely the N450), 2 GB of DDR2 RAM (a Samsung chip), and a 250 GB 5400 rpm Seagate hard drive.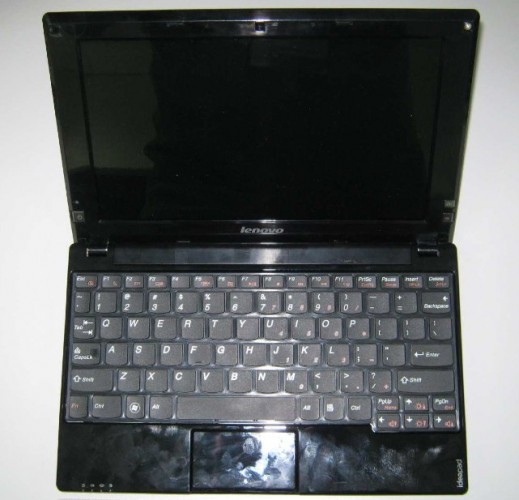 Designwise, Lenovo's new Ideapad netbook will be similar to previous IdeaPads, but as you can see in the photo above, this little sucker will be a fingerprint magnet. Also, there is no trackpad button in this model, which implies that there will be some form of integrated clicking.
Unfortunately, since Intel is not releasing Pineview until at least January 2010, this Lenovo netbook is not likely to show up until early next year either. At least the wait's only a little bit longer.
Via Slashgear.