Haier is a Chinese firm that makes refrigerators and air conditioners. Starting on CES 2010, it will make netbooks, MIDs, and laptops as well.
The company is sending off three swivel screen netbooks running Intel Atom CPUs. The first is the Haier X220, a 10-inch tablet netbook with a 1024 x 600 pixel screen, Atom N270, 1 GB of DDR2 RAM and Intel GMA 950 graphics, selling for $450 with a 3-cell battery.
The other two netbooks are very similar. Labeled the Haier X210 and X107H, these netbooks will start out with Atom N270s but get 1.7 GHz Pine Trail Atom N450 chips at a later date. Other specs include 10-inch 1024 x 768 pixel screens, a 160 GB HDD, 1.3 Megapixel webcam, and cramped 85% screens. They include mouse buttons integrated into the touchpad, much like you'd see in the Dell Mini 10v netbook. These netbooks will sell for $330 and come with EVDO and WCDMA 3G cards.
Haier also says it's planning a 9-inch smartbook running Google Android and packing an Nvidia Tegra chipset and ARM Cortex 650 CPU. Despite its smaller screen, the keyboard on the Haier smartbook will be the same 85% size.
Lastly, Haier will be unveiling its Haier T3C and Core i5 laptop computers at CES 2010. The T3C is a 13.3-inch widescreen CULV laptop with the Intel Core 2 Duo U3500 chipset, 2 GB of DDR2 RAM 250 GB HDD, and 10 hour battery life. The Core i5 laptop will have similar features and a 14-inch widescreen display.
Via PCMag, image via Haier.
Jan 3 2010
Toshiba and Gateway are both expected to announce new Pine Trail netbook selections at CES 2010 in a few days. Canadian reseller Future Shop shows the netbooks to have similar spec lists – 1.66 GHz Atom CPUs, a 160 GB HDD for the Gateway and 250 GB for the Toshiba netbook, 10.1-inch screens, a Gig of RAM and Intel GMA 3150 Express graphics.
Both machines will come with Windows 7, but they differ on one critical metric: the Gateway netbook is priced at around $285, while the Toshiba machine will sell for around $438 USD. There may be significant differences in the build quality or extra specs in the machines, so we'll hopefully be able to explain this price difference by the time the Consumer Electronics Show rolls around.
Via CNet, image via Future Shop.
Dec 30 2009
One French retailer has prematurely listed the Samsung N220 netbook for sale, and the listing has come with what we've eagerly awaited – the spec list.
While most of the features are bread and butter for the netbook world, the Samsung N220 comes with the new energy efficient Intel Atom Pine Trail CPU. It will have a 'glossed green' plastic finish, 10.1-inch display, GMA 3150 graphics, a gig of RAM and a 250 GB HDD.
Samsung is offering its chiclet keyboard for the N220 netbook, something consumers seem to love or hate. The six-cell battery will supposedly run for 11.5 hours of battery. The claim is far-fetched, but if it turns out to be true I certainly won't complain.
The N220 will cost €350 ($501) in France.
Via Nexus404.
Dec 8 2009
Some interesting news has just been revealed from the Netbook World Summit in Paris. Samsung Notebook Product Manager, Jaewoo Seo has revealed that Samsung will be revealing their new lineup of Intel Pine Trail platform-based netbooks in January 2010. Surprise, surprise.
Many of the larger netbook manufacturers are already planning to show off their new Pine Trail-based netbooks in January at CES 2010. Samsung claims that their new netbooks will have a superthin design and have longer lasting batteries. Considering that Samsung already makes netbooks that excel in these categories, we can't wait to see what the manufacturer has in store.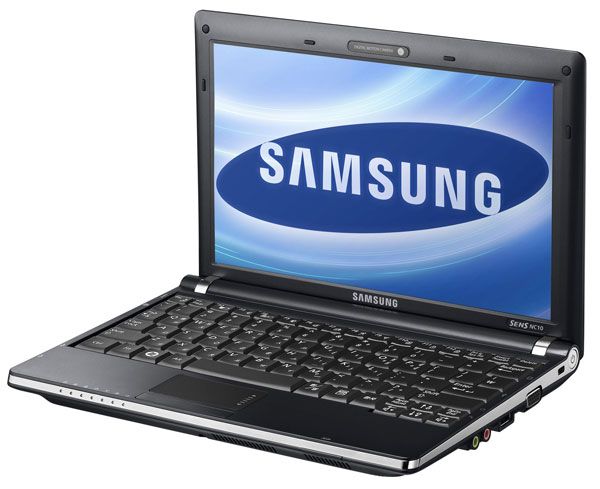 In addition, Samsung is rumored to show at least one netbook with a touchscreen display. Samsung's new Pine Trail-based netbooks will feature an instant on OS, which will allow quick and easy access to the Internet and to selected software.
Via NetbookChoice.
Dec 5 2009
Lots of new technology and applications will be coming out in 2010. Intel, for one, will be jumping into the competition with an app store that will be exclusively for netbooks. In fact, it'll come pre-installed. Of course the 50 million expected shipments of netbooks in addition to the release of the Intel Pine Trail Atom processor also provide an incentive for Intel to launch an app store.
Fortunately, the director of Intel's Developer Network, Scott Apeland, says that "The Atom Developer Program doesn't favor one OS over another, and at its core, the program is meant to facilitate development across multiple OSes… we plan to expand support to different run-time environments, including Adobe AIR and Microsoft Silverlight."
Developers will be raking in the dough with this new rollout, getting 70% of revenues made, similar to the system in place for Apple. Launch dates for Intel's new app store are currently up in the air, but no worries, we'll keep you posted.
Via FierceCio.
Nov 24 2009
Intel's newest Pine Trail processor is set to get inside new netbooks in the near future. Nobody seems to know for sure what the netbook world will gain from them just yet, but what we do know is that the design integrates graphics functions – previously stationed on an auxiliary chip – with the main CPU.
For consumers, this should mean some serious improvements in important areas, according to Intel executive VP Sean Maloney:
"Better battery life. But performance more than anything,"
HP has even held off on selling preconfigured HP Mini 5101 netbooks from the HP website, preparing for new models involving the new Pine Trail processors.
A Dell spokesperson signaled that Dell is in as well:
"You can expect that Dell will be offering products based on Intel's next-gen Atom platform, aka Pine Trail."
We won't be seeing much of the Pine Trail until 2010, but before you know it, Black Friday will be over, holiday shopping will be through, and it will be time to kick it with a new Intel Atom.
Via CNet.
Nov 19 2009
While most netbook users are looking forward to the release of Intel's Pine Trail platform in early 2010, the company itself already has plans to further upgrade the Intel Atom platform in 2011. The newest platform will be dubbed "Cedar Trail."
Since 2011 is still quite far away, no other information is available on this new netbook chipset, but we'll keep you posted on any future developments.
Via Fudzilla.