According to two people familiar with Amazon's plans, the company is planning to introduce a new, thinner Kindle this August. The new Kindle will mostly likely be in response to traditional competitors of Kindle, like e-readers made by Sony and Barnes & Noble, not the iPad, which is a recent introduction.
The new Kindle will not have a color screen or touchscreen capabilities. It will have a black and white screen with sharper contrast to make e-books look more like printed books. Amazon hopes to eventually make an e-reader with a color screen.
The Kindle and its competitor, the Nook made by Barnes & Noble, both sell for $259. Sony's e-reader, which has a touchscreen, sells for $199. The iPad starts at $499. According to a research firm, about 6 million e-readers will be sold this year, which is twice the amount sold last year.
Amazon bought a company earlier this year that specializes in touchscreen technology, so a touchscreen e-reader with a color display could be a feasible future product for Amazon.
Via BusinessWeek, image via Amazon.
Apr 23 2010
Amazon was probably not too happy about the release of the iPad because the iPad poses a major threat to Amazon's Kindle. Though the iPad is more than an e-reader, it does have e-reader capabilities that have been touted by Apple. Amazon is astute and realizes this threat.
Though Amazon just posted earnings that exceeded expectations, its predictions for the next quarter are a bit more conservative. Amazon gets a lot of its revenue from the Kindle, so lower earnings would probably result from a slowdown in Kindle sales. Though the Kindle is an obvious choice for people who would want a device just to read books on, those who want more capabilities would be much better served by the iPad.
The iPad has created trouble for Amazon and probably will continue to do so. It will be interesting to see how e-readers fare with the iPad on the market.
Via Tainted Green, image via Amazon.
Mar 21 2010
Apple's upcoming device, the iPad, has long been seen as a competitor to Amazon's Kindle. Not only may the iPad bring about the end of the Kindle, but it may help Apple cash in on a market that the Kindle was never able to: education.
Of course, Apple does sell many products on the education market. But the iPad may be especially convenient for students because of its small size, e-reader capabilities, and versatility. The Kindle was tested at several major universities and just seemed to lack something and was never a good fit for students.
Recent estimates speculate that Apple may be shipping as many as 190,000 pre-ordered iPads to customers in the first week of the iPad's release (this is just a guess, though, as no official numbers have been released). Perhaps in a hope of catering to the education market, Apple has lowered the price of the iPad by $20 when ten or more of the devices are ordered for educational use.
Via Tainted Green, image via Apple.
Mar 14 2010
Apple's iPad looks set to be a huge success, and this has competing companies worried. If competing companies do not improve their products that are meant to compete with the iPad, these products simply won't sell and will be overshadowed by the iPad. Obviously they do not want this to happen, so companies such as Amazon, HP, and Microsoft are hard at work creating products that will be able to compete with the iPad.
Amazon wants to hire a software developer to improve its Kindle by adding web browsing capabilities to it. HP has been heavily promoting its Slate tablet, especially the fact that it will support Adobe Flash (Apple's mobile devices famously do not support Flash). Even Microsoft has said it intends to make a tablet called the Courier.
This has all happened before the iPad has even been released. After April 3, once we know definitely what the iPad is really like, more companies will offer iPad competitors.
Via ZDNet, image via Apple.
Jan 21 2010
Amazon has announced a new option for authors and publishers, which will enable them to receive seventy percent of the royalties of sales for Kindle editions of books. Amazon is trying to make the Kindle more attractive than other e-readers, including Apple's tablet (which, according to speculation, may have e-reader options). The new royalty option will be available on June 30.
Currently authors get between seven and fifteen percent of the list price of printed books and twenty-five percent of net for digital books. The new seventy percent option sounds good, but there are some catches to the policy. To get the seventy percent royalty, the list price of the book must be between $2.99 and $9.99. The title also needs to have Kindle features like text-to-speech.
Amazon is getting worried about the hordes of e-readers introduced lately, especially those seen at CES 2010. Apple's upcoming device could be their biggest worry yet, if it comes through as expected at the end of the month.
Via ZDNet, image via Amazon.
Aug 10 2009
E-readers aren't our favorite devices here at NetbookBoards, but ever since someone suggested that the Kindle could be a netbook killer for literary types, we just can't get them off our mind.
So when some sneaky folks over at the HiPDA forums decided to leak the service manuals of Sony's upcoming e-readers, we had to get as much info as possible. Take a look: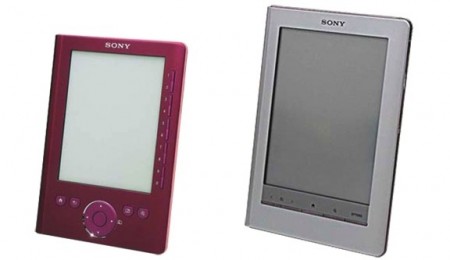 Those are the upcoming Sony PRS-300 and the larger PRS-600 ebook devices. The red one has a 5-inch 800 x 600 Vizplex e-ink display, much like the kind of display offered by Pixel Qi, and can show eight levels of grayscale. Weighing in at 7.76 oz and measuring 6.2 x 4.2 x 0.2 inches, it's a slender newcomer to the e-reader stage.
The lithium ion battery is good for 7500 page turns (recall that e-readers only use power when you turn the page). It will support "Unsecured Text: EPUB File (Non DRM/ Adobe DRM protected), BBeB Book (Non DRM/ PRS DRM protected), PDF file (Non DRM/ Adobe DRM protected) and Text, RTF  and Word files (unsecured)," and go on sale for around $199.
The grey one is the Sony PRS600-SC, with a 6-inch display of the same resolution. It adds non-DRM AAC, MP3 audio, as well as JPEG, GIF, PNG and BMP images. All other specs are expected to be the same, except it has a touchscreen layer. This means fingertip page turns, annotations, highlighting, and more will be possible. It has an on-screen keyboard, 512 MB of memory (like the 300) and should sell around $299.
These new releases are exciting, of course, but if you have any sense you'll get a netbook instead. Just throwing that out there.
Via SlashGear.
Jul 9 2009
Amazon has just dropped the price of their Kindle 2 by $60 to $299. But this price still isn't quite so tempting, especially since you can get a decent netbook for around the same amount of money. You know what would be tempting though? A "Kindlebook," a combination of both a Kindle and a netbook.
Yes, the Kindle is lighter in terms of weight and more compact in terms of size and the battery can last for days (way longer than that of a netbook), but a netbook has colored screen displays and far more functionality.
You can actually turn your netbook into a makeshift Kindle though. Here's how.
Amazon has a massive library of 275,000+ electronic books that are available for purchase at the touch of a button and can be downloaded in under 60 seconds, but there are also other sellers of electronic books. Some examples include eBooks.com, eReader, Fictionwise, and Mobipocket. eBooks.com offers roughly 168,000 titles.
Project Gutenberg has tens of thousands of books, many of which are free to download. Google Books also offers a large number of electronic books (1.5+ million), although some of them may not be complete versions.
Different electronic booksellers require different software to view their texts. For those who like to view their e-books vertically instead of horizontally, you can download EeeRotate for free here. It's especially designed for Eee PCs, but should work with all computing devices.
And if you want an even more portable device and don't mind a (much) smaller screen, you can just read e-books on your iPhone.
Want to go all out? Replace your screen with a Pixel Qi display once they're available commercially.
Via BNet.
May 29 2009
If Pixel Qi has its way, the Kindle won't have much of a leg up on netbooks for readability. The startup plans to implement its e-reader screens on netbooks everywhere.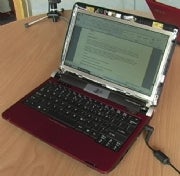 Mary Lou Jepsen is a former OLPC CTO and is showing off the new Pixel Qi product at Computex Taipei 2009, which falls next week. The netbook screen is called the 2qi, a 10.1-inch device designed for use in "a black-and-white e-ink mode for reading text documents and e-books, and two color modes, designed for use indoors or in bright sunlight, that are more suitable for Web surfing and video playback."
The E-ink mode turns off the back light to preserve the netbook's battery life. Many consider e-reader screens essential for avoiding the eye strain of reading documents and online books on a conventional display.
Jepsen says the screens will be on netbooks by the end of this year – perhaps a snazzy holiday gift? Amazon can't be happy with the development, as its Kindle e-reader will seem quite a bit less differentiated if the only difference between it and netbooks is its costliness, lack of a web browser, and form factor.
Pixel Qi COO John Ryan is proud of the energy efficiency delivered by the 3qi screen:
"What you're looking at is a screen that's entirely reflective… It's just running like e-paper so that it's running on the ambient light. It's not fighting the office light , it's not fighting the sunlight. That makes it better for reading but it also cuts the power consumption. The backlight in the screen is typically the largest power drain in any notebook computer."
You can say that again. Netbook battery life is a sticking point for many loathe to make the shift from desktop to netbook, and 6-cell batteries are expensive. Will Pixel Qi revolutionize netbooks with its e-reader screens? I hope so!
Via PCWorld.