The OLPC (One Laptop Per Child) charity organization has ambitious plans for its latest netbook design. Earlier this month, the organization announced its plans to create the impossibly thin OLPC XO-3 tablet in two years time.  Now OLPC is hoping to distribute the XO-3 touchscreen laptop to impoverished children around the globe by the year 2012. Note: the projected price range of the device is less than a hundred dollars.
The original OLPC XO netbook is already out in the market and has been distributed to 1.4 million children in 35 different countries. The charity's new creation will have a 9-inch touchscreen and will contain neither a mouse nor keyboard.  It is also planned to be extremely sturdy and run an ARM processor.
If the success of its XO netbook is any indicator, OLPC will likely reach its goal and continue to provide valuable education to children who otherwise would not have the opportunity.
Via TechWatch, image via Guardian.
Dec 16 2009
This uber-thin netbook is yet to be officially unveiled by LG, but some images and vague specifications have leaked.  It is speculated that since the LGX30 has been given to the FCC for review, already well into development. It will likely be released sometime next year. The netbook is equipped with:
An 11.6 inch LCD screen
An unspecified Intel Atom Processor
Intel GMA 500 graphics card
Bluetooth
Wi-Fi
Built-in webcam
LG is a newbie to the netbook business, but at 1.76 pounds the LGX30 will be a strong competitor to Dell's newly released Vostro V13.  We will have to wait for an official release by LG to learn more exact details on the LGX30.  As of now it seems to be another addition to the stylish, economical, and razor-thin netbook category.
Via Softpedia
Image Via Softpedia
Dec 11 2009
Alienware offers one of the best gaming laptops out there, but 'one of the best' doesn't seem to be good enough anymore. It's now testing out the possibility of a lighter and more portable laptop, which might be considered to be setting a foot in the netbook bandwagon. The result is the M15X, which harbors a 15-inch screen with a lighter magnesium casing.
Pros:
Extremely customizable
Weighing in at 9.2 lbs, it's lighter than the M17X
9-cell battery option
Starting price of $1499
Lower heat and noise emissions than predecessors
Intel Core i7 processor
Cons:
Only contains one video card, so it cannot deal with SLI graphics
Smaller 15 inch display may cause some gaming inconveniences
Keyboard doesn't contain a number pad
Not as powerful as the M17X
Offers less options than previous laptops
Via Geek
Image Via Geek.
Dec 10 2009
LCD screens are regularly used in many technologies though they are in many ways inferior to newer but less popular, LED screens. LCD screens are a component of almost all laptops currently manufactured. QD Vision, a small company based in Cambridge, Massachusetts, has announced that they have developed new technology that could improve the efficacy of LCD screens by up to 40%. They also claim to be able to improve color contrast on the screens, resulting in a more vivid display.
The new technology has been dubbed quantum light optic. It is projected that the innovation will be passed along to three large LCD manufacturers by 2011. Quantum dots are the main component of this technology. When the dots are augmented to the light emitting diodes of LCDs they consequently reduce the amount of diodes needed to reach the same level of brightness. Quantum light optics looks to be extremely promising, because they may be able to drastically improve the quality of LCD displays, meaning thatlaptop screens will be getting brighter and bolder in the near future.
Via TechnologyReview
Image Via CyberIndian
Dec 10 2009
The insanely low prices that HP and Dell constantly churn out for their regularly sized laptops may be to blame for the slow growth of the ultra-thin laptop segment. According to Acer chairman J.T. Wang, this has caused consumers to steer clear from the thinner varieties in favor of lower prices. It has also lowered sales on Intel's CULV processors, giving Intel less of an incentive to manufacture parts for the ultra-thin laptop market.
Ultra-thin laptops offer many advantages. These laptops are more powerful than netbooks, while being similarly portable and offering an incredibly long battery life. Consumers have showed interest in the ultra-thin segment, so now it's up to manufacturers to market the product and offer deals to get the public to purchase these laptops.
Via PCWorld
Image via DotKam

Dec 7 2009
Intel's new Pine Trail is making its way into netbooks soon. While details are always hard to come by, the Pine Trail CPU is set to crank netbook graphics like never before.
While VP Sean Maloney is quoted saying "Better battery life. But performance more than anything," it would seem that we can expect some major improvements in other important areas on laptops in the future. Intel has held off on selling preconfigured HP Mini 5101 netbooks directly from the HP website, with new models regarding the new Pine Trail processors being prepared for release. While we won't be seeing the Pine Trail before 2010, it's always good to know whats ahead!
Via CNet
Dec 6 2009
Acer recently showed us their new laptop with a multi-touch display. The Acer Aspire 5738PzG series gives us a 15.6 inch screen with a multitude of Windows 7 gestures that will be supported by the laptop. Because they also included an All-In-One PC featuring this multitouch technology, they decided to follow a minimulist design scheme, which comes with Microsoft's TouchPack.
Their laptops will not only come loaded with Windows 7, but will have touchscreen support that allows users to perform simple everyday tasks like printing, sharing information, emailing, and taking pictures, all with simple gestures that better allow a user to interface with their devices. The laptops being a whole new definition to the words "user friendly."
Dec 2 2009
Dell recently added a new laptop to their lineup: the Dell Precision M6500, which claims to be a business-friendly laptop with an Intel Core i7 processor included. Everything looks good and dandy, but what makes this laptop more intriguing than others is that Dell has made the choice to not make an announcement regarding the creation or distribution of the laptop.
The M6500 will debut with a 17-inch display and will grants you either an NVIDIA Quadro FX 3800M graphics processor, or  an ATI FirePro M7740; just pick your graphics card. You'll be happy to know that the M6500 will include 16GB DDR3 RAM which hopes to reach speeds of up to 1,333 MHz.
If you're a power/business user, you'll also have the ability to have three optional RAID configurations. While there's no purchase date in sight, we'll hope that Dell will let us know at some point in the future when they plan to make the new laptop available to the public. Or perhaps Dell's laptops speak for themselves.
Via  The Inquisitr.
Nov 9 2009
Dell has just released two laptops that will not quit.  With respective battery lives of 11 and 10 hours, the Inspiron 13z ($550) and Inspiron 15z ($580) outlast most other laptops on the market today.
The ULV (Ultra Low Voltage) processors used in these machines operate at lower voltages and require less cooling, permitting not just great battery life, but also slimmer profiles.  Furthermore, Both laptops are less than 3 cm thick.
As usual, Dell offers many options for customizability.  Both the Intel Pentium Dual-Core and Intel Core 2 Duo processors are offered, and hard drive sizes and memory amounts are selectable.  The 13z features a 13.3 inch monitor, and the 15z features a 15.6 inch monitor.  Unfortunately these two laptops are not yet available in the U.S. (see Dell.com), but are available in Australia, India, New Zealand, and everywhere else we wish we could be.
Via Thaindian News
Nov 8 2009
Keeping competition hot with Apple, Dell has released the details of its Adamo XPS laptop as an attractive alternative to the Macbook Air.  The Adamo XPS boasts a number of unique badges, such as being the thinnest laptop ever (accomplished by a special hinge allowing the keyboard to be folded into the screen), weighing a mere three pounds, and possessing a special touchstrip required to open the laptop.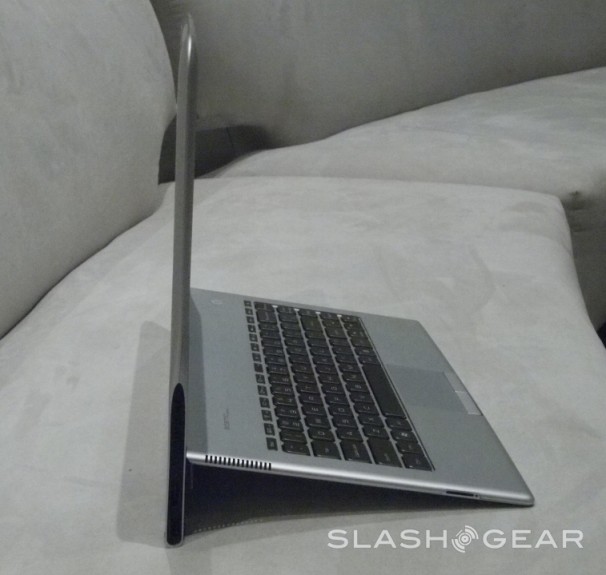 The specs for the Adamo XPS include a 13.4-inch 1266 x 768 display, a dual-core 1.4GHz Intel Core 2 Duo ULV processor, 4GB of RAM and a 128GB solid-state drive with Windows 7.  Unfortunately, the laptop only nets two hours of battery life.  It will start at $1,799, the same price as the Macbook Air.
Here's a video preview of the Dell Adamo:
Via SlashGear.
Nov 8 2009
While intriguing, it may be a while before the logistics of this one are worked out: a laptop whose entire frame is made of recycled paper.
The idea is to make a laptop disposable, just as some phones and cameras are disposable.  Between flexible OLED screens, foldable electronic paper, and printable circuit boards, the potential for creating a paper laptop is gradually increasing.
The pace of technological change sometimes seems to outstrip itself. Disposable electronics could provide a solution to making replacement technology cheaper and reducing environmentally unfriendly waste.  It's out for debate how well this kind of laptop could compete with increasingly low prices for netbooks and laptops unless the technology involved would allow for an absolute decrease in productive costs without loss of durability.
Via CoolestGadgets
Nov 6 2009
Walmart has a super cheap Windows 7 laptop that you will be able to buy on Black Friday.  Customized for Walmart by HP, this notebook will not have you playing World of Warcraft at mind-numbing resolutions everywhere you go, but it should suffice for your daily email, internet, and word processing needs.
Specs include a 15.6" Brightview display at 1366×768 resolution, integrated graphics, 250 GB of hard drive space, 3 GB of RAM, and a 2.2 GHz Intel Celeron processor.  The real shining point of the system is the $298 price tag.  With these kinds of prices for laptops, competition continues to intensify between the netbook and laptop industry.
Via I4U News.
Nov 6 2009
ASUS is toying with a radical new laptop design that could permit their laptops to be built without any fan at all (though in some computers the processors already require no fan).
Through a special folding configuration and "thermal holes" that help draw air into the laptop, airflow is greatly increased even without a fan.  As a result, the laptop would require less energy, run more quietly, and trim down its frame a bit.
There is no news yet on when this technology would be released, what the laptop stats might be, or even what name ASUS is heralding the project by.  However, it appears to have great potential, if you don't mind the squeaking as the laptop opens and closes – which surely is not an actual issue, but you can hear it in the video after the jump.
Via REGHARDWARE.
Nov 5 2009
In time for the holidays, Acer has created a monster laptop, four times the weight of a run-of-the-mill netbook.  The weight is worth it when you consider the potential to play World of Warcraft at mind-numbing resolutions anywhere you go.  And the weight is literally worth it when you consider the price – starting at $1350 on Newegg, the AS8940G-6865 falls neatly into line with Acer's usual highly competitive pricing.
For your $1350 and willingness to haul a 10-pound laptop with you, you will receive in turn the new Intel® Core™ i7 Quad-Core 720QM processor, 4 GB of RAM, a 500 GB hard drive, and an NVIDIA GeForce GTS 250M, all manifesting themselves across a glorious 18.4 inch HD screen.  Also features Windows 7 and Blu-ray capabilities.  Spinal support not included.
Via CrunchGear and Newegg.