Remember that Lenovo IdeaPad S10-3t convertible netbook tablet we mentioned about a month ago?  These netbooks were originally priced at $599 per unit on the Lenovo website, but now with a discount and a coupon, you can get your very own for $399, excluding taxes but including shipping.
The 10.1″ Lenovo IdeaPad S10-3t features the standard netbook specs — an Intel Atom N450 processor, 1 GB of RAM, and a 160 hard drive, not to mention 802.11n Wi-Fi and Windows 7 Starter.  The base model comes with a four-cell battery, but you can buy a spare six-cell battery for an extra $49.
If you're interested in buying the Lenovo IdeaPad S10-3t today, the coupon code that should be entered at checkout is USPS4F524.  Happy shopping!
Via CNet.
Apr 21 2010
Lenovo's line of IdeaPad S10 netbooks have been fairly successful so far — otherwise, they probably still wouldn't be around.  But Lenovo doesn't want to introduce another netbook that's similar to the ones that already exist, and that's why with their newest netbook, the IdeaPad S10-3t, Lenovo will be dressing it up, as well as equipping it with multi-touch capabilities and a swivel screen.
The IdeaPad S10-3t (the "t" is for touch) will be equipped with a 1.83GHz Intel Atom N470 processor — one of the first IdeaPads to incorporate Intel's newest Atom processor — as well as the Windows 7 Home Premium operating system.  The swivel screen on the tablet/netbook is capable of pivoting 180 degrees in either direction.
Via HotHardware.
Nov 16 2009
At first glance, Lenovo's latest Ideapad ultraportable netbook, thus far named the FL5-B3,  is pretty typical, but at least it has an interesting CPU. The 10.1″ FL5-B3 netbook has 1024×600 resolution and is equipped with a 1.66GHz Intel Pineview processor (most likely the N450), 2 GB of DDR2 RAM (a Samsung chip), and a 250 GB 5400 rpm Seagate hard drive.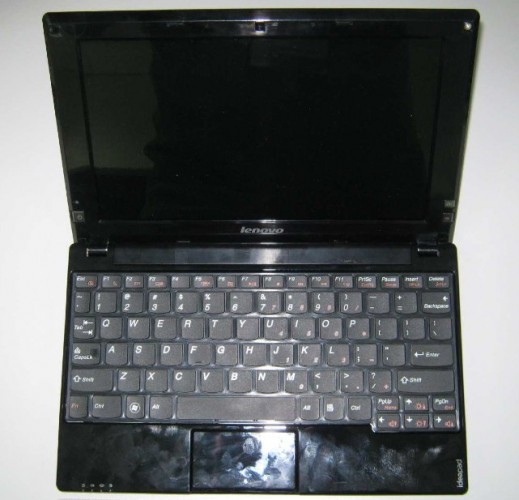 Designwise, Lenovo's new Ideapad netbook will be similar to previous IdeaPads, but as you can see in the photo above, this little sucker will be a fingerprint magnet. Also, there is no trackpad button in this model, which implies that there will be some form of integrated clicking.
Unfortunately, since Intel is not releasing Pineview until at least January 2010, this Lenovo netbook is not likely to show up until early next year either. At least the wait's only a little bit longer.
Via Slashgear.
Nov 2 2009
Lenovo may be releasing a new Ideapad netbook soon, as one has been spotted on the website of the FCC. Codenamed 0251, this netbook is rumored to have a 10.1″ screen display, Wi-Fi, Bluetooth, one USB port, a mini-HDMI port, and a 3-in-1 card reader.
This Lenovo netbook model is still being developed but we'll keep you updated on the progress. In the meantime, here are some pictures and diagrams of this new netbook: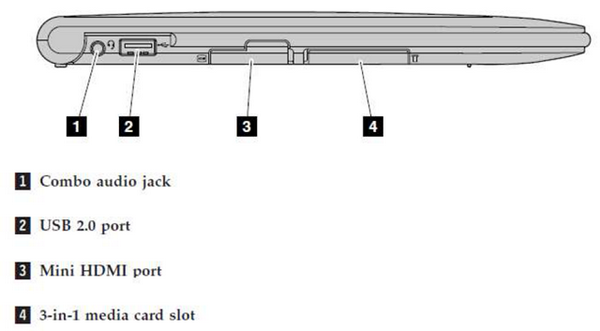 Via WirelessGoodness.
Oct 28 2009
Lenovo has redesigned the IdeaPad S10-2 netbook with a slew of snazzy new exteriors, as you can see below:
The netbook isn't the most impressive out there but it runs an Atom N280 with 1 GB of RAM and the Intel 945 chipset – a solid set of specs despite the machine's other flaws. No word just yet on pricing or availability, but if historical precedent has anything to say these cool designs might cost more than they're worth.
Via CNet.
Oct 24 2009
The Lenovo IdeaPad U150 ultraportable went on sale in Japan on the same day as Windows 7. The U150 has an 11.6″ screen display with 1366×768 resolution, a 1.2GHz Intel Core 2 Duo SU2300 processor, 2 GB of DDR3 RAM (it can have up to 8 GB), and a 250 GB hard drive. Other tech specs of the ultraportable include Bluetooth 2.1 + EDR, b/g/n Wi-Fi, Gigabit Ethernet, two USB 2.0 ports, a USB/eSATA connector, HDMI, VGA, and a 1.3 megapixel webcam.
This Lenovo ultraportable is unique in that it has a trackpad that recognizes multitouch gestures. The U150 also has a multiformat card reader and "Dolby Sound Room" speaker technology.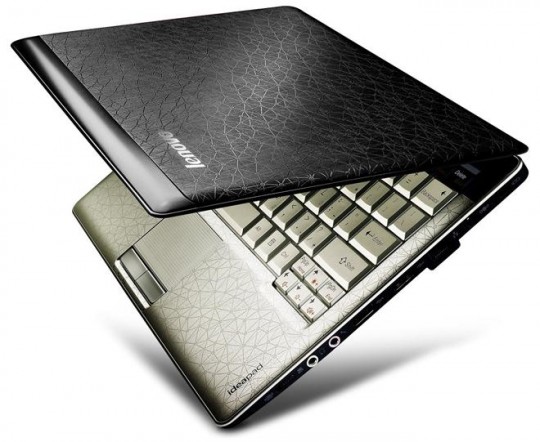 The Lenovo IdeaPad U150 has a 6-cell battery, which is supposedly able to run for seven hours when running Windows 7 Home Premium. The weight of the ultraportable is 1.5 kg. Pricing and availability is not yet available in the United States but we'll keep you posted.
Via Slashgear.
Oct 13 2009
Lenovo's new IdeaPad Y550 is something of a mystery, considering that just about everything on the laptop is a compromise of some sort; from the 15.6 inch screen to the NVIDIA GeForce G210M graphics processor, RAM memory and hard drive space.
Note, however, that I did not say that this was entirely a bad thing.
The IdeaPad Y550 seems to be a great general laptop, despite having only 1 GB of RAM (which is fixable for a low cost through Lenovo or independently). The laptop has a large array of peripheral ports and a decent amount of memory and a pretty decent graphics processor for a relatively low price. The array of ports also means that you can plug a variety of accessories into your laptop, anticipating both existing and future options. This could help keep you from being unable to use that hot new addition a year or two from now just because you don't have the right port. You can find the full specs here if you're interested.
Here are the specs, lifted from About.com:
Intel Pentium Dual-Core T4200 Dual Core Mobile Processor
1GB PC3-8500 DDR3 Memory
160GB 5400rpm SATA Hard Drive
8x DVD+/-RW Dual Layer Burner
15.6″ WXGA (1366×768) LED Backlit Display With 1.3 Megapixel Webcam
NVIDIA GeForce G210 Graphics With 512MB Memory
Gigabit Ethernet, 802.11b/g Wireless
Three USB 2.0, eSATA, HDMI, VGA, ExpressCard/34, 6-in-1 Card Reader
15.2″ x 10″ x 1.5″ @ 6.1 lbs.
Vista Home Premium
Overall, for the flexibility inherent in this laptop and given the possibility of a model under $650, this isn't a bad laptop to consider if you're on a budget.
May 13 2009
Lenovo has recently announced the future release of their IdeaPad S10-2 netbook, an upgrade from their current S10 netbook. This netbook will have 3G connectivity and Dolby headphone technology.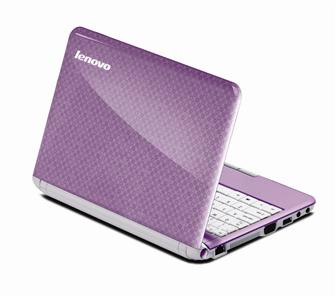 Weighing a little over two pounds and measuring less than an an inch thin, this netbook will have a 10.1″ screen and an Intel Atom processor. It will also be equipped with Lenovo's OneKey Rescue System and software that helps maximize the life of the netbook battery.
The S10-2 netbook will be available at the end of May and have a price tag of $349.
Via Digitimes.
May 9 2009
For those always on the go, ultraportables and netbooks are a godsend. While ultraportables have full-sized keyboards, larger screens, and faster processors though, they also sport a much heftier price tag! Netbooks are generally priced at less than $500 and can perform basic everyday functions, including checking e-mail and surfing the Internet and preparing documents. The downsides to netbooks are that they have relatively smaller screens, keyboards, and processors.
Here is a comparison of the weights of some common netbooks in the market right now:
Via Los Angeles Times.
Apr 24 2009
In May 2009, Lenovo is planning on releasing their Lenovo IdeaPad S20 netbook. This netbook will come with a 12.1″ display and run on the Intel Atom N280 processor. It will also come with a GN40 HD-capable chipset, InstantOn, and possibly 3G capabilities.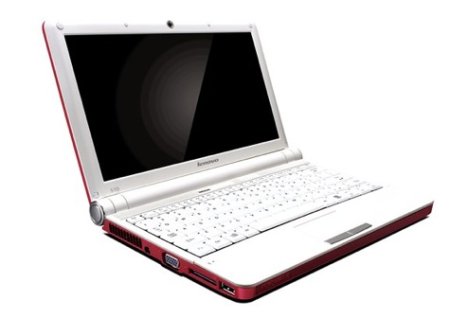 Lenovo currently produces IdeaPad netbooks but is considering producing ThinkPad netbooks in the near future. These netbooks would be largely targeted towards business use, rather than regular consumer use. These new netbooks may not run on Intel Atom processors but instead on higher performance processors, such as the Celeron or Core models.
Via SlashGear.
Feb 16 2009
The latest new netbook release rumored for the market is supposedly by Lenovo – an Atom N280-based IdeaPad S20 netbook with a 12-inch display. Lenovo, the makers of the IdeaPad S10, has seen massive successes in the netbook market in the past.
The news group making the announcement is DigiTimes, who accused Intel of trying to crowd out NVIDIA chipsets last year. Unfortunately DigiTimes doesn't actually cite itssources for the prognosis, which raises a few problems.
Firstly, they say the new Lenovo netbook will be a 12-inch machine running the Atom N280. Intel, however, has specific restrictions on products with displays larger than 10-inches, and breaking the restriction would cause Lenovo to "lose out on preferential pricinig for the N280 processor." With a $10 bump on typical quotes for the processor, Lenovo's costs for the new netbook could grow by millions. This hardly seems logical or feasible!
However, DigiTimes addresses this by imagining that Lenovo wants to avoid the 10-inch netbook segment's fierce competition.
The IdeaPad S20 would run a GN40 chipset and Windows XP, and cost around $586 (though its primary release country would probably not be the US).
We'll have to wait to judge the veracity of the rumor, because the clues seem a bit fishy. However, a 12-inch Lenovo netbook would definitely be a welcome sight.
Via DigiTimes.
Dec 15 2008
Because of all of the competition, price falling was inevitable. However, it's happened faster than most people predicted.
For €159, you can now purchase a 7in Eee PC Surf, while €199 will get you an Acer Aspire One with an 8.9in display and an 8GB SSD with Linux. With €225 you can purchase an Eee PC 904HD with a Celeron-M processor and €310 will get you an Eee PC 901 with Linux.
Although ASUS models are a little bit more pricey, you can get an Eee PC 1000HD for as little as €315 with a Celeron-M, 10.2in display, a 160GB hard drive and Windows XP Home. €335 can get you an Eee PC 1000 which swaps the processor for an Atom N270, adds 802.11n WiFi and swaps the hard drive for 40GB's of SSD storage.
With €289 you can purchase a Lenovo ideaPad S9 with an 8.9in display, 80GB hard drive and Windows XP Home. The ideaPad S10 comes in at €359 with a 10.2in display and a 160GB hard drive. For slightly more, you can get an MSI Wind for about €333 with a 120GB hard drive and HP is offering its 60GB Mini 1000 for about €359.
These are most likely only the first round of price cuts in the netbook industry.
[via Fudzilla]
Dec 2 2008
The new addition to the Hewlett-Packard netbook family is called the Mini 1000, an attractive new netbook with some solid specs to boot. While comparisons to HP's 2133 Mini-Note may be easy to pick out, there are also some huge differences. If you don't like the changes to the HP formula an updated 2133 is expected in early February, so don't despair.
The Mini 1000 will keep most of the 2133's hallmarks – the aluminum exterior, spill- and wear-resistant keyboard, ExpressCard capability, and a shock-protected hard drive with an option to take a SSD instead. The tough little netbook has an 10.2″ screen, and has upgraded from the previous Via C-7M chip to the Intel Atom netbook chip.
Aside from these perks, the Mini 1000 runs the familiar setup: 1.6GHz N270 processor, 1GB of RAM and Windows XP. However, for those so inclined, an Ubuntu Linux version is on the way for the end of January. Another change is that the HDD has shrunk to a tiny 80 GB instead of the now-standard 160 GB.
The keyboard is a welcome alternative to those currently available – it works fantastically well and offers some gently curved keys to appeal to your fingertips. HP is known for its excellent keyboards, and this one is no exception – it is 92% the size of a regular keyboard and extremely easy to use. To those turned off by the tiny keyboards of some of the earlier Eee PCs or Dell netbooks, the HP Mini 1000 will be a popular choice.
With its $399 price tag (which can go as high as 899 with all kinds of upgrades), the Mini 1000 has a lot to offer consumers at a decent price. It looks amazing, and the keyboard is particularly excellent, but there are a few downsides. Nevertheless, it should be a hardy competitor to the 10.2″ ASUS Eee PC 1000H or Lenovo IdeaPad, which are in the same price range and power category.