In recent weeks, LG announced the release of the X300 netbook – an ultra-thin, stylish, exceptional quality system. Weighing in at a slight 2 pounds with a thickness of .69 inches, the X300 becomes an extremely portable technological marvel. The specs are as follows:
• 11.6-inch LCD screen
• Windows 7 Home Premium OS
• 2.0 GHz Intel Menlow platform
• Up to 2GB memory
• 128GB SSD
• Embedded 3G modem chipset (Supports GSM, GPRS, EDGE, UMTS and HSDPA networks)
• 1.3-megapixel webcam
• SRS TruSurround HD sound
Although these premium specs make the X300 a very powerful and impressive netbook, its true uniqueness lies within the Gorilla Glass screen. The advanced substance covers the LCD screen and is nearly unbreakable and unscratchable. As a result, the X300 surely offers enough physical security for the clumsiest of netbook users.
Now for the downside: the X300 has not yet been released in North America, but judging from the approximate $1400 pricetag it sported in South Korea, we can expect a hefty price here as well. No specific release date has been announced yet, but since distribution of the product has already started, we can anticipate sometime within the next month.
Via Fast Company and I4U
Feb 25 2010
LG has just announced a pair of new netbooks and a new notebook, ripe and ready for eager eyes at next week's CeBIT conference in Germany.
The first is the LG T280 notebook – a sleek looking machine priced around $1000 with variations based on configuration. The specs for the LG T280 notebook are as follows:
Windows 7 Home Premium
11.6-inch display
1366 x 768 resolution
Options of Intel 1.3GHz Pentium dual-core or Core 2 Duo processor
Intel GMA 4500MHD graphics
320GB or 500GB hard drive options
2GB of RAM
Wi-Fi
Six-cell battery
Next in line are LG's new netbooks. They look pretty standard, packing Intel Atom N450 CPUs, but the LG X140 and X200 netbooks have some visible differences when you look beneath the veneer.
The specs of the X140 and X200 netbooks are as follows:
The X140
Windows 7 Starter
10.1 inch LCD display
1024 x 600 pixels
1GB of RAM
160 GB hard drive
Wi-Fi
Bluetooth
1.3-megapixel webcam
Six-cell battery
SIM card access
The X200
Intel GMA 3150 graphics
1GB of RAM
250GB hard drive
Chiclet-style keyboard
802.11n Wi-Fi
USB ports
Weighs 2.7-pounds
LG's past netbooks have included the LG X20 and LG X30. LG netbook offerings have historically been capable but bland, though LG did make headlines by delivering its X120 and X130 netbooks in Iraq and Jordan last August.
Via ZDNet.
Feb 6 2010
LG's new X20 was reviewed and accepted by the Federal Communications Commission (FCC) today. It's no X30, but it can hold its own. Running Windows 7 on a Intel Atom N450 1.66 GHz processor, it's got 250 GB of HDD, 2 GB of RAM, and with its 1.3 MP webcam and HSPA 3G, you can Skype on the 10.1″ 1366 x 768 screen. The keyboard and trackpad are a bit small, but those are the flaws we accept when dropping cash on a netbook.
Apparently, one test report shows that there are various model numbers by the X20, presumably for different regions. Going by the user manual, this netbook will be released in the US, Canada, Europe, Australia, China, Singapore, Korea and India. Mum's the word on pricing or release date though.
Via WirelessGoodness
Jan 11 2010
On Friday, LG introduced its GW990 smartphone at the Consumer Electronics Show. It has been described as "huge" by people who have seen it in person, and it certainly sounds that way, with a 4.8-inch screen. It is powered by Intel's Moorestown platform with Intel's Moblin Linux operating system.
It has a 5-megapixel camera, which is pretty typical. However, its operating system is anything but typical – it runs Intel's Moblin, a Linux OS that is similar in some ways to Android. Right now, there really isn't a developer community for Moblin. LG has said that it is trying to get third-party apps written for Moblin.
The phone can multitask beautifully, thanks to its Intel Atom CPU. It has been demonstrated to be able to can play a movie, keep the calendar open, and send a text message all at the same time with ease.
The GW990 sounds like a great phone, though its size could bar its success. People like their phones to be pocketable. Until Intel's chips can be used with smaller, thinner phones, Intel-powered phones probably will not command a huge share of the market.
Via PC Mag, image via PC Mag.
Dec 16 2009
This uber-thin netbook is yet to be officially unveiled by LG, but some images and vague specifications have leaked.  It is speculated that since the LGX30 has been given to the FCC for review, already well into development. It will likely be released sometime next year. The netbook is equipped with:
An 11.6 inch LCD screen
An unspecified Intel Atom Processor
Intel GMA 500 graphics card
Bluetooth
Wi-Fi
Built-in webcam
LG is a newbie to the netbook business, but at 1.76 pounds the LGX30 will be a strong competitor to Dell's newly released Vostro V13.  We will have to wait for an official release by LG to learn more exact details on the LGX30.  As of now it seems to be another addition to the stylish, economical, and razor-thin netbook category.
Via Softpedia
Image Via Softpedia
Dec 7 2009
Radioshack is going to be selling the LG X120 netbook with a special subsidy, now through the 24th of December. The numbers are appealing – $49.99 with a two-year AT&T service contract or $399 without the service plan. The X120 netbook has previously sold for $179.99 with a $60/month 5 GB AT&T mobile broadband plan.
The 10.1-inch LG X120 netbook has a backlit LED display and a 6-cell battery packing seven hours of runtime. It is powered by a 1.6 GHz Intel Atom and the standard lineup of 1 GB RAM and a 160 GB HDD. It comes with a 1.3 megapixel webcam, HD speakers, a 93-percent-of-full-size keyboard, 4-in-1 card slot, a generoud 3 USBs, Ethernet, and a scrolling touchpad.
LG's netbook also features the quick-booting SmartOn interface which allows users to access common applications within seconds of booting their machine. The OS on the LG X120 is Windows XP, and the netbook can connect with 3G, Bluetooth, and Wi-Fi.
Via eWeek.
Nov 23 2009
LG introduced the X120 netbook earlier this year. It'll finally soon be available in the States, and more specifically at RadioShack retailers. This 10.1″ netbook will have a screen resolution of 1024×576, a 1.6GHz Intel Atom processor, 1 GB of RAM, a 160 GB hard drive, Windows XP, Wi-Fi, and a 1.3 megapixel webcam.
Users will be able to quickly access applications through LG's Linux-based SmartOn interface without waiting for the system to boot. The LG X120 netbook will also be equipped with a built-in 3G modem and service will be provided by AT&T.
LG's netbook will come in white with blue trim and feature a 6-cell battery that is rumored to last for roughly seven hours. The price tag on the netbook will be $180 when purchased with a two-year AT&T data plan contract valued at $35 (or more) per month.
Via Electronista.
Aug 16 2009
LG has recently announced that they will be launching their LG-X120 and LG-X130 model netbooks in Iraq and Jordan. In Iraq, consumers can buy the X120 netbook at IT computer retail shops in most of the major cities. The X130 netbook will be available at the same venues in mid-August.
The X120: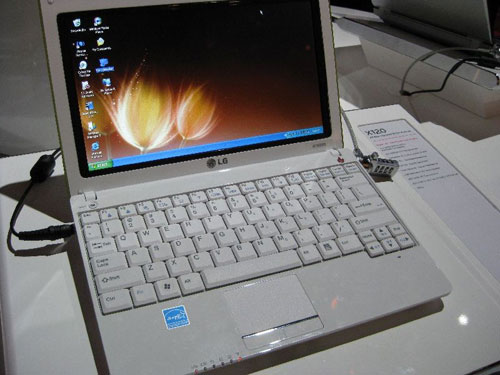 In Jordan, consumers can buy the X120 netbook at Smart Buy, Carrefour, or PC Jordan showrooms. Like for Iraq, the X130 netbook will also be available in Jordan at these retailers in mid-August.
The X130: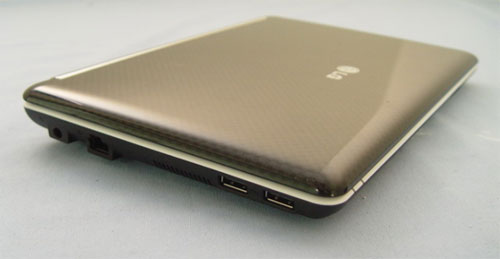 Interested in buying one of these machines? You can learn more about the LG-X120 and LG-X130 netbooks by checking out some of our previous articles:
LG X130 Netbook Boasts 9-Celled Battery, Supposed to Last 12 Hours
LG X120 Netbook Arrives in Barcelona
Via AlBawaba.
Images via TechTickerBlog.
Aug 15 2009
According to industry sources, netbook manufacturers LG & Samsung are predicted to have strong netbook sales in 2010. Shipments are expected to reach roughly seven million units.
As a comparison, the predicted number of shipments for Acer, one of the leading netbook manufacturers, is currently predicted to be roughly 12-15 million units.
LG & Samsung both have close ties to telecom companies, and this is one of the contributing factors to the expected volume of netbook sales, since telecom companies are a major channel for netbook sales.
Via Digitimes.
Images via TechnologyGear and LetMeKnow.
Aug 13 2009
LG has recently announced their X130 netbook, which is pretty typical for a netbook (10.1″ screen with 1024×600 resolution, a 1.6 GHz Intel Atom N270 processor, 1 GB of RAM, and a 160 GB hard drive) except for its battery. Most netbooks feature 3- or 6-celled batteries, but the X130 has a 9-celled battery instead.
LG claims that this battery has a capacity that is 50% more than that of previous netbook models, and went as far as to quote that the battery can last up to 12 hours on a single charge.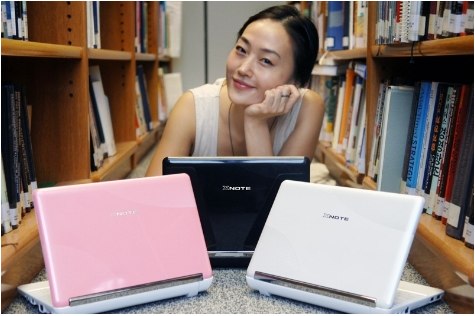 Some other tech specs of this machine include Wi-Fi b/g/n, Bluetooth 2.0+EDR, and Windows XP Home. Unlike previous LG netbooks though, there is currently no sign of integrated 3G WWAN for this new netbook.
The LG X130 netbook will be available in Europe, Asia, Latin America, the Middle East, and Africa, and boast a price tag of $632.
Via SlashGear.
Jul 21 2009
The netbook popularity trend must be still going strong, since manufacturers are starting to explore other mediums through which to promote their machines. The latest news on the block is that LG is teaming up with Levi's Jeans to promote its X120 Mini netbook.
This netbook has pretty average specs (a 10.1″ screen, 1 GB of RAM, a 160 GB hard drive, and an Intel Atom processor) and will be branded with a unique design created by Levi's (as seen below in the photo). The netbook can also come with a unique Levi's Jeans pouch.
An important consideration is how the product will be marketed…perhaps with a Levi's jeans promotion or a free pair of Levi's jeans? For those netbook consumers out there, what would you want?
Via SlipperyBrick.
Jun 22 2009
Samsung and LG are reportedly going to ramp up netbook production for the coming months. They aren't the biggest players in the industry in terms of shipments, though the Samsung NC10 is a fantastic machine, but that might change soon.
LG has only a few models on the market, most notably the LG X120 netbook. Regardless, if what DigiTimes says is true, the dynamics of the industry could swiftly change.
Via Liliputing.
May 16 2009
The impressions on the 10″ LG X120 netbook are positive thus far. On the inside, it's sleek and glossy. The exterior of the machine has a white matte finish, with lime green highlights. The machine itself feels solid and not like it's about to break. Another plus is that the operating system of this LG machine, Smart On, is powered by Splashtop is relatively quick to boot up.
The LG X120 netbook was supposed to be released in Europe this past April, but none have yet been spotted in the UK. Make sure to visit our website often for more updates on this new netbook. In the meanwhile, more pictures of the X120 can be found here.
Via Engadget.
Image via Tom's Hardware Guide.
Mar 4 2009
LG, whose netbooks we have seen in places as foreign as Korea or Barcelona, is deciding to bring its LG-X110 netbook to the states by July.
The netbook uses a 1.6 GHz Atom processor and best of all comes with 3G. The X110 is a worldly machine but hasn't yet been sold on American shores.
It uses an 80 GB or 120 GB HDD and Windows XP. Also notable is that its newer model, the LG-X120, is going to be shipping in Europe this month. Hopefully we'll be seeing that version in the States too.
LG may make use of its "strong relationships" with cellular providers like AT&T, whose broadband plans have invaded the netbook industry as well. Then again, considering AT&T's relationship with some consumers, that might not be too great of an idea.
Via PCWorld.
Jan 13 2009
Qualcomm intends to challenge the hold Intel has over the netbook world using the Snapdragon chipset to compete with the Intel Atom processor.
Paul Jacobs, CEO of Qualcomm, thinks Intel wants to get into smartphones and MIDs at the same time the Snapdragon processor is released. Qualcomm's prognosis is that 15 companies will launch MIDs and netbooks using the Qualcomm snapdragon in the first half of 2009. He's confident Qualcomm will have a solid edge over Intel, knowing the capabilities of the Snapdragon. It's hard to argue; the $350 million Snapdragon has some enticing specs, including quick-boot.
Qualcomm even demonstrated the Android platform by Google on its Snapdragon last week at CES in Vegas. An Android netbook has been a dubious idea for many, but the demonstration gives the concept a far more realistic edge.
The company says some manufacturers working with Qualcomm for Snapdragon devices include HTC, LG, and Samsung. Can you say smartphone?
Via FierceWireless.