Apple has updated its MacBook laptop line as I expected, being that it recently updated its MacBook Pro line of computers as well. The new MacBook has a 2.4 GHz Intel Core 2 Duo processor and has a battery life of 10 hours, three hours longer than the previous model. (I personally do not believe any of Apple's claims about battery life in its products, as these estimates are always much longer than what the product actually offers.)
The new MacBook has 2 GB of memory and a 250 GB hard drive, like the previous model. However, it has a new graphics card, the Nvidia GeForce 320M. The previous model had Nvidia's GeForce 9400M graphics card, as well as a 2.26 GHz Intel Core 2 Duo processor.
The physical design of the MacBook remains the same: white body with a 13.3-inch screen. For users looking for a reliable laptop but unwilling to spend the money for a MacBook Pro, the MacBook remains a good choice.
Via CNET, image via Apple.
Feb 17 2010
Apple has acknowledged that a small percentage of the hard drives used in MacBooks bought between May 2006 and December 2007 are defective. Unfortunately for users, this defect manifests itself in a hard drive failure: the affected laptops simply stop working and display a question mark on a file icon when they are turned on.
Luckily for these affected users, Apple has announced that they are eligible for a free replacement under a warranty extension. Apple is encouraging users with this frustrating problem to go to an Apple store or contact customer support for a replacement. Those who have already paid for repairs may be eligible for a refund.
Unfortunately, a hard drive replacement won't bring back lost data (so please, please make sure you are backing up to an external hard drive or some other form of reliable backup). The new warranty extension extends either three years from purchase date or to August 15, 2010, whichever is longer.
Via PC World, image via Apple.
Jan 13 2010
In 2009, Apple shipped seven million MacBooks. Now, one of its suppliers, Quanta Computer, has said that Apple is ordering one million MacBooks per month, up from 300,000 to 400,000 per month one year ago. And even though January is a traditionally slow time for the computer industry, Apple is expected to order another one million computers this month. Apple is expected to introduce new MacBook Pros soon, equipped with Intel's new Core i processors.
Apple had an excellent year in 2009, selling as many as three million Macs during the holiday season (the exact numbers are not yet known). In October 2009, the MacBook Pro was top-selling notebook in the United States.
An analyst has predicted that Apple's sales will grow twenty-six percent in 2010, greater than the expected growth for the PC market: sixteen percent. All in all, 2010 is shaping up to be a great year for Apple.
Via AppleInsider, image via Apple.
Jan 12 2010
Apple is expected to update its MacBook laptop line in the near future to include Intel's new Core i5 processors. These processors, called "Arrandale," are i3 and i5 CPUs that include new graphics silicon. Before this, Intel graphics were located in a separate chipset. The benefits of amending the setup are many; putting graphics with the CPU gives better battery life and performance, and the new processors are faster than the old Core 2 ones.
The new i5 processors will have a feature called Turbo Boost that allow them to run faster if an application requires faster processing. Intel has not revealed when Apple will be using the new processors, or how Apple will use them. One possibility is that Apple will get them made to order, as they have in the past.
Intel also has managed to offer a standard processor in special packaging that allows it to be used in a one-inch laptop. These are the same processors that are used in thicker laptops, so performance is not compromised.
Finally, with the new Core i processors, Apple could possibly put a quad-core processor (the Core i7) into a 17-inch MacBook Pro.
Via CNET, image via Apple.
Dec 30 2009
I love Apple education discounts. I am a student, so I still qualify at this point in my life, and it is very satisfying to get Apple products at a slightly lower price.
Apple has lowered the education price of its MacBook to $899. It is $999 for non-education buyers and is usually $949 with an education discount. The price initially shows as still being $949 until you click through to the purchase page. According to some sources, some customers are even seeing prices as low as $728. When I go to the MacBook purchase page, I see the $899 price. Apple's discount may only be a mere $100, but it's a pretty decent deal for a very good computer.
Other Apple products appear to have the same education discount pricing as before.
Via PC World.
Dec 24 2009
As the year winds down, it's time to consider what has happened in 2009. Apple had a spectacular year, considering the poor economy and Steve Jobs' medical leave. Here's a list of ten things Apple did right this year.
1. Kept Mac prices high. Windows computers had prices lowered this year, but Apple kept their pricing up, which did not seem to decrease their sales at all.
2. Kept advertising strong. Apple's advertising has always been unique and they kept that up this year, emphasizing the iPhone and the App Store.
3. Priced Snow Leopard appropriately. Snow Leopard has more new features and improvements than most people think and it was only $29.
4. Deceived the public about Steve Jobs' illness. This may not be the nicest thing to do, but Jobs is very identified with the company's success, so Apple faced a difficult decision here.
5. Updated the $999 Macbook. This laptop is cheap compared to other Mac products, but offers a great number of features and decent specs for the price.
6. Used Phil Schiller's marketing skills. Schiller is Apple's marketing chief. Several times throughout the year, he addressed developer concerns about the App Store.
7. Lowered iPhone pricing. By lowering the price of the iPhone to $99, Apple made it more affordable for more people.
8. Supported HTML 5 in Safari 4. Apple does not want Flash on the iPhone because it will compete with the App Store, and HTML 5 offers the solution for Apple.
9. Brought a lawsuit against Psystar. This sets an important precedent regarding software piracy, especially considering that Apple does not use product activation like Microsoft does.
10. Opened Apple stores. Despite the bad economy that caused major chains to fail, Apple continued to open up more stores.
Let's hope the next year for Apple will be as good as this one.
Via Betanews, image via Maconlysource.
Dec 1 2009
If you've been lusting after new gadgets and you missed both Black Friday and Cyber Monday, there's probably no helping you. But despite your ineptitude, all is not lost – manufacturers will always make it easy for you to drop a bit of cash, and it looks like we'll need to be calling this Cyber Week in honor of a number of long-lasting Dell and Apple deals we've heard about.
Firstly, you can get discounts on all kinds of Mac laptops and desktops. AppleInsider has a nice guide available for where to get in on those machines. Canadian consumers can also get in on Dell discounts over at Dell.ca from now until December 11th. The selection includes laptops, monitors and more.
But if you don't live in Canada, don't despair – you can still get your hands on a Dell Inspiron Mini 10v netbook at Dell.com for under $300 bucks, and Hackintosh it if you're feeling especially industrious.
Via TheExaminer.
Nov 14 2009
As Black Friday approaches more ads are starting to leak out over the internet. Here are some examples of Best Buy's Black Friday deals on netbooks, laptops, and desktops:
Netbooks:
Compaq: Intel Atom processor, 1 GB of RAM, 160 GB hard drive – $179.99
Compaq: Intel Atom Processor, 1 GB of RAM, 250 GB hard drive – $229.99
Dell: 10.1″ screen display, Intel Atom processor, 1 GB of RAM, 160 GB hard drive – $379.99
Laptops:
Desktops:
eMachines: AMD Athlon processor, 3 GB of RAM, 320 GB hard drive, Windows 7 plus 18.5″ LCD monitor and HP Deskjet printer – $299.97
If you're interested in these deals and more, Best Buy will be opening at 5:00 a.m. on Black Friday and will start passing out tickets for their doorbuster specials starting at 3:00 a.m. that same morning. The store has had some early Black Friday specials, including an Acer laptop for $249 that sold out within minutes of its debut.
Best Buy also has a Black Friday VIP contest that will award 25 lucky winners a $1,000 Best Buy gift card, so be sure to keep your eye out for that as well.
Via Huliq.
Image via InsideSoCal.
Oct 20 2009
We already know that Apple refuses to make a netbook because profit margins would be too low. Instead, the company plans on releasing new MacBook laptops, albeit at the old MacBook price (of $999).
These new MacBook laptops will have a 2.26GHz Intel Core 2 Duo processor paired with a Nvidia GeForce 9400M graphics chipset. Battery life is expected to be around seven hours and the machine weighs roughly 4.7 pounds.
There's no doubt that consumers looking for the cheaper (yet still reliable) alternative will end up buying a netbook, but Apple may be able to snag new consumers who were on the margin about buying a Mac before. What do you think will happen? Will Apple gain or lose customers? Perhaps neither?
Via JKOnTheRun.
Aug 21 2009
As the school year gets into gear, many first year college students will be buying their first machine. The economy's been rough, which has been a boon for netbooks, but Apple has been persistent in its advertising and has put out a variety of wonderful products to tease those of us without the disposable income to try them out. But how do the numbers really stand when it comes to computer purchases for college-bound kids?
A study by Retrevo says that full-sized Windows notebooks come in first – an unsurprising finding. However, 34 percent of kids will buy netbooks this year, leaving Apple in third place with a mere 17 percent of sales. Apple's goal isn't to have the most sales volume, but the numbers must be something of a bummer.
Retrevo CEO Vipin Jain explained the results of the study as follows:
"While Apple has done well historically in the education market, 2009 marks the dawn of the netbook… Students told us they wanted longer battery life, smaller size, and a lighter laptop. 58% of them plan on spending less than $750.00. Only 18% have a budget over $1,000.00. Netbooks are affordable; some costing only $170.00. In contrast, Apple laptops start at $949.00. At a time when many people are experiencing economic hardship, having a new Apple laptop isn't a necessity."
Be sure to read the study here if you're curious for more.
May 3 2009
Apple may not be delivering the netbook we've begged it for for so long, but one recent rumor over at AppleInsider is hinting that perhaps Apple will cater to the netbook-purchasing consumer category in a different way.
"Consumers in the coming months can look forward to more affordable versions of both the 13-inch MacBook and iMac, according to people who've proven extremely reliable in predicting Apple's future business directions. The MacBook — which currently starts at US$999 when fitted with a previous-generation polycarbonate enclosure and $1299 in an aluminum unibody casing — is the bestselling Mac in terms of volume. The iMac is the most popular Mac desktop.

It's believed that the first batch of more affordable Macs could turn up as early as this spring."
This means that Jobs won't have to sacrifice the luxury image of Apple with a whole new device. By cutting costs on some tried-and-true setups like the iMac and Macbook it can start taking back budget buyers, yet feel free to keep coming out with top-of-the-line devices like the iPhone and iPod that define its current user base.
Via PCWorld.
May 2 2009
Rumor has it that Apple is planning on lowering prices on its iMac and Macbook lines in response to the growing presence of netbooks in the market. This rumor comes from analysts "who've proven extremely reliable in predicting Apple's future business directions."
Apple will not be producing netbooks in the near future. Its Chief Operating Officer, Tim Cook, has even gone so far as to refer to them as "junky." Apple will not choose to enter the market until it sees a prime opportunity to do so.
Via NetbookChoice.
Image via Apple.
Dec 16 2008
Ezra Gottheil of Technology Business Research Inc. has gotten out his crystal ball and is predicting an Apple netbook by next month's Expo and Macworld Conference.
He was quick to offer a disclaimer. "I don't have any inside information… this is just by triangulation."
The weak economy has seen sales of cheap laptops and netbooks skyrocket. According to Gottheil, Apple intends to make the most of this movement. "They like to have a big surprise at MacWorld," he said. "They don't need to have one, but they like to." Whereas Apple has always distrusted the netbook market, "It looks like netbooks are real, and getting a certain amount of traction. And this recession looks serious." Gottheil thinks the next big step is a netbook from Apple.
Apple generally avoids the bottom of the market. There's no question: iPhones and MacBooks are luxury items. It is likely that Apple doesn't want to cannibalize sales of its Macbook by offering a more Spartan netbook version. If they do indeed enter the netbook industry, Apple's going to want to take a different spin on it.
This is where Gottheil's predictions come in. In his view, Apple's netbook will operate within a "closed system"; software will only be available through the iPhone-style App Store. Device restore will be done through iTunes, backup through some kind of online service, and add-on/peripheral choices will be strictly limited.
"By controlling the software that can be loaded and the hardware that can be attached, Apple's device will be simpler, easier to use and more reliable than a PC, and will excel at the functions most required by users."
Gottheil sees Apple as a company with the power to redefine the netbook category. The game with Apple netbooks will be to depart from complex, Linux-based computing and make it "dirt-simple for the user," he said. "Macs have a good deal less hassle than PCs, but they don't have zero hassle. To some people, they are intrinsically intimidating."
He points to Google as a possible software supplier and Hewlett-Packard as a likely peripheral partner.
Gottheil's even gone so far as to predict some specifics about the new netbooks. He expects to see one Macbook Air-sized machine and another $599 machine that will more closely resemble current netbooks. Just as Apple opened the iPhone to third-party programs four months before the launch of the 3G iPhone, Gottheil thinks there will be a delay between the release of the two netbooks.
"I don't necessarily expect it to be a touch screen," he noted. "In fact, I don't think it will. But I do think that the interface would present simple, straight-forward choices."
It is likely that Apple will use its sustained relationship with users to up sell and cross-sell them into buying netbooks. This is why the App Store would work; even if Apple doesn't make much from software sells it will get some big returns on applications.
Gottheil sees one downside to this program – though the point of the plan involving the App Store would be to avoid cannibalizing the MacBook, some amount will be inevitable. Jobs once commented that his company doesn't "know how to make a $500 computer that's not a piece of junk," so at $599 the Apple netbooks will still be twice as expensive as the cheapest netbooks already out there.
We can only hope Gottheil's right – an Apple netbook would mean a humongous boost in the industry. That means more competition, more innovation, and more new releases. People have been itching for an Apple netbook, with one guy going so far as to mod an MSI Wind back in November. The same thing is on everyone's mind, so we hope Jobs is listening.
Via ComputerWorld.
Nov 16 2008
It's turning out to be quite the week for new netbook releases! The Dell Inspiron Mini 12, which has been available in Japan for some time now, has become available in the USA.
The Mini 12 sports a massive 12 inch display, one of the largest screens seen in netbooks so far. It starts at a moderately pricey $549.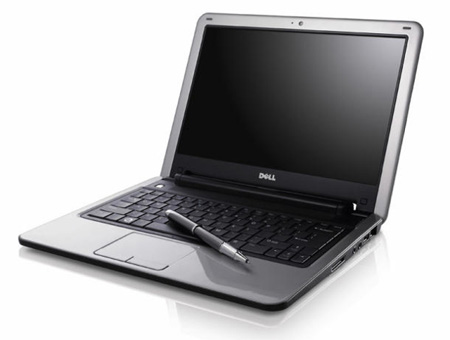 This new release is yet another example of Dell's willingness to gamble on the new netbook market and take hold early. This attitude is a stark contrast to those of companies such as Apple, whose conservatism may save them a lot of money or lose them just as much.
Dell had previously taken strides into the netbook market with its Mini 9 last September, which was a cheap $349 but had only  4 GB of disk storage and lacked bluetooth. The Mini 9 also only came with Linux's Ubuntu, charging an extra $50 for XP. Its 9 inch screen was a more standard size for netbooks.
The new Mini 12, to contrast, has bluetooth and will run Vista Home Edition. Its operating system has been criticized as a poor choice for netbooks, with detractors citing its resource demand and lack of features to compensate. There is unfortunately no option to get the Mini 12 loaded with XP, which puts the new netbook in some danger. Otherwise, it is exceptional for its laptop-like screen size and good looks and its netbook features.
It will come in both white and black.
Some specs:
Intel Atom 1.33 GHz, 533 MHz bus, 512k cache
Windows Vista Home Basic
12.1 inch screen @ 1280×800
1GB RAM @ 533MHz
40GB hard drive @ 4200 RPM
No optical drive
Wireless 802.11g
Integrated webcam
Bluetooth 2.0
3 USB 2.0 ports
VGA video connector
Audio in/out
3-in-1 media card reader
Megabit Ethernet
0.92″ thick
2.72 lbs