Essentially the combination of a smartphone and netbook, Inventec's Dr. Eye mobile internet device (MID) is a great example of the next big thing in technology.
The Dr. Eye MID features a full QWERTY keyboard, as well as an 800×480 resistive touchscreen, which gives users the option of typing on the screen or on the keyboard.  The MID is powered by a 600MHz Marvell CPU and runs on the Android 2.1 operating system, and is equipped with a front-facing camera and a 3-hour battery.
Dr. Eye comes in three different models, which all have the same hardware but different connectivity options.  The N18 model has only Wi-Fi capabilities, while the N23 model has CPRS connectivity, and the N31 model has full 3G capabilities.  Pricing for the MIDs will range from around $350 for the N18 to just under $500 for the N31.
According to Inventec, they are not positioning Dr. Eye as an iPad competitor nor a consumer device necessarily.  Their main market, at least for now, is mainland China, where they are targeting the education market, selling the MIDs to Chinese students who want to do video calls with American teachers in the United States.  One of the company's next steps might be to bring the device to the United States.  There are rumors that they'd be up for doing that, if they can find an appropriate distributor.
Via LaptopMag.
May 16 2010
Chinese computer manufacturer Hongrun Electronic is releasing a new mobile internet device (MID) to the market.  The MID700 tablet will feature a 7″ screen with 800×480 resolution, 256MB of DDR2 RAM, and 2 GB of flash storage.  It will be powered by an 800MHz Telechips TCC8901 chipset and run on Windows CE 6.0.  Other features of the tablet include a mini USB port, an SD card slot, and an HDMI port. The MID700 is also able to support 1080p videos.
There's no word about how long the device's battery will last, and unfortunately the resistive touchscreen won't provide the best experience that money can buy, but the MID700 also supports stylus input.  At least it's relatively small, portable, and somewhat cute.  The tablet, pictured below, retails for roughly 980 Yuan, or about $145 U.S.
Via ClonedinChina.
Mar 30 2010
Japanese firms KDDI and Sharp are showing off a new pair of Android MIDs, likely to tempt the placement of the moniker 'smartbook' from those with a taste for such language. It's called the Sharp IS01, and it's basically a tiny 3G enabled netbook rocking the Qualcomm Snapdragon, a 5-inch 960 x 480 display with multitiouch functionality, QWERTY keyboard, and a host of other features including Wi-Fi and Bluetooth.
It comes with some Japan-only quirks as well – a 1-Seg TV tuner, IrDA, and a pair of cameras (5.27 megapixel on the back and 0.43 megapixel on the front for video calls). You can use either microSD or the onboards memory allocation of 3 GB.
The Sharp IS01 will run for 310 minutes of talking or up to 200 hours of standby time. This October, consumers should be getting a taste, and developers will be looking at their own version as early as May 2010.
Via SlashGear.
Feb 4 2010
Fujitsu is a brand that doesn't seem to garner much attention in the American consumer market. Still, it has been known for making sleek products and appealing to more of a high-end/business user-base.  So without much fanfare, Fujitsu officially announced the LifeBook T900 Tablet PC and pricing for the LifeBook UH900.
The T900, in many senses, is your typical Tablet PC. It is essentially a rehashing of their older 13.3″ T5010 tablet, but with a significant performance boost.   You get your choice of Intel Core i5 520M, 540M, or Core i7 620M processors, and your typical 2 GB RAM, 160 GB HDD, DVD-RW, and integrated Intel graphics.  With special bonuses like biometric scanners, ambient light sensors, and  user-cleanable dust filters, this one will start at $1,889.
On the cheaper end of the Fujitsu spectrum (which really isn't all that cheap), the Lifebook UH900 is a mobile internet device (MID) that premiered at CES 2010. This is equipped with an Intel Atom 1.6 GHz Z530 CPU, 2GB RAM, a 62GB SSD HDD, 802.11b/g/n, Bluetooth, and GPS plus Windows 7. All on an itsy-bitsy 5.6″ multitouch screen.  This is all highly impressive, but whether or not that justifies a $999 MSRP is up for you to decide. If you believe so, then you'll probably appreciate the fact Fujitsu is currently selling it for $849.
Dec 26 2009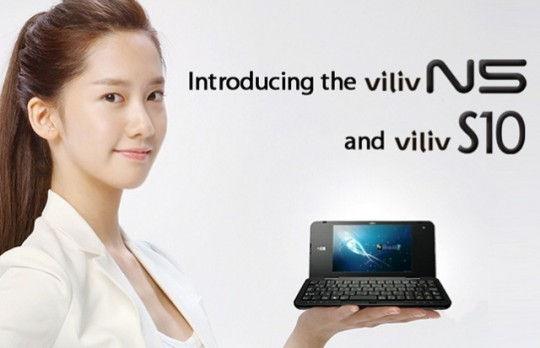 Viliv will be unveiling yet another mobile internet device during January's Consumer Electronics Show. Earlier this year, Viliv launched the M5 MID, which is the same size as the newly released N5 but with a sliding keyboard. Just this week the company announced the release of its larger MID, the S10 Blade netbook boasting a larger 10-inch touchscreen display.
Now it's the N5's turn to shine. The N5 is much more compact that the S10 blade and has a clamshell design that features touchscreen capabilities. The MID also has a 4.8-inch screen, making it all the more portable.
Other features of the N5 include:
QWERTY keyboard
3G Wifi capability
GPS
There has been no word on the price range of the Viliv N5 netbook. We will have to wait about two weeks to find out.
Via Engadget, image via SlashGear.

May 31 2009
Nokia's Internet Tablet has gained a successor, and it looks to be a major netbook competitor. The Nokia N900 comes with HSPA connectivity and weighs a mere 180 grams.
Its 3.5-inch touchscreen has a 800 x 480 resolution, which isn't great. The upside? A 5 megapixel camera with a Carl Zeiss lens, dual LED flash, autofocus and a sliding cover. The device is to see official confirmation this June.
Via SlipperyBrick.

May 26 2009
Nokia's new MID has been announced and is getting a fair amount of press. Known as the Nokia N900, the new device has also been referred to as the Rover or Maemo Flagship. It's small, sporting a 3.5-inch touchscreen, but has a higher resolution (800 x 480) than its N810 predecessor.
It features an OMAP3430 500/600 MHz CPU as well as an accelerometer and GPS system. Furthermore, it's a smartphone with WCDMA and GSM Quad-Band connectivity. Rumor has it that T-Mobile will help in launching the device internationally this July and in the US around August. The EU should get the new Nokia MID by October.
Specs are generally below what you'd expect in netbooks, which is standard for an MID. With the Maemo 5 OS, 32 GB of space, Firefox, video capture, Wi-Fi and HSPA it's certainly not crippled. Still, it fails to beat out netbooks for specs or value, as many MID lovers would have hoped.
Via GadgetLeak.
May 23 2009
UMID's new MID is in that tricky not-phone-not-netbook category manufacturers seem to be paying attention to nowadays. The announced specs of the mbook M1 have changed a bit since its announcement in November, and the pricetag is a hefty $599.
Like the Viliv S5 or Viliv S7, the mbook M1 crams netbook components into an even smaller place. The problem is, it's still not quite pocketable. MID-haters point to manuvering difficulties to support their views, but people keep buying MIDs anyway.
The headphone jack is a smaller 2.5 mm (rather than 3.5 mm), and there's only a mini-USB port. You need adapters for audio and hardware input, and the expansion slot too is a micro-SDHC. Just about anything you could put in the mbook is smaller than it should be, and expensive too; doubling its SSD's meager 16 GB of storage space will cost you an additional $150.
The mbook M1 runs Windows XP, an Intel Atom, and 512 MB of RAM. Its 4.8″ touchscreen manages a solid 1024 x 600 resolution, which isn't bad, but a host of other annoyances are sure to scare away possible MID converts.
Via Gizmodo.
Dec 13 2008
Apparently nobody alerted the people responsible for Computex 2009 about the depressed global economy. This year, Computex is set to be the biggest yet and netbooks will hold a huge role.
The annual trade show connects buyers from everywhere in the world in touch with manufacturers for the newest, hottest products around. The show alone generates billions in business revenues. The External Trade Development Council (known as 'Taitra) expects the show will generate $19 billion between June 2 and 6, 2009.
Taitra's Executive VP, Walter Yeh, says the show will focus on netbooks. "Taiwan becomes the most important sourcing centre for netbook computers… Next year our major producers, Acer, Asus, MSI, also international companies like Intel, Nvidia will all introduce new products for MID here in Taiwan."
Get excited – this means big things for the business. We should be seeing all kinds of new releases by June next year on account of the show.
More info is available here.