We haven't heard from MSI in a while, but rumor on the street is that they've come up with two new netbook concepts.  There aren't much details on these, but here's what we've heard.
The MSI La Mode netbook features a 10″ screen and looks similar to the MSI Wind U160 with a slightly different exterior design.  The "ebony cloth case with wave-pattern and luminescent MSI logo" is designed to help the netbook dissipate heat.
The (also) 10″ MSI Serene netbook will feature MSI's thermal technology for heat dissipation.  It will not have a fan, so it will be as silent as a ninja when it's turned on.
These two MSI netbooks might never even come to fruition, but we got excited when heard about them, so thought we'd just share the juicy rumors.
Via NetbookSpain.
Dec 29 2009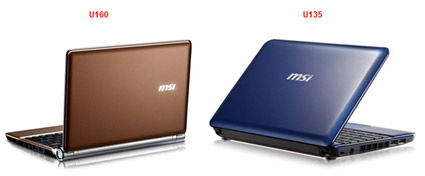 We've got about a week left before the January 7 Vegas Consumer Electronics Show 2010, where the latest  netbooks and more will be shown off by all the top retailers. MSI has already released a few tidbits about its upcoming U-series netbooks – the iF Product Design Award winning Wind U160 and the U135, another Wind netbook.
The most information has been released about the MSI Wind U135, which comes with a 1024 x 600 pixel 10-inch LED screen and in four different colors: Trendy Blue, Refined Silver, Cherry Red, and Wind Dancer Black. It will feature a redesigned chiclet keyboard with Color Film Print coating on the exterior, offering "the U135 scratch-resistant and anti-wear properties that keep it looking new after a long period of use… [giving] the entire exterior a sparkling and high quality feel."
It sounds like a pretty machine, and we've only a few more days to wait before we can see what MSI really means to bring to the table in 2010. Get excited.
Via LegitReviews.